5 tricks professional stagers use for perfect entryways to make a house feel instantly like a home
Getting the design of your entryway right can be tricky. We have professional stagers on hand with their tried and tested methods for making the best first impression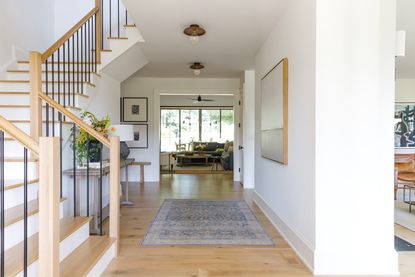 (Image credit: Jake Shea, design by Becky Shea )
The Livingetc Newsletter
For style leaders and design lovers.
Thank you for signing up to LivingEtc. You will receive a verification email shortly.
There was a problem. Please refresh the page and try again.
Entryways are, by their nature, the first thing people see when they come to your home. And more importantly, they're the first thing you see, laying the foundations for how you feel about your life.
Which is why decorating them effectively is not as easy as it looks. As New York-based designer Becky Shea says: "Entryways set the tone for your guests, so it's important to design it thoughtfully and keep it free of clutter for the best first impression."
Here are some of the industry's most trusted stagers on their tips for setting the best first impression.
1. CHOOSE TIMELESS PIECES
Though interior design trends can be tempting to follow when your Instagram feed is saturated with fun, new ways to decorate your entryway, they come and go.
Quickly the pieces which once looked youthful and exciting are looking outdated and tired. Brooke Spreckman of Design Hutch recommends pieces which don't go out of style or, at least, items which you know will reflect you well into the future. The designer says to "use materials and furnishings that are timeless and durable and pieces you know you will love over a long period."
Focus on neutral colors, soft textures - linens and stones and woods. These materials have been around forever and will never go out of style.
This will also ensure that you are not having to waste money on updating your pieces every month as trends change.
2. OPT FOR DIMMABLE LIGHTING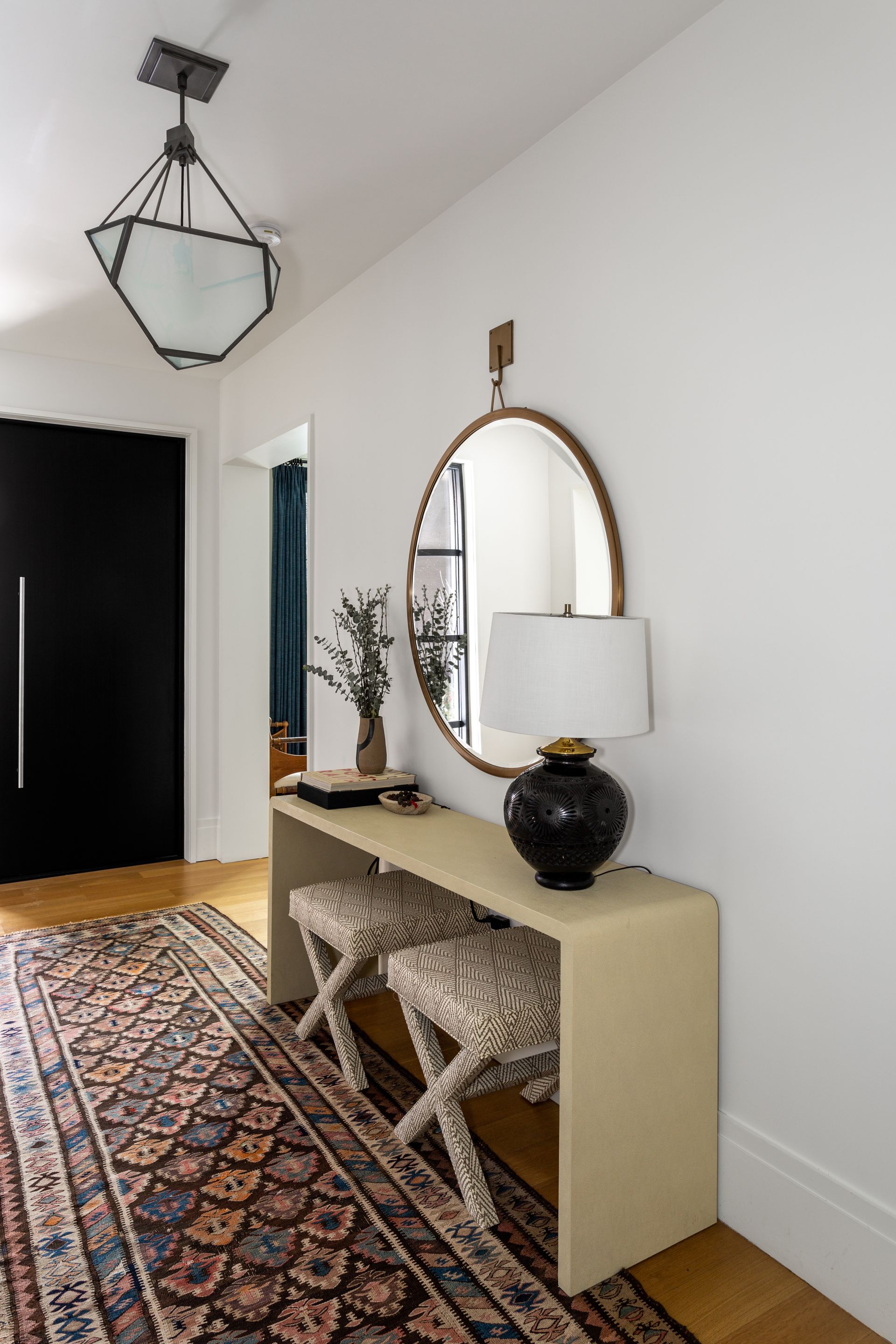 One of the mistakes designers always notice in an entryway is it not having the right ambience. The vibe is key to an inviting entryway. Whether your color scheme is light and neutral or darker and more moody, choosing lighting where you can alter the brightness in the day will mean that it can be light and practical when you're looking for your shoes in the morning and made more dim for a cozy evening aesthetic. Designer Alexandra Kaehler says "I like to have a lamp so you can have some dim lower lighting in your entry" for this very purpose.
Not only should you opt for dimmable bulbs, but as Founder of Arsight, Artem Kropovinsky points out, a lot of visual appeal is in the fitting you choose. "Swap out generic fixtures for something more distinctive - maybe a pendant or a chandelier that adds both light and character," the designer says.
3. ADD A MIRROR
Once you have found the right dimmable lights for your space, you are going to want to look for a mirror that fits your aesthetic to reflect that light around the space for an airier feel. Madison Popper of Floridian interiors brand, Chill Casa, tells us: "a large mirror or statement pieces of artwork will add depth or reflection to the space make it appear larger."
Kropovinsky is with Popper on this one, but says when choosing a mirror, make a statement. "Consider a mirror, but not just any mirror," he says. "Look for one with an unusual shape or an ornate frame. It will reflect light, making the space seem larger, and provide that last-minute check before heading out."
4. GO MINIMALIST
It is no secret that we at Livingetc love a minimalist interior. When it comes to setting the best first impression, Spreckman is on the same page. "It might sound cheesy, but readers should only keep things that spark happiness," the designer says.
"So, remove what no longer is on par with the rest of your house. This goes for day-to-day clutter to candles you're sick of burning or photo frames you have had for years that no longer feel like part of your story. These are things minimalists never have in entryways. By mixing textures - "a wooden table, a ceramic vase, a linen runner" as Kropovinsky suggests - life can be breathed back into the space without the need for unnecessary mess.
5. ADD A RESTING PLACE
Although a lot of practical considerations of an entryway revolve around storage, providing somewhere to sit can be just as useful. Louisiana-based designer, Megan Evans says: "I always make sure there is a place for a guest to put their handbag." Adding a tasteful chaise lounge which ties in with the color scheme of your entryway and is appropriately sized not only offers somewhere to put down a bag or to sit when putting shoes on, but also brings a sense of your living space into the entryway making it feel more inviting.
Though it can seem like there is a lot of options when it comes to entryway furniture and furnishings the overarching message from these stagers is to go minimal on pieces that serve you practically, like storage furniture, to allow for the pieces which dress up the space to sing. Sticking to these top tips will ensure a sense of balance in this area and will make guests calm and welcomed, even if they themselves can't put their finger on what is making them feel that way. Then you know you've got it right.
For style leaders and design lovers.
Katie is a freelance lifestyle writer who has recently finished an MA in Magazine Journalism at City, University of London. Before writing for Livingetc, Katie has gained bylines with The Caterer and The Telegraph and has interned at several lifestyle magazines including Grazia and Red. When not scrolling through Pinterest for interior design inspiration, Katie can be found writing about women's issues, trying out new beauty trends for her blog or seeing a West End show.