This alternative way designers are using pot filler faucets in modern kitchens is genius - and it makes for tidier spaces, too
I love this classic kitchen accessory used in a surprising way to cater to your pets' needs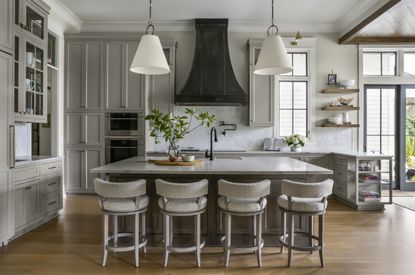 (Image credit: Paige Rumore Photography. Studio credit Brad Ramsey Interiors)
The Livingetc Newsletter
For style leaders and design lovers.
Thank you for signing up to LivingEtc. You will receive a verification email shortly.
There was a problem. Please refresh the page and try again.
With literally millions of cats and dogs in homes around the world, when designing an interior there's no wonder our furry friends need to be taken into account too. For those of you who own pets, you'll know how messy feeding time can get. This is one issue interior designers were keen to solve, and I've just seen this super clever method to fill the water bowl without any spillage, bowls being knocked over, and water running everywhere. As far as stylish pet buys go, this is for sure an investment worth considering.
Using a pot filler, the centuries-old accessory, designers have created a solution perfect for the modern kitchen that we didn't know we needed, but now honestly can't see the way forward without it.
Mostly seen previously in country homes, a pot filler is basically a one-arm, single-temperature faucet that is fitted above the stove. It allows you to fill your pots with water without having to move to and from the sink. And it's now being given a new lease of life.
The clever use of a pot filler for your pet's drinking station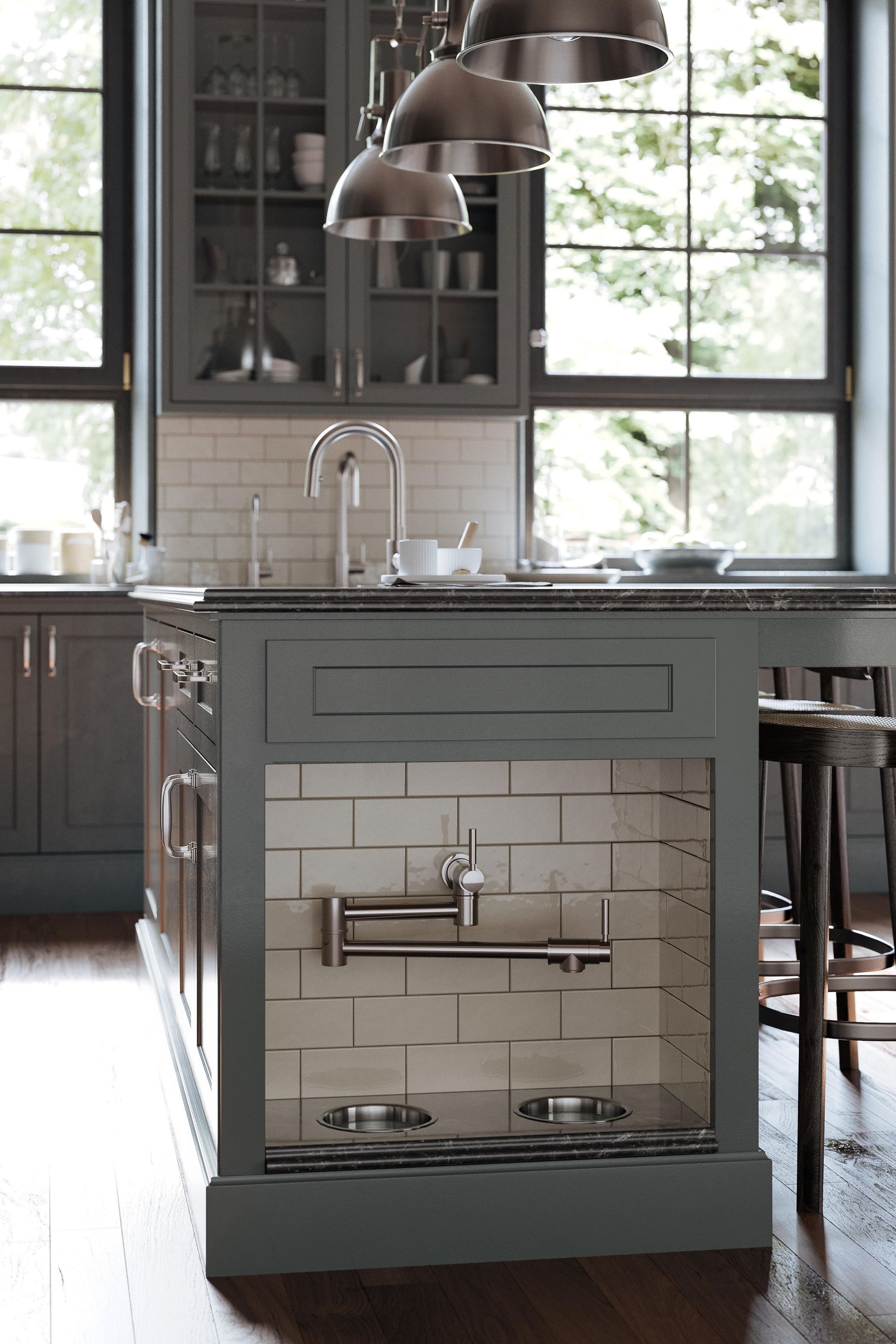 One luxury kitchen product brand that has seen that pot filler faucets are worth it is House of Rohl. 'The demand for pot fillers has surged thanks in part to the popularity of the designs on social media.'
In a recent design from Perrin + Rowe I have seen the use of the Juliet pot filler as the main feature of the pet's drinking station, making it so much easier to refill their bowls with fresh water without having to go back and forth to the sink.
'Creating a dedicated feeding station avoids bowls being knocked over and keeps a kitchen streamlined and tidy. Dry food can also be stored within the kitchen island so everything is in one place, and with an additional faucet and sink installed on the island, the bowls can be washed daily, which is essential,' tells me Emma Joyce, Head of Product Marketing EMEAA at House of Rohl.
Interior designer Heather Weisz, of HW Interiors has also used this trick in one of her modern kitchen design projects. 'One of our main goals when designing for our clients is to incorporate beautiful yet functional spaces that meet the needs of the WHOLE family, including the dog! This eye-catching built-in feeding station with pot filler makes for easy water refills and keeps the bowls out of the main flow of traffic as well. This unique and practical feature is a valuable addition to the kitchen of any dog lover,' Heather explains, and I couldn't agree more.
Are there any drawbacks?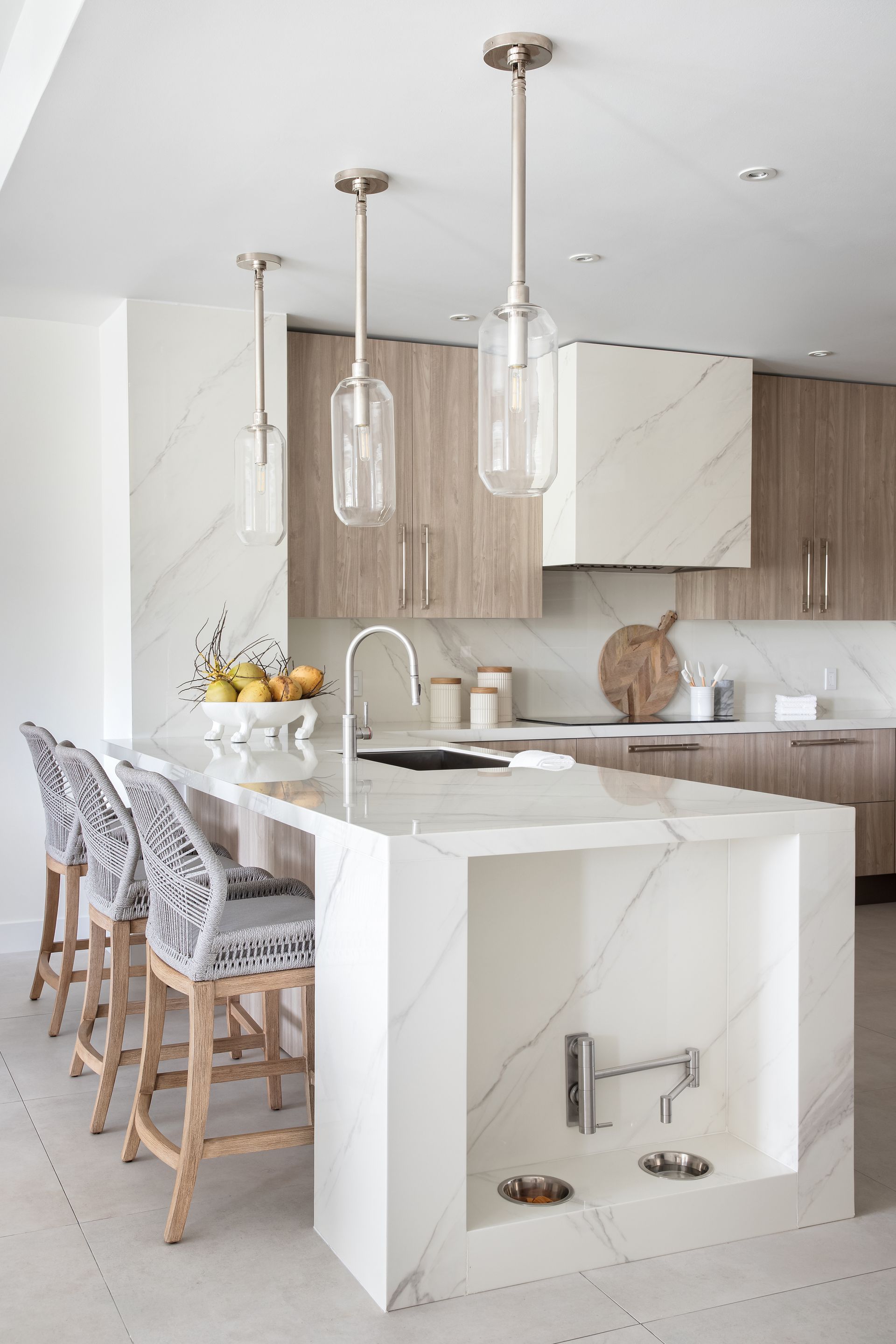 It all sounds like a no-brainer, and a great addition to a kitchen, but there is one downside. Installation is not as straightforward if you don't already have a water feed and waste in place. 'The kitchen island already features a faucet/sink and therefore has a water feed and waste in place. If this was not the case then as with all faucets fitted on a kitchen island the plumbing would need to be in place first, which can be a big job,' Emma Joyce tells me about the Perrin + Rowe design.
However, if you're a pet owner, and you do have an island with a sink or are planning a kitchen renovation, this will be a great addition that will save you time and energy cleaning up. Get the advice of a specialist plumber, as even if you don't have an island with a sink, you might be able to install a pot filler for your pet's drinking station in a different location of your kitchen that is close to your main water source.
You'll also want to consider the finish of your island. It's a great idea where the surfaces surrounding the faucet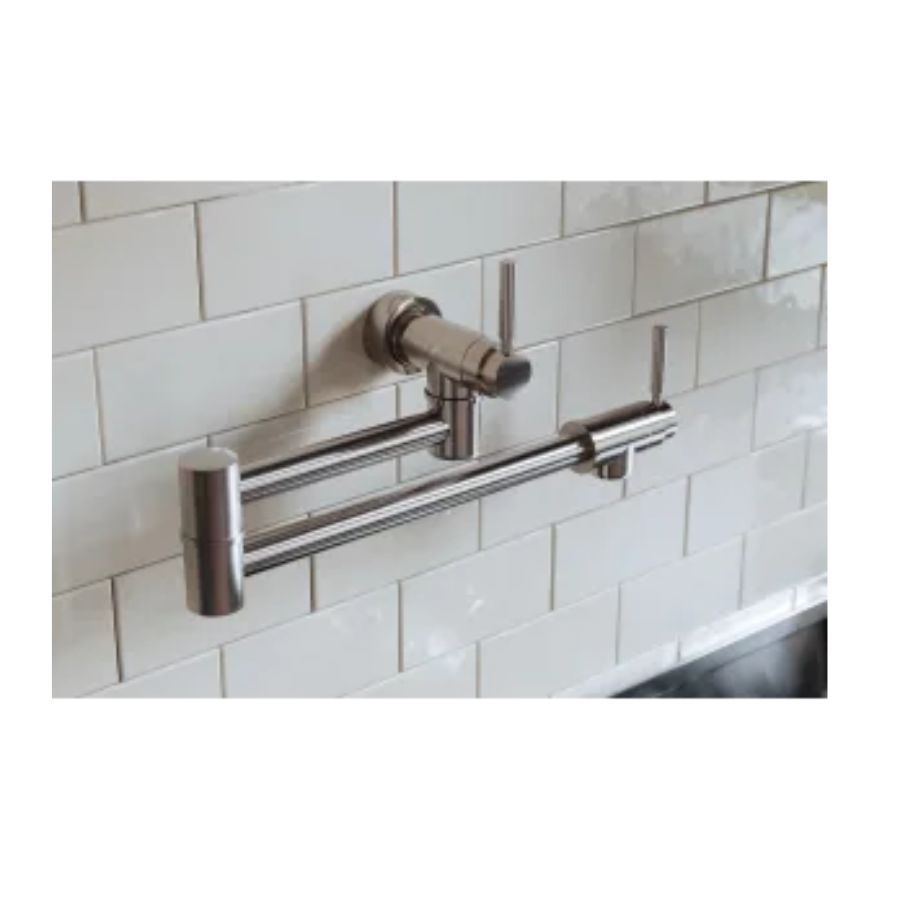 Price: $1,293.60
This pot filler will look great installed on the side of your kitchen island for your pet's drinking station. Think outside the box too, it doesn't have to only sit by the island, just make sure you're close to a water source for easy plumbing.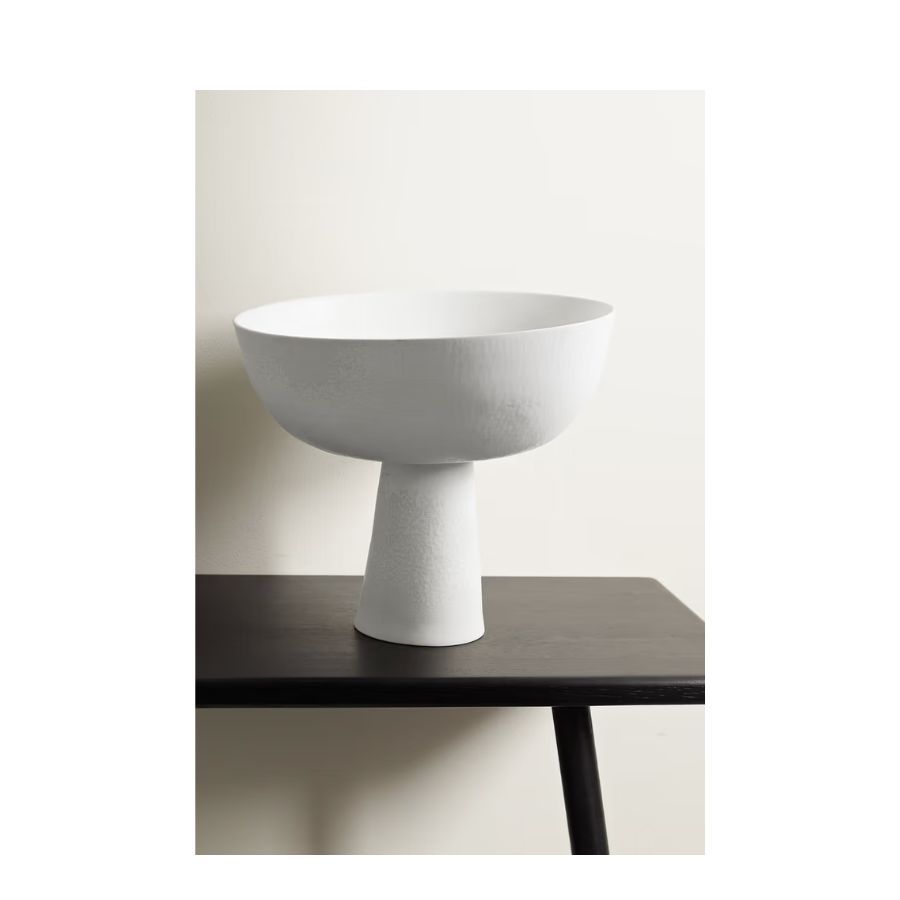 L'Objet terra medium porcelain bowl
Price: $475
Recreate an elevated kitchen look with luxury accessories. Place this minimalist white ceramic bowl on your island, and fill it with colorful fruit.
Are pot fillers on trend?
The humble pot filler has been around for literally centuries. Some love it, some don't think it's that necessary, but we've definitely seen a resurgence in pot fillers since Amanda Seyfried spearheaded the movement and turned the pot filler into a celebrity kitchen trend, with sales of the item going up like mad since the actress proudly showcased hers, starting a wave of celebrity videos all talking about their pot fillers in their own homes.
Designers have seen another use for this, as the star feature of your pet's drinking / feeding station in the kitchen.
For style leaders and design lovers.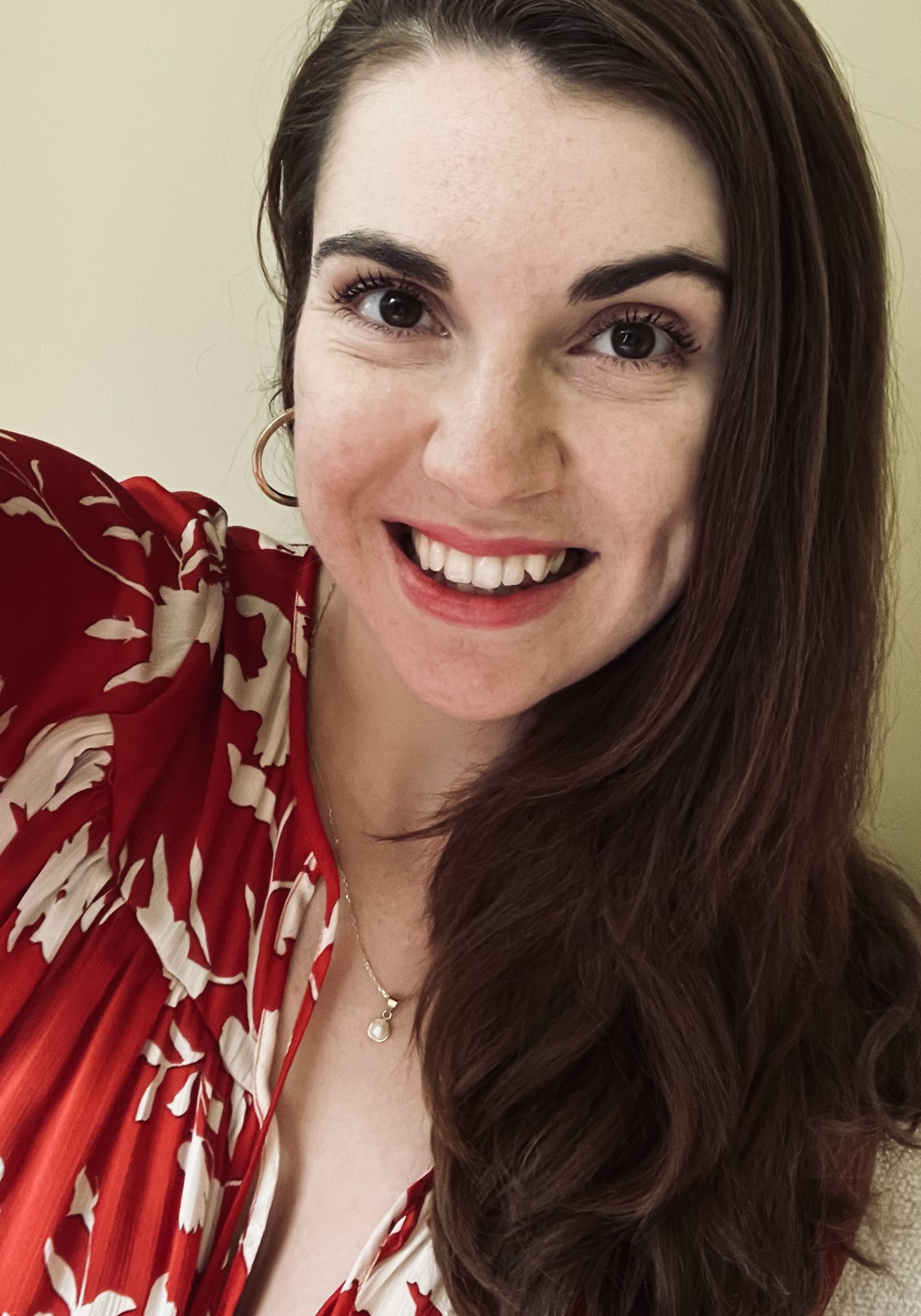 Raluca is Digital News Writer for Livingetc.com and passionate about all things interior and living beautifully. Coming from a background writing and styling shoots for fashion magazines such as Marie Claire Raluca's love for design started at a very young age when her family's favourite weekend activity was moving the furniture around the house 'for fun'. Always happiest in creative environments in her spare time she loves designing mindful spaces and doing colour consultations. She finds the best inspiration in art, nature, and the way we live, and thinks that a home should serve our mental and emotional wellbeing as well as our lifestyle.