How to light up a dark spots of your backyard – 5 ideas that'll make your outdoor space pop at nighttime
Good outdoor lighting is for as much as when you're using your backyard as when you're looking at it out the window. Here's how to eliminate dark spots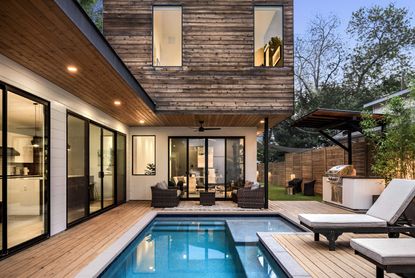 (Image credit: Ryan Baldridge. Design: Foresite Studio)
The Livingetc Newsletter
For style leaders and design lovers.
Thank you for signing up to LivingEtc. You will receive a verification email shortly.
There was a problem. Please refresh the page and try again.
Backyard lighting is all-too-often overlooked, and sometimes the odd corner is left unilluminated properly, leaving you with dark, no-go zones once the sun goes down.
Whether it's the alfresco dining, the porch, a portion of the lawn, or more, it's important to ensure that the exteriors are well and evenly lit – for decorative and safety reasons. If you've got a few dark spots in your backyard, and you don't want to employ heavy-duty work to correct the problem, there are a few smaller elements you could bring in.
Take a look at these expert-recommended tips for backyard lighting and for perfecting your outdoor space.
1. Freestanding lamps
Have a small outdoor kitchen or a seating area that isn't as well-lit as it should be? Supplement the existing light with lamps or lanterns that will throw focal light along the length or breadth of the space, and draw attention to this outdoor space. Plus, well-designed, smart, and bright lights will add a decorative touch to the exteriors.
'Using multiple lanterns or lamps at different heights can set a mood and illuminate an area or corner,' says Linda Hayslett, founder of LH.Designs. 'These outdoor accessories really can make for great eye candy in the back while also creating a good ambiance.'
'Using solar lights & hurricane candles can also be an easy and affordable way to not have to call in an electrician to install some hardwired lighting.'
If you're worried about your lamps getting ruined due to the elements, consider waterproof solar lanterns that are well suited for hanging on tree branches or along the periphery of your porch or lanai, offering soft, moody lighting.
Alexavier outdoor hanging lantern
Material: Solid brass with beveled glass
Price: $113
This hanging lamp ideal for porches and backyards is made from solid brass with a decorative milled knop and a simple one-bulb fixture. It'll add a soft, sophisticated glow to the exteriors.
2. A firepit
Another unique way to light up your backyard is with a firepit. What makes this unique is that the built-in ones can double up as a lovely feature of your garden and set the stage for a cozy, intimate outdoor socializing spot. Simply place some chairs around it and you have an informal outdoor seating area without having to spend too much time and effort into designing one from scratch.
'A fixed or mobile firepit can help light up a space,' says Linda. 'Whether you have a small balcony or backyard, a firepit can give great lighting while providing a perfect opportunity for conversation in the space.'
3. Strip LED lights
LED strips are a great tree, planter, or pool lighting idea that will bring light, but also accentuate your favorite parts of your backyard.
'Low-level strip LED lights set underneath built-in features, such as seating, planters, pool edges, steps, etc are a good way of creating energy efficient and atmospheric and dramatic lighting effects,' says Olly Bray, founding director at OB Architecture. 'By being placed under certain features, they light up the surface and stop excessive spillage or waste of light.'
'To create an atmosphere, we always use warm light with dimmers so that you can change the ambient light level depending on the time of day,' says Olly. 'We typically use a 2700K warm white color. Cool light can work for task-based areas (outdoor kitchens, tennis courts, play areas) but to create a cozy entertaining, or relaxing ambiance at the end of the day, we always recommend a warm light. It has the effect of replicating the sunset colors or a flickering fire and makes you feel warmer. For outdoor party space I'd recommend using a slightly cooler light (but still quite warm) as you want more 'energy' in these spaces.'
4. String lights
String lights evoke a warm, intimate, and soft ambiance, and also offer an accent illumination to the outdoors. Hang these over patio furniture or a long garden bench and you have a charming setup ready. The beauty of these is that such lights do not always need to run on extension cords and can be battery operated, meaning these can be hung anywhere.
'Outdoor lighting feels the best when there are several sources,' says Julia Mack, founder of Julia Mack Design. 'One favorite option is string lights because they are playful, easy to install, and can nicely delineate areas in your yard, deck, or patio. Their soft glow makes otherwise dark and unused areas feel cozy and inviting, especially when coupled with candlelight.'
Yuusei 25Ft Dimmable String Lights
Light source type: LED
Price: $29
Light up your garden or backyard with this remote-controlled string light that makes it the most flexible design feature in the outdoors.
5. A pendant light
And finally, nothing matches the charm and functionality of the pendant light. These focal lights are ideal for an outdoor living room or dining, as these highlight key elements of space along with adding a designer touch to it. When bringing in a pendant light, consider a design or a truly unique material, and let it be a conversation starter in your outdoors. Not only will an embellished, carved or material-rich light make the outdoors pop, it will also add a much-needed layering to the
'The softness and texture of this space are thanks to the upholstery of the chairs and the jute lighting that add a sense of luxury and comfort,' say Meghan and Patrick Sharp, founders of Mister + Mrs Sharp.
For style leaders and design lovers.
Aditi Sharma Maheshwari is an architecture and design journalist with over 10 years of experience. She's worked at some of the leading media houses in India such as Elle Decor, Houzz and Architectural Digest (Condé Nast). Till recently, she was a freelance writer for publications such as Architectural Digest US, House Beautiful, Stir World, Beautiful Homes India among others. In her spare time, she volunteers at animal shelters and other rescue organizations.