How do you make a neutral living room feel cozy? 10 design ideas that up the snug factor without relying on color
Want to make a neutral living room feel cozy, inviting and enveloping? Here's how the experts do it in 10 steps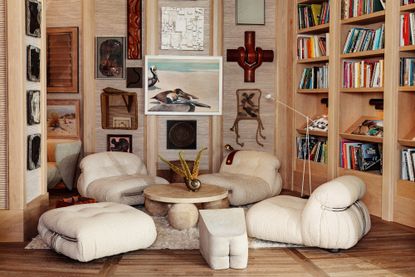 (Image credit: Kelly Wearstler)
The Livingetc Newsletter
For style leaders and design lovers.
Thank you for signing up to LivingEtc. You will receive a verification email shortly.
There was a problem. Please refresh the page and try again.
Muted and often colorless, neutral living rooms can sometimes feel a little cold without the right finishing touches, but of course, there are simple ways to make these spaces cozy. Color palettes apart, what other factors contribute to a room's calming and cocooning abilities? As it turns out, the furnishings, materials, furniture arrangement, lighting, and accessories all go a long way in creating a mood.
Any size of a neutral room can be made to feel cozy, if you use the right design elements that bring a space together. Take a look at these top living room ideas suggested by some of our favorite interior designers that will help you cozy up a neutral space.
10 ways to make a neutral living room feel cozy
Regardless of how you choose to design a cozy living room, the important thing to remember is that the new additions should not overdo it. After all, a living room scheme that tries too hard is going to be anything but cozy.
A calm, cozy space also speaks of understated design and restrained materials. Allow plenty of breathing room in the space, and while it may be great to add elements to warm up the interiors, it may be good idea to take elements too, to maintain the room's tranquility through a more minimalist approach.
1. Choose a curving sofa
A great way to cozy up the room is by choosing interesting and organic-shaped furniture. When your palette is very simple, these sculptural forms can supply the interest.
Not only are curved sofas useful living room furniture pieces, ideal for defining an area without necessarily making it feel divided, but this arched and inherently cocooning piece also spells luxury and coziness. It is also a boon when arranging furniture to create space for circulation. It allows for a smooth flow of conversations and even movement.
If yours is an open plan or extremely large living room, and you want to give it a feeling of intimacy, consider floating the sofa away from the wall, and in the center of the room, to create a small zone within a large space. Also, there is something so sculptural about seeing the back of a curving sofa, as opposed to a straight piece.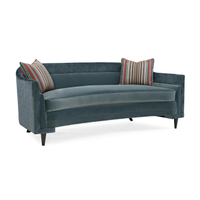 Consider this modern and cozy silhouette to add a high-impact style to your living room. The piece is made in a birch wood frame and Tuscan teal velvet upholstery.
2. Bring in wooden elements
If an earthy, modern rustic living room is one you're open to, consider folding in natural elements into your design to make the space truly serene.
'The ceilings are of wood shingles and brushed pine logs in a natural finish, while the interior floors are European oak and black micro cement, integrated into the foyer in a custom design,' says Mariana Morales, founder of Direccion. 'We converted the walls with stucco with brown-grey paint, while the shelving and furniture in the living room are European oak with a white oil finish. The fabrics used are mostly linen and other natural fibers and the coffee table is made with lava rock.'
Along with bringing in elements such as wood, concrete, or stone, also add a slice of nature with plants, that can pull the room together and fill in what's missing.
'Adding plants, whether real or faux, is an easy way to add life to a neutral room,' says Rose Sorkheh, interior designer at the Stylesmiths. 'They also help to improve air quality and create a calming atmosphere. That apart, incorporate natural materials, such as wooden accent pieces or decorative baskets made from woven materials, to bring warmth and coziness to the room.'
3. Create calm with low seating
Imagine entering a room that has plush, cushy pillows or thick floor seats laid in a circle, with a throw strewn in the middle, and low lamps. The perfect, most cozy nook. Almost reminds me of a bonfire night.
Thelow seating trend can make small spaces more welcoming, comfy, and relaxed, and create a soft, and casual vibe that allows guests to immediately feel comforted, and ease into long conversations.
What's also great is that in small living rooms, low-floor seating can visually alter the dimensions of the room, making it feel taller and more voluminous. To create this type of neutral yet cozy interior, consider low sofas or loungers, ottoman seats, daybeds, or custom designed pieces, that rest close to the floor and make a room feel cocooning.
4. Include a fireplace or wood burner
Not only does a fireplace or a wood burner add actual warmth to a room, just the inclusion of it too has a naturally cozy effect. The concept, after all of a fireplace, is a space that encourages people to gather around it, connect, and start conversations, all the while enjoying the fire's mesmerizing glow.
Add special seating next to your living room fireplace, allowing the room to become one that encourages intimacy and great family time.
'The house has a lot of wooden elements, and the windows open up views of the dense and green garden, creating an inside-outside connection,' says Nildo Jose, founder of NJ+ Arquitetura. 'The space has an integrated layout without excess furniture so that the circulation spaces are always comfortable and fluid. Plus we included a warm fireplace, making this house a magnet for friends and moments of togetherness.'
5. Use tactile fabrics
Adding lots of texture to a neutral space is key to injecting warmth into the room. Texture plays an important part in the layering of a room, without which, a space can feel flat and one-dimensional.
'Neutral rooms can often feel flat and lifeless, so adding texture is key,' says The Stylesmiths' Rose. 'Consider adding a chunky style upholstery such as a boucle to the couch or an area rug, which is a big modern living room trend. Also, using pops of color in a neutral palette is a great way to add interest, depth, and excitement to a design and can make it more dynamic and engaging. With careful consideration of the colors, you can create a striking and effective design.'
6. Create mood lighting
Invoke another soothing layer to interiors with soft, warm, and considered living room lighting.
'Opt for warm and soft lighting over harsh, bright lighting,' says Rose. 'Adding low lamps or candles can create a warm and inviting atmosphere.'
Largely, as compared to white lights, warm lighting can create an inviting, intimate, and cozy atmosphere, and it inherently allows one to relax and wind down. This type of light also affects your mood as it relaxes your mind and body, and creates a feeling of being laid-back.
'Invest in a good pair of matching table lamps (preferably with two matching mirrors behind, to reflect and double the light),' says Emma Deterding, founder, and creative director, of Kelling Designs. 'This adds a symmetrical finish that will give the room structure and balance. Don't forget to choose a stylish lampshade; neutral tones will keep it fresh and clean, whilst a printed shade will add a bold dose of color and pattern. A colored shade also lets out a warmer tone of light, perfect for creating a calming environment.'
7. Choose textured paint finishes
Textured paint or limewash paint is a great way to add interest without the expense of textured wallpaper. Plus, lime plaster paints have a natural grounding effect, ideal for creating a warm setting, especially if you're re-doing a period home. This paint is free of solvents, and enhanced with natural lime and natural pigments, makes for an eco-friendly paint choice.
'The lime plaster paint finish here adds warmth to the walls and helps to stabilize the internal humidity of the space by absorbing and releasing moisture,' says Prashant Chauhan, founder of Zero9. 'In short, it lets the walls breathe, unlike painted walls which seal the pores.'
8. Introduce a palette of earthy colors
'Mix and match different neutral shades, such as cream, beige, and grey, to add depth and interest to the space,' says interior designer Rose Sorkheh. 'Along with this, display your favorite books, or sentimental decor items to create a space that feels personalized and cozy. A comfortable and inviting lounge chair or plush ottoman in earth tones too can instantly upgrade the comfort level of your living room.'
From earthy ochre to browns, beiges, and creams, these warm hues can help design an earth tone living room, that feels large and airy, and one with nature. While these muted tones may feel a little too dull for large surfaces like the walls or ceiling, consider their use in accessories such as cushions and throws, and give the space brightness, richness, and energy, but in a more subdued manner.
Another great companion to earth tones is metallics, which help lift the scheme. With paired with browns, greys, and ochres, metallics perfectly add that glittering touch without looking too distractingly opulent.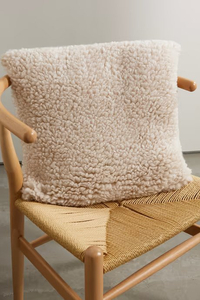 Choose this cashmere-fleece, beige-toned, soft and cozy pillow that will blend well with any type and style of decor.
9. Create a cozy corner with a bay window
Have an interesting architectural element like a bay window in a living room? Make the most of it, and let it be the heart of the space. These window seats spell laid-back luxury, injecting a whimsical vibe into the room. These also allow you the opportunity to add more seating, create a cozy corner nook, and also play with interesting window dressing ideas.
'This window nook overlooks a busy neighborhood corner in Chicago and my clients wanted to take full advantage of the sunny spot and people watching,' says Molly McGinness, founder of Molly McGinness Interior Design. 'So I had a custom cushion made to top off some built-in cabinets (for extra storage). It's a nice and deep seating area. I topped it off with plush custom pillows and bolsters in silks and velvets. The drapes are stationary panels of silk and customized for the space, long in front to frame the seating area and shorter on the inside to just skim the top of the seat cushion. It is a small apartment, so this extra seating maximizes the space.'
10. Don't forget a rug
Rugs provide a cushy ground for a soft landing, protect the floor, and zone an area for a more snug feel. They have the unique ability to add unexpected texture in small doses too.
For the perfect, cozy living room rug ideas, consider natural materials like wool, or natural-material blends like wool, cotton, jute, and sisal. For a long-lasting rug that is also soft underfoot, choose wool because they are easy to clean, and, being an organic material, look and feel better underfoot. For smaller spaces or living room corners, you could also add a soft, fur rug.
If you prefer a high pile, consider shag and Berber rugs. These are ideal for wooden floors or can be laid over an existing carpeting.
For style leaders and design lovers.
Aditi Sharma Maheshwari is an architecture and design journalist with over 10 years of experience. She's worked at some of the leading media houses in India such as Elle Decor, Houzz and Architectural Digest (Condé Nast). Till recently, she was a freelance writer for publications such as Architectural Digest US, House Beautiful, Stir World, Beautiful Homes India among others. In her spare time, she volunteers at animal shelters and other rescue organizations.