8 tricks designers use to skilfully get dining tables into small living rooms - a modern life essential
Designers have worked out how to blend a dining table into smaller living rooms now that they're an essential part of modern life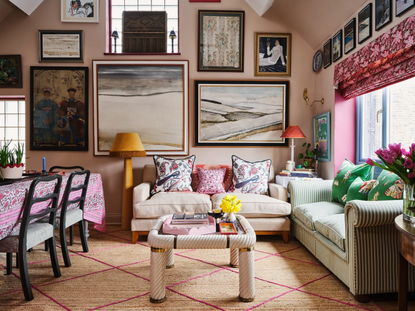 (Image credit: Dean Hearne Design: India Holmes)
The Livingetc Newsletter
For style leaders and design lovers.
Thank you for signing up to LivingEtc. You will receive a verification email shortly.
There was a problem. Please refresh the page and try again.
So many living rooms now need a dining table in them. We want that convivality of a proper place to eat, a table to sit at to work, a space to gather. But the luxury of a separate dining room is rare for most urban dwellers.
So designers have come up with new ways to blend the two functions, to create living rooms that work for, well, actual living. This is proof that small spaces can still be extraordinary spaces. As wonderful as those large countryside manor houses can be, not everyone is able to, or indeed wants to, have a separate dining room, snug, living room and library.
In smaller homes we often have just one main living area, and that space needs to work very hard. As somewhere to eat, relax and, nowadays, often work too, we need to get creative to make sure they don't end up looking like four rooms crammed into one, but instead work as one space with lots of different functions.
Designers share their best tips and tricks on how to do just that.
1. Use a tablecloth to camouflage the dining table
One very simple and achievable idea is to soften the dining room table by adding a tablecloth. Designer Ailsa Reeve of Studio Mac explains how she did just that in this space "In such a small space, for me, it's about making the dining table disappear rather than stand out. Covering it in similar tones to the living area and decorating with a vase and flowers will achieve this."
As well as using it to camouflage the dining table you could use the tablecloth as a way of tying together the two spaces visually by opting for a fabric that resonates with a textile in the living space - this could be one that is exactly the same as a pillow for example, or just one that has a similar pattern or color.
2. Use lighting to create distinct areas
Lighting is a powerful design tool in homes. They say you should have somewhere between six to nine sources of light in any room to be able to layer the lighting correctly at different times of the day. In an open plan space there is another consideration, and that is the fact that the lighting needs to be able to create different moods and perform different functions in the various zones.
Designer Caroline Riddell explains further about this project, "We were asked to design a comfortable guest annex with both a cosy seating area and relaxed dining. We decided to zone and define the two areas which was helped by using the position of the existing eaves and beams. Zoning the lighting in the two rooms helped create two distinct areas. The two pendant lights over the dining table created an intimate area for eating and both dimmable high and low-level lighting in the seating area created a cosy, enclosed atmosphere at night."
3. Consider different levels to zone the space
Before embarking on a renovation project it is worth considering how creative you can get with the space you have allocated and whether there is an opportunity to exploit the site footprint by playing with height. If square footage is tight, is there an opportunity to create zones by having areas on different levels perhaps creating a sunken living room like this one? This clever design by Tess Glasson is in her own home (often where interior designers get the most creative).
"The open plan kitchen and sunken lounge space is a well loved and highly trafficked space and the level change and close access to the garden allows for both a traditional table dining experience as well as another opportunity for the family to gather and hang out, play board games and have that direct connection to the garden outside. Sliding doors on both sides slide into a concealed open position to fully connect interior rooms with external spaces as well. All an example of how to create a separate space within an open plan format."
4. Use color to connect the two spaces
Color is one of the most effective ways to transform spaces. It can do everything from blurring lines to impacting the light in the room, and everything in between. Using this as a tool to create continuity and cohesion in open plan spaces can be a simple trick that could be incorporated retrospectively, or as a way to refresh an open plan space, as well as something to consider right at the beginning of a project.
Interior designer Laura Stephens, explains more "using color to connect a dining space with the living space it sits in is also a good trick. For example, paint the dining chairs to match a color in the living room." Here, the dining chairs match the legs of the seating in the main living area.
5. Soften the space with banquette seating
There is something so decadent about shuffling along a beautifully upholstered banquette to enjoy a meal - the comfort of a sofa with the convenience of a proper table. They work particularly well in small open plan rooms to maximize flow and space. The soft seating also provides an opportunity for beautiful textiles that can also speak to the softer furnishings of the living space.
Tiffany Duggan, founder of Studio Duggan explains more "A banquette takes up less space and allows better flow through to the kitchen and beyond. It's also really cosy and intimate - and a trick we often use for a secondary dining area with a difference. This small space called for a dining bench to aid space flow through to the garden and the large bespoke antiqued mirror behind helps to bounce light, blur the edges of the space and reflect the garden beyond."
6. Create cohesion with symmetry and repetition
Thinking about the position of your furniture, particularly the two largest pieces in an open plan living dining room - the couch and the dining table - can help to create visual cohesion. In the example above the designer Camilla Clarke of Albion Nord has chosen to lay them parallel to each other. The clever positioning of these pieces along with the symmetry of the pendant lights creates a well balanced and harmonious space.
"While wanting to differentiate between the two spaces, we also wanted the overall look and feel to be cohesive," she says. "We achieved this by using the same plaster pendant lights on each side and the parallel positioning of the dining table and the sofa."
7. Make the dining table a piece of art
Why not use the opportunity to make a real statement out of one of the most significant pieces of furniture in the room - in this case, the dining table? Using a showstopper piece allows you the opportunity to have an additional piece of art in the room.
"The built-in dining bench with its rounded shapes becomes an extension of the living room, making it a better choice than a double row of chairs. The table is custom made with a massive travertine base which was cutout from a travertine block. It has been designed this way to make the dining table more interesting to look at from the living room, like a sculpture."
If budgets don't allow for something quite so extraordinary, you can use the principle on a more moderate budget. Simply opt for a dining table that is unique. For some people this might be an elegantly aged farmhouse table sourced at a vintage fair, for others this could be a marble topped tulip table sourced in West Elm. Whatever the style, just make sure it is beautiful.
8. use rugs strategically
The best rugs can be used to ground furniture and zone areas very effectively. The general rule is the bigger the better, and here is no exception. The designer India Holmes has opted to use one huge rug to cover the majority of this open plan space as a way of creating visual cohesion.
"I knew the room had to have two purposes and I wanted them to feel connected, instead of two smaller separate spaces. I used an extra large jute rug that sits under both areas entirely and fills the whole room, so visually the space reads as one."
For style leaders and design lovers.
Charlotte Alldis started her interiors Instagram account Thrifted Abode nearly five years ago. Since then she has renovated two properties and has been passionately learning about interior design along the way. She has just launched her interior design consultancy whilst also continuing to work as a Marketing Director for a hotel. Her work as a marketeer over the last decade has given her great foundations to appreciate good aesthetic design and the power of fantastic photography. She is beyond excited to finally kick start her interior design business.