White marble is still a big design trend – but which colors should you pair with it? Here's what the experts say
It might be a neutral, but there's an art to picking colors that go with white marble – we asked design experts for their tips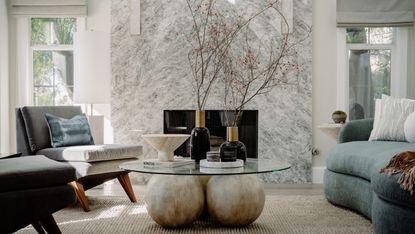 (Image credit: Hugo Landa Photography. Design by Laura Brophy Interiors)
The Livingetc Newsletter
For style leaders and design lovers.
Thank you for signing up to LivingEtc. You will receive a verification email shortly.
There was a problem. Please refresh the page and try again.
Choosing colors that go with white marble – be it for a kitchen, bathroom or a luxe living room scheme – can be a little more complex than it first looks. It's true that white marble is, by all accounts, a neutral – but like other neutral hues (case in point: colors that go with grey), there are hidden depths that make color matching an art in itself, from the undertones of the white to the veining that runs through the stone.
Luckily, of course, it's an art that interior designers have mastered in contemporary spaces around the home. We spoke to some of them to find out which color pairings they favor for this classic stone – and how to use them for a successful scheme.
Ellen is Livingetc's print editor and an experienced interiors journalist. For this piece, she asked interior designers for their tips on the best colors that go with white marble – and how to pair them for the most effective scheme.
How do you choose colors that go with white marble?
As we've mentioned, correctly identifying the undertones and veining in your chosen white marble is the first step to choosing a complementary color. 'White marble isn't necessarily white,' says Los Angeles interior designer Sarah Rosenhaus. 'It can have a variety of undertones, causing it to appear more yellow or gray. This impacts the way that it pairs with different tones and colors.'
If you're not sure where to start, Alice Arterberry and Barrett Cooke of architectural practice Arterberry Cooke have helpfully broken it down. 'Marble like Calacatta has golden veining and creamy undertones, and warm neutral paints can work great to complement that,' they explain. 'Carrara has wispy grey veining that creates a more monolithic, overall layered grey appearance, while Statuario has strong, sweeping grey veining; both are crisp and cool, so fresh colors can work here. Arabescato has a very charismatic tight, bold veining that likes to stand out in a space, so a neutral paint that will take a back seat is best.'
1. White and beige
Proponents of a minimalist palette can rest easy: white and beige are, of course, ideal pairings with white marble if you're looking for a calm, soothing and highly contemporary scheme. But for those who feel a little daunted by such a sparse palette, how can you make sure this look still feels layered and interesting, rather than flat and cold?
'One approach is to play with different shades of white and beige, incorporating subtle variations in tone to add dimension and interest,' says Rob Brophy of Laura Brophy Interiors, who created the neutral living room scheme above. 'For instance, you could pair bright white marble with creamy white cabinets, or beige marble with ivory walls.
'Another way to add depth is to introduce different textures, such as pairing smooth white marble with rough-hewn wood or matte plaster walls. By incorporating a variety of materials, finishes, and colors, you can ensure that your white marble surfaces feel rich and dynamic, rather than flat and one-dimensional.'
2. Black
By contrast, white marble and black is a time-honored pairing that works across a diverse range of styles. Think of a classic checkerboard floor: it's no surprise that white tops the list of colors that goes with black.
'When it comes to creating contrast, bold, saturated colors can make a statement and add depth to a space,' says Rob Brophy. 'My all-time favorite is the classic tuxedo combination of black and white. For me, there is something magical about honed white marble paired with a black plaster surface.'
The key to making this pairing feel warm and comfortable – because isn't that the feeling we all want from our homes? – is, like marble and white, to pay attention to texture. In the kitchen above, Urbanology Designs paired matt white marble countertops with matt black cabinets; wood and brass accents, as well as subtle tongue and groove paneling on the wall above the shelf, help soften the scheme and inject warmth.
3. Dark blue
Another classic pairing, it's difficult to picture white marble with blue without thinking of the popular Hague Blue kitchen trend that exploded into popularity a few years back. When it comes to colors that go with blue goes, though, white – and particularly white marble – is still one of the best pairings to keep things fresh.
'At the heart of this project was our vision for "luxurious juxtaposition",' says Rob Brophy of the kitchen above. 'Our clients are known for hosting high-profile events and large family gatherings, so it was important to create a kitchen that exuded opulence without feeling stuffy or over-the-top. We knew that a high-contrast color scheme would be key in achieving the desired effect.
'After carefully selecting slabs for the project, we presented the client with a stunning option featuring grey veining and cool undertones,' Rob adds. 'It was immediately apparent that sapphire blue would be the perfect contrasting color to bring this kitchen to life and create a dynamic and unforgettable space.'
4. Burgundy, plum or eggplant
'For a more unexpected pairing, I love the look of white marble with shades of deep plum or eggplant,' says Rob Brophy. 'This combination creates a luxurious and sophisticated atmosphere, especially when paired with brass accents or warm wood tones.' If you're having a hard time finding colors that go with burgundy or plum, white marble can help create the contrast you need.
In the scheme above, interior designer Tamara Day pairs gray-veined white marble with deep plum cabinets for a warm-cool juxtaposition that feels contemporary, even with the traditional Shaker-style units. 'My goal for this kitchen was to create a cozy traditional vibe in a hundred-year-old house that felt like it could have always been this way,' Tamara says. 'The marble gives it the anchor and the burgundy feels rich and timeless, while still current. I think rich dark tones add a pop: when you go muted the white marble blends in.'
5. Green
As a twist on white marble and blue, green is fresher, warmer and surprising – especially when it's used in a textural way, like the plaster-effect finish of the walls in this bathroom by Urbanology Designs. Paired with terracotta floor tiles – another color that goes with green – it's a soothing but effective scheme. 'Saturated, dark neutrals like deep forest green are a great contrast to white marbles,' says Alice Arterberry.
While rustic plaster finishes are effective, Alice recommends choosing a different direction when it comes to a textural take on white marble and green. 'I really love a dark color in high gloss, lacquered finish paired with a honed white marble,' she says. 'The silky, natural feel of the stone works nicely against the glossy but warm-undertone painted finish.'
If your marble has particularly cool undertones, you might look to a green with blue undertones – erring towards teal – that matches the color temperature of the marble, like interior designer Genna Margolis of Shapeside did in the dining room scheme above.
Either way, you can't go too far wrong with deep, rich hues, hence their dominance on this list – jewel tones, says Rob Brophy, 'create a striking contrast with the cool, neutral tone of the marble.'
6. Wood tones
As a popular modern kitchen idea, warm wood paired with white marble is soothing, restful and taps into the trend for warm minimalism. It's also an example of how white marble works well with natural colors in general.
'We love pairing rich, warm, natural tones with warm white marble,' says Olivia Wahler, interior designer and co-founder of Santa Barbara's Hearth Homes Interiors, who designed the kitchen scheme above. 'Think light oak wood, mushroom browns and taupes, and earthy sand tones.'
'I love to mix in natural wood for a bit of warmth, personality, and layering,' agrees Charleston interior designer Cortney Bishop. Of course, wood tones vary as much as white marble does, so again, take inspiration from your chosen marble to choose the specific wood – or vice versa. 'My starting place for inspiration is in the marble's colored veining, which ultimately dictates the tone for cabinetry and/or wood stains,' adds Cortney.
7. Yellow
For something a little different, consider yellow as a surprisingly complementary pairing to white marble – particularly in a kitchen, where the white stone helps to cut through and temper the brightness of this shade. 'Lemon cabinetry pairs unexpectedly well with white marble that has green veining,' says Cortney Bishop. 'We've tried this bold approach in the past and it's paid off beautifully!'
As with other colors that go with yellow, this pairing can feel quite striking – so to temper the boldness, use oak or another warm wood. The complementary tones will soften the scheme by providing a calming neutral foundation.
Which metallics work best with white marble?
Thanks to its popularity as a marble kitchen idea, as well as in bathroom design, white marble often gets paired with metallic hardware – so what's the best finish to use with this stone? For Sarah Rosenhaus, it's easy – you can use any, depending on the look you want. 'To keep it subtle, use a brushed nickel; for a pop, use a brass tone; and to keep it modern and graphic, go black,' she says.
'Depending upon the undertones found in the marble, I love to pair both polished nickel and unlacquered brass with white marble to provide dimension and balance,' adds Lauren Sullivan of Well x Design. 'There are a wide variety of "white marbles" so consider playing off of dramatic or subtle veining found within the stone when making plumbing finish selections.'
How should you use white marble and color together?
So, you've chosen your white marble and picked the color pairing – but how do you create a sense of balance in bringing the two together?
'Think of a white marble as one of the many layers of color and texture in a space,' says Mindy O'Connor, principal at Melinda Kelson O'Connor Architecture and Interiors. 'Focus on the overall aesthetic goals and palette and incorporate a specific white marble as part of that range of cool or warm tones. One of the greatest attributes of natural white marble is that it can add depth in a space without adding a lot of color. You can then choose to be as quiet or bold as the look and space demand with the colors and other finishes that work with it.'
And make sure you look beyond the obvious uses of color – painted walls and kitchen cabinets – for your scheme. 'We love the idea of applying a colored plaster, or Roman clay, to bathroom walls; combining it with a beautiful, dramatic white marble can add so much depth and texture to the space,' says Olivia Wahler.
'We also love playing with accompanying tile colors in bathrooms with marble to bring in some unexpected flare and personality,' Olivia adds. 'In a living area, adding white marble to a fireplace surround and incorporating a subtle color on the mantle, walls or even the sofa is a great way to incorporate color and contrast.'
Our shopping editor picks the 3 best white marble accessories
For style leaders and design lovers.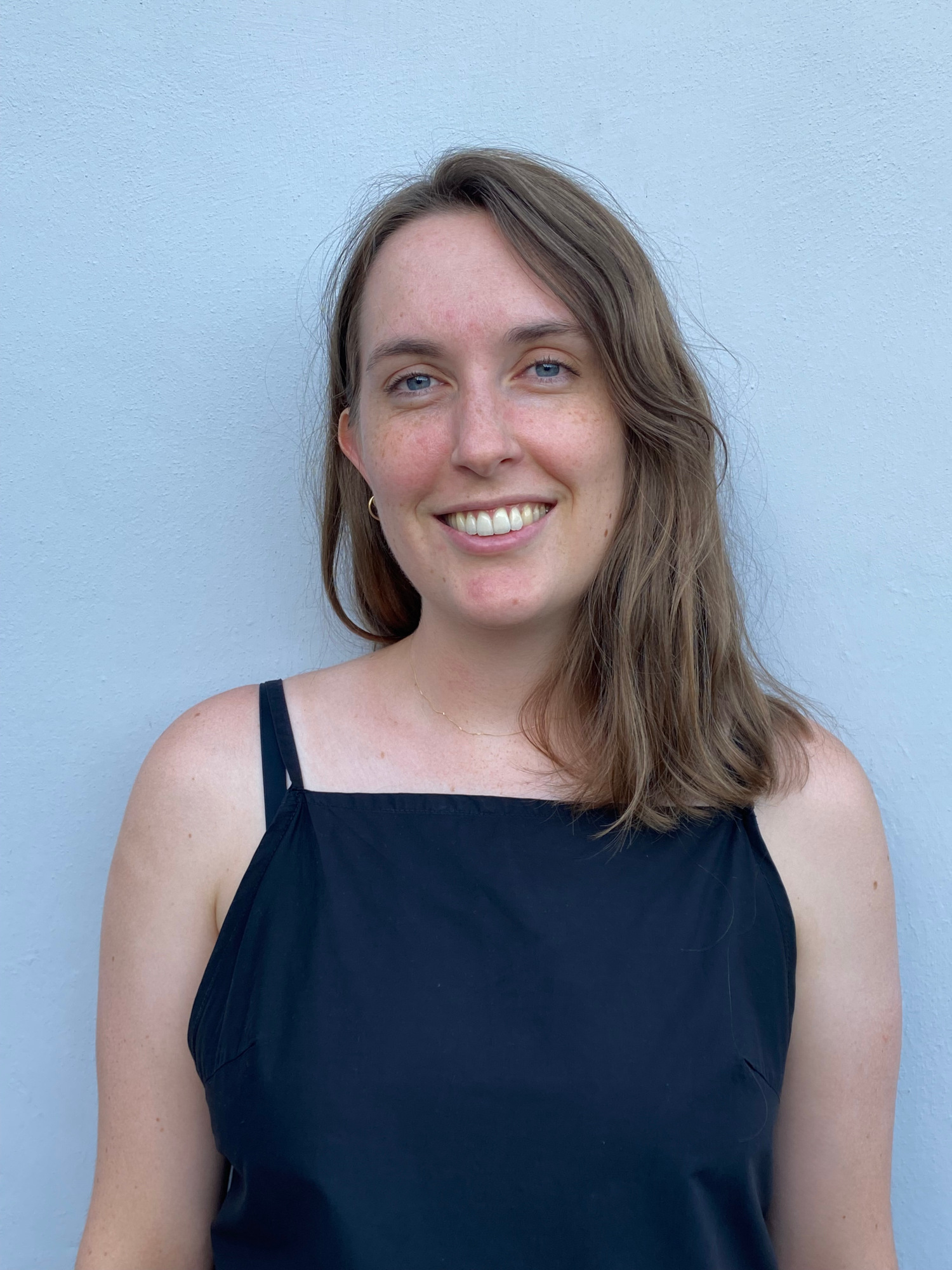 Ellen is deputy editor of Livingetc magazine. She cut her teeth working for sister publication Real Homes, starting as features editor before becoming deputy editor. There, she enjoyed taking a peek inside beautiful homes and discovered a love for design and architecture that eventually led her here. She has also written for other titles including Homes & Gardens and Gardeningetc. While she gets ready to buy a house of her own, she takes inspiration from the works of some of her favourite architects and tastemakers. She has a particular passion for green design and enjoys shopping small, local and second-hand where she can.