9 color palettes for minimalist living rooms - calming schemes which elevate neutral decor
These color palettes for minimalist living rooms by leading designers show that pared back and hues don't have to be mutually exclusive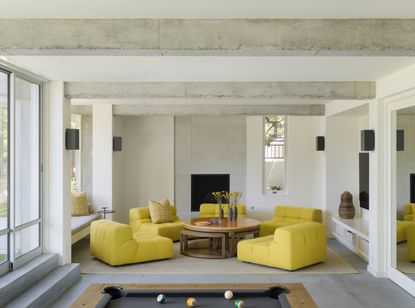 (Image credit: Jose Manuel Alorda. Design by Richard Beard Architects)
The Livingetc Newsletter
For style leaders and design lovers.
Thank you for signing up to LivingEtc. You will receive a verification email shortly.
There was a problem. Please refresh the page and try again.
There's a lot to love about a minimalist living room. As the center of relaxation in the home, the clutter-free calm that a minimalist aesthetic can bring is very much welcome here.
Minimalism in interior design is one of the longest reigning trends. But while it was once associated with layer upon layer of white, today's expressions of minimalism are less strict. Increasingly, minimalist spaces are incorporating decorative objects and color. The key is to do so in an intentional way.
"Minimalism is decluttered yet stylish by curating the space only with pieces that are meaningful," says Hannah Yeo, Manager, Color Marketing & Development at paint brand Benjamin Moore. "Every design element in the room is intentional and customized to the person living in the space. This results in more sustainable and nourishing environments."
9 Color palettes for minimalist living rooms
As long as the space supports a sense of calm and wellbeing, minimalist living rooms can feature a range of color schemes. Here, design experts share some of their favorite color palettes for minimalist living rooms.
1. Pale green, beige and brown
Many of today's minimalist designs incorporate natural materials to help bring a sense of calm. This makes green a brilliant color to work with in a minimalist living room. In the above design by home furnishings brand MENU, the pale green walls are layered with similar neutral tones in the artwork to create a soothing effect.
"From whites, to grays, to moody blacks, use the value scale to bring various shades of neutrals," says Hannah Yeo at Benjamin Moore. "Textures and patterns are great ways to bring dimension to the space. You can also apply this with a single color. For example, our ranges of soft greens such as Sebring White 1492, Vale Mist 1494 and Boreal Forest AF-480 accents creates a calming retreat."
2. Taupe and white
Warm shades of taupe and beige are a brilliant way to soften a white minimalist living room, as illustrated in the above design by Austin-based SLIC Design. The warmer earthy tones in these neutrals prevent the space from feeling stark, bringing a feeling of coziness.
SLIC Design's Principal Designer, Sara Cukerbaum, says: "Beige and white, or taupe and white, is a great starting point for a minimalist living room space. All wood tones, natural stones and plaster mix well with these lighter palettes. Any of the more muted earthy colors also nicely compliment a minimalist space, such as sage green or a rich caramel."
She adds that minimalist living rooms can behave as a blank canvas: "Minimalist spaces create room for someone to create their own experiences, rather than living in the experience of the space."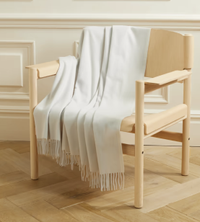 3. White, beige, merlot and turquoise
Rich reds – like the merlot in the design above by Seattle-based Swivel Interiors – can be a welcome addition to a minimalist living room. For the firm's Principal Designer Kathleen Glossa, it's all about including "a disciplined mix of color". While you can "sneak in a few small pops of merlot," she says, "apricots and beiges" are also good for this style, as colors that go with beige.
Glossa continues: "Minimalism is a fabulous design approach for living rooms as it allows the people in the space to function as the focal point in the room. When successfully designed, minimalist interiors have a palpable sense of balance and are inviting spaces. They work for cozy evenings at home as well as engaging cocktail parties."
4. Layers of grey
Gray can be cozy and warming, especially when layered as in the image above by Seattle-based Wittman Estes. The varying grey tones in the metal of the in-built cabinet help to "bring nature inside," as Faith Swickard, Project Manager at Wittman Estes puts it.
She showcases how to decorate walls in a minimalist way by explaining: "Bring the color palette of the natural landscape through the window and into the space. Draw upon the colors of the sky, the dark undersides of plant leaves, or the pop of color in a flower's petals. Muted and soft colors are best so that your eye is not drawn to the individual components of the space but, instead, towards how the space works together, connected to the nature outside. We believe this is at the core of minimalism."
Using just one color in varying tones is another way to ensure the focus is on what Swickard describes as "the overall emotional tenor of the space, instead of individual items, materials, or colors."
5. Layers of sand and beige
Much like using layers of grey, employing varying shades of sand and beige can create a soothing, enveloping living space. If you're not keen on the idea of an all-grey living room, beige could be a friendlier way of achieving that minimalist, monochromatic look.
Once again, natural materials play a vital role in bringing texture to the minimalist living room by MENU pictured. The woven rug, minimalist couch and marble coffee table add subtle patterns and depth. Their organic materials and adherence to the monochromatic color palette ensure that these patterns blend with the space, rather than cry for attention.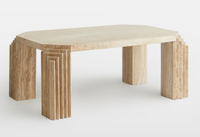 Dabney coffee table, Soho Home
Made from travertine rather than marble, this table still has the understated elegance a minimalist living room requires.
6. Terracotta, beige and brown
If you love color, and want to avoid white at all costs, a mix of earthy tones like terracotta, beige and brown in the design by MENU above work beautifully in minimalist living rooms. Classically minimalist shades are perfect as colors that complement terracotta.
This look requires adding texture and interest through natural materials, like the marble coffee table, linen sofa and exposed wood beams pictured.
"You can be colorful and still create a minimalistic look – however, calm natural tones make it easier to create a minimal atmosphere," says MENU's Design Director Joachim Kornbek Hansen. "We look at a space as a total. It's not only the color, trim or choice of furniture that make the space (minimal). It's the overall impression when you enter a room; created by the choice of colors, furniture, materials and the way you decorate."
7. Yellow, off-white and beige
If you love bold colors, good news: these can be incorporated into minimalist living rooms when applied with care. Going for a bright shade, like the yellow in the design above by San Francisco-based Richard Beard Architects, requires keeping everything around it super neutral. The off-white walls and organic texture in the beams successfully soften and calm this look.
"We're fans of minimalism but try to avoid stark," says Brett Moyer, Principal Architect at Richard Beard Architects. "Anchored by a seating group of four bold yellow chairs selected by the Wiseman Group, the material palette at the family room in the McIntyre House [pictured] includes undyed concrete floors, exposed concrete beams, white plaster walls anchored by a fireplace surround composed of Venetian plaster panels with a subtle pattern of reveals."
8. Natural wood, pale grey, red and green
Natural wood cladding on walls can make for a really warming minimalist living room, especially when paired with furniture in warm natural tones. In the design above by Portland-based Waechter Architecture, the cool grey concrete floor balances the space and encourages the natural light to bounce around the room.
"Minimal and essential doesn't have to mean rigid, cold or inflexible," says Ben Waechter, Principal Architect at Waechter Architecture. "We've employed a few pairings in the past, but our main approach is to combine a natural material expressing its grain or texture with a more neutral surface. A great living room both makes you feel at ease and elevated at the same time, heightening experience and appreciation for the change of light and weather, the tactile qualities of materials and furnishings, a favorite book or recording, and most importantly, one another."
9. White and black
To achieve a more classic minimalist vibe in your living room, white walls and black furniture is a fail safe approach. "There's no better color than white and off-white that best convey the minimalistic style," says Hannah Yeo at Benjamin Moore. "The clarity and beauty of restorative and inviting white paint colors is undeniable. Conjure timeless minimalistic vibes with White Heron OC-57 or Chantilly Lace OC-65."
The space designed by Benjamin Moore pictured is softened with the more modern inclusion of natural objects, like the characterful clay pots and woven bar stools. These elements combine beautifully with views of the treetops, enhancing the outdoor/indoor feel of the space.
For style leaders and design lovers.
Kate Hollowood is a freelance journalist who writes about a range of topics for Marie Claire UK, from current affairs to features on health, careers and relationships. She is a regular contributor to Livingetc, specializing in reporting on American designers and global interiors trends. Based in London, Kate has also written for titles like the i paper, Refinery29, Cosmopolitan and It's Nice That.