The 10 best plants for front yard paths – expert picks to mean a designer touch is the first thing you see when you get home
The right plants can transform a front yard pathway into a welcoming and beautiful entrance for your home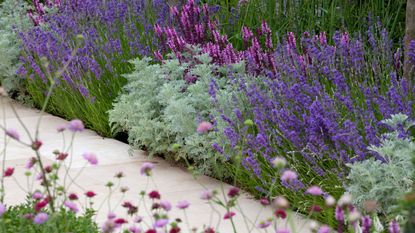 (Image credit: Leigh Clapp Photography/Future)
The Livingetc Newsletter
For style leaders and design lovers.
Thank you for signing up to LivingEtc. You will receive a verification email shortly.
There was a problem. Please refresh the page and try again.
If you're looking for inspo when it comes to fine-tuning your options for front yard path planting, there are several things to consider before you start. First think about whether you want a smart, clipped look or a more naturalistic edging for your path. Perhaps you prefer a modern and uniform look or maybe you're tempted by a more wild and naturalistic planting scheme.
Take into account the bigger picture in your front yard landscaping too, so your path planting design hangs together with everything else. Other options to consider are whether you want fragrant plants to welcome you home, upright varieties or creeping ones, and if you're looking for long-lasting blooms to see you through the best part of the year. Don't forget that drought tolerant planting options are always good, as are plants that help increase bio-diversity.
Either way, it's important to factor in these defining choices from the get-go, which will then make it easy to add curb appeal with your front yard path planting wish-list.
10 best plants for accessorizing front yard paths
When you're considering options for front yard path planting it's always worth remembering that 'local' is good. Planting varieties that thrive in your neighborhood is the fast route to an easy and successful design. So look around before you start, particularly if you're after drought resistance planting ideas.
'If you're looking for low-maintenance front yard path planting ideas, go native,' says Tammy Sons, horticulture expert and CEO of TN Nursery. 'Native plants are low maintenance, disease and pest resistant, and offer natural beauty without the fuss. This is why chaos landscaping is such a huge trend right now.'
Now find out what our experts have chosen for the short-list.
1. Boxwood
If you want to enhance curb appeal and elevate the entrance to your home, nothing is more elegant than smartly pruned boxwood. A robust choice for lining a path, it's easy to create a striking entry using boxwood planted in low hedges, and sculpted into globes and pyramid shapes.
'Boxwood is a fantastic plant for front yard path planting,' says gardening expert Amelia Haslehurt, co-founder of Locally Grown Gardens. 'This evergreen shrub is perfect for creating topiary or forming a neat, low hedge along a pathway. It's an elegant plant that is green year-round, and is renowned for its ability to withstand pruning, allowing you to maintain a tidy, manicured appearance.'
Boxwood is hardy in many climates and doesn't require much water, thriving in well-drained soil in full sun or part shade. The compact, dense foliage keeps its shape throughout the year and just requires a light trim now and then, making it a great low-maintenance garden option too.
2. Hydrangea
A hydrangea in full bloom makes a stunning welcome home as part of your front yard path planting ideas. If you're looking to give your entrance personality or add curb appeal this is the plant for you.
'There are a handful of plants we return to time and again for beautifully landscaping residential properties,' says Juna Durrant of landscaping company Ventures Designs, based in southeast Michigan. 'Hydrangea is our go-to when clients are looking for a dramatic flowering element. A well-cared-for hydrangea will overflow with lush heads of blossoms.'
Hydrangea comes in a variety of colors, from classic white to vibrant pink and periwinkle blue. The blossom heads vary as well, with some varieties producing round globes covered in blossoms, and others forming conical clusters.
One of the most easy-going shrubs around, potted hydrangea care is fairly easy. They're happy in partial shade but do well in a sunny position too as long as they don't get baked in summer. They're not fussy about soil either as long as it's moist and well-drained.
3. Roses
'In my opinion you can't beat roses when it comes to plants for your front yard path,' says Stephen Sullivan of Plant Native, which is dedicated to moving native plants into mainstream landscaping practices, and is based in Portland, Oregon. 'They add a touch of sophistication and charm to your front yard because of their beauty and elegance. Many rose varieties have a delightful fragrance too that can fill the air with a pleasant scent.'
Including roses in your front yard path planting allows you to enjoy their fragrance, creating a sensory experience. 'The fragrance will enchant as you walk by, and perhaps let the blooms spill gracefully over the contours of the path to soften the edges,' recommends the team at David Austin Roses. 'Combine them with Nepeta and other companion plants if you have the space for more of a mixed border.'
Roses are renowned for their long-lasting blooms too. Try a repeat flowering shrub rose like Apricot Drift for your planted pathway, which has large, rosette-shaped bright flowers and a heavenly scent. You'll also want our easy hacks to make your roses look better.
4. Rosemary
For aesthetic purposes and easy maintenance, try the idea of mass planting of one type of plant along a path as it provides a nice cohesive look and keeps maintenance to a minimum.
'Plant rosemary for a sunny path in a warm climate,' says horticulturalist Annette Hird, founder of Easy Urban Gardens. 'Rosemary is a hardy plant and loves growing in the sun as it hails from a Mediterranean climate. It's also low care and only needs a trim once a year in spring after it's finished flowering.'
Rosemary is for more than just the herb garden - it can also be grown as a low hedge to frame a path beautifully. 'Plus, there's the benefit of the lovely scent when you brush past it and pretty white or mauve flowers in late winter to early spring,' says Annette. 'If planting beside a path and growing as a hedge, it's important to start pruning early to get the desired shape.'
Once rosemary is established, it shouldn't require any supplementary watering except during prolonged dry spells. However, it must be grown in well-drained soil as it won't handle wet feet.
5. Sweet autumn clematis
'I've found the sweet autumn clematis (Clematis terniflora) to be a rather unconventional, yet wonderful choice for front yard path planting,' says Jesse Wilkinson, founder of My Garden Flowers. 'Often overlooked due to its rampant growth, this deciduous vine offers a sea of fragrant, star-shaped white flowers from late summer to fall, infusing a sweet, heady scent to your pathway.'
While many shy away from sweet autumn clematis (it is considered invasive in many areas of the eastern United States), annual pruning can effectively manage the plant's vigor. Furthermore, its adaptability to grow on structures allows for spectacular topiary displays. It's also one of the best flowers for bees.
'The pièce de résistance, however, is its ability to spread into the spaces between pavers, creating a charming, rustic feel that boosts curb appeal,' says Jesse.
6. Liriope (lilyturf)
Plants can also be used to soften the edges of paths for a more naturalistic look. 'I'm fond of growing ornamental grasses or plants that have grass-like leaves beside a path such as Liriope,' says Annette Hird. 'These plants are generally low care and look great when grown en masse beside a path. Plus, their lovely soft leaves will hang over the path to soften the edges and give a natural feel.'
Liriope is particularly attractive when in bloom. The spikes of purple flowers will add a pop of color to the front yard. It does best when grown in part shade, so it's perfect for a more shaded path.
'This is a low-maintenance plant and won't need a lot of fuss for it to grow beautifully. All it needs is the occasional watering when there hasn't been any rain for a while,' says Annette. 'Plus, the leaves can be clipped back a little if they encroach too far onto the garden path.'
7. Lavender
Lavender is a classic choice for planting alongside paths, as it looks and smells so good, plus comes back year after year. This is why it's also one of the best front door plants - it's such a lovely welcome. It also attracts bees and butterflies, which is good for biodiversity.
'Lavender is an excellent plant for adding curb appeal due to its vibrant purple blooms,' says Tonya Lawson, founder of The Suburban Garden. 'It has a timeless appeal and exudes an English cottage garden vibe that can instantly enhance the aesthetic appeal of your front yard. Lavender is also a fantastic plant for scent, with a calming and refreshing aroma that can create a welcoming atmosphere.'
In terms of practical benefits, lavender is drought-tolerant, making it a good low-maintenance plant. This perennial also blooms over a long period, from late spring to early fall, which means you'll have color in your garden for a large part of the year.
8. Thyme
Available in both creeping and upright varieties, decorative and easy to grow thyme is one of the best fragrant low-growing plants for front yard path planting.
'I often recommend thyme for pathway planting as it's one of my favorite herbs,' says Amelia Haslehurt. 'Thyme is a hardy, low-growing perennial that requires little maintenance. Its tiny leaves creep in between pavers, softening the look of the pathway and adding an organic, natural feel.'
It's also incredibly resilient, standing up to foot traffic, and releasing a delightful aroma when crushed, so it doesn't matter if some gets accidentally stood on. Thyme is available in various species offering a choice between different leaf colors and flower hues, so it also adds a nice pop of color to your path. We like 'Elfin' if you're looking for a variety that will creep into the cracks and crevices.
9. Lady's mantle
One of the prettiest plants around, the fan-shaped leaves of lady's mantle (alchemilla mollis) have scalloped edges that will add a billowing effect to soften front yard garden paths. The large lacy sprays of tiny star-like flowers that top the fabulous foliage are lime green-colored, honey scented and nectar rich to attract pollinating insects. It's a low maintenance choice too.
This plant is also good for special effects. 'The wavy-edged rounded leaves are know for their ability to catch water droplets and make them look like little circular mirrors,' says horticulturalist Jenny Rose Carey.
Lady's mantle will survive anything, happy in full sun or partial shade, and it's not fussy about soil either. Simply dead head it when the plant starts to look tired and you will be rewarded with a second flush of flowers right through fall. It self seeds freely, particularly in hot and humid summers, but if it pops up somewhere you don't want it, it's easy to pull out.
10. Hakonechloa macra
Drifts of easy ornamental grasses like Hakonechloa (Hakone Grass) add a distinctive touch to front yard path planting, helping to soften edging and create a billowing look. It looks lovely en masse as a uniform look bordering paths or alternatively mixed in with other plants. A bonus is that the fresh green foliage gradually turns a pretty russet color in fall.
One of the best path edging plants, this slow spreading, deciduous grass forms attractive hummocks of soft bright green that add texture and shape to your front yard planting. The minimal look and easy nature of this grass particularly suits contemporary-style urban front yards.
This grass will look after itself. It doesn't need watering or feeding, which makes it a top choice if you're also after a low-maintenance option. It comes back every year too. Simply cut back foliage to the ground in winter or early spring before the new shoots appear.
For style leaders and design lovers.
Lifestyle journalist Sarah Wilson has been writing about gardens since 2015. She's written for Gardeningetc.com, Livingetc, Homes & Gardens, Easy Gardens and Modern Gardens magazines. Her first job on glossy magazines was at Elle, during which time a visit to the legendary La Colombe d'Or in St-Paul-de-Vence led to an interest in all things gardening. Later as lifestyle editor at Country Homes & Interiors magazine the real pull was the run of captivating country gardens that were featured. Having studied introductory garden and landscape design as well as a course in floristry she is currently putting the skills learned to good use in her own garden where the dream is establishing a cutting garden.