Are you even watering them right?! 5 easy hacks to make your roses look better - expert advice for beautiful blooms
Flower and garden experts explain the simple ways to keep rose flourishing and in bloom for longer, helping you maintain a beautiful backyard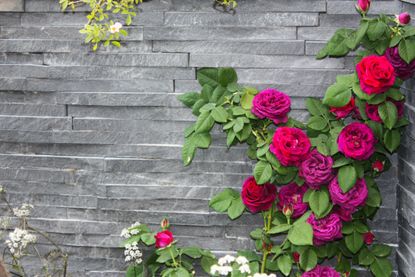 (Image credit: Alamy)
The Livingetc Newsletter
For style leaders and design lovers.
Thank you for signing up to LivingEtc. You will receive a verification email shortly.
There was a problem. Please refresh the page and try again.
With such a huge amount of varieties and colors to choose from, roses have long been a gardener's favorite. From low growing floral carpets and sensational stems to to climbing canopies, there's a rose to suit most gardens.
That said, this queen of the backyard flowerbed can sometime get a bad rap for being difficult. Yet that doesn't have to be the case. Whether you know a tea rose from a rambler, you can grow like a pro.
In fact, according to the experts at Nature Hills nursery, modern roses are hardy, adaptable and thrive on neglect.
'If you've selected the right variety for your climate and conditions, roses can be a carefree addition to your garden,' says Charlotte at Nature Hills. 'Modern roses have been bred to be drought-tolerant and disease-resistant, with non-stop blooms.'
5 easy hacks to make your roses look better
With a few simple steps, roses can flourish and provide beautiful blooms throughout the seasons.
1. Mulch the soil
Healthy soil generally equals healthy plants. The pH of the soil will also determine which plants grow well and which don't - or those that may require a little extra help.
Most plants like a neutral pH of 6.5-7 (below 7 veers towards acidity, while 7-14 indicates alkaline). Roses are no exception and prefer a neutral pH of around 6.5. If you're in doubt, there are inexpensive soil test kits like this from Amazon you can buy to check, such as simple litmus paper strips.
'Learning about your soil is the first step to a healthy and productive garden,' says Stephanie Rose, author of Garden Alchemy. 'It can be quite different to your neighbor's land and even differ around your property.'
'Even if you get excellent quality top soil and your first year of gardening is productive, those easily accessed nutrients will soon be depleted. After that, the new soil will need to be amended annually until it becomes rich with the organic matter and microbes that make up living soil.'
Mulching the soil in your rose beds will help to keep it healthy. It also prevents weeds, conserves water and moderates the temperature. Well-rotted homemade compost, well-rotted stable manure or dry grass clippings are all suitable for roses.
Some mulches can slightly alter the pH balance towards acid or alkaline if that is required, so choose one according to your type of soil if necessary.
2. Feed them alfalfa tea
Much as we need the right nutrients to thrive, plants do too. An imbalance or deficiency of key minerals, such as phosphorus, potassium or nitrogen will show up in a lack of blooms.
A simple way to ensure your roses have the elements they need, is to feed them with homemade fertilizer, during the spring-summer growing season.
Stephanie Rose author of Garden Alchemy feeds her roses Alfalfa tea, which she makes herself with half a cup of alfalfa powder, like this from Amazon, and one gallon of rainwater or de-chlorinated water in a bucket or mason jar.
'Alfalfa is prized as a cover crop and a fertilizer for its high levels of nitrogen,' says Stephanie. 'It's rich in vitamins and other minerals, such as calcium, iron, magnesium, phosphorus and zinc. The American Rose society also sings its praises and recommends feeding home-brewed alfalfa tea to roses and perennials.'
'For best results, stir it well, cover with a lid and set it in the sun. Brew for at least 36 hours, stirring at least twice a day. The brew is ready when the solid materials settles at the bottom and the liquid above is an orange color.
'Let it cool, stir again and pour onto your plants, being careful not to displace soil or roots.'
'Fertilizers are intended to enhance the production of your garden, not solve plant health issues,' warns Stephanie. 'Plants can be sick for many reasons, and if you are adding organic matter and supporting healthy soil, then soil fertility is not likely to be the issue.'
3. Encourage ladybugs
Aphids often like to feed on roses but this can be prevented naturally. Rather than using toxic pesticides, which will kill off the good bugs gardens need, along with the pests, it's better to encourage their natural predators.
A herb garden filled with dill, chamomile, coriander, feverfew, nasturtiums or lovage will encourage ladybugs to your backyard. Once there the ladybugs will feed on any aphids that appear on your roses or elsewhere.
'Healthy soil and robust plants will be able to tolerate pest populations without too much damage,' says Stephanie. 'One of the best ways to keep aphids from taking over your garden is to plant some of their favorite plants.
'Why would I suggest creating an area in your garden to attract pests? Pest populations need to reach a certain threshold in order for predatory insects to make patrolling worth their while.
'Creating an aphid "nursery" allows you to control the location of the aphids and thus attract ladybugs, chickadees and other insects to keep the rest of your plants aphid-free.
'Plant these sacrificial perennials or annuals that aphids are known to love away from your prized flowers. Monitor the "nursery" and if the aphids start to take over more than 20% of the plant, remove them with pruning or a water spray.'
4. Deadhead spent blooms
Removing spent blooms not only makes a rose bush look prettier, it's better for the plant too. As it helps to prevent diseases and pests.
Pruning roses is best done in the spring, or fall, depending on the type of rose and region. However, 'deadheading' can be done at any time.
'Trimming rose bushes in the summer involves only the removal of spent blooms,' says Charlotte at Nature Hills nursery. 'As well as possibly cleaning up the overall shape of the rose bush in order to make it look better. Removing any limbs that are too aggressive may be necessary too.
'Deadhead often to sustain a longer bloom, keep the plant tidy and to reduce stress on the plants in summer,' says Mary Irish, author of Deserts of Arizona, Month-by-Month Gardening. 'Always cut back to the first set of five leaves when deadheading.
'Keep tools sharp and clean so they make a smooth cut and do not spread disease from one plant to another.'
5. Water in the right way
How often you water your roses will depend on where you live. As the type of soil in your garden and the weather will dictate to a large degree.
However, watering indiscriminately not only wastes a precious commodity, it may cause soggy soil, which your roses won't appreciate. Excess water can smother the roots and leave them susceptible to mold. So check the soil first.
'Stick your finger into the dirt near the base of the plant and if you feel moisture then your plants are doing just fine and you can put the watering can away,' says Charlotte at Nature Hills nursery. 'If the soil is dry, that's when you water.
'Water the roots, staying clear of the leaves. Keeping the leaves dry will lessen the chance of diseases.'
Watering roses (and most other plants) is best done in the morning when it's cool. If you have to rush off to work or don't have time, the next best part of the day is around dusk.
For style leaders and design lovers.
Jacky Parker is a London-based freelance journalist and content creator, specialising in interiors, travel and food. From buying guides and real home case studies to shopping and news pages, she produces a wide range of features for national magazines and SEO content for websites
A long-time contributor to Livingetc, as a member of the team, she regularly reports on the latest trends, speaking to experts and discovering the latest tips. Jacky has also written for other publications such as Homes and Gardens, Ideal Home, Red, Grand Designs, Sunday Times Style and AD, Country Homes and Interiors and ELLE Decoration.