6 genius ways to sneak a washer dryer into a small home – even if you don't have space for a laundry room
Trying to find space for a washer dryer? Here's how 6 designers found room for them without ruining the look of the rest of the house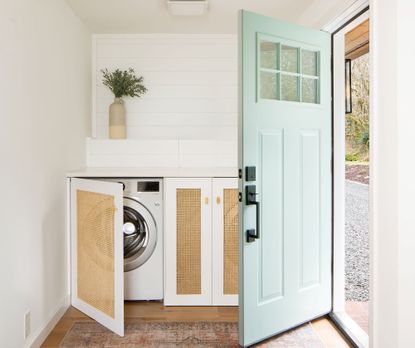 (Image credit: Wynne H Earle. Studio credit Allison Lind Interiors)
The Livingetc Newsletter
For style leaders and design lovers.
Thank you for signing up to LivingEtc. You will receive a verification email shortly.
There was a problem. Please refresh the page and try again.
Even if you don't have a laundry room per se, you don't have to air your dirty laundry – designers are continuously finding clever ways to hide washers and dryers in unexpected spaces, even in the smallest of homes. After all, it's rare to see an entire room dedicated to the laundry in small apartments and tiny houses.
So, where else can you sneak your appliances into your home? We've found some clever ideas from interior designers, from hiding them within niches, storage cabinets, and under sinks for a clean and sleek look. Take a look at these discreetly hidden laundry rooms and makeshift washing spaces.
Aditi is an experienced homes writer and editor. She has written hundreds of articles for various international titles helping readers make the best home design choices, and spends her days interviewing interiors industry experts to bring the latest ideas to her readers. For this piece she spoke to the world's best designers to find out ways to hide the laundry units at home.
1. Install a cabinet next to a work station
Have a small room and need to fit in multiple functions? Create a small laundry room within a cabinet, and paint doors and walls to keep the interior looking smart and design-savvy. Dedicate a section of the cabinet to the washer and dryer, and the rest as a storage space for other knick-knacks. Optimize space inside the cabinet by stacking the washer and dryer on top of each another.
'Our clients presented us with the challenge of having a desk, pantry, and laundry within their already tight galley kitchen,' says Lucie Ayres, principal designer at 22Interiors. 'We found that this space could do it all with the right proportions. We insisted on retractable doors to create more space when the pantry and laundry are in use and finished the cabinets in the same mint color as the kitchen cabinets for a sense of cohesion.'
2. Hide the laundry inside a passageway cabinet
While usually laundry units are installed inside already busy rooms such as the kitchen or bathroom, consider adding a laundry room cabinet in a less-frequented, transitional space like a passageway. This location can be key as it's away from the traffic areas of the home, and closer to the bedrooms where it can be easy to move laundry in and out of.
Remember to add nice, recessed lights inside the cabinet so it's always easy to work inside this small space. You could even add a thin, long pendant light to add a touch of decor.
'The utility cupboard was designed to house the boiler, washing machine, dryer, and cleaning products,' says Daniel Rees, managing director at Rees Architects. 'We located this on the top floor to remove the noisy equipment from the kitchen, which became an open-plan living, dining, and kitchen space. Locating it next to the bedrooms, on an unused landing area, is also more convenient for doing daily laundry from the bedrooms on the same floor. The cupboard is built from MDF, with flush doors on push catches and painted in emulsion paint, so it looks like part of the wall.'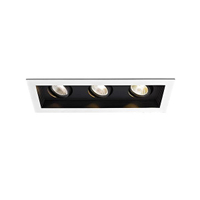 Mini LED recessed spots from Lumens
Install these 3-light recessed spots to fit smartly within your laundry cabinet. It features an aluminum heat sink with three built-in LED sources.
3. Install the laundry under a kitchen counter
'Within this beachside family apartment I created a highly functional and user-friendly laundry which simply vanishes into the kitchen cabinets,' says Michael Allsopp, founder of Michael Allsopp Design. 'I achieved this by designing an extra deep bench where the entire washer/dryer could fit snugly within the cabinet, out of the way. I then chose a pocket door system which allowed the appliance to be easily accessible when in use or hide away when not.'
Incidentally, if you don't have the wall space for a wall-mounted cabinet laundry, consider a laundry room shelving idea that is drawer-recessed. The entire shelf containing the machine and even an ironing board can be pulled in and out when in use and pushed back into the wall.
4. Add a laundry cabinet at the entryway
Placing a narrow utility room or space near the entrance can be a little tricky but it will ensure that dirt and grime won't be tracked through the rest of the home. Post a heavy and muddy day in outdoors, the soaking socks, shirts, and caps can be stowed immediately inside the washer.
'This tiny beach cabin needed a complete overhaul, but due to size and space limitations there wasn't a good spot to place the laundry area,' says Allison Lind, design director at Allison Lind Interiors. 'The only zone that made sense was where the previous owners had it – at the entry. But having piles of laundry and bulky machines be the first thing you see when you enter is far from ideal. So we opted to encase the front-load washer and dryer in custom cabinetry, with breathable door fronts made of caning for ventilation. The caning also helps add some decorative interest to the space so it doesn't fall too flat.'
'A quartz counter provides a lovely "entry table" top vibe, but doubles as a folding/sorting zone,' says Allison. 'The previous owners had the waterline routed straight through the center of the wall (above the counter) which was quite unsightly. So we built a ledge that encloses the waterline (a little trap door at the center allows easy access). The ledge is clad in the same shiplap that continues up the wall for a feeling of continuity. The color palette was kept clean and simple, to flow with the rest of the entry hall – as to not pull the eye directly to the fact we're secretly hiding appliances in there.'
5. Place laundry inside shaker style cabinets
'I love these little hideaway doors we designed so you can keep the laundry room looking pretty no matter how many loads are ahead,' says Lindye Galloway, founder, and chief creative officer of Lindye Galloway Studio + Shop. 'The Shaker-style cabinets discretely disguise the machines when not in use for an overall cleaner, more organized look that helps give the illusion of more space.'
Add to the laundry room storage with wicker baskets that look pretty yet hold important stuff. You can also hang a rail rack close to the ceiling to suspend wet clothes if you wish.
Also, if your laundry room is on your ground floor or in the basement, it can be a task lugging a full laundry basket – or three – down the stairs. If you are renovating or building your home, consider adding a laundry chute for easily moving washed and dried clothes.
6. Create a whole hidden laundry room behind doors
Wondering how to organize a laundry room inside a cupboard? Add plenty of shelves, a small sink, and sliding units to make the cupboard a nice, hidden yet highly functional 'room' in the house.
'It was all about making the most of every moment, and particularly of the joinery, for such a compact dwelling,' says Kate Macmahon, founder of Macmahon and Nerlich. 'The space for the laundry cupboard was 'just right', using the narrowest under-mount sink available, yet with a recess deep enough for soaps and bottles during use. A vertical partition in the same warm oak veneer between the sink area and the washer/dryer keeps the lines elegant and continues the geometry theme of the cubicles above. To pack more in we allowed for a range of differently-sized cubicle spaces, just enough for a place for everything!'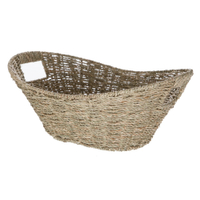 Natural seagrass basket from Walmart
Looking for a nice, organic laundry basket? Consider this one made in natural seagrass with cut-out handles, ideal for keeping toiletries, knickknacks, clothes, and more.
7. Fit it inside a cubby
Combining a few functional spaces into one is a great way to maximize square footage and have a layout that is practical. Here, a utility room design has been merged with a work area. For busy households, a room like this is a dream to stay on on top of chores.
'The intent for this design was to create a beautiful yet functional space,' says Julie Bradshaw, founder of Bradshaw Designs. 'The existing space was used as a study, so a complete redesign was necessary. The space was dark as the only natural light coming in was from a skylight above. There were many elements to incorporate into a somewhat small, hidden, and angular space, including the typical things found in a laundry room as well as a dog-washing shower and craft area.'
'Custom cabinetry was designed to house all of the elements desired by the homeowner. A cubby was created for the washer and dryer that also allowed room below for a pull-out platform to hold a laundry basket for easy loading and unloading. A thoughtfully placed hanging area is located beside the washer and dryer with basket storage above. Upper cabinetry creates additional storage. A farm sink with a sprayer faucet provides an area to wash and rinse.'
For style leaders and design lovers.
Aditi Sharma Maheshwari is an architecture and design journalist with over 10 years of experience. She's worked at some of the leading media houses in India such as Elle Decor, Houzz and Architectural Digest (Condé Nast). Till recently, she was a freelance writer for publications such as Architectural Digest US, House Beautiful, Stir World, Beautiful Homes India among others. In her spare time, she volunteers at animal shelters and other rescue organizations.