Room design ideas: Abigail Ahern shares her very best
Maximalist expert Abigail Ahern's room design ideas will bring personality to your home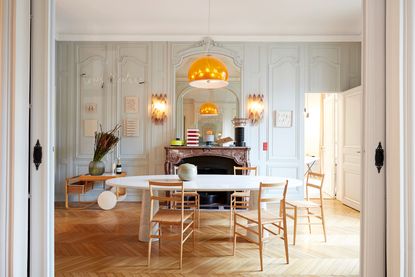 (Image credit: Gaelle le Boulicaut)
If the room design ideas you're after are more maximalist than minimalist, look to Abigail Ahern, the master of 'more is more', for some dazzling modern interior design inspiration.
Her explorative style embraces all-out colour palettes, luxurious textiles, patterns and embellishment to show-stopping effect. Brimming with passion and creativity, it's a far cry from stripped-back Scandi style.
In her new book, Everything, Ahern shows us how to express our unique personalities at home - a place where we're all spending more time than ever - with confidence.
From experimenting with lighting and texture to blending the modern and the vintage, her expert tips will help you define your own style and design a home that's bursting with character.
Transform a space with tactile textures
Mixing textures is fundamental in maximalist spaces. Consider every texture in your room, from shaggy rugs to metallic bowls. Say your velvet sofa feels lacking. Opt for woolly cushions and a fluffy sheepskin throw to provide friction between the surfaces. Just don't forget the all-important repetition. Abigail's golden rule for a cohesive space that hangs together happily is to use any one texture at least three times.
Silence your colour fears
When it comes to choosing paint colours, follow your instinct. Banish those doubts that your small room can't take a dark hue. In fact, Abigail recommends not discussing your ideas with anybody! Colour tends to strike fear into the hearts of family and decorators alike. Don't let them put you off. If your room is feeling repetitive and predictable, throw in a handful of colours that have nothing to do with your palette to infuse the space with life.
Use your intuition when placing furniture
The most important room design ideas to consider when arranging furniture is traffic flow - but don't overthink it. Simply make sure you can pass through a room without tripping over everything. That said, Abigail advocates floating furniture in the middle of your space to make conversation nooks feel more intimate. Even in small spaces. Shove your furniture against the wall and it will look like a doctor's waiting room, which presumably isn't the look you're after. Move your stuff around. Shift and re-orientate it. It will give your home a new lease of life.
Create an atmosphere with clever lighting
The right lighting fixture can elevate a dull space into a cosy retreat. There's an endless choice of styles, from industrial to glam. Ahern leans towards lights that enhance her existing decor, rather than standing out, but there is no right or wrong.
If you only buy one new lamp, make it a table lamp. They can sit within the style of a room or give it an interesting new focal point. Try mixing two completely different table lamps with similar colours or geometric shapes together to give the room more visual symmetry. If it's drama and definition you're after, look to pendants.
Mix and match materials for depth
Contrast materials to create a layered space. Instead of pairing a grey ceramic coffee table with a grey concrete floor, opt for marble. Throw in some rustic touches - rattan or cane. Mix shiny and matt finishes. If it's cosy you're after, look to the richly warming tones of wood. Choose finer grains for formality and larger grains for a casual vibe. Or make like Abigail and mix the two.
Vary your heights and scales
Perfectly proportioned rooms can feel overly formal. If everything in your space is the same size and scale, it can look like it's jumped out of a catalogue. In other words, boring. Keeping everything a similar height looks flat, so combine tall with short and skinny with plump. Place that small chair next to your bigger table. Oversized lamps or sculptures act as focal points and create buzz without busyness. It's the grand gestures that are the most mesmerising.
Inject personality with pattern
Think of your home as an extension of your personality. Create a gallery wall by hanging up prints in colours that you love to make it feel like you. If artwork feels too risky, cluster some patterned cushions on a block colour sofa for instant dimension. Once you're feeling braver, trying mixing pattern with rugs and wallpapered walls. Contrast graphic with organic, leopard print with florals. Mixing cultural influences can be fascinating too. Keep your design eclectic rather than messy by connecting the dots, relating and linking motifs, scale and colour.
Everything: A Maximalist Style Guide by Abigail Ahern is published by Pavilion and available to buy now.
The Livingetc newsletter is your shortcut to the now and the next in home design. Subscribe today to receive a stunning free 200-page book of the best homes from around the world.
Shining a spotlight on the now and the next in home design and decor, Livingetc is the UK's best selling high end and contemporary home design magazine. As a brand, Livingetc showcases the world's very best homes, breaks and makes the trends, and has access to leading international designers for insight and ideas. It was first published in 1998, and is currently edited by Pip Rich.