6 of the best modern fans to keep your home cool – and stylish
These modern fans can keep the temperature in your home cool, all while looking the part and blending in with your furniture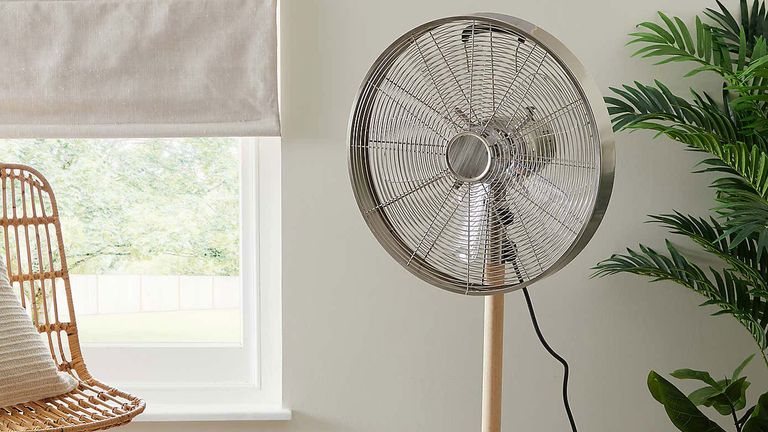 (Image credit: Dunelm)
Searching for the best modern fan and want to avoid spending your money on an eyesore? When you are feeling the heat, it can be tempting to panic buy any old thing to keep you cool, but remember this is going to be sitting in your home for the summer months. It will be on full show – it pays to pick something stylish and efficient.
Luckily, we've discovered six stylish fans that can cool the air in your home while looking pretty and blending in with your interiors. From floor fans to tower fans and desk fans – there's even a bladeless option for pet owners and parents – all of the top modern fans we think should be on your radar are listed below. Just in time for tackling the heatwave. Check them out, then scroll on for some advice on getting the most from your fan in hot weather.
Head to our best air purifiers guide for plenty more product recommendations.
1. This wood-effect modern fan for Scandi-style homes
2. A modern fan that's chrome – for your home office
3. A stylish desk fan that you could also use on a bedside table
4. This pedalstal fan has built-in storage
5. Don't miss this impressive Scandi-style tower fan
6. Opt for a bladeless fan if you've pets or children
How to use a fan to cool a room
The best modern fans might be plug and go, but there are a few ways to make sure you get optimum efficiency from your purchase. After all, while a fan will cool a room, the setup will make a difference between it creating a cooling breeze or just pushing stale air around, so try some of these tips to get the most from your fan.
1. Make it cooler with ice
Position frozen bottles of water in front of your fan on the hottest days. This will create a cooler breeze as the fan pushes air past the frozen bottles. You might find this works best with a desk fan and be sure to leave some space between the fan and bottles to create airflow.
2. Turn the fan around
It seems counterintuitive, but if your room is really stuffy, you should try turning the fan around to blow the warm air out of the window. This creates a crosswind drawing hot air out and cool air in. If you have two fans, you can really up the ante but having the other one blowing in, creating a lovely cool circulation. If you have windows on either side of the room, open them to get a good through-flow.
3. Reduce the heat to start with
Your fan will have its work cut out if the room gets too hot in the day. Keep blinds and curtains shut to prevent too much solar gain. Switch off any electrical items that are on unnecessarily as this generates heat, too.
4. Shut the door
Control circulation of air by shutting the door to the room you are cooling with the fan. That way you aren't expecting it to shift too many cubic meters or air in one go and you will feel the effect of its use.
Annie is the UK Shopping Editor at Livingetc, with the majority of her time spent advising you on what to buy for your home – whatever the season, or the latest trend. Whether that be a design classic floor lamp for your cinema room, a comfortable new chair for your home office, or a high-quality exercise bike for your home gym. She's also our fitness guru, with hands-on experience with some of the best home gym equipment around. Otherwise, you can find her forever painting the walls and reorganising the furniture inside her modern London flat, or going on long walks with her pug.