Beata Heuman explains how to create the perfect Christmas table and pick a palette for next year
Designer Beata Heuman spoke to Livingetc editor Pip Rich about how to perfect her simple Christmas palette, and design ideas for 2022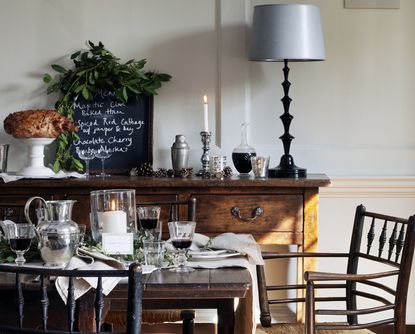 (Image credit: Future)
Last month, I caught up with the acclaimed interior designer, author and product designer Beata Heuman. We spoke about everything from how her influential maximalist look is evolving for 2022, what colors she's into now, and how she puts her famously eclectic rooms together.
We also spoke about her Christmas table decor ideas which will help to create a festive table worth celebrating.
I've long been a fan of Beata. Having spearheaded the modern decorative style so many of us have embraced, designer Beata Heuman published her first book, Every Room Should Sing earlier this year. As well as running a successful interior design studio she has her own shop, selling furniture, lighting and accessories, and has just launched her own fabric. Her use of color is legendary, and hshe brings a sense of joy to every space she touches, through clever curation, a total understanding of how design works together, and the knowledge that where you live should lift your heart.
We chatted via Zoom, with Beata in Sweden at the summerhouse she has been renovating, and I found her design tips invaluable, for Christmas and beyond.
Pip Rich: The last time I saw you was the weekend before the pandemic hit. I remember we hugged and a colleague said she wasn't doing it because of this new corona thing we were vaguely hearing about. Unbelievable! How have you been?
Beata Heuman: I remember! Since then it's just been working non-stop - I've been managing the studio and the shop and finishing the book and promoting the book. We've just been in Sweden for six weeks, working on a summer house on my dad's farm, doing it up.
PR: I've been refurbing too, and so much of your book has resonated with me particularly about placement of decorative things and how to display long-treasured items. What from the book has resonated with the readers?
BH: There's a Diana Vreeland quote I used in it that says "A little bad taste is like a nice splash of paprika. I think we could use more of it - no taste is what I'm against." And people have been tagging me in that a lot online. It gives you permission, I think, to be nostalgic, sentimental and to display pieces that make you feel something. For this project I've been finding all sorts of things in my father's attic and giving them new life.
PR: One of my most cringe-worthy memories is when I referred to your ability to make 'junk' feel special, and you - quite rightly - told me the stuff you use in your projects wasn't junk! I am still so embarrassed about that - but what I meant was more old dusty heirlooms that others might overlook, you are often able to bring the beauty out of. How do you do that?
BH: I was only teasing you that time! You just have to be confident, and only buy things from antique markets or auction sites if you really, really like them. When trawling eBay, you have to be really focussed about what you're looking for, and really targeted with the keywords you put in.
PR: I'm trawling for travertine, constantly. What are you into?

BH: I'm actually moving away from some of the stronger shades I've been associated with. I now love a lot of soft yellows and ivories, cool blues. I never used to like green and red together, thinking it looked too Christmassy, but now I'm finding it to feel quite earthy. I like Bronze Red and Lemon Tree from Little Greene, combined with Strong White and Stone Blue from Farrow and Ball. The more dark blue you add to a scheme, the more it works.
PR: So can I assume red and green will feature for you this Christmas? My big thing, that I keep saying in features meetings, is "Christmas as cashmere." I want the vibe this year to be familiar and comforting but smart and luxe, lots of natural and soft textures, gorgeous light that just wraps you up.
BH: I like that. It's not about extravagant tablescapes or being over the top, but mixing vintage pieces into new. Christmas style should always feel very doable. The best festive tables are really simple - go for white candles, white napkins, scented food like Swedish cinnamon buns. Also, plant white hyacinths in simple bowls three weeks before Christmas and you'll be able to dot them amongst the settings as they flower on the big day.
PR: That sounds so charming- much simpler than the Christmas table centerpiece ideas I was thiking about. I also wanted to talk to you about chequerboard floors, too, something I really associate with you, and one of the most decorative flooring trends at the moment. Do you still like them?
BH: Yes, they're such a classic thing in Sweden. I've done two in this summer house, one that is red and off-white lino in the kitchen, and one that is grey and brown stone in the bathroom.
PR: I think many people are flummoxed by floors - they feel like such a huge investment that you only do once.
BH: This is why rugs are so useful as a final flourish once everything else is in place. I use a lot of jute because I'm all about contrast, and this is the opposite of the more elaborate items of furniture I tend to use. You can't go wrong with an interestingly curved sofa juxtaposed with a rustic rug that you don't have to worry about messing up by walking on.
PR: I also think you can't go wrong with your bow handles - we've featured them a couple of times and seen them in countless houses that we get submitted.
BH: Good handles really elevate joinery, and as they're the thing you interact with most in your kitchen, you want something that is nice every time you touch them. You can mix our bows with any of the others in the collection, and they're my answer to not wanting joinery to be too expensive. In my book there's a whole chapter on details and why they matter. A house should really be full of small things that give it a lift.
The editor of Livingetc, Pip Rich (formerly Pip McCormac) is a lifestyle journalist of almost 20 years experience working for some of the UK's biggest titles. As well as holding staff positions at Sunday Times Style, Red and Grazia he has written for the Guardian, The Telegraph, The Times and ES Magazine. The host of Livingetc's podcast Home Truths, Pip has also published three books - his most recent, A New Leaf, was released in December 2021 and is about the homes of architects who have filled their spaces with houseplants. He has recently moved out of London - and a home that ELLE Decoration called one of the ten best small spaces in the world - to start a new renovation project in Somerset.