The Barcelona Chair: where to buy, how to style and all you need to know
The Barcelona Chair by Mies van der Rohe is one of the most famous pieces of modern design - here, we find out why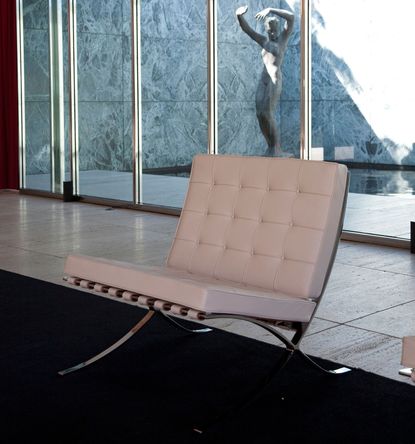 (Image credit: Alamy)
The Livingetc Newsletter
For style leaders and design lovers.
Thank you for signing up to LivingEtc. You will receive a verification email shortly.
There was a problem. Please refresh the page and try again.
Co-designed by leading 20th Century architect and former Director of The Bauhaus Ludwig Mies van der Rohe and designer Lilly Reich, the Barcelona Chair has transversed interiors fashion and trend becoming one of the most sought after pieces of furniture, ever. Take a seat and let's find out more.
THE BARCELONA CHAIR
The Barcelona Chair first debuted on-show as part of the Barcelona International Exhibition. Renowned architect and designer Mies van der Rohe unveiled the now infamous Barcelona Pavilion (also known as the German Pavilion) where the chair played a key role as part of the exhibition display. It was stylish, dazzling and oh-so moderne.
With its thoroughly chic aesthetic, Mies van der Rohe designed the Barcelona Chair to be supported on each of its sides by two chrome-plated, flat steel bars. The chair sat perfectly amidst the striking Barcelona Pavilion, which itself was constructed from materials like glass, steel, Roman travertine and golden onyx from the Atlas Mountains. The chairs' elegant side profile is almost strikingly classic and bears a resemblance to much earlier Egyption-style stools and chairs. Yet, in white leather welt and button upholstery guise - yes, the two original Barcelona Chairs were made from a metallic looking white leather! - it looks altogether contemporary and was remarked to be, at the time of its launch, avantgarde. Needless to say during its debut appearance it wowed the top-hat and tails crowd and amazed with such aplomb that it very quickly became an instant interior design hit.
Epitomising Mies van der Rohe's Modern Movement 'less is more' maxim, the Barcelona Chair was literally designed to be fit for a King. While the Spanish king, King Alfonso XIII, never actually sat on one, it was designed with his pleasure in mind. Mies van der Rohe stated '"The government was to receive a king so the chair had to be . . . monumental. In those circumstances, you just couldn't use a kitchen chair."
The Barcelona Chair proved so likeable that it was pressed into general production soon after it was unveiled. There were only two chairs made for the Pavilion and whilst the Barcelona Pavilion itself was dismantled (a replica was then resurrected in 1986) soon after the exhibition, the Barcelona Chair is still in production. There are countless
makers, but it is the 'Knoll Studio' name that we would recommend you look for if you want peace of mind that you're buying the most reputable example. Knoll have owned the rights to manufacture the Barcelona Chair since 1953. A genuine Barcelona Chair by Knoll will have the signature of Ludwig Mies van der Rohe stamped onto the leg of the chair.
It's not just available in white anymore. It can be specified in a variety of different leather upholstery colours including: Black, Grey, Tan, Acqua Blue and Garnet Red, to name a few, and is part of Mies van der Rohe legacy, alongside buildings such as Farnsworth House.
WHEN WAS THE BARCELONA CHAIR DESIGNED?
The Barcelona Chair was designed specifically to be showcased at the Barcelona International Exhibition in 1929. Designed by Mies van der Rohe and Lilly Reich, the chair is a significant symbol of the Modernist Design Movement. It proved to be a success from the get-go and the design is still produced today by Knoll Studio.
WHAT THE EXPERTS SAY ABOUT THE BARCELONA CHAIR
'The Barcelona chair by Mies Van der Rohe epitomises one of Van der Rohe's most famous quotes: 'Less is More'. One of his design intentions was to harmonize the old and the new within the design of the chair and his success in achieving this is proven over 90 years later with its successful combination of classical elements in the lines of the legs, the tufting of the upholstery and the modern sensibility of the armless form and industrial materiality of the frame,' says Louise Lythe, Associate Director, David Collins Studio. 'This instantly recognisable design classic can create an impression on its own within a space such as a library room or styled as a pair for greater impact. For an elevated modern feel, style the chair with other understated pieces with clean lines and simple forms, as well as modern artworks; or for an unexpected and eclectic look, set the chair in a contrasting classical panelled room with antique artworks.'
'The Barcelona chair was conceived as a ceremonial chair, so we find that it works best in an interior where it has space around it to breathe,' says Nina Hertig, Furniture Specialist and Interior Designer, Sigmar London. 'It's a timeless classic and shines - in particular - when given its own spotlight. And the leather wears with such personality, which seems to give it that added likeability factor to discerning buyers'
'Offering a clean, elegant and timeless aesthetic that appeals to many of our clients and a staple of our interior design proposals over the years, the Barcelona Chair epitomises an iconic design classic,' says Jack Pannell, Director and Head Designer, Common Ground Workshop. 'It seems to evoke a reverence in the observer and naturally serves as a showpiece in any space: we often have to remind our clients that it is very ergonomic and fun to sit on too.'
HOW TO STYLE THE BARCELONA CHAIR
Style a Barcelona Chair up as the ultimate reading spot. With a simple floor or reading lamp the chair quickly becomes a stylish sanctuary space.
Two together create a show-stopping style-statement. But don't over-crowd either of them. The Barcelona Chair looks best, and can be fully appreciated, when you can see it from every angle. Remember that striking side profile!
Like it, but feel you need something a little less elegant and a bit more fun? Veer from the classic choice of white, black or tan leather (although, they are lovely..) and opt for one of the dazzling blue or red leather upholstery options instead - and wah-lah! hello colour pop!
Decorating your home office area? If you have room, the Barcelona Chair makes an excellent addition to an office zone. Whilst you need an upright chair for working, having a Barcelona Chair nearby creates an option to relax your body (and mind) into something altogether more loungey. Ah, bliss.
THE BARCELONA CHAIR CUSHION REPLACEMENT
Picking up a replacement cushion cover for the Barcelona Chair is pretty straightforward. Whilst the leather cushion covers are built to be durable and last, some chairs are approaching 60 or 70 years old and understandably require a little refreshing of the upholstery. You can source a replacement cushion from approved Knoll furniture stockists.
WHERE TO BUY THE BARCELONA CHAIR
WHERE TO BUY THE EGG CHAIR
Buy the Barcelona Chair from The Conran Shop from £6,720.00 here


PICTURES OF THE EGG CHAIR
For style leaders and design lovers.
Rory Alastair Robertson has a long-standing history working across the interiors industry. Raised in Morningside, Edinburgh, Rory grew up surrounded by classically grand Scottish Georgian and Victorian architecture.
His first appreciation for interior decoration sparked when his mother hired scaffolding and decorated their three-storey Victorian staircase in Farrow & Ball Picture Gallery Red, by herself. She then painstakingly gold leafed the drawing room - by hand - over a base coat of Sudbury Yellow. This was the era of Jocasta Innes and Kenneth Turner, when paint techniques and maximalist style were the decorating raison d'être.
With this inherited gene of creativity, Rory went on to study Interior Architecture at the University of Edinburgh, and later, Theatre Set Design and Architectural Illustration at The Rhode Island School of Design on America's East Coast.
Rory's foray with the editorial world started a decade ago at Livingetc magazine, a title which he regularly contributes to today. Specialising with a deep-seated appreciation for historical homes and interiors, Rory often travels far and wide to be inspired by unique properties with a fascinating history.
If he's not uncovering an unusual National Trust property in the UK, then he's seeking out a Neo-Classical clifftop villa in Capri or a Palazzo in Florence.
Based in London's Shoreditch, working as a Senior Interiors Editor and Consultant, Rory's portfolio of work is a creative melting pot of residential and commercial interior design projects and a plethora of editorial writing work. Rory is also Guest Interiors Lecturer at the prestigious KLC School of Interior Design in Chelsea, London. His most cosseted possession is a ramshackle Citroen Deux Chevaux, which he has reupholstered in Pierre Frey yellow and turquoise silk fabric.
Discover more at roryrobertson.co.uk and @rory_stylist.