Anglepoise 1227 Desk Lamp: where to buy, how to style and all you need to know
The Anglepoise 1227 Desk lamp is an iconic piece of design, and so we shine a spotlight on this mid-century hero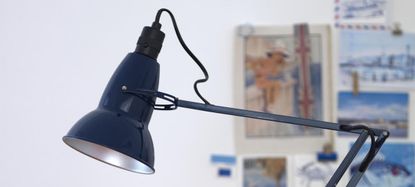 (Image credit: Future)
The Anglepoise 1227 Desk lamp is probably what would be described if you asked anyone to sketch a lamp. It's shape is so iconic has it become part of our design language.
Penned in the 1930s by suspension engineer George Crawardine, the simple yet highly functional spring, crank and lever mechanism design of the Original 1227 Desk Lamp proved an immediate hit and became the task lamp of choice for homes and workplaces alike. It looks at home almost anywhere, from high-end modernist interiors to the functional workbench scenario.
Herbert Terry and Sons, the company who own Anglepoise, rather wisely thought to run a nationwide newspaper advert as Britain entered World War II describing the light as "the ideal blackout lamp". It seems this marked it's rise to success; by the middle of the 20th Century the 1227 Lamp design, and the Anglepoise name, had established itself as an adaptable interiors icon.
More recently, the Anglepoise range has been extended with new models by designer Kenneth Grange (the chap behind the new LEVC TX London Taxi design) and Anglepoise have teamed for collaborations with fashion designers Paul Smith and Margaret Howell, who both have their own chic Anglepoise design with their name attached. These unique designs fit right in with the already fashion-industry acclaimed Anglepoise range.
It's true, this mid-century modern furniture-associated favourite is a bit hip! There's even an ever-growing market of enthusiasts who hunt-out the ultimate second-hand 1227 Desk Lamp from the earlier 1930s, 40s and 50s examples, as well as later ones too, from the 1960's - 80s, via the vintage marketplace. It seems an Anglepoise with patina is just as cosseted and sought after as a newly-built one. Some mid-century examples are now commanding prices that reflect their desirability.
The little lamp's iconic design status was well and truly cemented when The Royal Mail decided, in 2009, to put it on a stamp. The 1227 found itself amidst highly-esteemed company, sharing a platform with design icons such as: the Spitfire, the original Austin
Morris Mini, the Routemaster and Concorde - all symbols of successful 20th Century design. The outcome? An Anglepoise is now never going to slip out of the popularity spotlight.
WHEN WAS THE ANGLEPOISE 1227 DESK LAMP DESIGNED?
The first ever Anglepoise lamp was the 1227 Desk Lamp design. The design was conceived and penned in 1932 by suspension engineer George Carwardine. The Anglepoise range has, in recent years, been significantly extended by designer Kenneth Grange, particularly with the hugely popular Type 75, and Anglepoise now boasts collaborative designs with Paul Smith and Margaret Howell too.
WHAT THE EXPERTS SAY ABOUT THE ANGLEPOISE 1227 DESK LAMP
"What our customers love about the best-selling Anglepoise range is the versatility that comes with the colour and size variants, the 1227 alone has three sizes available for different lifestyle usage. The Giant 1227 Floor Lamp is available in a variety of bright colours and can reach up to 2.7 metres and makes a dramatic statement in any room, and you can style it up for outdoor use too! The 1227 Original Desk Lamps are great for home office use, then there is the 'Mini' version which is perfect for compact home working spaces or bedside tables. The 1227, and indeed the Type 75, appeals to every generation. Everyone, no matter what age or sense of design taste, loves an Anglepoise lamp! The true sign of a design classic, surely?"
- Campbell Thompson, Head of Furniture and Lighting, The Conran Shop.
HOW TO STYLE AN ANGLEPOISE 1227 DESK LAMP
Anglepoise's mid-century design icon is a very adaptable bit of kit and comes in different sizes, even a 'Giant' version for indoor and outdoor use.
Style it up on a side table, a work desk or next to a bookshelf housing your favourite magazine titles and design books.
Anglepoise lamps that come coated in distinct colours offer a great way of adding fun factor, particularly if you are re-designing a teenager's bedroom; grown-up, but bringing a dash of charisma and youthful fun with a red or white 1227 Lamp.
It's worth noting you can buy some of the models, including the 1227 Lamp, in wall-fitting form. An excellent addition if you need a wall fitting instead, or as well as, a lamp.
Use with other mid-century modern classics like the Vitra Eames House Bird.
WHERE TO BUY AN ANGLEPOISE 1227 DESK LAMP
Buy the Anglepoise 1227 Desk Lamp from John Lewis from £199.00 here.
Buy the Anglepoise 1227 Desk Lamp from The Conran Shop for £195.00 here.
Buy the Anglepoise 1227 Desk Lamp from Holloways of Ludlow for from £199.00 here.
PICTURES OF THE ANGLEPOISE DESK 1227 LAMP
Rory Alastair Robertson has a long-standing history working across the interiors industry. Raised in Morningside, Edinburgh, Rory grew up surrounded by classically grand Scottish Georgian and Victorian architecture.
His first appreciation for interior decoration sparked when his mother hired scaffolding and decorated their three-storey Victorian staircase in Farrow & Ball Picture Gallery Red, by herself. She then painstakingly gold leafed the drawing room - by hand - over a base coat of Sudbury Yellow. This was the era of Jocasta Innes and Kenneth Turner, when paint techniques and maximalist style were the decorating raison d'être.
With this inherited gene of creativity, Rory went on to study Interior Architecture at the University of Edinburgh, and later, Theatre Set Design and Architectural Illustration at The Rhode Island School of Design on America's East Coast.
Rory's foray with the editorial world started a decade ago at Livingetc magazine, a title which he regularly contributes to today. Specialising with a deep-seated appreciation for historical homes and interiors, Rory often travels far and wide to be inspired by unique properties with a fascinating history.
If he's not uncovering an unusual National Trust property in the UK, then he's seeking out a Neo-Classical clifftop villa in Capri or a Palazzo in Florence.
Based in London's Shoreditch, working as a Senior Interiors Editor and Consultant, Rory's portfolio of work is a creative melting pot of residential and commercial interior design projects and a plethora of editorial writing work. Rory is also Guest Interiors Lecturer at the prestigious KLC School of Interior Design in Chelsea, London. His most cosseted possession is a ramshackle Citroen Deux Chevaux, which he has reupholstered in Pierre Frey yellow and turquoise silk fabric.
Discover more at roryrobertson.co.uk and @rory_stylist.