Cottagecore – what is it, and why is it so popular?
Cottagecore: there's no denying that this is the interior trend that has dominated 2020...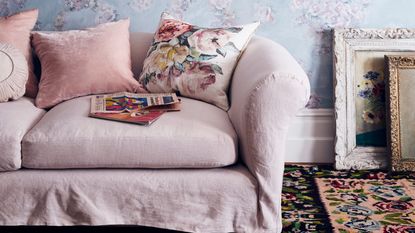 (Image credit: Annie Sloan)
Cottagecore – what is it, and why was the interior design trend so popular in 2020?
As many of us took to cleaning, decorating and re-decorating our homes this year, there's one interior style in particular that has soared in popularity: Cottagecore.
In the past year, searches for the cottagecore trend have skyrocketed on Google, so what exactly is it, and why is it suddenly so popular?
Wayfair's Resident Style Advisor, Nadia McCowan Hill explains: "With many of us retreating to our homes this year and discovering our passion for the art of bread-making or propagating plants, knitting or sewing, a new aesthetic has emerged: the cottagecore trend, which celebrates anything artisanal, shining a light on handmade crafts and reassuring traditions.The look draws inspiration from the countryside—think lush botanical motifs, flouncy florals, and natural materials such as wool and linen."
While the aesthetic is a far cry from Livinget'c love of all things modern, Scandi and minimalist, there's no denying that this interiors trend is comforting, nostalgic and homely – things we all craved a little more of this year.
What is Cottagecore?
According to Wikipedia, Cottagecore is an aesthetic that celebrates a return to traditional skills and crafts such as foraging, baking, and pottery, and is related to similar nostalgic aesthetic movements such as grandmillennial style.
Jacobs & Dalton explain: Cottagecore is less chintz and twee, and more simple living in harmony with nature. Rather than stuffy and old-fashioned, cottagecore is the vision of idyllic country living, wholesome pastoral life."
"The cottagecore aesthetic is simply defined as a romanticised interpretation of rural life," adds ufurnish.com.
So think Sophie Allport and Cath Kidston, think country life, cosy interiors, welly boots and log fires, floral prints, homebaking and plant growing, and think floral wallpapers – there's been a 40% rise in customer searches for floral wallpaper over the past year at Wayfair.co.uk.
Just how popular is Cottagecore?
"Cottagecore" searches have increased by a huge 5950% from 1000 searches in January 2020 to 60,500 at its peak – that's a lot of people interested in this aesthetic!
Searches for cottagecore interiors and clothing have steadily grown throughout this year, and two weeks after lockdown was announced we saw it hit it's highest point ever (in terms of Google searches for the term), and it just continued to grow exponentially until it peaked in August.
The trend stretches into fashion too; Pinterest has seen an 80X increase in searches for 'cottagecore fashion', with people craving floral prints and straw hats, alongside their gingham blankets and chintzy tea cosies.
Why is Cottagecore so popular?
Social distancing has birthed a new generation of home bakers and nature lovers so it is no surprise that the latest interior trend hitting the nation, cottagecore, is reflective of the simple lifestyle many of us have embraced during the pandemic.
Getting a country cottage aesthetic in your own home isn't a new concept – people have always wanted that feeling of escape – but this new twist on it has been inspired by lockdown, worldwide quarantines, and a push back against the technology that pervades our everyday lives. 'Cottagecore feels like a comfort blanket, taking us back to the nostalgia of childhood years, a yearning for days gone by. In the face of unpredictable times, we look for reliability and a safe, comfortable living space, and this rose-tinted, romanticised view of country living does just that,' explains Jacobs & Dalton.
"It's easy to understand why it became such a trending term during lockdown," explains Interiors PR specialist John Warburton from jwc. "I think it's fair to say that the idea of idealised home life, a cottage-like sanctuary, became very psychologically appealing throughout the kind of uncertainty which lockdown brought. It was a tangible point of focus for people – creating a home space to reflect a calm ideal."
Adele Shotton-Pugh, Interior Designer at Terrys adds: "Lockdown has meant that for many, creating a home that is warm and inviting has become a stronger priority than ever before. The cottagecore trend is appealing as it idolises the concept of a simplified life; for example country living."
"Cottagecore represents a trend for nostalgia which goes deeper than aesthetics. Understandably, many of us are yearning to return to a simpler, more wholesome time of making things ourselves – from banana bread to our interiors. There's an emphasis on not only the end product but the fulfilling and life-affirming creative process itself.' offers Annie Sloan, Colour and Paint Expert
How can you get the Cottagecore look?
To get the look, layer a combination of vintage chic and antique furniture and accessories. It's all about creating a laid-back, back to nature space. Focus on florals, neutral shades and natural textures for a cottagecore worthy space.
"By now, you've probably seen cottagecore everywhere! Whether you are brand new to the internet-made aesthetic or your house was already decked out with beautiful fabrics, tapestries blankets and aprons before it was a hit on Instagram and Pinterest, the cottagecore scheme can be achieved by using certain accessories and a few delicate finishing touches to your existing décor.
It's all about creating a room of comfort, charm and abundance. Think of it as a layered approach to styling that allows your home to evolve with you. When it comes to choosing your lighting pieces, combine textures and materials to soften the décor and create a welcoming, warm atmosphere. Incorporate subtly printed fabrics for lampshades, style pattern on pattern and match with a tea cosy, or your favourite floral table runner perhaps. This is to give your space the quaint cottage, country-esque effect you are after. Ultimately, you want to achieve a sense cosiness to complement the harder, less changeable fixtures at home by bringing in softer materials," explains Pooky Founder Rohan Blacker.
Jacobs & Dalton add: Cottagecore isn't just shabby chic. Followers of this trend also embrace the great outdoors and practical living, with a hint of whimsy and enchantment – think dried herbs and meadow flowers alongside modern items to avoid stuffy interiors, foraged woodlands finds as home decor, and homesewn cross stitches for wall hangings.
Where does the Cottagecore trend come from?
Interiors PR specialist John Warburton, from jwc explains that while the aesthetic has been around for donkeys, the term 'cottagecore' itself wasn't coined since after 2018, when it started to emerge on the social media platform Reddit – as a synonym for the trend 'Farmcore' which was tied to an aesthetic based around the visual culture of an idealized life on a Western farms.
It also started to emerge on Pinterest around this time, and there was even a cottagecore playlist created on Spotify in 2018. But it never really took off outside of specialist niche designers and design fans.
It didn't even take off on Instagram until the beginning of 2020, when interest in the term started to grow. But it was the advent of lockdown which saw interest in the trend skyrocket.
Who does Cottagecore appeal to the most?
Home furnishings retailer, Terrys, have been closely monitoring this trend their search data shows that the trend has been most popular in Wales, followed by England, then Scotland and finally Northern Ireland.
Get ready for a Cottagecore Christmas
Get ready for homespun holidays. "Cottagecore" has taken hold in 2020, so it's no surprise that the trend is extending into the festive season. This year, shoppers are opting for festive decor that is reminiscent of a time before technology and filled with simpler pleasures, like baking or crafting. On Etsy, there has been a 16% increase in searches for crochet, knit, or embroidered ornaments. One standout trend remerging from years past is incorporating citrus into holiday decorating – on Etsy, we seen searches increase 126% for citrus decor," Etsy revealed.
And for shoppers who have honed their DIY abilities over the past year, this trend allows them to show off their newfound creative skills.
Lotte is the Digital Editor for Livingetc, and has been with the website since its launch. She has a background in online journalism and writing for SEO, with previous editor roles at Good Living, Good Housekeeping, Country & Townhouse, and BBC Good Food among others, as well as her own successful interiors blog. When she's not busy writing or tracking analytics, she's doing up houses, two of which have features in interior design magazines. She's just finished doing up her house in Wimbledon, and is eyeing up Bath for her next project.