Best pour over coffee maker: 7 drippers to tap into the art of pour over coffee
Master coffee like your favorite coffee houses with one of these pour over coffee makers in your repertoire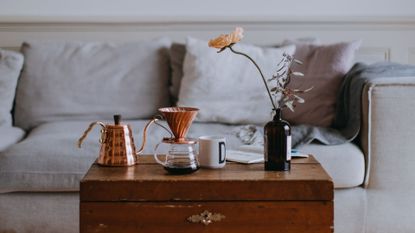 (Image credit: Unsplash/ Deborah Diem)
In an era when life seems to get easier with automation, — from smart home speakers that can control the lights to robot vacuums that allow us to tackle one more thing off our to-do lists without lifting a finger — one area we refuse to automate is the luxury that is our morning cups of coffee. Thanks to the Third Wave coffee era that emphasized technique and doing it yourself, the resurgence in popularity of pour-over coffee makers proves that we surely do care about the preparation of our coffee and that the art of pour-over coffee will not be lost to machinery.
Yes, coffee makers have their place—for quick fixes, rushed mornings, or coffee for a crowd. They are necessary and we continue to love them. However, when you have the time to really sit back and reflect, to tinker with your coffee experience, the ritual that is pour-over coffee feels especially rewarding.
Once you master the technique, Pour Over Coffee is straightforward and fuss-free, taking into account the perfect coffee to water ratio, temperature, and pour speed to achieve that perfect cup. No longer viewed as hipster, coffee lovers everywhere are trying out this coffee-shop favorite brewing method for themselves.
We've scoured the internet for the best pour-over coffee makers, so you too can enjoy the absolute best cup of coffee you've ever sipped. Discover our recommendations below, followed by everything you need to know about pour-over coffee.
1. Chemex Pour-Over Glass Coffeemaker, 8 cups
Best overall pour over coffee maker
Specifications
Dimensions: 9.6 x 6.4 x 1.3 inches
Material: Glass
Capacity: 700mL
Reasons to buy
+
Brew up to 8 cups of coffee
+
Other sizes available
+
Beautiful, timeless design looks good on display
Reasons to avoid
-
Required to use Chemex-branded paper filters
Widely considered the origin of manual pour-over coffee, this Chemex design has been in production since its release in 1941, so you know they must be doing something right. It's even part of the permanent collection of the Museum of Modern Art in New York and named as one of the 100 best-designed products of modern times by the Illinois Institute of Technology. Featuring the iconic wood collar and leather trim, the hourglass design was inspired by the Bauhaus school of design and non-porous labware. On Amazon, over 90 percent of reviews are 5-stars, which is one of the highest ratios we've seen yet, on basically anything.
Now, what's so special about the Chemex? Beyond its good looks, it offers an optimal pour-over experience that seemingly foolproof for a great cup of coffee. It's as simple as methodically pouring your water through the grounds, watching them bloom, and then pouring to enjoy. Made of borosilicate glass that can be added to an external heat source to keep warm, your Chemex could last, well, forever, granted you don't drop it. The removable wooden collar protects fingers from the heat, acting as a buffer between you and the glass.
The biggest hang-up with Chemex is you can only use their specially designed Chemex bonded filters, which are 20-30% heavier than other filters, and designed to remove the smallest particles as well as the undesirable oils and fats, for the finest extraction possible. They are available at a select number of retailers, so you'll want to keep track of your personal inventory, so you're not left without filters.
2. Hario Original V6 Pour Over Dripper and Stand
Best pour over dripper
Specifications
Dimensions: 5 x 5 x 8.86 inches
Material: Glass, Stainless Steel or Ceramic
Capacity: 500mL
Reasons to buy
+
Hario V60 is an iconic style when it comes to pour over, and the dripper is available in a range of materials
+
Dishwasher safe glass parts
Reasons to avoid
-
Can be complicated to figure out
-
Glass carafe is thin, prone to cracking if not careful
For those who want only the best, you'll want to have an original Hario V60 Pour Over Dripper in your repertoire. It's a uniform shape and size and can be amplified in style with other stands to suit a variety of tastes, through Hario, and third-parties.
This lovely package includes a gorgeous conical glass dripper, that rests atop a stainless steel frame, and drips into a glass server. It fits about 20oz. or 600ml. The set also includes 100 coffee filters to get you started and a stainless steel measuring spoon for your finely ground coffee. Users have commented how the glass of the accompanying glass server is thinner and more delicate than its dripper counterpart. Both pieces are dishwasher safe, but should always be handled with care.
What's unique about the V60 dripper is that it is at a 60º angle, which causes the water to flow to the center of the grounds, extending contact time. Additionally, the textured design isn't just for show, but the "spiral ribs" that allow air to escape, maximizing the expansion of the coffee grounds.
The Hario V60 is also available in stainless steel and ceramic designs, for whatever suits your preference.
3. Kalita Wave Pour Over Coffee Dripper, Size 185​
Best pour over coffee maker for beginners
Specifications
Dimensions: 9.6 x 6.4 x 1.3 inches
Material: Glass, Ceramic, or Stainless Steel
Capacity: 16-24 oz.
Reasons to buy
+
Available in glass, ceramic, or stainless steel
+
Flat bottom allows for a less meticulous pour because it better regulates the rate at which the water drains.
+
Easy to clean
Reasons to avoid
-
Only works with exclusive wave filters
-
Small volume
Those new to the world of pour-over — it's OK, we all have to start somewhere — will enjoy whipping out the Kalita Wave Pour Over Coffee Dripper to amp up their coffee experience. Choose between your preference of glass, ceramic, or stainless steel, but the real magic is that the flat bottom allows for a less meticulous pour. The flat bottom maintains a wide and even coffee bed, allowing water to permeate and leave the dripper evenly through three holes. This makes for a low-risk, high reward condition to enjoy pour-over coffee.
4. Bodum Pour Over Coffee Maker
Best pour over coffee maker with a permament filter
Specifications
Dimensions: 5.43 x 0.87 x 5.43 inches
Material: Glass
Capacity: 12-51 oz.
Reasons to buy
+
Available in a range of sizes
+
Stainless steel mesh filter is reusable so you don't have to keep buying paper filters
+
Dishwasher Safe
Reasons to avoid
-
Water can pass through the metal filter too quickly, leading to a weaker coffee
Bodum sets itself apart from other pour-over coffee makers with its permanent filter, making it a one-time investment in your coffee equipment, rather than having to have a continuous supply of filters on hand. It may even make it more eco-friendly as well.
It's reminiscent in shape to the Chemex, mentioned above, save for the addition of the permanent, stainless steel mesh filter that extracts coffee's oils and subtle flavors instead of being absorbed by a paper filter. It's available in a variety of sizes ranging from 12 to 51 ounces with the option of a cork or silicone cuff to protect hands from the hot carafe.
While the permanent filter does cut down on waste, picky coffee drinkers may notice that water filters through the stainless steel filter much more quickly, leading to a weaker brew as the water is in contact with the coffee grounds for less time. If the grind size isn't just right (too fine), you may also notice sediment passing through into your coffee as well. This can be remedied with a controlled, slow pour, but something to note for those who like their coffee especially potent.
5. Chef'n 3-in-1 Craft Coffee Brewer
Best pour over coffee maker for versatility
Specifications
Dimensions: 11 x 7.6x 6.25 inches
Material: Glass
Capacity: 50 oz.
Reasons to buy
+
Make pour over, French Press, and cold brew coffee with the same device
+
Pieces nest together for easy storage
Reasons to avoid
-
Pour over dripper is made of plastic
The Chef'n 3 in 1 is for anyone who wants to experiment with all the craft coffee trends without buying three different units, or perhaps finding space to store them all. The Chef'n 3-in-1 combines into a Pour Over Coffee Maker, a French Press, and a cold-brew coffee maker, enabling you to easily switch up your morning routine.
The Pour Over section uses a plastic dripper and paper filters that nest into the original borosilicate glass carafe. The French Press has the traditional components of a French Press where you fill the glass carafe with coffee and water, wait four minutes, then press. Finally, The Cold Brew maker involves the use of both carafes, where after the water and coffee grounds steep together for your chosen period of time (12-24 hours) before filtering into the larger container.
6. Stelton Theo Pour-Over Coffee Maker
Best pour over maker stylish enough to leave on display
Specifications
Dimensions: 4.5" x 9.3"
Material: Stoneware and bamboo
Capacity: 20 oz.
Reasons to buy
+
Features three drip holes for an even pour
+
Sleek design
Reasons to avoid
-
Fragile
-
Can be hot to handle
Where form meets function. Stelton's pour-over coffee maker from its award-winning Theo collection will make a sophisticated statement perched on any open shelving with its matte stoneware design. It's so good, we think you'll want to leave it on display. The dripper sits atop the 20 oz. pitcher and features three drip holes. While beautiful to look at and easy to brew, the stoneware design is fragile, and users have said that it can be hot to the touch, despite a silicone sleeve.
7. Fellow Stagg [XF] Pour-Over Set
Best pour over maker for heat retention
Specifications
Dimensions: 12.01 x 5.51 x 5.51 inches
Material: Glass
Capacity: 20 oz.
Reasons to buy
+
Double-walled hand-blown, borosilicate glass carafe allows for longer heat retention
+
20 oz. carafe makes coffee for two
+
Compact design takes up less counter space
Reasons to avoid
-
Expensive
-
Comes with 30 filters to start, but then you have to buy more of the specially fitted papers, which are available in a limited number of places
Fellow's renown for their gooseneck electric kettle, the Stagg EKG, so we know their Pour Over Maker will be just as good. The XF version can accommodate up to 20 ounces, of coffee for two people, and the vacuum-sealed double-walled hand-blown, borosilicate glass carafe allows for longer heat retention. So if a leisurely breakfast is your mojo, your craft coffee will stay hot while you sip.
Precision is the end goal with the Fellow on your countertop. The dripper includes a built-in ratio aid to help guide you through the correct amount of grounds to use if you don't have a scale, with marks on the dripper for 300 ml/10 oz and 600 ml/20 oz brews. The dripper has a steeper wall angle to increase the height of the column of coffee grounds which forces water to make more contact with the coffee as it travels through the dripper.
Additionally, the 10 hole pattern of the dripper is combined with a bump pattern to help lift the flat bottom filter off the holes to prevent clogging and encourage even extraction and a consistent drip.
As far as filters, the Stagg [XF] comes with 30 filters to start. A refill of 45 filters costs $8, and is available at a limited number of places, and is sometimes sold out. However, we have the silver lining: the Kalita wave filters will also fit, though they will be slightly too short on the [XF] model.
What is Pour Over Coffee?
Pour Over Coffee has been a brewing method since the early 1900s, but it started gaining its true cult-following in the late 2000s alongside the Third-Wave Coffee era of specialty coffee shops that emphasized attention to detail, technique and more control over the brewing process.
Pour over coffee is a manual method of filtered coffee brewing that involves pouring hot water through coffee grounds placed inside of a filter. The water slowly drains through the coffee and filter into a carafe, or even straight into your mug. Consider factors like water temperature, grind size, pour speed, and the water to coffee ratio to create the perfect cup of coffee.
What equipment do I need to make Pour Over Coffee?
For the optimal cup of coffee, you'll need a few necessary items in addition to your Pour Over Coffee Maker. Most essential is a gooseneck kettle. Not just any kettle will do. A gooseneck kettle has a long pouring spout that helps you create an even, controlled pouring experience. Filters are an obvious must. True coffee connoisseurs might want to add a scale into their process to measure out coffee and water. If you're truly methodical, a timer will be helpful to time out your pouring and brewing speeds. And if you're using fresh beans, you'll want a coffee grinder on hand to grind coffee grounds to a medium to fine consistency.
What to look for in a Pour Over Coffee Maker
Consider the size of the maker you need. Some pour-over coffee makers offer single serve options directly into your mug while others can brew an entire carafe. However, few pour-over coffee makers can brew the volume of a drip coffee machine. Consider if you're brewing coffee for one or multiple, and how quickly it will be consumed. Unlike a coffee maker, which may brew into a carafe with a hot plate or a thermal carafe to keep it warmer for longer, the manual method of Pour Over Coffee won't stay hot for long.
Next, decide the material of the machine you're looking for. Pour Over coffee makers are available in a variety of materials including glass, ceramic, plastic, stainless steel, even silicone for coffee on the go. In addition to taste and heat retention, the material influences the durability and looks of your maker. Glass and ceramic are the most fragile, but don't alter the flavor of the coffee, while plastic and stainless steel are the most durable, stainless steel doesn't have the greatest temperature retention, and plastic can hold on to the flavor.
Another design feature to consider: shape. Pour Over drippers are usually available as a cone, flat-bottomed or wedge design, which affects flavor and the way coffee drains into a carafe. They also may have a varying amount of drainage holes that can influence the brewing process.
Finally, filters are another major thing to consider. Paper filters will be the most common type, but you'll have to remember to keep them in stock. Some pour over coffee makers require you use their own filters, while others can work with a variety of brands. Then there's the question regarding bleached or more environmentally friendly unbleached filters. To avoid any paper taste, experts will rinse the filters with hot water to clear any flavoring from the filter and help heat them up at the same time. Stainless steel reusable filters are also popular as you don't have to make sure to have paper filters on hand, but some complain they lead to a grittier cup or don't absorb the oils from the coffee as well.
Pour Over Coffee vs Drip Coffee
The magic of pour over is that you get full control over your beverage as it is done by hand: from the pour, to its speed and even the water's temperature. Meanwhile, drip coffee is powered by a machine. You'd simply just fill a machine with coffee grinds and water and wait for it to brew while with a pour over maker, you separately heat up your water in an electric or stovetop kettle, before pouring it over coffee grounds. A drip machine ensures the same quality cup of coffee every time, while a pour over maker requires more skill and offers room for experimentation. Both make use of filters: either paper or permanent, depending on the maker.
Pour Over Coffee vs French Press
The difference between Pour Over and French Press brewing methods may come down to personal choice, but pour over gives you the most exacting control to create a smoother, less bitter cup of coffee. Meanwhile, the immersion-style brewing of a French press leads to a bolder flavor of coffee, but escaped grinds can lead to a grittier drinking experience.
Pour Over coffee seems to require more specialty tools, and the continued cost of filters over time, but it also makes for an easier clean up experience, as the metal plunger of the French Press can be a little more difficult to clean
What is the best pour over coffee maker?
Our best pour-over coffee maker is the , for its iconic design, varying size options, and ease of use. Though, if you're looking for the ultimate control, we recommend the , which is available in a range of price points, from budget-friendly to luxe, depending on your accessories and materials. It does take some skill and technique to master, but you'll definitely notice the difference in quality.
The Livingetc newsletter is your shortcut to the now and the next in home design. Subscribe today to receive a stunning free 200-page book of the best homes from around the world.
Jaclyn is an eCommerce editor at Future Home Interest, and scouts out the best of the best for buying guides to help you fill your home with housewares you will love. She joined the team in January 2021. She has previously worked with sites like Apartment Therapy, The Kitchn, The Spruce, The Spruce Eats, and MyDomaine, but got her start in trade magazines, which fueled her excitement for innovation in the home category, seeing the newest launches, and interior design.