The 12 best dinnerware sets - our editors have found the most elegant table settings
The 12 best dinnerware sets range from glazed to minimalist plates, patterned to plain. But they're all stylish and sophisticated and come with our seal of approval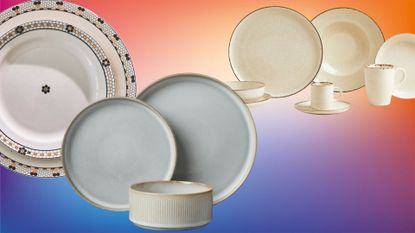 (Image credit: Anthropologie, Walmart, Zara Home)
Choose well and the best dinnerware sets will last for years, if not decades. Of course tastes change, but if you work out what you like, rather than being swayed by the latest fads, your dinnerware will stand the test of time.
There's a huge flexibility of choice, with dinnerware sets available for four, six, eight or even twelve place settings in a multitude of styles, colors and materials.
Whether you like to dine on fine bone china, love bold patterns and color, or prefer a more casual or understated approach, there's a dinnerware set to suit your taste and lifestyle.
Scroll though our favorite dinnerware sets from the best home decor stores and see which you prefer.
Best simple dinnerware set
1. Stone lava speckled dinner set
Offering fantastic value and simple style, this Stone lava speckled dinner set is available in white or black with four dinner plates, four dessert plates and four bowls for simple and stylish everyday dining.
Price: $69 for 12-piece set
Sizes: Dinner Plate 10.5" dia, Dessert Plate 8.25" dia, Bowl 6.5" dia
Why we love it: It's simple and stylish and the charming speckled glaze on the stoneware gives this set a handmade feel that makes it look and feel more expensive than it is.
Best everyday dinnerware set
2. Bread Street dinnerware set
In a collaboration with world famous chef, Gordon Ramsay, and named after his UK restaurant chain, Bread Street, this 16-piece white stoneware dinner set has a high gloss finish and smart slate rim to perfectly present your kitchen creations.
Price: $208 for a 16-piece set
Sizes: Dinner plate D10.6", Cereal bowl D6.7", Side plate D8.3"
Why we love it: The simple minimalist style of this set brings elegance to breakfast, lunch and dinner.
Best dinnerware set for one
3. Drift white dinnerware set
Handmade in Portugal and designed as a 4-piece set for one person, it's easy to create a set large enough to suit your lifestyle. Drift stoneware has a matte ivory water-reactive glaze which results in a subtle crackled texture that makes each simple piece unique.
Price: $44.80 for 4-piece set
Sizes: Dinner plate dia 10", Salad plate dia 8.5", Soup Bowl dia 6.5"
Why we love it: Apart from its overall chicness, this set allows you to create a dinnerware set for as many or as few people as you like.
Best quirky dinnerware set
4. Bistro Tile dinner plate set
The beauty of this elegant set is that it can be built up to create an entire collection made up of the pieces you want. Choose bread plates, side plates, bowls, mugs, espresso cups and saucers, creamer, cheese platter, cake stand and glasses.
Price: $96 for 4-piece set
Sizes: dinner plate 10.25" dia, Bread plate 6.5" dia, Bowl 5.5" dia
Why we love it: Each piece, from the dinner plate and bowl to the mug or glass has its own quirky style that cleverly coordinates with the rest of the collection.
Best modern dinnerware set
5. Brighton dinnerware set
This 16-piece porcelain dinnerware set from Stone Lain delivers great style at an affordable price. We love the marble-effect swirl design on the four dinner plates, salad plates, mugs and bowls, which can be easily teamed with white or black accent pieces.
Price: $99.99 for 16-piece set
Sizes: Dinner plate 10.5" dia, Salad plate 8.2'' dia
Why we love it: The marble-effect swirl pattern has a throughly modern style that adds interest at the table.
Best elegant dinnerware set
6. Gio Platinum dining set
Made from fine bone china, with a delicate metallic design, this minimalist plates set is pure elegant simplicity and comprises four dinner plates, side plates and pasta bowls, which can be mixed with other pieces from the Gio collection.
Price: $740 for 12-piece set
Sizes: Dinner plate 9" dia, Side plate 6.7" dia, Pasta bowl 9.7" dia, Cereal bowl 7.6" dia
Why we love it: Elegant and sophisticated with a luxurious metallic honeycomb pattern, this is a premium set from a prestigious brand and one for the wish list.
Best rustic dinnerware set
7. Famiware dinnerware set
There's an earthy retro feel to this rustic 12-piece Famiware dinner set, due to the beautiful reactive glaze on the sturdy stoneware. As well as this cappuccino white, it's offered in matte white, matte black and smoky blue.
Price: $76.99 for 12-piece set
Sizes: D10" dinner plates, D8" salad plates, D5.5" cereal bowls.
Why we love it: This set makes us think of hearty dinners and relaxed evenings with friends at home.
Best dinnerware set with a reactive glaze
8. Prado Blue dinnerware set
Made by hand in Portugal, the Prado stoneware dinnerware has a simple modern silhouette and a rich, tonal reactive glaze that brings slight variations to each piece. Choose a four piece set and add individual items as required.
Price: from $39.95 for 4-piece set
Sizes: Dinner plate D10.75", Salad plate D9", Pasta bowl D8.3.", Soup bowl D5.5"
Why we love it: With an expensive handcrafted feel and a beautiful finish this dinnerware set is well worth its price tag.
Best create-your-own dinnerware set
9. Porcelain tableware set
This charming porcelain dinner set has an antique glaze rim which gives it a lovely handcrafted look. The set can be bought in individual pieces to make a dinnerware collection as large or as small as you need.
Price: from $6.90
Sizes: Dinner plate D10.6", Soup plate D7.5", Dessert plate 7.5", Pasta plate D10.6"
Why we love it: It's available to buy in individual pieces, so you can choose exactly which items suit your lifestyle and how many to create your own dinnerware set.
Best bold dinnerware set
10. Mandala dinnerware set
Available in sapphire, citrine, emerald or an assorted mix of colors, this Bungalow Rose Mandala porcelain dinnerware set is inspired by Buddhist art and depicts a cosmic diagram of geometric patterns.
Price: $79.99 for 16-piece set
Sizes: Dinner plate D10.25", Salad plate D8.5", Cereal bowl D7.5"
Why we love it: The beautiful and bold print brings an eclectic and vibrant feel to the table.
Best two-tone dinnerware set
11. Vancasso dinnerware set
Finished with a double dipped glaze, (62% white and 38% black), this two tone dinnerware set for four has a semi-matte finish and a bold style that will bring a sense of drama to your tablescape.
Price: $82.99 for 16-piece set
Sizes: Dinner plate D10..5", Salad plate D8.4", Cereal bowl D7.1"
Why we love it: This dinnerware set switches easily from day to night and can be accessorized with simple or sophisticated serveware and flatware.
Best value dinnerware set
12. Calypso dinnerware set
If you want a bold design at brilliant value, this 12-piece stoneware set from Thyme & Table has all the essentials for mealtimes, with a big helping of statement style at the same time.
Price: $49.98 for 12-piece set
Sizes: N/A
Why we love it: It's a great value dinnerware set for a family of four with a striking mix and match style. Stoneware is easy to care for too.
What is the most durable dinnerware set?
Believe it or not, despite its delicate appearance, bone china is the most durable. This is due to the actual crushed animal bones used with the clay, which gives bone china its luminosity and strength. However, bone china is the most expensive type of dinnerware and won't appeal to vegans.
For everyday use, stoneware and porcelain are also extremely durable and are slightly thicker than bone china, due to the manufacturing process. Most stoneware and porcelain dinnerware sets are dishwasher and microwave safe too.
'China, porcelain and stoneware are all durable materials as they are vitrified at very high temperature,' says Louise Rosie, Head of Design at Wedgwood, the British heritage tableware brand.
'Earthenware tends to be less durable as it is fired at lower temperatures. Bone China is considered to be the strongest because of the added bone. Shape and thickness also play a part in durability.'
The Livingetc newsletter is your shortcut to the now and the next in home design. Subscribe today to receive a stunning free 200-page book of the best homes from around the world.
Jacky Parker is a London-based freelance journalist and content creator, specialising in interiors, travel and food. From buying guides and real home case studies to shopping and news pages, she produces a wide range of features for national magazines and SEO content for websites
A long-time contributor to Livingetc, as a member of the team, she regularly reports on the latest trends, speaking to experts and discovering the latest tips. Jacky has also written for other publications such as Homes and Gardens, Ideal Home, Red, Grand Designs, Sunday Times Style and AD, Country Homes and Interiors and ELLE Decoration.