What is the most durable hardwood flooring? 6 types experts guarantee rank highly on strength
If you're looking for hardwood flooring, durability will be high on your checklist. These are the ones you should be considering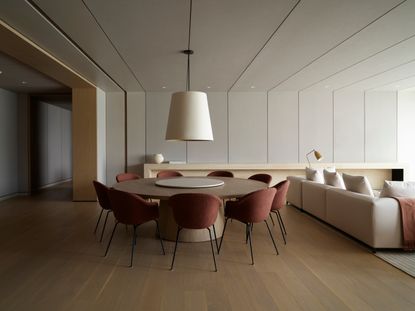 (Image credit: Fernando Marroquin. Studio credit Cuaik CDS )
While we all give color, texture, and woodgrain a lot of importance when choosing flooring, its durability and longevity are probably the most significant factor if you want a home that's going to look good for a long time.
'Hardwood flooring is a popular choice due to its timeless elegance, warmth, and longevity,' says Aparna Kaushik, founder & architect of Aparna Kaushik Design Group. 'When investing in hardwood flooring, one of the most critical factors to consider is its durability as it directly impacts how well the flooring can withstand daily wear and tear, foot traffic, moisture, and other environmental factors.'
To help you find out the best floor types that do just that, we reached out to designers for their expertise. Here's what they suggested.
How can you test the durability of hardwood?
Before we get into the details of the most durable type of flooring, it is first important to understand how one can measure the longevity of the wood you choose.
'The durability of hardwood flooring can vary significantly based on several key factors,' says Aparna Kaushikof Aparna Kaushik Design Group. 'One of the primary measures used to gauge the durability of hardwood is the Janka hardness test. It is a widely recognized method for assessing a wood's resistance to denting and wear caused by external forces, such as foot traffic and impact. The higher the Janka hardness rating, the harder and more durable the wood is.'
'Some wood species are better suited for high-traffic spaces, while others are more appropriate for low-traffic areas,' says Aparna. 'Moreover, the local climate and environmental conditions can affect the durability of hardwood flooring. Certain woods exhibit natural resistance to moisture and insects, making them ideal for environments prone to these issues, such as bathrooms or outdoor spaces.'
How does the hardwood finish affect its durability?
Along with determining the wood floor types suited to your interiors, also consider the finish that will give it a longer life. Some finishes soak into the wood through its pores, saturating and strengthening it from the inside out.
'The finish applied to the wood plays a pivotal role in preserving its durability,' says Aparna. 'High-quality finishes like polyurethane, aluminum oxide, or tung oil provide an additional layer of protection against wear and tear. Regular maintenance, including cleaning and resealing or refinishing as needed, is essential to prolong the lifespan of hardwood flooring. Plus, the intended use and level of foot traffic in a specific area must be considered when selecting hardwood flooring.'
1. Oak
Oak is a timeless flooring trend, due to its hardness, classic good looks, and ease of repair. This wood also develops a distinctive patina over time, making it look even better.
'Oak is durable, ages beautifully, and offers warmth and comfort underfoot,' agrees Donna DuFresne, founder of Donna DuFresne Interior Design.
'This wood has two primary varieties: red oak and white oak, with the latter being even harder and more durable,' adds Aparna.
One thing to keep a look out for is that temperature and humidity can make the wood warp, contract, and expand, causing your floor to creak and even crack if not cared for properly.
2. Maple
This type of wood is stable, strong, and even shock-absorbent.. It holds up well against the daily wear and tear and has a light, open-grain pattern.
'Hard maple is a reliable choice for high-traffic areas due to its durability and striking visual appeal,' says Aparna.
'This wood ranks slightly higher on the Janka hardness test than oak,' says Lucie Ayres, founder of 22 Interiors. 'What's nice about maple is the natural pale color of the wood, which makes for a clean palette for any number of stain colors.'
Do keep in mind that while this flooring holds up well, it can fade with constant exposure to light, and will develop a yellow tinge.
3. Bamboo
Bamboo is an eco flooring, perfect for any type and style of home. One thing to note is that bamboo is a grass species, not a wood, yet it has the durability and strength of wood. It is dimensionally stable, meaning that it can cope with changes in temperature and humidity, and is also available in several colors and styles.
'The advantage to bamboo flooring is that it is a sustainable material as it grows as wild grass in different parts of the world,' says Jane Lockhart, founder of Jane Lockhart Design. 'It is a strong and flexible material. The negative of bamboo is that it requires a fair bit of processing to create, and this can be a deterrent for some people when purchasing.'
4. Brazilian Cherry
This type of flooring is immediately recognizable due to its red tone. The floor has a fine, straight grain pattern, and is sturdy and also shock-absorbent. This wood type is well suited for more traditionally designed spaces; mostly seen in old properties, resorts, and vintage cabins.
Since the wood is incredibly strong and dense, it is possible to sand and refinish it several times during its lifetime. Also, on cleaning hardwood floors, keeping this type dust-free is easy, as it simply requires vacuuming and doesn't look worn out that easily.
'Cherry flooring is durable and has been used for years in homes,' says Lucie. 'It is a softer wood so it dents a bit easier than other hardwoods. I would avoid cherry personally, but mainly because the color is very specific and harder to change.'
Odie's Dark finish and stabilizer for wood
Form: Liquid
Price: $44
Consider this sealer for doors, floors, fine furniture, bowls, toys, etc., and ensure your wooden surfaces look fresh and appealing.
5. Ash wood
Ash is the softest type of wood and is highly comfortable to walk on. The flooring has a light grain pattern which works perfectly for modern homes. The wood stands up well to fluctuations in temperature, as well as humidity, and its a great option for installing in large spaces. Ash wood is the easiest one to maintain, and if you install it in a dry area, then it will need the least maintenance.
6. Hickory
Hickory wood reflects the warmth and glow of natural light, adding an element of elegance to your space. The wood has a high level of hardness which makes it resistant to impact and damage. It also resists stains better than any other wood. If you regularly wax the flooring, it can become water-resistant, to be used as kitchen flooring or in the bathroom.
'This type of wood ranks among the most durable,' says Aparna. 'However, the durability of hardwood flooring is not solely dependent on hardness; it also hinges on the type of finish applied, maintenance practices, intended use, climate, and budget. By carefully considering these factors, you can select hardwood flooring that not only adds beauty to the space but also stands the test of time, providing lasting value and comfort.'
The Livingetc newsletter is your shortcut to the now and the next in home design. Subscribe today to receive a stunning free 200-page book of the best homes from around the world.
Aditi Sharma Maheshwari is an architecture and design journalist with over 10 years of experience. She's worked at some of the leading media houses in India such as Elle Decor, Houzz and Architectural Digest (Condé Nast). Till recently, she was a freelance writer for publications such as Architectural Digest US, House Beautiful, Stir World, Beautiful Homes India among others. In her spare time, she volunteers at animal shelters and other rescue organizations.