What pillows go with a grey couch? These are the tricks designers use to uplift the classic sofa color
Add the best finishing touches to your grey couch with these essential ideas and tips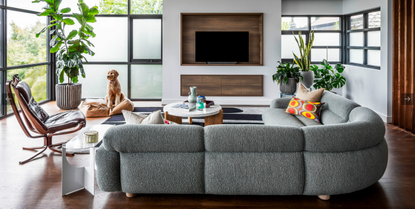 (Image credit: Courtney King. The stylesmiths)
The Livingetc Newsletter
For style leaders and design lovers.
Thank you for signing up to LivingEtc. You will receive a verification email shortly.
There was a problem. Please refresh the page and try again.
When it comes to throw pillows, there's no denying their essential contribution to a living room's look. They can tie the color scheme together, make the house feel like a home, add comfort, and in muted spaces, inject a much-needed dose of color. They also offer flexibility to change things up whenever you like, but with couch pillows have such weight in your room design, finding the right colors and styles can be a challenge.
These ideas will help you navigate the world of pillows and help you choose the right ones to upgrade your living room.
What pillows go with a grey couch?
'When selecting the color scheme for your couch pillows, focus on the surrounding elements of the space and draw on their themes, tactility, and color,' says Richard Misso, creative director at the Stylesmiths. 'For example, be inspired by the emotion in nearby artwork and tie in those hues to contrast the neutrality of your sofa. Or if you love indoor plants, consider sticking to organic colors like eucalyptus greens, turmeric oranges, and cherry reds. But you don't have to jump straight to the most vibrant hues either. Choosing complementing tones can be just as successful at creating a warm, liveable space.'
'In terms of specific hues, fresh corals, mint green, and blush pink can add a pop of color to a grey couch of any tone (dark, light, mid-tone) and create a lively atmosphere in the room,' say Rashi Bothra & Ruchi Gehani, founders & interior designers at Azure Interiors. 'Earthy colors such as ivory and white too can create a cozy feel and also complement the neutral color of the grey couch. Add pillows with pearls and laces for a nice, summertime effect.'
If you're going with several pillows and are trying to create a theme, one easy formula for a cozy living room is with a trio of three pillows, in which, consider two neutrals and one with a punch of color. Pull a color from something you are already using in the room to make a statement.
'The concept of this interior is based on the use of a monochrome background, where steel elements add some restraint and coldness to the living space,' says Rustem Urazmetov, head architect at UR Bureau. 'However, to dilute this atmosphere, I introduced accents in the form of a bright green, almost acidic color. This hue pairs perfectly with black and white and enhances the modern style, referring to the high-tech style. The color combination adds vivid impressions and gives dynamics to the space, creating an interesting contrast and energy.'
Choosing pillows for a dark grey couch
'Grey couches are all the rage because they are the perfect neutral for a modern interior,' says Julia Mack, founder of Julia Mack Design. 'Add some throw pillows and you'll have a comfy balance of functionality and high style in your room. For a dark, charcoal grey couch, consider two light-colored or textural neutral throw pillows, as large as 22" square, to anchor the corners of your couch then fill in with smaller 16" colorful square pillows or a single long rectangular bolster.'
'Select eye-catching colors and patterns for your small pillows based on artwork, area rug, or other favorite pieces in the room,' Julia adds. 'The color scheme will be a lively mix of eye-catching accessories all nicely grounded by a dark grey couch.'
'For a dark couch, there are just so many shades of grey, ranging from warmer beige undertones to cooler blue ones,' adds New York designer Amy Kalikow. 'Adding a warm shade of grey brings some color and coziness to a room while still being neutral and calm.'
For a more eclectic living room color scheme, try mixing solid colors with one or two printed designs. This combination will add some excitement to a grey couch and make it feel unique.
Choosing pillows for a light grey couch
'When it comes to a light grey couch, keep things light and tonal by selecting several 16" square pillows, all in neutrals to achieve a soft sophistication without overwhelming the space with bright color,' says Julia. 'Options include cream, taupe, dusty pink, and lavender, all in the same tonal family. This sets you up for additional neutral textural options in the area rug, artwork, and other upholstered pieces.'
You could also consider making your elegant living room a monochromatic space with a light grey couch and black pillows. The advantage of using a light grey tone over a white is that the former isn't a stark hue, and adds a warmer touch to space as compared to white. Then the room could be further layered with a pop-colored rug or curtains.
For a fun and cozy look, accent your light grey couch with purple faux fur accent pillows. The vivid color stands out against the grey couch for a playful homely feeling.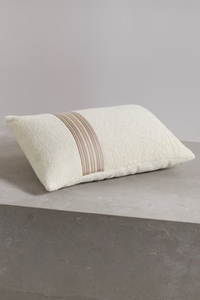 Striped cotton pillow, Net-A-Porter
Choose this cotton-terry pillow that's so soft, you'll want to lounge on it all day. The ivory hue works perfectly well on a couch of any color.
What pillow looks are on trend for a grey sofa?
If you're wondering how to redesign a modern living room that is full of personality, start with the pillows. Couch pillows not only add color to a scheme but also layer in texture and patterns, that lift the look and feel of the living room. If you're wondering how to design a modern living room that is inherently cozy, use the magic of pillows. Consider textures like fur, wool, stone-washed velvet, and more, for a gorgeous range of comfy pillows.
Luxurious geometric or houndstooth throw pillows will give your interior an art deco feel. The pattern, embroidered onto the pillow will also give the couch an expensive feel.
'Right now, we're seeing a lot of tone-on-tone color with pillows,' says Victoria Holly, principal, and founder of Victoria Holly Interiors. 'We're also seeing a movement away from the traditional square- and rectangular-shaped pillows and toward round ball pillows, disc pillows, or abstract-shaped pillows. These pillow shapes add an unexpected dynamic to a sofa and dress it up in a new and exciting way. Disc and ball pillows are great for a more minimalist look, whereas an otherwise square pillow might seem too fussy.'
Are there any colors to avoid for a grey couch?
A big modern living room trend is to mix and match hues but certain restraint should be exercised.
'With grey, you can almost mix and match any color, but be careful when you're trying to match other greys or other neutrals,' says Victoria. 'You can very quickly clash colors if you're layering a fabric that's a blue-grey with a taupe-grey, for example. Grey seems like just grey until you put them side by side! Then you realize just how different greys are. What's most important when layering pillows on a sofa is the fabric weight. You don't want to opt for a lighter print, let's say, on top of a thicker boucle or velvet fabric. The fabric weights don't work in tandem with each other.'
For style leaders and design lovers.
Aditi Sharma Maheshwari is an architecture and design journalist with over 10 years of experience. She's worked at some of the leading media houses in India such as Elle Decor, Houzz and Architectural Digest (Condé Nast). Till recently, she was a freelance writer for publications such as Architectural Digest US, House Beautiful, Stir World, Beautiful Homes India among others. In her spare time, she volunteers at animal shelters and other rescue organizations.