What are the different types of bathroom? The 5 layouts to know, and what they mean
Learn about the types of bathrooms and the ones suited to your home size, use and function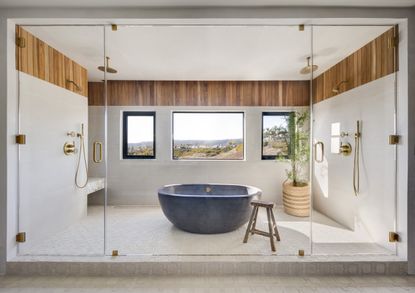 (Image credit: Lindye Galloway Studio + Shop. Photo credit Chad Mellon)
The Livingetc Newsletter
For style leaders and design lovers.
Thank you for signing up to LivingEtc. You will receive a verification email shortly.
There was a problem. Please refresh the page and try again.
When it comes to types of bathrooms, it can be easy to get lost in the jargon, especially when you're dealing with contractors. You can make an educated guess at what a full, quarter, or half-bath is, but without a grounded understanding in what these terms mean, mistakes and miscommunications can slip through the gaps.
In general, these types of bathroom are defined by components such as the WC, sink, shower, and bathtub, which each make up one-quarter of the four components of a bathroom. A combination of all these or a few is what defines a bathroom type.
There are five major types of bathrooms, usually ideal for certain types of accommodations, spaces, and the footprint available. If you are in the process of either buying a new house or are planning on renovating, then these modern bathroom ideas and layouts, explained by in-the-know designers, will come in handy.
Aditi is an experienced homes writer and editor. She has written hundreds of articles for various international titles helping readers make the best home design choices, and spends her days interviewing interiors industry experts to bring the latest ideas to her readers. For this piece she spoke to the world's best designers to learn more about the different types of bathrooms out there.
What are the 5 types of bathrooms?
Full bath
'Essentially, a full bathroom can be anywhere between a primary bathroom, a kid's bathroom, to a guest bathroom, as long as it has all of the essential components like a sink, toilet, bathtub, and shower,' says Tamarra Younis, founder of Union of Art Interiors. 'Often, you will see full bathrooms consisting of a shower/tub combination with a vanity, which is perfect for an average-sized bathroom.'
This is the most versatile and valuable bathroom type, packing many functions into one space. Usually, a full-sized bathroom is usually best suited for medium to large-sized, two-bedroom homes.
A full bathroom also allows more than one person to use the space, with the addition of a double vanity. Several design and decor additions can be made to this type of bathroom, such as a freestanding bathtub or large vanity mirrors. The storage space too is ample here.
Half Bath
'A half bath is a powder room or guest bathroom that doesn't have a shower or a tub,' says Danny Spears, founder of Captex Construction. 'Half baths are typically located near the entryway or common areas of the home and include a sink and toilet.'
Since these powder rooms are more utility spaces for brief and limited use by visitors, they can hold a minimum amount of storage space. These are advantageous to those who have a lot of family members or those who entertain a lot. They are also easy to clean and maintain because they are limited to just a sink and toilet.
'A half bath is very convenient because it will allow you to offer guests quick and easy access to a toilet and sink without stepping into your private space,' says Julia Mack, founder of Julia Mack Design. 'Oftentimes these small half bathrooms or powder rooms can be upgraded with fixtures and finishes like wallpaper, flattering lighting, and luxury accessories.'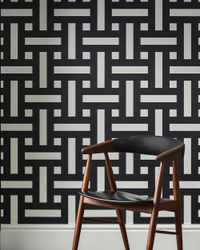 This geometric design was created in collaboration with designer Kelly Hoppen and has a nice, bold monochrome look and can inject style in the smallest bathroom or powder room.
Quarter Bath
A quarter bath is a small bathroom layout has only one main fixture like a toilet or a shower, usually situated in a home's basement or outhouse. They are often referred to as utility toilets or utility showers.
The benefit of this type of bathroom is that it saves space, is more efficient for smaller homes and apartments, and is usually used by handymen or visitors.
This bathroom is considered an extra one in the house and can be useful if you need that space for just a shower or the toilet when too many people visit, or in a home with a large family. The extra shower space is a perk when it comes to the resale value of your house.
Three quarter bath
This type of bathroom has either a shower or tub with one sink and a toilet. It is slightly smaller and more compact than a full bath, where the shower or the bathtub hugs a wall or a window, while the toilet or vanity is positioned right next to the bathing area.
'Often homeowners don't desire a full bath and opt for a lovely shower set up, which is where the 3/4th bath is most appropriate,' says Mindy O'Connor, owner, and principal of Melinda Kelson O'Connor Architecture & Interiors. 'In fact, there's always a debate regarding the need to retain a tub for resale value in at least one bathroom. But, in houses with many bathrooms, a bathtub is not always desired in more than one washroom.'
A three-quarter wet room is much more commonly found than a full bath as these are more compact, and cheaper to build. If long, leisurely soaks in the bathtub aren't a priority for you, a three-quarter bath can be a good money-saving option than a full one.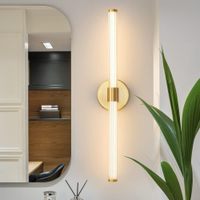 Jack and Jill
'A Jack and Jill bathroom is accessed by two bedrooms and is typically full-sized,' says Mindy. 'It is similar to an ensuite but has two entry doors and serves two bedrooms rather than one. It is not typically accessed from a general hallway.'
Bathrooms are generally expensive to build or renovate, which is why one large bathroom that can serve two bedrooms can save space and money. A Jack and Jill layout is also ideal for people who frequently have house guests, where a private bath for each bedroom would be excessive.
Usually, these have a single sink, bathtub or shower, and toilet, but if the layout is generous, then the space can feature a double sink, a separate stall, or an area for the toilet or bathtub so two people can the room at once. Plenty of bathroom storage can be accommodated here, with shelving or closets, ensuring there is enough space for towels, soaps, and toiletries.
Other types of bathrooms
These five types of bathrooms apart, there are a few other variations of washrooms such as a master bathroom (a variation of a full bath) which is, in terms of size, the biggest one in a home. This can also be an ensuite design, sharing space with a large, master bedroom. It can feature a sauna or steam room, along with a toilet, shower, sink, and plenty of storage.
A split entry bathroom has a separate compartment for the entry area and the sink, while the toilet and bathtub are encased in another area of the bathroom. These are ideal for when the bathroom needs to be shared by more than one person, as it gives the feeling of two separate washrooms.
Corner shower bathrooms are much like a three-quarter baths, comprising a toilet, sink and shower stall. The only difference is in its variation of the floor plan, where the shower stall is always placed in the corner of the room. It has a triangular shape, with the entry to the stall facing into the room.
Which bathroom size is right for you?
If you're wondering how to remodel a bathroom or build it from scratch, and are unsure of the style you want, then assess the situation based on: the number of people living in the house, the family requirements, your budget, and your style.
In a large size home with substantial space for all rooms, a full bath, a Jack and Jill, or even a ¾ would be more suited as it can accommodate multiple users at once.
In terms of costs, the larger the bathroom you choose, the more expensive it will be. So if you want a more economical solution, a three-quarter or a quarter bathroom may work better.
For the inclusion of luxurious elements, while it is usually best to choose a large size space where you can bring in a freestanding tub or exquisite marble flooring and large vanities, you can create a style quotient in a half bath too, but will just key elements, like wallpaper or a compact chandelier. Consider which aspects of a bathroom are crucial to you and choose the right bathroom size to accommodate it.
What about a city apartment bathroom?
Due to space constraints, city apartments pose a separate challenge. 'City living usually means tight quarters,' says Jessica Risko Smith, founder of Jessica Risko Smith Interior Design. 'The best type of bathroom layout for smaller spaces is a full bathroom with a shower/tub combination or a three-quarter bathroom, which has a shower only. Separate tub and shower baths demand larger square footage, and typically aren't the best choice when dealing with small spaces.'
'Ideally two full bathrooms are great for apartment living but realistically, one full bathroom and one half bath is more likely what is on the market,' says Julia.
For style leaders and design lovers.
Aditi Sharma Maheshwari is an architecture and design journalist with over 10 years of experience. She's worked at some of the leading media houses in India such as Elle Decor, Houzz and Architectural Digest (Condé Nast). Till recently, she was a freelance writer for publications such as Architectural Digest US, House Beautiful, Stir World, Beautiful Homes India among others. In her spare time, she volunteers at animal shelters and other rescue organizations.