The only 5 tips you need to know about hanging plants indoors - simple steps to successful suspension
An expert guide to hanging plants indoors means you can be trailing vines and other flora throughout your home in no time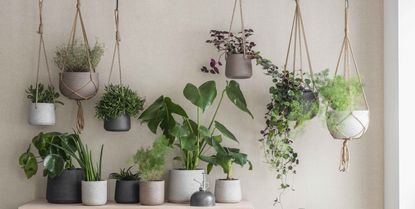 (Image credit: Garden Trading)
The Livingetc Newsletter
For style leaders and design lovers.
Thank you for signing up to LivingEtc. You will receive a verification email shortly.
There was a problem. Please refresh the page and try again.
Layering plants and hanging them at different heights creates an on trend jungle effect in your home. It can also provide a handy solution if you're running out of surface space.
More than other types of plant placement, hanging your favorite foliage to create an indoor garden requires care and attention. Light levels, access for watering and the weight of the plant, pot and potting medium (soil) are all considerations.
Yet with a little planning and forethought, your houseplants can thrive whether hanging from the ceiling, wall hooks or window ledges.
Everything you need to know about hanging plants indoors
Design and horticultural experts explain the tricks to hanging plants.
1. Consider the aspect and the light
Hanging house plants in or near a window creates a lush layered effect. However, the amount of light coming through the window and its aspect will determine the type of plant that will thrive there.
Sun-drenched south-facing windows can cause scorched leaves for many plants, especially forest-floor dwellers, such as ferns. However, a string of pearls could do well there if it's set back enough to have a little shade.
A northern window would suit plants that are used to growing in the shade in the wild and can adapt to lower light, like the various types of pothos or philodendron.
'Placing your plant in the correct light situations is one of the most important factors of being a successful indoor gardener,' says Lisa Eldred Steinkopf, the houseplant guru and author of Houseplants. 'It is extremely important to determine the orientation of your windows, and whether they face east, west, north or south.
'Plants hung high in a window will receive less light than those on a windowsill or ledge. Plants with more sensitivity to light (such as ferns) are best hung where they will not receive direct sun all day. East or west exposures aren't as affected by the seasons, as the sun comes in at an angle when rising and setting throughout the year.'
'Most hanging plants prefer bright, indirect light,' says Nick Sandford, founder, Leaf & Clay. 'However, some plants, like the Heartleaf Philodendron, can tolerate lower light conditions. It's important to understand the specific needs of each plant you choose to place in a hanging planter.'
2. Make sure plants will be accessible for watering
Plants suspended from the ceiling or wall hooks look fabulous and can add interest to bare corners. The downside is it's not always as easy to water them (it's better to choose low maintenance plant for indoor gardening if you plan to hang them). Drainage can also be an issue if you don't have a drip tray that can be easily emptied.
Trailing vines that can handle inconsistent watering; for example English ivy, pothos or philodendrons are a favourable choice – as are succulents like string of pearls. They don't demand a weekly drench and are happy to dry out in between waterings.
'When it comes to watering hanging plants, it's crucial to ensure proper drainage,' says Nick. 'Avoid overwatering as it can lead to root rot, so allow the soil to dry. An effective method is to remove the plant from the hanger, water it thoroughly in a sink, then let it drain, before hanging it back up.
'To make access easier, you can use extendable watering wands or long-spout watering cans. Alternatively, you may consider using a pulley system to lower the plants for care and maintenance.'
We recommend choosing the solution that's simplest for you. If watering your plants is a major faff each time, they are more likely to suffer and may not survive.
3. Choose a suitable container
Hanging vines and foliage is a popular house plant trend. This has resulted in a wide and wonderful choice of trending pots for indoor gardens, as well as separate string hangers.
Bear in mind the weight of the container you choose. Hanging plastic planters are lightweight, and plastic is good for retaining moisture in the potting soil, but they can look a bit basic.
Ceramic and metallic hanging planters look lovely and there is a wide choice in styles, many with contrasting or coordinating strings attached.
Alternatively, use a planter you already love and put it in a macramé or other type of string hanger. 'Macramé has made a comeback, and it's even more popular now than it was in the 1970s,' says Lisa. Jute - popular in rugs - is, we think, the next big planter trend.
4. Make a macramé hanger
Buying a macramé hanger for containers you already have is a straight-forward option. However, Lisa outlines step by step instructions on how to macramé in her book Creative Houseplant Projects and insists it's simple to learn.
'The technique for macrame simply involves tying different knots with string to form a pattern,' says Lisa. 'If you have ever made a friendship bracelet, you can macramé, because they use many of the same knotting techniques.
'Making a hanger for your plant is fun and easy once you master a couple of those simple knots. The best part is, you can have more plants by hanging them from the ceiling, making the most of unused space. You only need a few supplies to make a hanger.'
5. Ensure the hook is strong enough
Once you have your hanging pot, and have found the right spot for your plant, it's time to position it. Some containers will be heavier than others, so ensure the hooks or brackets you want to use can take the weight.
It's worth weighing the plant and planter and allowing a few extra ounces for growth.
Brackets and hooks can be bought from garden centers, or here from Amazon. Towel rails with S hooks are a good option but ensure they are sturdy enough. Hangers suspended from the ceiling, will need to have hooks securely drilled into a timber rafter.
'I suggest buying a specialized plant hook that is meant to bear the weight of the container, plant, and moist potting medium,' says Lisa. 'Finding your plant on the floor and the pot smashed because you used a hook that was too small is heartbreaking.
'The amount of weight a hook will hold will be displayed on the packaging. Install a few hangers to fill your window with greenery.'
'It's essential to consider the growth potential and weight of both the plants and pots relative to the hooks or hanging mechanisms,' says Nick. 'Some plants can become quite large and heavy over time, so ensure that the hooks and supports are secure and capable of handling the weight.'
For style leaders and design lovers.
Jacky Parker is a London-based freelance journalist and content creator, specialising in interiors, travel and food. From buying guides and real home case studies to shopping and news pages, she produces a wide range of features for national magazines and SEO content for websites
A long-time contributor to Livingetc, as a member of the team, she regularly reports on the latest trends, speaking to experts and discovering the latest tips. Jacky has also written for other publications such as Homes and Gardens, Ideal Home, Red, Grand Designs, Sunday Times Style and AD, Country Homes and Interiors and ELLE Decoration.