Should a living room rug match your couch or walls (or neither)? Interior designers explain the best process
As with the majority of interior design questions, there are no hard and fast rules, but these tips can sway you to make the right decisions for your space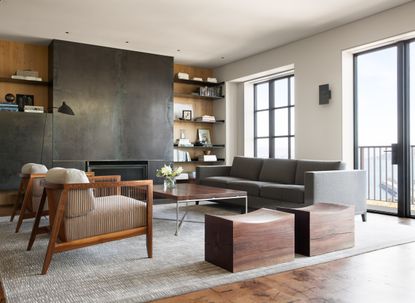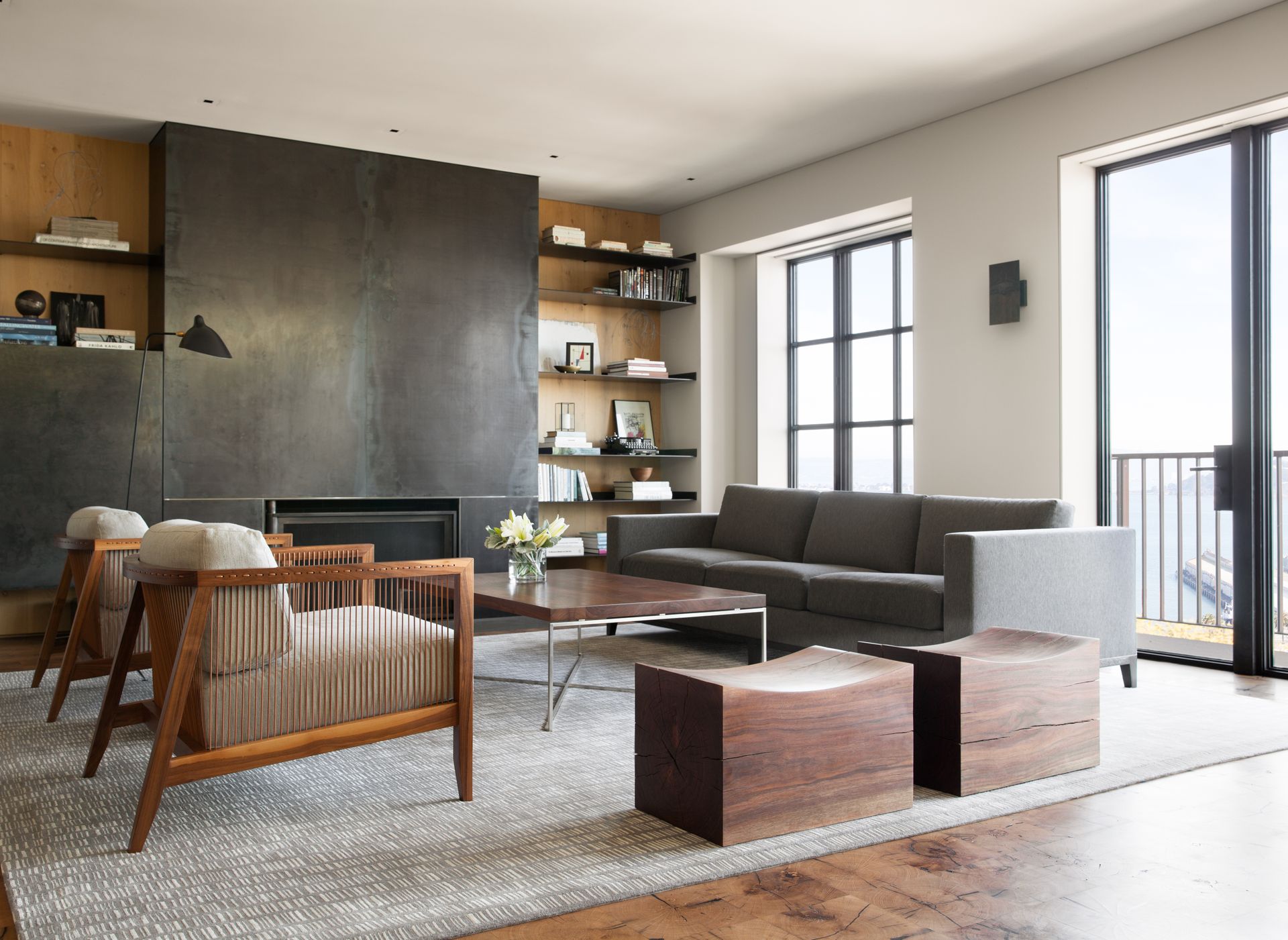 (Image credit: Thomas Kuoh )
Choosing a living room rug should have as much thought behind it as choosing a couch, or your wall color, or your layout. A rug can often be the largest thing in the room in fact, so it's an important element to get right. But what should you be looking to match your rug to? The sofa color? The wall color? Or should you go totally rogue and go with neither?
They are both pretty fail-safe options, tie in the rug with your largest piece of furniture or the color of the room and you instantly create a cohesive, balanced space. But are these the only options? We asked top interior designers what their approach is to choosing the best living room rug, and talk us through the pros and cons of both playing it safe and going for something different.
Should a rug match the couch color or the wall color?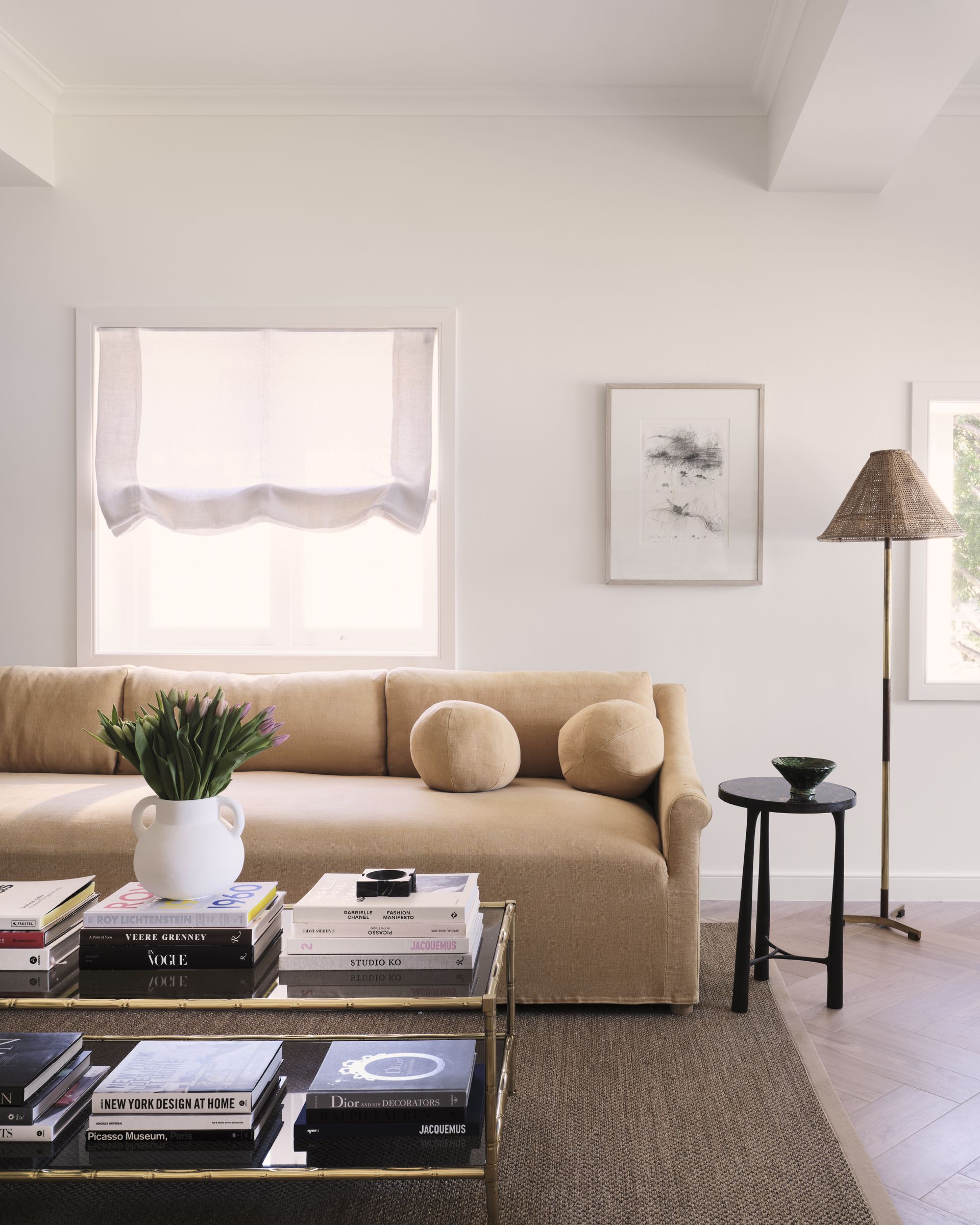 'There is no hard and fast rule for choosing rug designs and colors. Sometimes you just see a rug that you love and if it works in your space and you like it then great!' explains rug designer Amy Kent. 'BUT if I'm doing a rug for a client who has already furnished the rest of their space, and they have no idea where to start then we generally chose one thing to work from.'
'This can be anything – the wall, the sofa, an accent color in the room like on the cushions. The sofa is often a good one to start with as long as its color doesn't dominate the whole rug. Sometimes 'matchy matchy' works but if there's already an array of colors going on just add another into the mix as that works too!'
So as with the majority of interior design decisions, there is no steadfast rule, it comes down to your space and your style as to what you should be matching your living room rug to. But to help you make some decisions, read on for plenty of designer tips...
1. Create tonal layers with the rug, couch, and wall color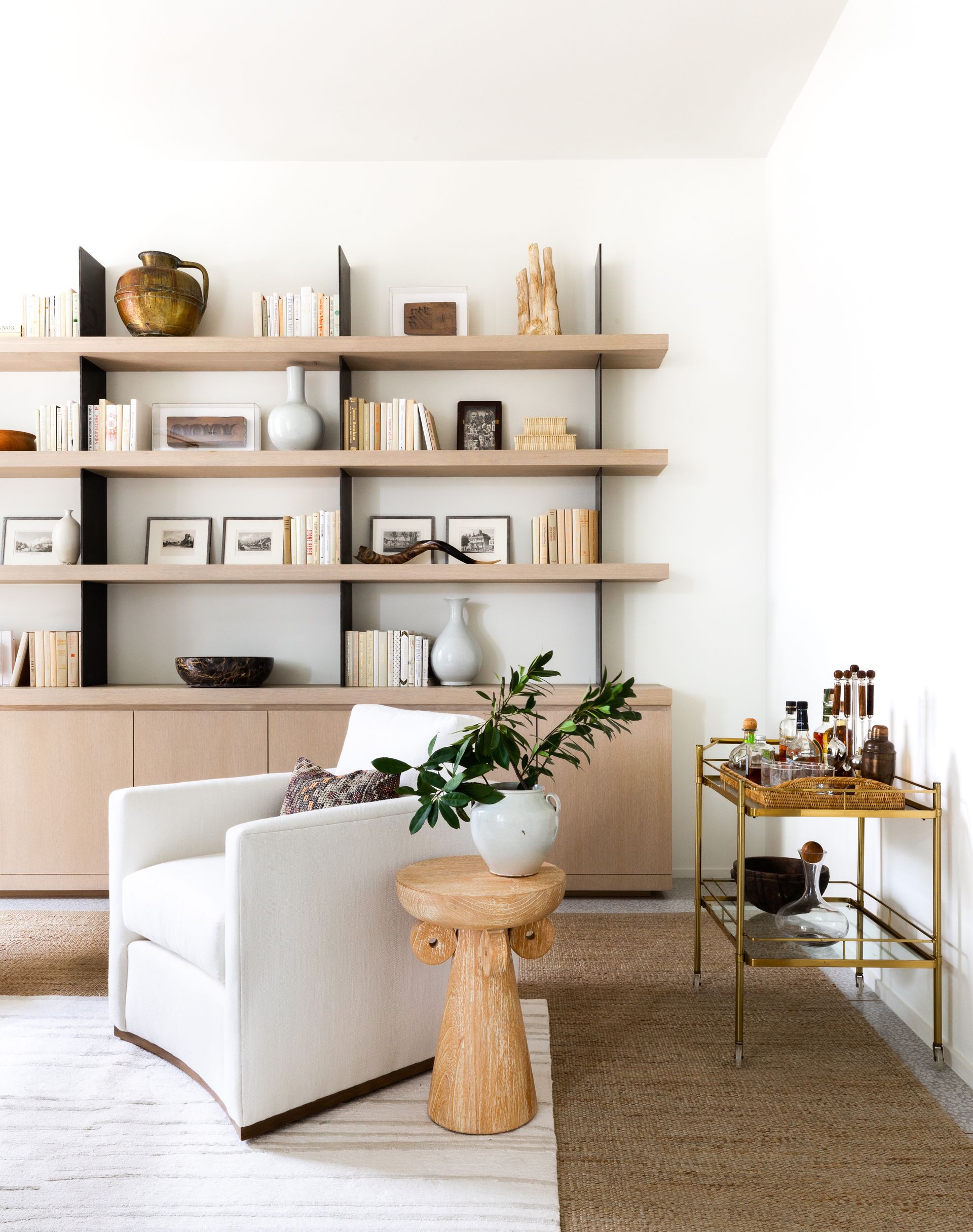 This is such a fail-safe option when choosing a living room color scheme, match them all – the upholstery, the walls, and the rug. But don't quite match them. Opt for an always-on-trend tonal look by picking colors of the same shade but that slightly differ in tone so you get that monochromatic, neutral vibe but there's some depth there too.
'This well-traveled couple wanted to infuse their new home with inspiration from abroad. This room feels slightly Scandinavian with the tone-on-tone color palette, sleek lines, and minimalist styling.' explains designer Marie Flanigan.
'I think the color of a living room rug can be the color of the walls or it can highlight the space's accent colors. As long as the rug's tones and colors are complementary to the room, both are great options. And choose a living room rug color that works for your lifestyle. If you have young kids, maybe a darker color palette with a forgiving pattern is the answer. If you want to achieve a light and bright room, stick to a light, neutral color.' she adds.
And note the layering of rugs here too. The paler rug is the focus and adds that cohesive feel, but the larger jute rug underneath adds texture and grounds all those lighter colors – plus ties in with the other natural finishes going on in the room.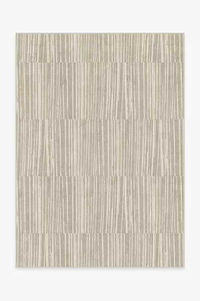 2. Use rugs to add in patterns and texture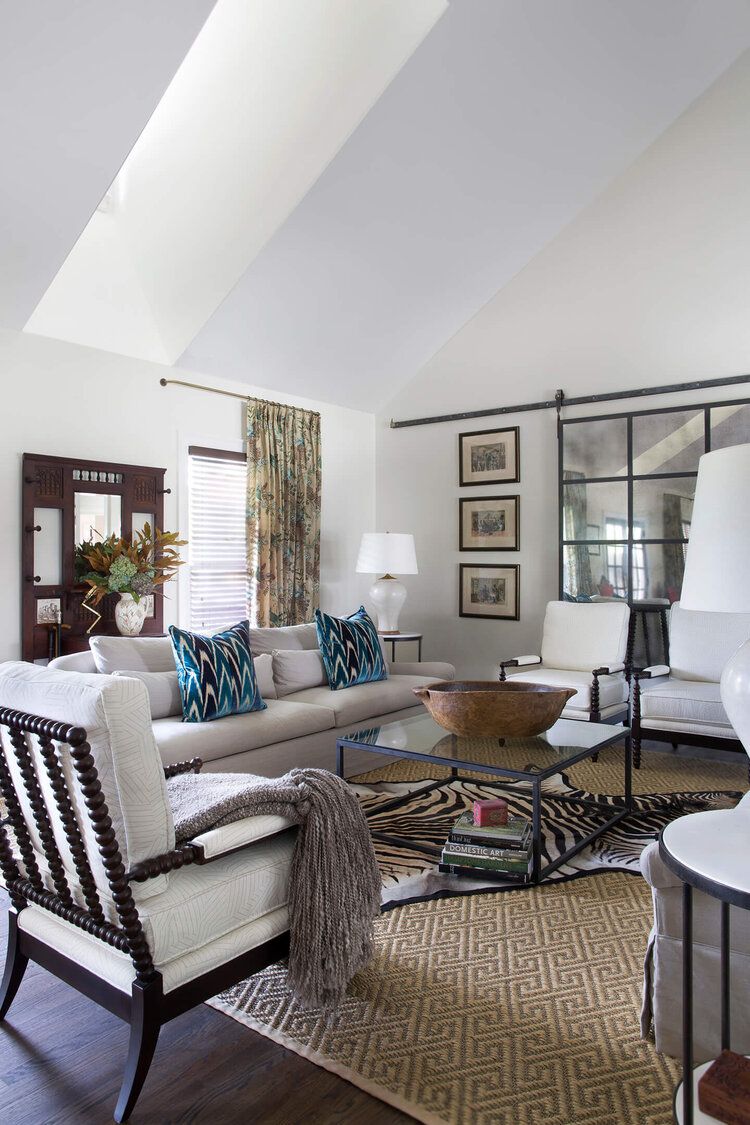 Rugs are the best way to get creative and add something unexpected to your living room. Being at ground level and usually partially covered by furniture, they are never going to steal too much focus, so you can do something playful that won't draw as much attention as the wall color or larger pieces of furniture. So have fun with it.
'I'm never one to 'match' anything in a room,' says designer Bradley Odom. 'I think disparate colors and textures can come together in a much more dynamic way. With rugs, we look to add in texture and pattern in an artful and complementary way. This means it can pull from colors in artworks, pillows, or none of the above.'
We agree that the most interesting spaces do have a bit of... chaos to them. They don't immediately make sense and neatly add up. There's depth to rooms that don't have a matchy-matchy approach, so rather than match your rug color to the walls or couch, look to your living room wall decor, or accent furniture and take inspiration from there for a more subtle approach, or bring in something totally different.
3. Use a rug as an opportunity to add bolder color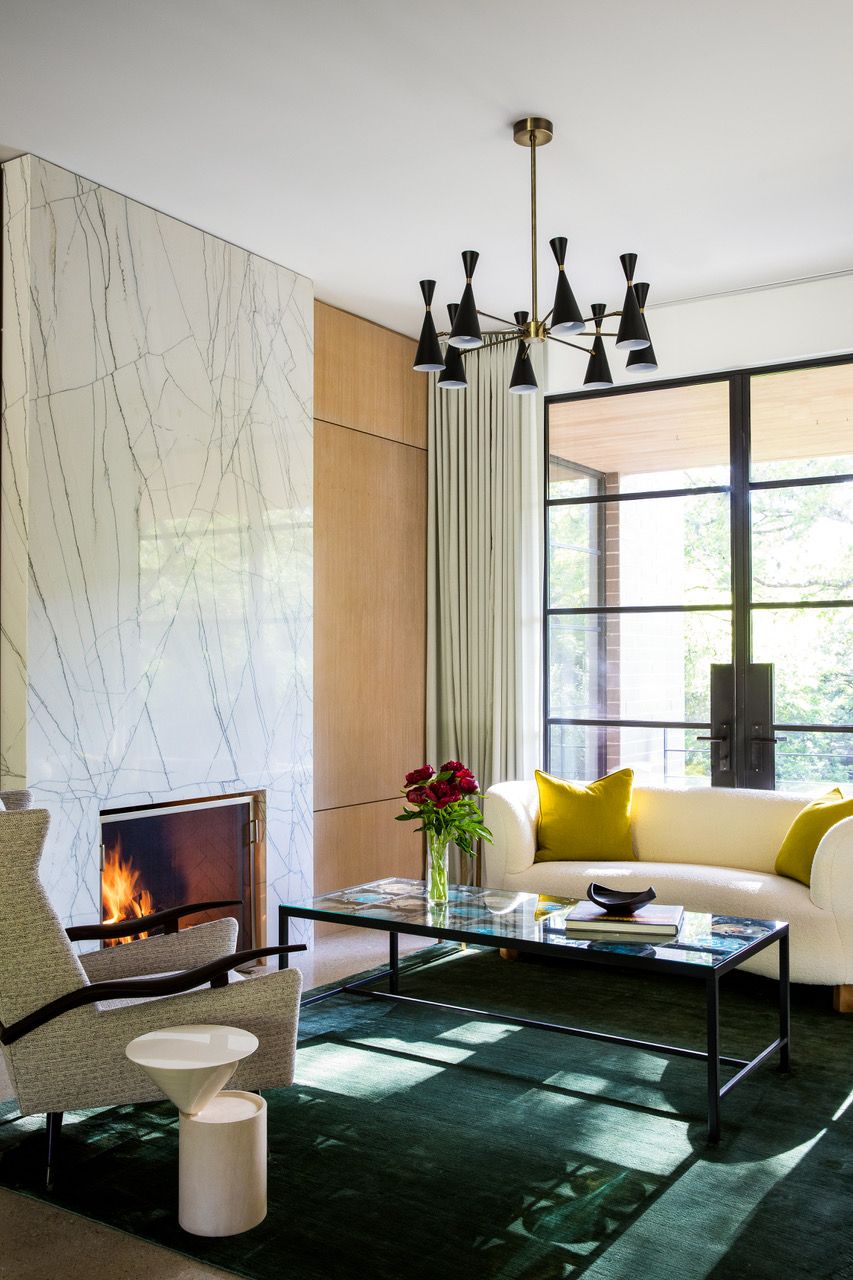 Speaking of bringing in something different, rugs can also be a way to add a bolder color to a living room. See how this delicious dark green rug grounds this otherwise very soft neutral living room, it anchors the furniture and elevates those paler hues.
'Generally speaking, a rug shouldn't match walls or a couch color,' advises designer Kacy Ellis. 'Rugs are a great opportunity to tie together colors in your scheme while not matching any particular item. We often source rugs first and build around them. Even if you are creating a monochrome space, we recommend focusing on varying textures in the fabrics and rug to avoid them reading as the same.'
4. Match the color of your couch but differ the texture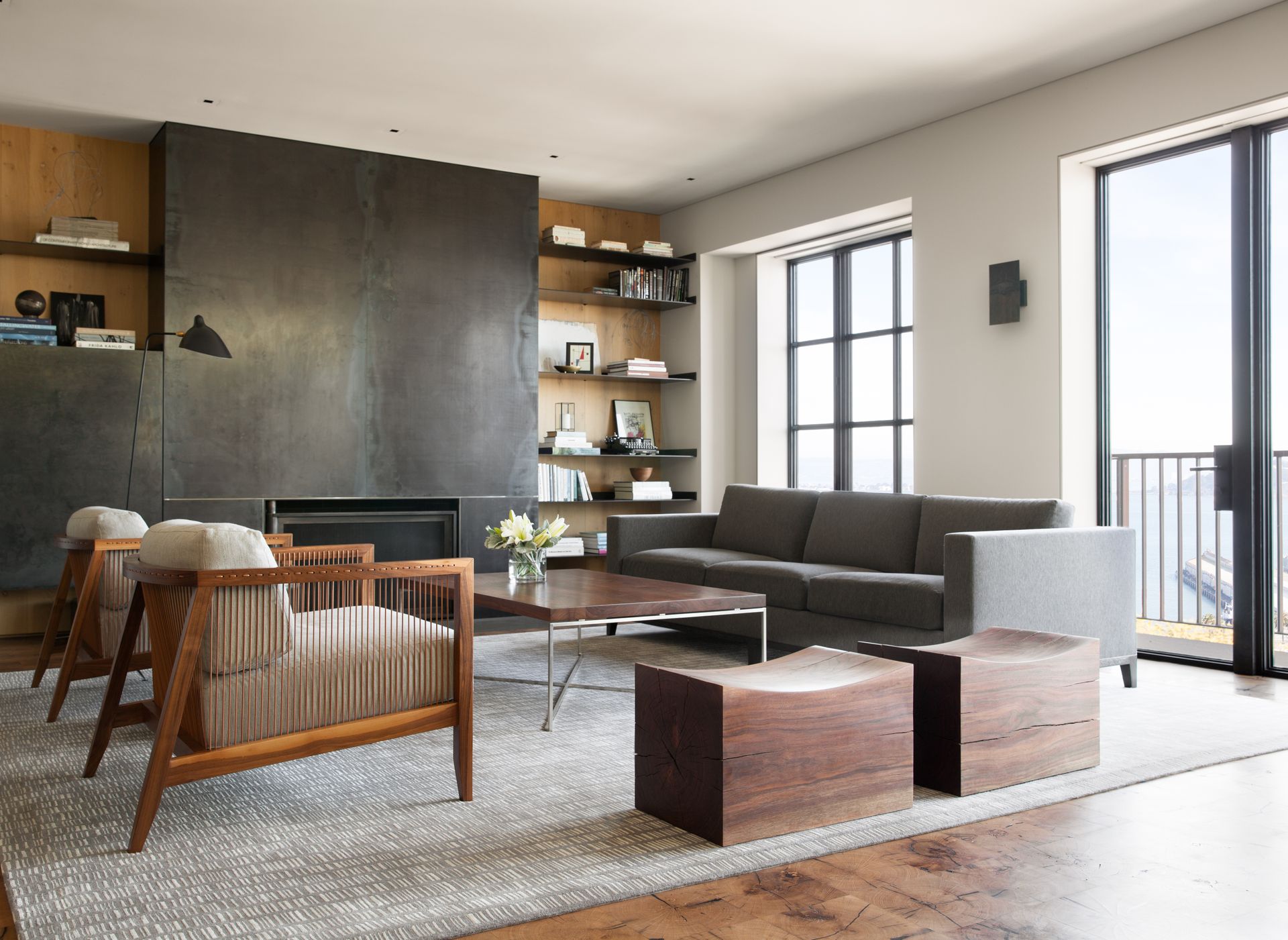 'We designed this modern living room to feel warm, sophisticated, and understated. Since the sofa and chairs are upholstered in solid fabrics, the area rug needed pattern and movement. We grounded the room with a hand-knotted rug in a small-scale organic pattern that adds subtle interest and variation.' explains Jennifer Jones, founder of Niche Interiors.
'An area rug is a foundational piece in a room and arguably one of the most important elements given how much visual space it occupies. Typically, we like to pull colors used in the furnishings into the rug so a space feels more cohesive, but that doesn't mean it has to match exactly! Try looking for similar colors in slightly different shades – such as pairing a navy blue sofa with a rug pattern than includes lighter blue tones.'
5. Match a rug to both the couch and the walls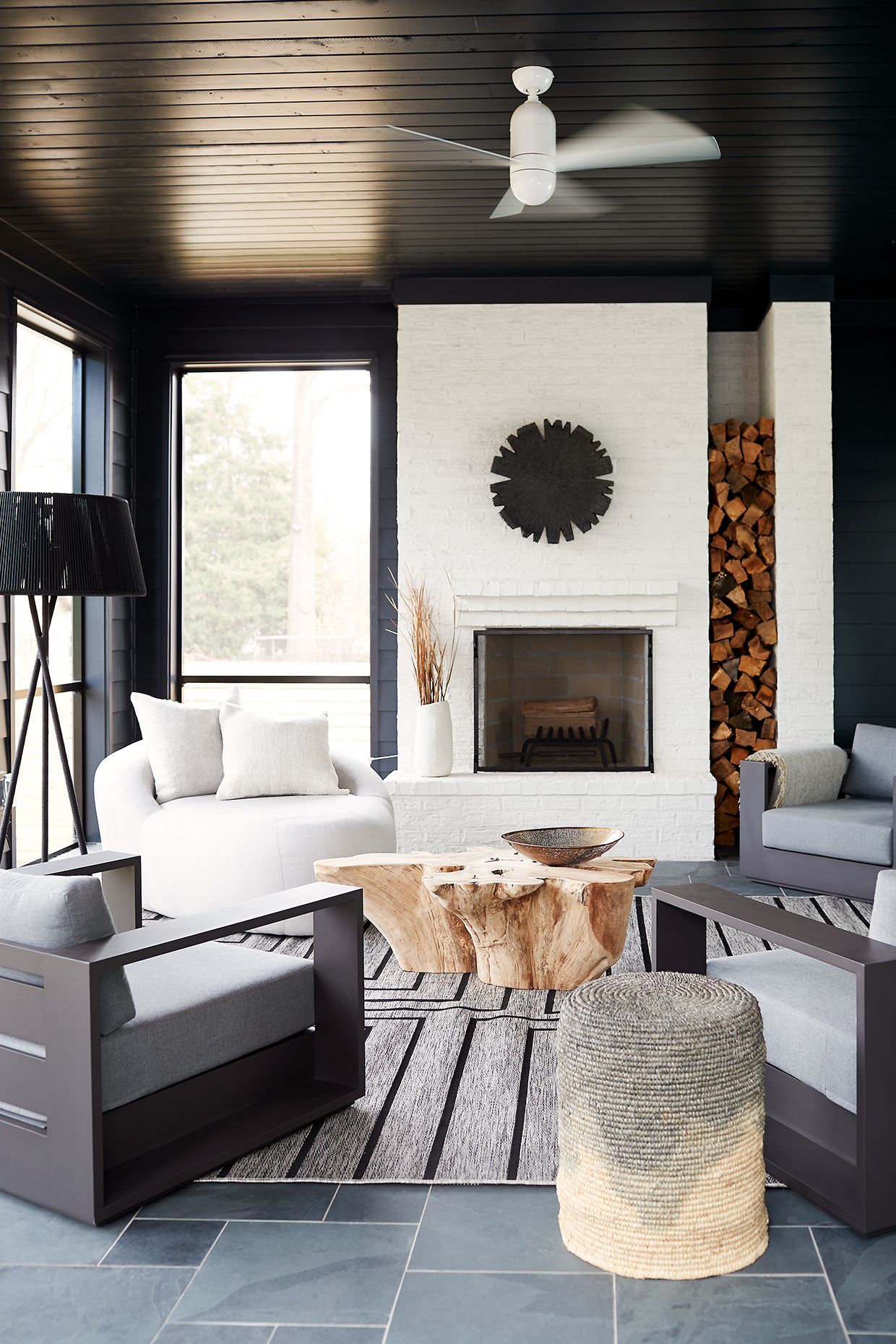 So the takeaway so far seems to be, don't match a rug to your couch or your walls. Or don't go for an exact match anyway. But what about matching your rug to both your wall color and your couch color? This fabulous space proves that black and white is a classic combo, that can have loads of depth to it if you introduce a few softer grey tones and some texture. And the rug does both those things, drawing on both the wall color and the color of the furniture to break up the blocks of color with a simple pattern.
'A great room always starts with a color plan. I love neutral palettes with lots of texture, so as I'm considering sofa fabrics and wall color, rugs are also in the mix. All selections should achieve a natural harmony.' says designer Lisa Sherry.
'Rugs, upholstery, paint colors … it's all about seeking synergy. In this outdoor living space, I played with geometry and color contrasts. The black and grey geometric rug plays off the striking black-and-white color scheme throughout the space. The rug anchors the space and pulls it all together.'
6. Match a rug to accent colors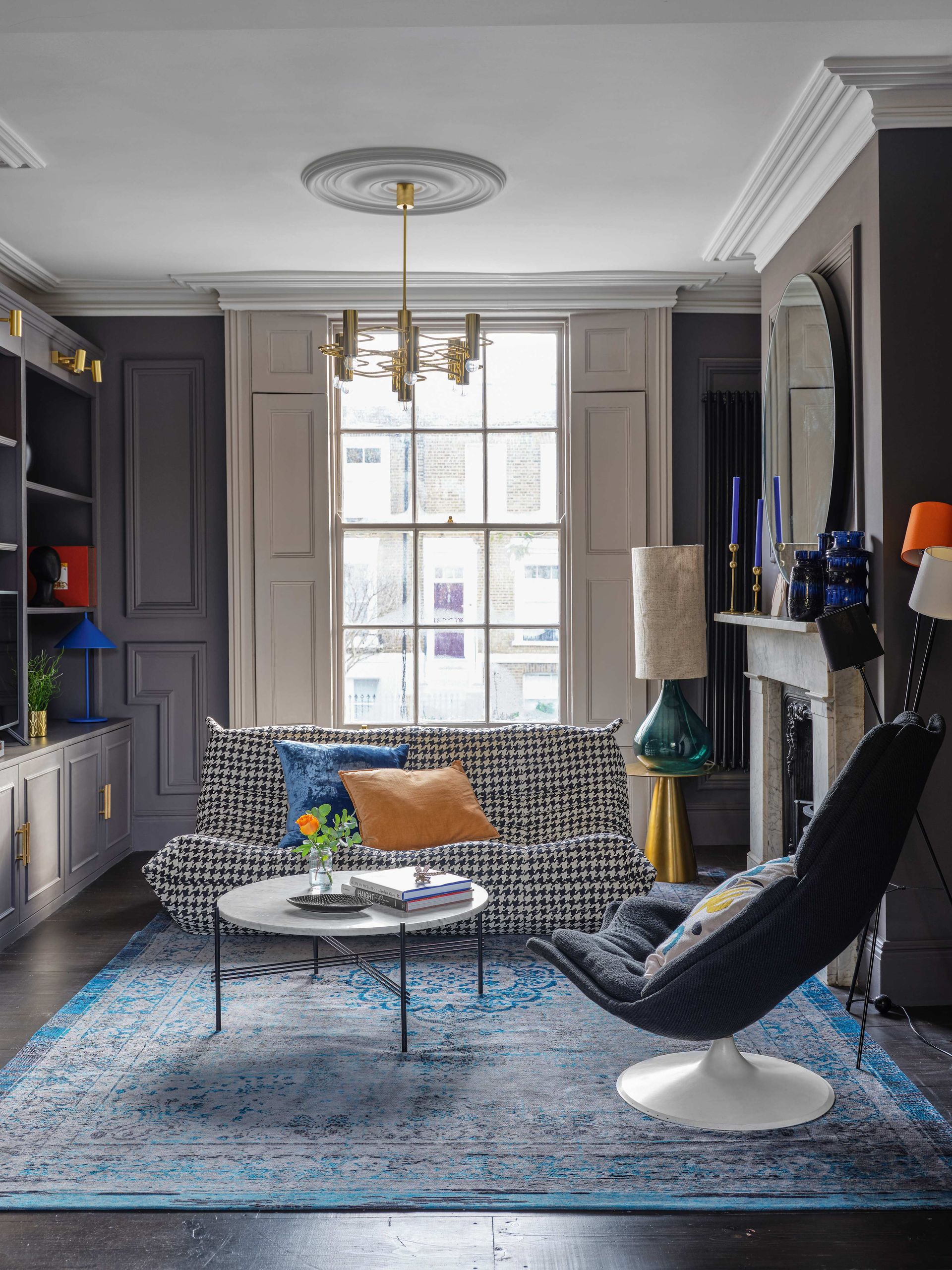 'There are really no hard and fast rules about matching your rug to your couch or to your walls – as long as you love the look – but creating a throughline with a dominant color scheme usually looks great and is a nice guiding principle. I would advise not trying to exactly match your rug, but to find bursts of colors that go together throughout the room,' says designer Kathy Kuo.
'For example, if you have a neutral sofa, try matching your decorative pillows to the rug. If you have a statement wall color, try a patterned rug that features the wall color throughout but isn't a monotone match.'
Note the pops of blue throughout this grey living room, how they contrast and lift the darker shades, and how the rug really ties all those accents together making them a far stronger part of the color scheme.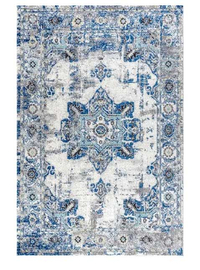 Boho vintage medallion rug, Lowes
For an easier way to include the beauty of a Persian rug in your scheme, consider a faded style, like this one, which softens the intensity of the pattern.
7. Start with the rug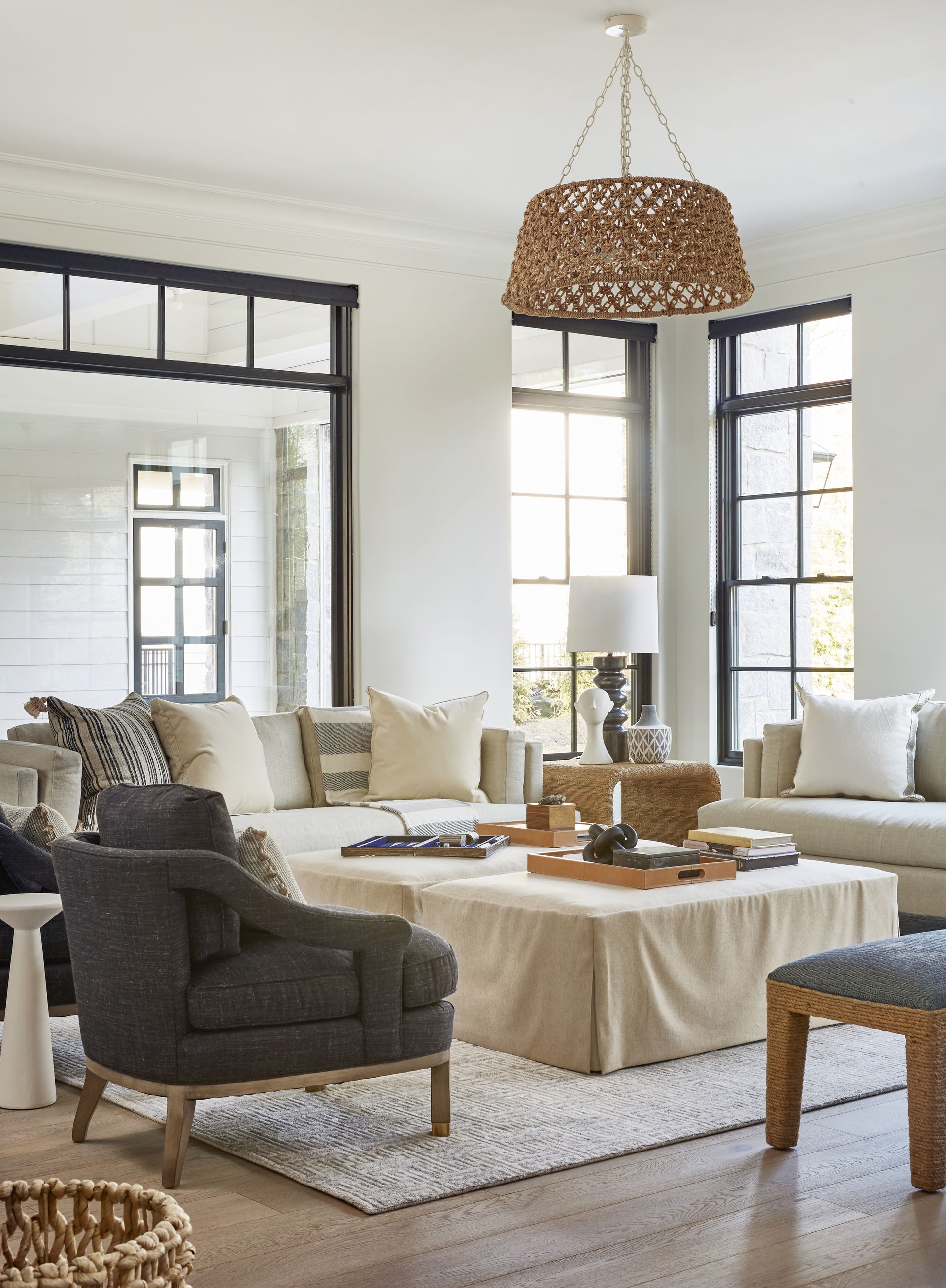 Rather than leaving your living room rug as an afterthought, why not let it dictate what you do with the rest of the room? Choose your rug first. After all, it can be the biggest element of your room.
'You always need a starting point for a space, something that speaks most strongly to you. So if that's an area rug you've fallen in love with you start there and build the room off of that – and work towards finding complimentary pieces that help tell your style story.' advise Virginia and Jessica, founders of Toledo Geller.
'We look at all of the finishes in a room comprehensively to make sure they all work together, but nothing ever 'matches' per say. The color scheme should all work in harmony and in an ideal scenario the color of the rug should be pulled by an element within the furniture upholstery. There needs to be a bit of contrast in tones so that the room doesn't fall flat.'
'While the rooms we design tend to be colorful, often times we limit our doses of color to the vertical surfaces and will ground a space with a neutral rug (albeit with a pattern, like a plaid, stripe, or box grid). Having a solid neutral grounding helps the rest of the interior shine. If you want some color in your space, start with a rug that has color and work the rest of your living room furniture off of that (it's much easier than working with your furnishings first and then trying to find a rug that will suit your selections. Even if your furnishings are mostly neutral you can tie the colors back to the rug by way of accessories in the room.'
8. Contrast (and compliment) the couch color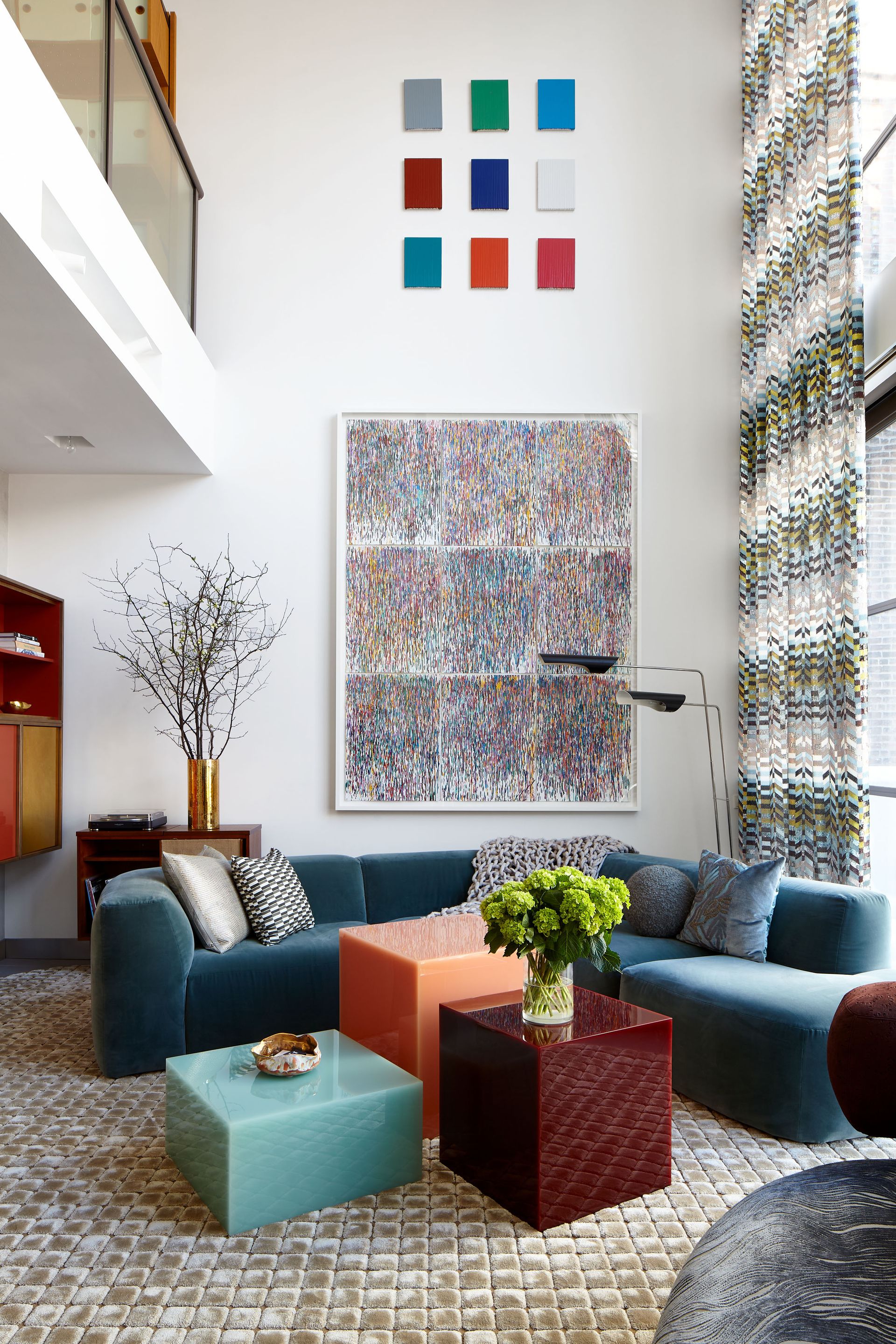 'Take stock of the anchor furniture you already have and aim for a rug color that complements these items nicely. In rooms with a lot of neutral-toned furniture, a really bright and statement-making rug can be a really fun design element; and on the flip-side, if you have a lot of visually bold furnishings, opting for a muted or neutral rug color can be an opportunity to add calm and tie everything together in a sophisticated way.' advises Kathy Kuo.
'We think more in terms of contrast than 'matching.'' agrees Elena Frampton of Frampton Co. who designed this colorful space. 'At our Gramercy Townhouse project, we selected a deep teal sofa by Piet Boon, and created balance with a warm neutral rug from Edward Fields.'
9. Differ the shades but match the tone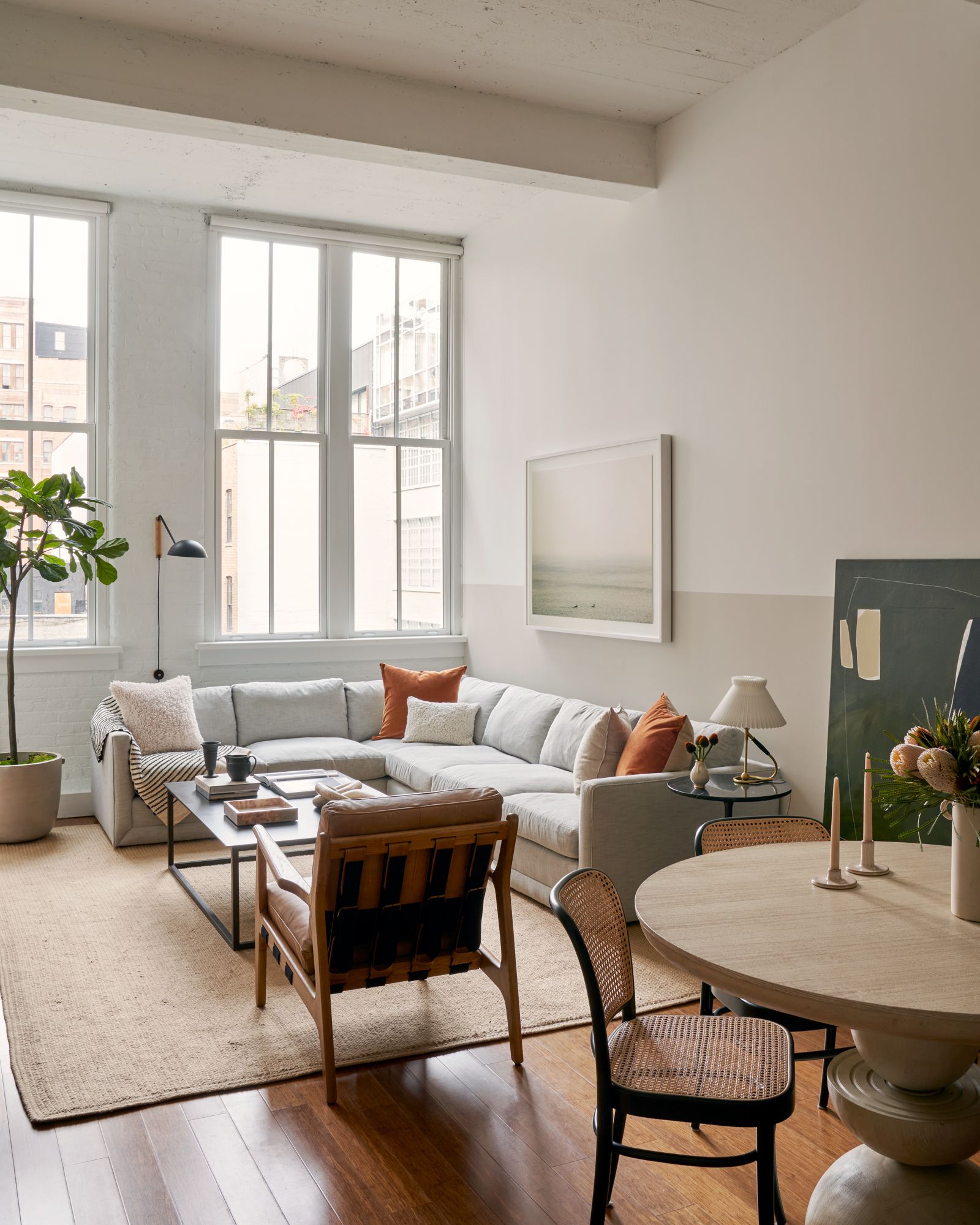 This seems to be the winning answer to should a rug match your living room sofa or the walls. The shades can be as different as you like, but what should match is the tones. That way no matter what color combination you choose, you'll always have that cohesiveness.
'Unless the scheme is intentionally monochromatic, a living room rug shouldn't exactly match the walls or the couch. There can be synchronicity between the colors, with subtle differences that make the colors complementary.' says Molly Torres Portnof of DATE Interiors.
Designer Alex Morrison agrees that 'buying a rug is like buying a piece of art for your living room. It doesn't necessarily have to match the color of your couch or walls, however, its tones should align with your space.'
The Livingetc newsletter is your shortcut to the now and the next in home design. Subscribe today to receive a stunning free 200-page book of the best homes from around the world.
Hebe is the Digital Editor of Livingetc; she has a background in lifestyle and interior journalism and a passion for renovating small spaces. You'll usually find her attempting DIY, whether it's spray painting her whole kitchen, don't try that at home, or ever changing the wallpaper in her hallway. Livingetc has been such a huge inspiration and has influenced Hebe's style since she moved into her first rental and finally had a small amount of control over the decor and now loves being able to help others make decisions when decorating their own homes. Last year she moved from renting to owning her first teeny tiny Edwardian flat in London with her whippet Willow (who yes she chose to match her interiors...) and is already on the lookout for her next project.