Is the Apple Pencil worth it? Our tech expert casts his verdict on Apple's $130 stylus for every kind of iPad owner
The Apple Pencil isn't essential for most users, but it's a brilliant accessory all the same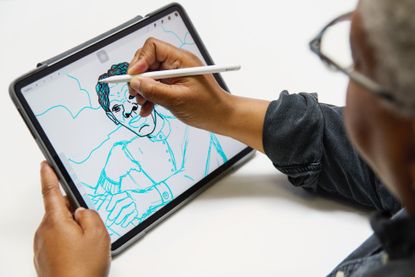 (Image credit: Apple)
While Samsung bundles an S Pen with its Galaxy Tab S8 tablet, the Apple Pencil remains an optional accessory for iPad owners.
Originally only compatible with the top-end models, Apple has now made the Pencil compatible with every current model, from the $329 9th-generation iPad all the way up to the $1,099 12.9-inch iPad Pro.
But is it worth the $99-$129 additional cost? Here's what it can do and why you may want to pay up.
What can the Apple Pencil do?
But really, it's handy for anything where your finger is just too inexact and you need greater precision. It just makes web browsing and some of the more fiddly apps and games all the more pleasurable.
But, the Apple Pencil is more than just a finger replacement for the iPad. As the name suggests, it's more of a writing and drawing tool, with Apple trying to mimic the feel of pencil on paper, which is a world away from finger on screen.
To be clear, that's only so effective: glass isn't anything like paper, so this can't feel as authentic as e-ink notepads like ReMarkable 2 or the Kindle Scribe. But it's a lot more flexible than your finger, with no noticeable lag, and pressure sensitivity letting you push harder for a darker line or more gently for a soft imprint.
Many years ago, I attended a life-drawing class hosted by Apple using only iPads and Apple Pencils and people more artistic than me were able to get some excellent results. You can use the edge of the tip for shading, and you can rest your hand on the screen without leaving a digital mark thanks to the iPad's palm rejection.
Beyond art, it's great for notetaking in meetings when typing on the built-in keyboard would take a whole lot longer. You can also draw on screenshots and PDF files to annotate as you go, and I've personally used mine for signing contracts, saving me the hassle of printing, signing and scanning. Connect it to a TV via HDMI or AirPlay, and you've got a digital whiteboard for presentations.
Can I get a third-party alternative stylus?
You can, but none of them beat Apple's own product both in terms of functionality and instant ease of use. Still, if you only want an Apple Pencil for occasional use, basic note-taking or simply want to try something cheaper before you commit, then they're worth a look.
Just be aware that the dirt-cheap models will lack a lot of the features that make the Apple Pencil so special, and even higher-end stylii like the Logitech Crayon ($70 from Amazon) often miss out on things like pressure sensitivity, making them fine for note-taking but far less pleasant for creating digital art.
Which Apple Pencil do I need?
Confusingly, there are two Apple Pencils to buy — the first-generation model ($99 from Amazon) and the second-generation version ($129 from Amazon).
To be clear, you don't have a choice as to which you get, unless you're yet to buy an iPad. Depending on the model of iPad you own, only one Apple Pencil will be compatible (or none if your tablet is really old), so the decision is taken out of your hands. Apple's Pencil compatibility page is here.
The core functionality is the same between the two models. Aesthetics aside, the main difference between the two is that while the first generation charges via the Lightning port of the iPad (making it look like an oversized lollypop), the second generation charges wirelessly by clipping onto the device. It also lets you change tools via a tap on the side, but that's a very minor selling point.
Should I buy the Apple Pencil?
Full disclosure: the fifth-gen iPad mini and first-generation Apple Pencil has been a key part of my freelance writer lifestyle since 2019.
Whenever I go to an event or do an in-person interview, both are in my bag. I boot up the excellent Notability app, hit record and take notes as I listen. Later, I can tap a handwritten note and the audio plays back from that moment in the conversation — or if I play the full recording from the start, my notes reappear at the exact moment I wrote them. It's nothing short of magical.
That's obviously an edge case, but for me it's a brilliant productivity hack. And if you're a digital artist of any kind, the Apple Pencil's brilliance makes it a no-brainer.
It's an expensive add-on, for sure, but for me personally, it's worth it. And if you're on the fence, you can always try a third-party stylus on the cheap to find out if it's really for you.
The Livingetc newsletter is your shortcut to the now and the next in home design. Subscribe today to receive a stunning free 200-page book of the best homes from around the world.
Freelance contributor Alan has been writing about tech for over a decade, covering phones, drones and everything in between. Previously Deputy Editor of tech site Alphr, his words are found all over the web and in the occasional magazine too. He often writes for T3 and Tom's Guide. When not weighing up the pros and cons of the latest smartwatch, you'll probably find him tackling his ever-growing games backlog. Or, more likely, playing Spelunky for the millionth time.