8 ways to warm up cool tones - how to decorate with whites, blues and greys and still make your home feel friendly
Cool tones may be a big design trend but there are ways to stop them from feeling cold. These 8 ways to warm them up come designer approved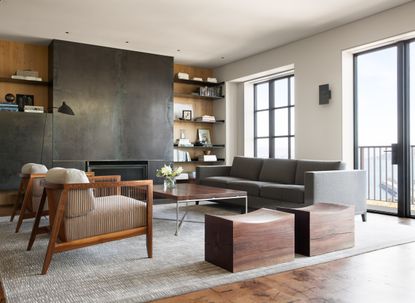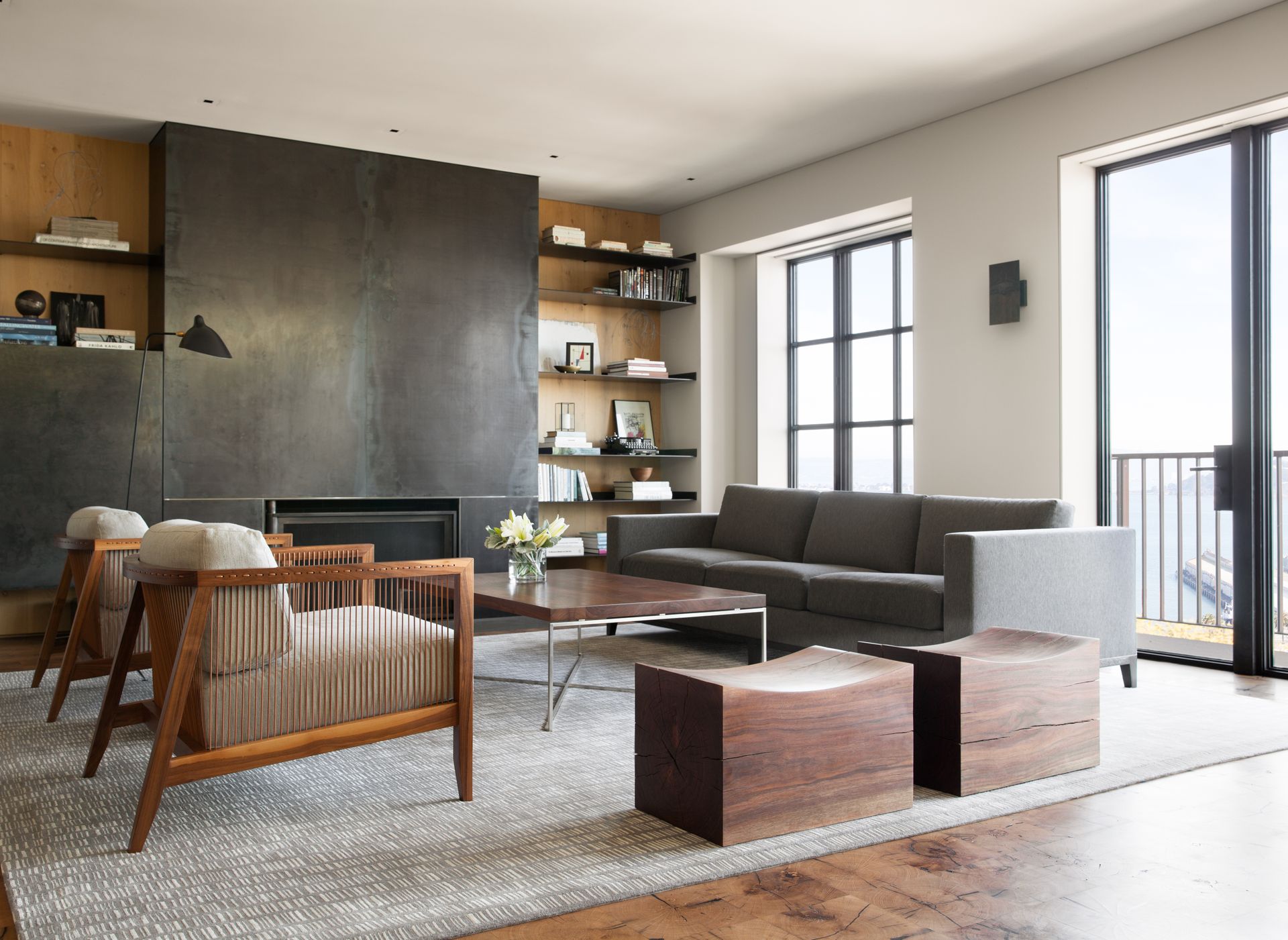 (Image credit: Thomas Kuoh )
Cool tones rooms have been an enduring design trend. Greys, blues, whites, soft greens - these colors evoke Scandi levels of sophistication, working to calm you and look uncluttered. But as their name suggests, they can read a little, well, cool.
There are tricks for working with this color trend for soft neutrals that warms them up, however. So we spoke with top interior designers about their experiences with cooler-toned spaces, the color theory behind them, and what can be done to inject some heat.
How to warm up a cool-toned room
'Cool-toned rooms can be instantly warmed up with pieces that layer a feeling of history or unrefined coziness. Think boucle pillows, vintage oil paintings, carved ceramics, fringed textiles, or blankets. Imperfection at its textural best, ' suggests Ashley Macuga of Collected Interiors.
Designer Kathy Kuo agrees, 'I love using neutral colors like rust, sienna, and goldenrod to add warmth to a cool-toned room. Neutrals can become so inviting and cozy when you contrast them with cooler blues and grays. Texture is also a great way to add warmth—boucle armchairs, cashmere throw blankets, linen pillows, and velvet sofas all become wonderfully luxe and inviting in a cool room.'
So texture is key, and such a simple way to warm up your space. But there's a bit of color theory to consider too, so before we get into all the finishing touches that will help warm up your space, let's cover the basics in choosing the best colors for cooler-toned rooms.
1. Look for warming furniture and fabrics
Filling a cool-toned room light furniture in oak is only going to add to the crispness of the space. Instead, look for pieces of furniture and accessories that have a warmer, brown undertone, to balance out the cooler light of the room. Walnut would be ideal.
This approach can be carried over to soft furnishings. As Marta Chrapka, founder of Colombe says, 'In cooler toned spaces, choose cream lampshades instead of snow-white and light bulbs with a warmer temperature. Curtains are also important – grey or blue fabric reflects the light into the interior, cooling it down. Warm white and cream on the curtains make the interior naturally warm.'
2. Pick neutrals with a warmer undertone
So as we have mentioned, white, or a pure, cool-toned white is best avoided. When lots of cool tones are together, they bring the blue out in each other. Meanwhile, a white with a yellowy undertone will provide a touch a more sunshine. Go creamier and more yellow than you think.
This neutral living room, designed by Decus, takes a warm-toned pale grey across every surface. It's an on-trend and fail-safe option that always going to look classic and cohesive. As with all successful color drenching, the interest comes from the layers of differing materials and textures, that add depth as well as warmth to the room.
'Our studio ethos is balance in all that we do and for us that means a healthy tension between materials,' explains Alexandra Donohoe Church, founder of Decus Interiors. 'If we're working with a space which has cooler toned areas, we inject warmth using smaller (albeit no less consequential) elements and/or furnishings.'
Tallow No. 203 modern emulsion
With just a hint of both yellow and red undertones this wonderful shade is a way to use white which still has a hint of warmth.
3. Avoid mixing colors with warm and cool undertones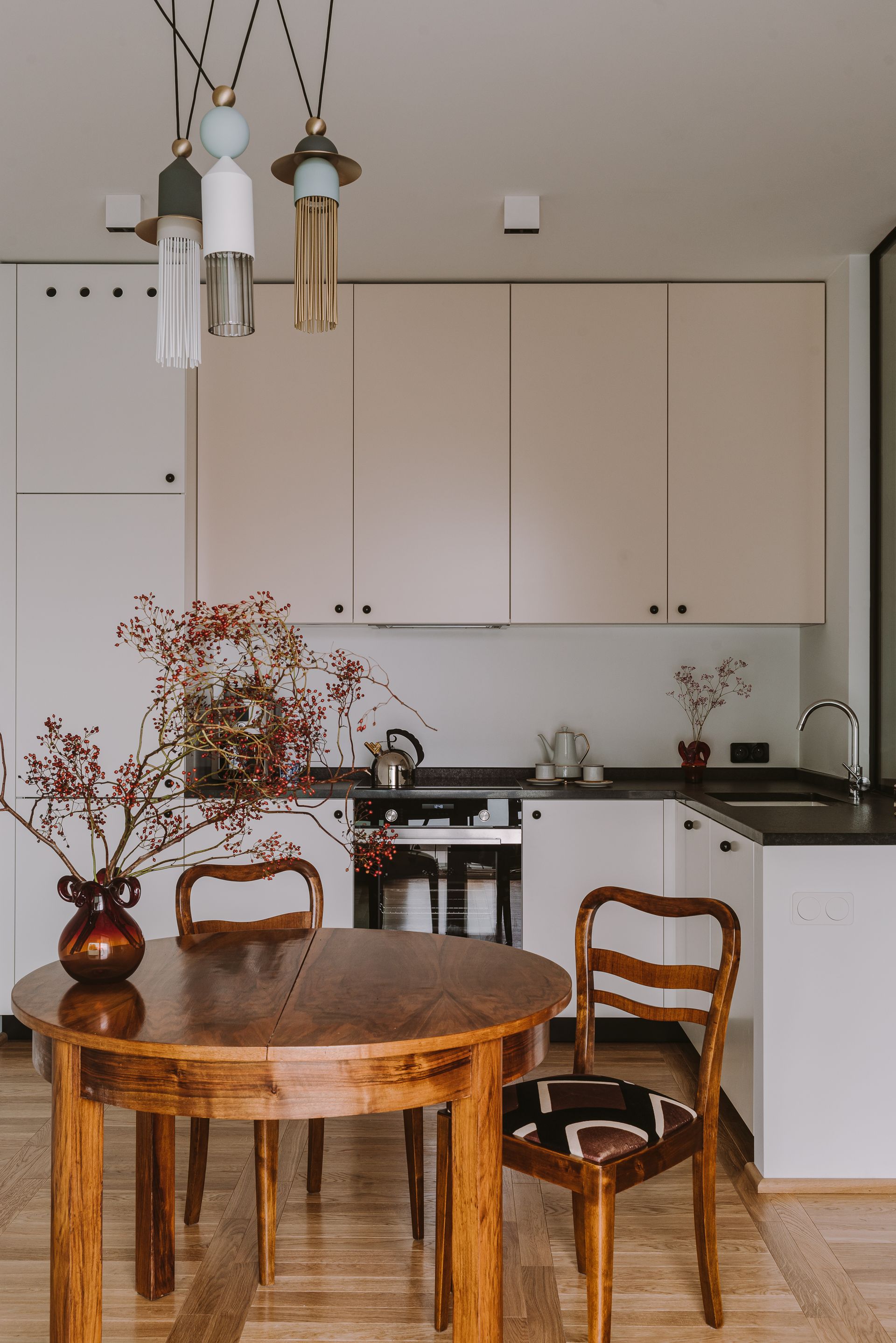 But that said, don't just think you can bring a yellow lampshade into a blue-toned room and it's going to instantly make it warmer. As Marta also advises, 'I do not use opposing colors for warming a cool-toned room, it usually does not work. For example, if we have cool gray-based blue on the walls, avoid yellow colors for warming. Because they are complementary colors, blue will become bluer, and yellow will become brighter and stronger.'
If you are looking for subtle ways to warm up a cool-toned room instead look to the warmer side of cool-toned colors. Basically pink. Pink is a perfect color for cooler-toned spaces because can lean into being both a cool-toned hue and a warmer one, so you avoid getting that jarring contrast of cool and warm that Marta mentions. You can find pinks that have those blue undertones that will lend themselves to a cooler room, whilst still adding a softness and warmth.
This pink kitchen demonstrates the approach perfectly. The lack of direct sunlight in this space adds a greyer, darker tone to any color, so rather than try and really fight that with a sunny warm color, a baby pink sits comfortably with the cooler light whilst, at the same time balancing it out with some warmth.
$75
4. Contrast with some warm dark shades
Sometimes, the best approach is contrast. As seen here, a white room transitions into a warmer, darker space - creating a sense of drama that brings out the best in both.
This deliciously deep green living room, designed by Urbanology, really makes a case for pairing cooler toned areas with cocooning dramatic spaces.
If going darker on the walls, just be sure to add plenty of texture and shape to the rest of the room and choose colors elsewhere that are going to lift the darkness. That needn't be lots of contrasting lighter shades, but as seen in space just inject some softer hues to prevent that dark hue from totally consuming the room.
5. Texture, texture and more texture
The easiest and quickest way to warm up a cool-toned room? Texture, and plenty of it. 'Incorporate natural materials in a cooler toned room to warm it up – rough-hewn woods, sisals, raffia, jute – all of these give a heartiness to a room. You can incorporate these via light fixtures, cocktail or end tables, jute rugs, and accessories. Saddle and cognac leather or suede also give a warmth to cooler tones rooms and play beautifully with grays, blues, and blacks.' suggests Virginia and Jessica, founders of Toledo Geller.
Molly Torres Portnof of DATE Interiors, who designed this north-facing bedroom, agrees that to 'warm up a cooler toned room, add natural materials, like rattan and wicker for texture and warmth. Plush, patterned rugs are another way to infuse a space with coziness and warmth.'
6. Don't stop with the soft furnishings
In more practical spaces like kitchens, bathrooms, and dining rooms it can be tricky to know how to bring in this all-important texture. But look to the walls and floors, these are prime real estate for adding some warmth and texture to a cooler-toned room.
Take a look at this dining room designed by Marie Flanigan. There's little going on soft furnishing wise, but the creamy hues and beautiful texture of the rough plaster walls and the rustic textures of the terracotta tiles work just as effectively to warm up this space.
'Adding warmth to a cool-toned room can always be achieved by adding texture. Whether you're layering rugs, adding window treatments, or introducing new materials in the hard and soft finishes, each addition works to create an inviting space,' explains Marie.
7. Choose rich warm woods at every opportunity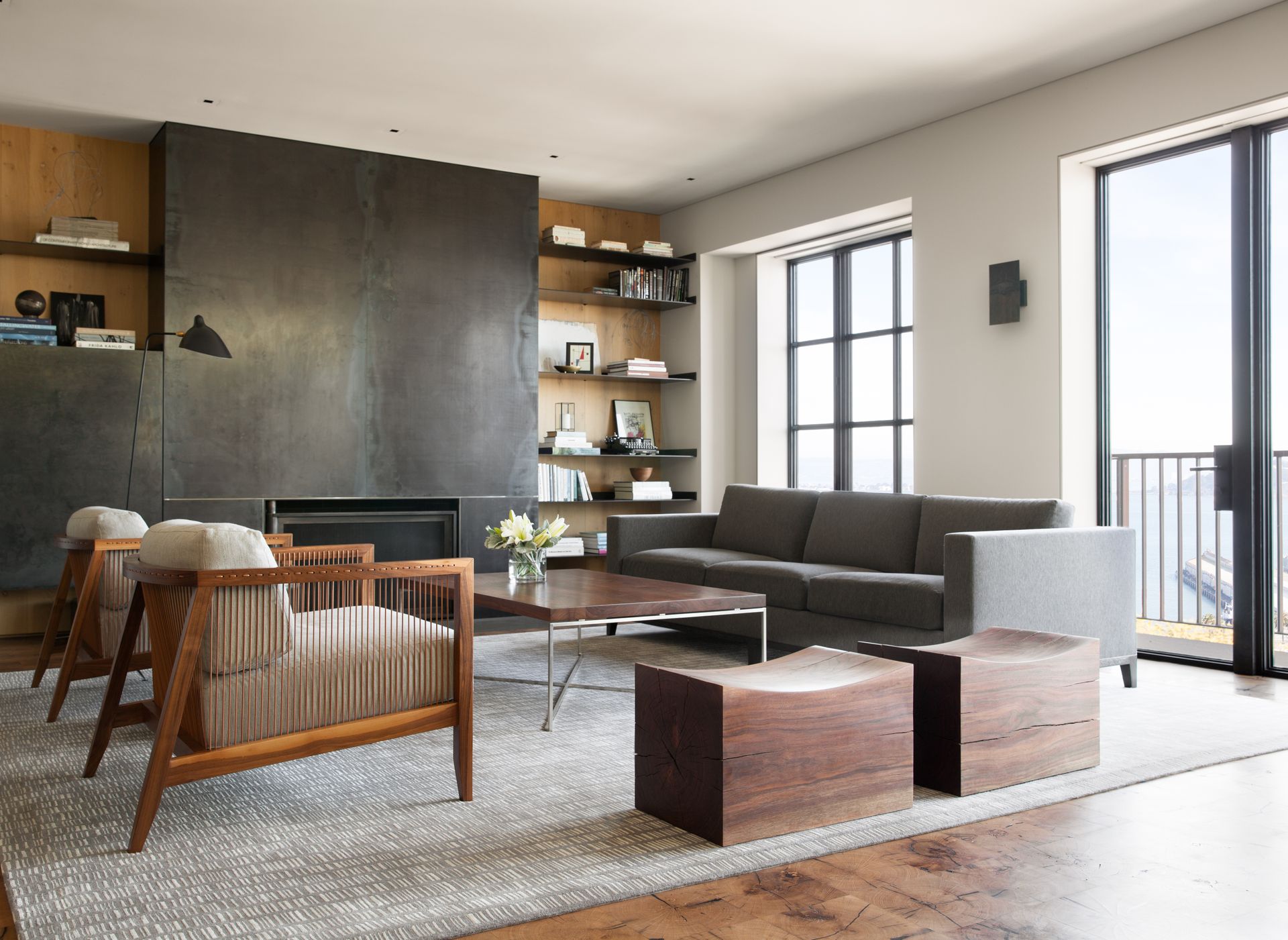 'To add warmth to a space with cooler tones, focus on bringing in richer wood tones such as walnut and warmer metals such as bronze or brass. Layer in accent pillows in taupe, caramel, and other warm neutrals,' explains Jennifer Jones founder of Niche Interiors.
Wooden accents always add a cozy vibe and add more warmth than any color scheme. If you have the opportunity think bigger than a few wooden accessories and bring in those lovely natural textures and colors in with your larger pieces of furniture. In a living room, this may be a coffee table or your furniture frames or even consider paneling the walls. In kitchens and bathrooms opt for wooden countertops or shelving.
$151 for two
8. Get your lighting right
Nowhere is lighting more important than in a cool-toned room. The right lighting can be the most effective way to warm up the space instantly, so ensure you pick the right type, the right amount, and the right locations.
The key is layered accent lighting, and have plenty of different sources offering warm, soft pools of dispersed light, rather than anything too harsh. Avoid downlights or pendants that create very clear spotlights within the room, this will instantly make the room feel less warm and welcoming.
In more practical spaces like kitchens and bathrooms, it's unlikely you are going to be able to avoid downlights as you will need some task lighting. So we'd recommend avoiding a grid-like layout that lights up the whole ceiling and instead opt for a smaller strip of lights or wall lights angled exactly where they need to be. Then ensure to have other softer light sources in there too that you can use to add a bit more atmosphere – if you can safely add a floor lamp or table lamp to your kitchen then do so. And avoid pendants that only offer direct light, go for orb-like designs that offer an all-over glow.
And it goes without saying warm white lights only. Look for 2700K to 3000K (Kelvin) bulbs, these will give a lovely yellow-toned glow.
$22.99 for six
The Livingetc newsletter is your shortcut to the now and the next in home design. Subscribe today to receive a stunning free 200-page book of the best homes from around the world.
Hebe is the Digital Editor of Livingetc; she has a background in lifestyle and interior journalism and a passion for renovating small spaces. You'll usually find her attempting DIY, whether it's spray painting her whole kitchen, don't try that at home, or ever changing the wallpaper in her hallway. Livingetc has been such a huge inspiration and has influenced Hebe's style since she moved into her first rental and finally had a small amount of control over the decor and now loves being able to help others make decisions when decorating their own homes. Last year she moved from renting to owning her first teeny tiny Edwardian flat in London with her whippet Willow (who yes she chose to match her interiors...) and is already on the lookout for her next project.