How to make a living room look more expensive with paint – easy ideas that look a million dollars, but don't cost it
Paint is a relatively inexpensive way to give your living room character that feels luxury and high-end. Here are 5 ways to make that happen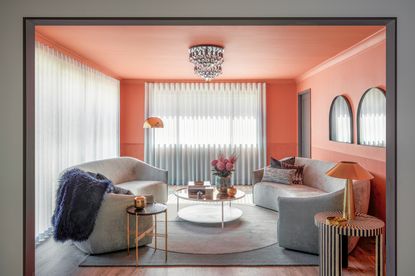 (Image credit: Fiona Susanto. Design: Nicholas Kaiko)
The Livingetc Newsletter
For style leaders and design lovers.
Thank you for signing up to LivingEtc. You will receive a verification email shortly.
There was a problem. Please refresh the page and try again.
If you can't have a home that costs a million dollars you can at least have one that looks like it does. But how do you do it without blowing the budget? All you need is paint. By using the right tones, shades, and color combinations, you can have a space that looks effortlessly chic and timeless.
If you're interested in lifting the look and feel of your living room – the most important socializing space in the home – then these expert tips paint ideas for achieving the luxe look will get you started.
1. Go for jewel tones
Jewel tones require courage and confidence to be used, but these rich color create the feeling of luxury and splendor. Jewel tones borrow hues from jewels such as ruby, emeralds, and more, and their appearance is striking yet comforting and can lift your mood while still maintaining a cozy living room. If you want a space filled with richness and plushness, there's no better palette than this, and this living room proves it.
'For this home, we chose a palette of bold jewel tones as our client loves it,' says Jasmin Reese, founder of Jasmin Reese Interiors. 'We also made this choice because we needed to incorporate some of her family's heirlooms in a fun fresh way. Nothing looks more timeless than a jewel tone palette.'
Want to add drama to your interiors? Choose this deep red tone that makes a striking combination when paired with neutral colors. It is a warming shade that will intensify when used in a small space.
2. Use paint to create grandeur
Another trick for a luxury living room is to embrace paint in ways that mimics houses with old-world grandeur. Three-quarter painted walls are a great example, as they bring this traditional wall paneling idea to a space, whether you've actually got the wall paneling or not. It can make your ceilings feel higher and grander, and paired with a rich color palette, will really make your space feel more expensive.
'This small lounge space is rich in depth and color, and is full of personality,' says Roisin Lafferty, founder of Kingston Lafferty Design. 'This rich wall color cocoons the space and is the perfect tone to let the vibrant pieces do the talking. The patterned Moooi rug is the centerpiece, the round shape focusing the eye and drawing you in, with the Doreen Kilfeather photography featuring over the mantelpiece adding another vibrant statement on the wall.
3. Opt for muted undertones for paints
What are paint undertones? Essentially, when a tone is created by mixing two or more shades, the undertone appears through the exact proportion of color used. So in cream, if you add a little formula that has a little green in it, then it will have a green undertone, with more red, it becomes a pink undertone.
For an elegant living room that looks timeless and always on-trend, it's perhaps better to choose colors that aren't too bright and have more grounding undertones to them. So instead of a bright pink, consider a mid-tone pink that has a brown or grey undertone to it, so it is easy on the eyes and always looks smart.
'The client for this project wanted to create a calm, elegant and feminine space in the heart of the original part of the home,' says Roisin. 'They wanted a perfect setting for some of their own antique pieces away from busy family life. The mid-tone pink along with the warm green tones of the Gio Ponti tiles gives depth and detail to the fireplace.' Choose this subtle pink with a grey undertone to keep the interiors feeling nice and cool. It has a smooth matt finish for a crisp look.
4. Choose the right paint finish
While getting the right paint color is of utmost importance, choosing the right paint finish also plays a part.
The paint finish can play a big role in creating a vibe or an environment in your home. Paint color in an super flat matte finish can make a room feel calming; the same color in high-gloss can conjure up a high-energy mood.
'Matt paint is an easy way to elevate the look and feel of a living room, and give it an elegant and expensive look,' says Juliette Thomas, founder & director of Juliettes Interiors. 'Due to its velvety finish, it gives the walls a more luxurious yet soft appearance. High gloss paint usually comes with a shine, which is often associated with rooms that have high moisture (like kitchens and bathrooms) due to easy maintenance, so in a living room you want to opt for a softer and more welcoming paint solution. A matt paint also acts as the perfect backdrop, allowing furniture to remain center-stage.'
5. Try out interesting paint techniques
Paint techniques for walls can have a big impact on your interior without breaking the bank. These can give interiors a high-end look, make a large living room feel like a cocooned oasis, and fill a small space with oodles of style.
A great way to experiment with paint techniques is with stripes or polka dots. Half-painted walls will create the illusion of height in the room. For an artsy touch, you could go for an ombre effect. A technique that not only adds warmth to an interior, but also helps conceal problems on the walls, masks wiring, and acts as a simple accent is a trompe-l'œil effect. And finally, for a larger-than-life effect, go for a wall-to-wall mural.
For style leaders and design lovers.
Aditi Sharma Maheshwari is an architecture and design journalist with over 10 years of experience. She's worked at some of the leading media houses in India such as Elle Decor, Houzz and Architectural Digest (Condé Nast). Till recently, she was a freelance writer for publications such as Architectural Digest US, House Beautiful, Stir World, Beautiful Homes India among others. In her spare time, she volunteers at animal shelters and other rescue organizations.