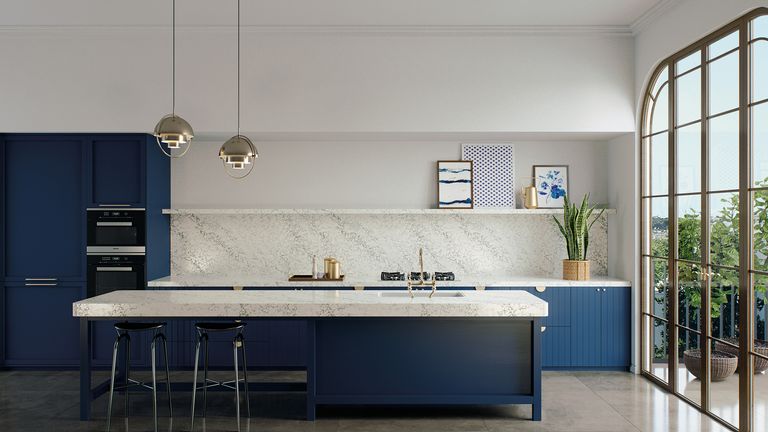 (Image credit: Caesarstone)
Kitchen inspiration comes from many places, and the most beautiful kitchens often take their cues from some of the most surprising sources. How about the ripples that are seen as wind blows gently across the water's surface? 
Or the light play of shadows on walls, dancing through plants and leaves and forming interesting and ever-changing shapes? 
Those words evoke the beauty and subtlety found in the natural world, and have become what Caeasarstone has turned to for its brand new additions to its Whitelight Collection of quartz kitchen surfaces.
There has always been a serenity to the materials that Caearstone makes. With over three decades of experience in creating some of the most covetable kitchen worktops and splashbacks, like many artists before them the brand often turns to nature for inspiration. 
Caeasarstone's marbled quartz takes its lead, of course, from the marble found in quarries around the world, but there is so much more depth to the design process, so many other influences displayed in the variations of colours, patterns and the way the light moves across it.
The brand new Arabetto surface is a perfect case in point. A swirling galaxy of dynamic grey stripes and speckles span across a crisp white surface, capturing a complex composition of minerals in a delicate interlacing of jade and copper that thread throughout this impressive stone.
The beguilingly named Calacatta Maximus has a pure white backdrop animated by striking broad grey veining that traverse the surface, while Aterra Blanca, with its warm white base and subtle veining, is the ultimate expression of understated elegance, pairing effortlessly with a myriad of different colours and hues.
As with all Caesarstone quartz surfaces, the Whitelight Collection is hardier than natural marbles. Stain, chip and heat resistant, its non-porous properties make it far more practical than marble for a real, living kitchen but no less visually appealing. 
The new Arabetto, Aterra Blanca and Calacatta Maximus quartz surfaces start from around £550 per sq m including fabrication.
The Whitelight Collection is available at a variety of price points, starting from around £410 per sq m incl. fabrication (4141 Misty Carrera), to £800 per sq m incl. fabrication (Statuario Maximus).
Find out more about Caesarstone's Whitelight Collection and order samples.
Facebook: @CaesarstoneUKIE 
Instagram: @caesarstone_uk 
Pinterest: @caesarstoneuk