5 decluttering projects you can do in 30 minutes or less - small jobs that make a big impact
Decluttering experts recommend these quick, easy to do tasks that can easily be completed within half an hour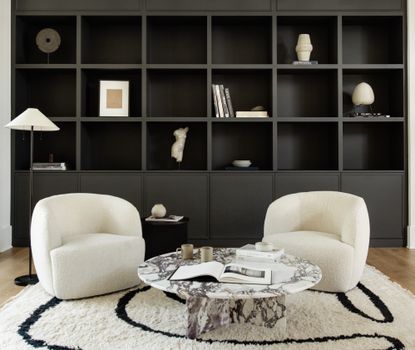 (Image credit: ToroCanyon)
The Livingetc Newsletter
For style leaders and design lovers.
Thank you for signing up to LivingEtc. You will receive a verification email shortly.
There was a problem. Please refresh the page and try again.
Most of us dread getting on with an organizing and decluttering project because of the amount of time they take up. But who can deny the joy of a clutter-free space? There are several areas in your home you can declutter in a jiffy. Or more precisely, in under 30 minutes!
We reached out to decluttering experts to help us with tiny projects that can be taken up one at a time. Of course, this depends on each individual's speed, the size of the house, and the number of items they have, but largely, these tasks, from closet organization ideas, and arranging drawers, and shelves to more, won't take an entire day.
Here are 5 easy places to begin. Ready, set, and start that timer.
Aditi is an experienced homes writer and editor. She has written hundreds of articles for various international titles helping readers make the best home design choices, and spends her days interviewing interiors industry experts to bring the latest ideas to her readers. For this piece she spoke to the world's best organizers to learn more about decluttering projects that can be completed under 30 mins.
5 decluttering projects that will ensure greater peace at home
1. The office drawers
Your small home office can quickly become chaotic, and disheveled with paper clutter, pens, pencils, books, notes, and more. The mess usually creeps in from the drawers and shelves, onto table tops.
Take a weekend to declutter and organize your office drawers, set everything in the right place, and watch how the room is suddenly rid of all blues.
'Pull out the entire desk drawer and place all the items on a table or the floor,' says Tia Mellis, founder of The Mess Goddess. 'Start sifting through the items, and sorting them into categories such as stationary, pens, receipts, business cards, etc. Now go through each in more detail, for instance, organize all the black pens together, similarly for blue pens, sketch pens, etc. Make a separate box for things you have too many of and want to donate.'
'This will take up a major chunk of the half an hour but putting them back won't take long at all, especially if you have clever drawer organizers,' says Tia. 'These are key to maintaining order inside your drawers, wardrobes, and any other closed storage. Place all the items inside them and get your office organized!'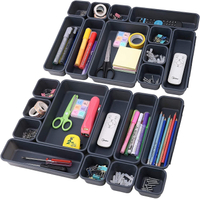 Desk drawer organizer from Amazon
This sturdy organizer can be set inside your drawer, and helps keep all the stationery organized. The pack has 22 flexible organizers in 3 sizes so it can be fit into a variety of layouts.
2. A bathroom cabinet
The bathroom cabinet, if not cleaned regularly can be mayhem central. Consider bringing in ceramic boxes, platters, or bowls to keep your bits and bobs organized. If you're worried about them moving around too much in the cabinet, you can glue them to the bottom of the drawer.
'Take a good look at your bathroom cabinet, and pull out all the things that are expired – these could be toiletries, medicines, almost empty bottles, rusted tools, or even new products you don't like.' says Laura Cattano, founder of Organizational Design. 'Wipe all bottles, and categorize them into the type of use, such as oral care, hair care, cleansers, creams, etc.'
'Also keep a recycle bag handy in this space, and keep adding things you haven't tossed yet,' says Laura. 'Getting those out and gone will allow you to get rid of more things. Don't make the mistake of doing 'one big run' as that never happens.'
'When it comes to decluttering, give yourself 30 minutes a day to clean out one shelf at a time,' says Los Angeles-based interior designer and author Breegan Jane. 'Taking little steps like this will eliminate stress, and lead up to one big accomplishment in a week or so.'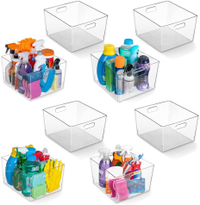 Choose these large capacity bins to curb the bathroom mess, and store toiletires, cleaning products, candles and more. Interestingly, these can be used anywhere in your home, be it the kitchen, pantry or toy room.
3. The bookshelf
Book organization can be a quick, easy-to-do activity if you follow simple steps. Start with the overly cluttered shelf and start pulling out all the books. The quickest way to organize this space is by categorizing the books based on colors, sizes, or topics. Similar-themed books are usually the easiest to locate and pull out.
There will be a few books that are moth-eaten, torn or are simply yellowing. Don't latch on to them anymore, and send them for recycling. This will also help you make more space in the bookshelf.
Interestingly, while you may have a huge collection of paperbacks, you don't always need to display all of them...this is what leads to clutter. If you want to have a nice, neat living room or study, only take out a limited number of books on interesting topics, bestsellers, classics etc, that will create intrigue in guests as well. Store the rest in boxes and cabinets.
Bring in interesting bookends so your shelf looks organized and decorated. Want to add more charm to the setup? Punctuate arrangements with flowers, vases, or curios.
Pro tip: Pull the books toward the front while arranging them, allowing them to peek out just the tiniest bit. This lining up of books will give the space a uniform front and keep books in line even if they're different lengths.
Have a few books you haven't read yet? Stack them together and place them in their special TBR (To Be Read) section of the shelf.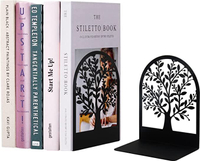 Choose this tree of life bookend to not only help organize your books but also add a great decor touch to the bookshelf.
4. Entryway console
Your entryway table decor says a lot about you. Take a look at all the items that are inside the console and decide which ones need to be there and ones that can be stored in other areas of the home.
Take all things out and dust them, as usually things kept inside drawers are only rearranged and rarely cleaned or mopped. Create separate sections for things such as 'socks', 'outdoor accessories' 'cleaning supplies', 'shoe products', and more, so you know exactly what goes where when you come back home.
Bring in shoe trays to hold the entire family's footwear, so none of those boots, slippers, and crocks are in sight. Use pretty-looking bins to keep wet items such as umbrellas or snow boots. Galvanized bins or baskets can be stored under the table, to hold smaller utility items.
If you have a slightly larger cabinet in the entryway, add hooks to the inside of the door to hang bags and long coats.
5. Toy storage
While playroom storage or more importantly toy storage ideas may be aplenty, ensuring these units are always organized is a separate challenge altogether.
If you're using vertical storage, like shelves, begin by organizing all the toys and items that are used the least at the top of the shelf, and the ones that are used the most at the bottom. Do remember though, that children are curious beings and may try to climb up on the shelf or cabinet so ensure the unit is secure and safe for children to use.
Another effective way to organize toys is by grouping similar ones together like board games, play dough, educational toys, soft toys, action figures, and more. This is also a good opportunity to limit the number of toys your children have. Create a separate bin for toys that are broken, frayed, or serve no purpose to the young ones. Once in six months, send these over to charity.
To ensure your next round of decluttering and organizing is quicker than even 30 minutes, try to label bins or even shelves to you know where everything belongs.
'If you have young children and are wondering how to help them develop great organizational habits, start by giving them a dedicated place for their things and toys,' says Breegan. 'This prevents things from getting lost, and it eliminates rogue trinkets strewn about the house. Then, allocate 30 minutes each day for them to clean up their messes.'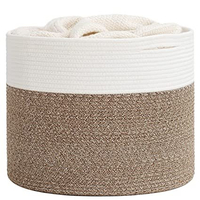 Cotton rope basket from Amazon
This basket with built in handles is the perfect place to hold toys, accessories and knick knacks. It adds a nice organic touch to spaces, and helps curb the room's mess.
For style leaders and design lovers.
Aditi Sharma Maheshwari is an architecture and design journalist with over 10 years of experience. She's worked at some of the leading media houses in India such as Elle Decor, Houzz and Architectural Digest (Condé Nast). Till recently, she was a freelance writer for publications such as Architectural Digest US, House Beautiful, Stir World, Beautiful Homes India among others. In her spare time, she volunteers at animal shelters and other rescue organizations.