7 things that kitchen designers never overlook when specifying countertops - 'consider these details from the get-go'
Want to create design wow through your kitchen countertops? Material choice, edging and slab sizes are only some of the details to get right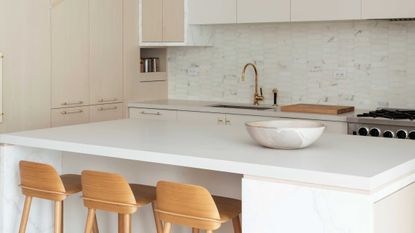 (Image credit: Matthew Williams. Design: Studio DB)
So you've decided on your kitchen cabinets and now it's time to choose your countertops. You might be surprised to find out that it's a little harder than you first expected. With hundreds, if not thousands, of options out there and a host of different materials with different characteristics and customizations, not to mention lots of brands vying for your attention, it's totally normal to feel ever so slightly overwhelmed. But trust us, you've got this.
Kitchen countertops are a big investment but choose wisely and you'll never regret it – it can enhance an entire kitchen and, when paired with the right units and cupboards, can elevate the whole scheme.
We look at 7 details not to overlook when deciding which countertop is right for your kitchen.
1. The material itself
This might sound obvious, but rather than thinking about what your dream countertop looks like, first think about what material will best suit you and your space. Porosity has a huge impact on how a kitchen countertop material looks over time and how much care and attention you'll need to pay it.

'Make sure you assess your lifestyle and choose a surface that will stand up to it. If you have a busy household that cooks and entertains often, you'll want to choose a durable and maintenance free countertop,' says Summer Kath, EVP of design for Cambria.
Natural stone countertops such as marble, granite and limestone all need that extra care to keep them in good condition, meaning spills will need to be mopped up immediately and anything acidic like lemon juice should be kept away from the surface as much as possible. It is possible to seal natural stone countertops such as marble, but speak to your kitchen designer or stone supplier about this before committing.
Alternative materials such as quartz and composites are easier to care for, with stain resistant qualities as well as being very durable. Or look for similar products with more recycled content in them.
If wooden countertops are on your wishlist, be aware that they'll need some love too – you'll need to oil them regularly to keep them looking their best. Laminate won't need this level of attention, but it is prone to scratches.
Anna Burles founding creative director of interior design studio Run For The Hills [ https://runforthehills.com/] , agrees, 'It's always best to check the porosity first, scratch-proof-ness next and consider adding a fleck or some kind of texture into the pattern which will be very forgiving when you're making a bit of crumbly toast.'
'The countertop in our Douglas Road project was a real treat – it's a Lavastone from Ranieri, with a crackle glaze design detail in 'old white'. It's amazingly robust, with a super strong glaze and nothing stains it…. Nothing! It was pricey, but it is amazing. And often used as the bar-counter finish in glamorous cocktail bars,' says Anna.
Don't forget other material choices too, such as stainless steel and copper. 'Copper is shiny and has an incredibly fluid, ever-changing patina, it looks rare and precious and turns out to have amazing antibacterial properties which now make it even more desirable,' says Helen Parker, Devol's creative director. 'It is so glamorously chic and a little bohemian with the power to kill pathogens in minutes. Who would have believed that one material could have so many benefits and also be so good looking.
2. Countertop thickness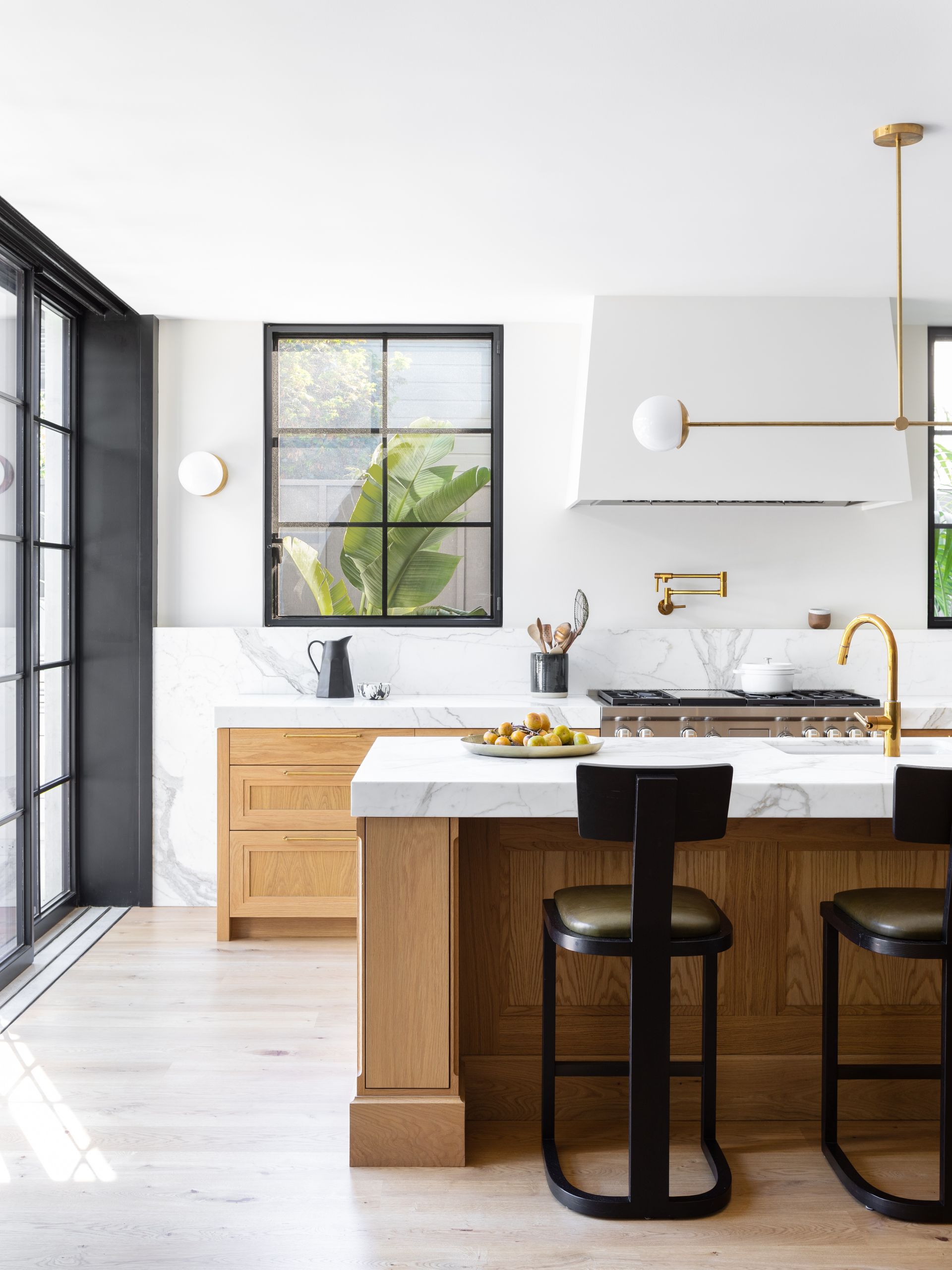 Do you like chunky, slim or somewhere in between? The ratio of your countertop to your kitchen cabinets is a decision not to be rushed.
Most countertops can be specified in a range of sizes to suit the look you want to achieve. Thickness can start from around 20mm and typically go up to around 40mm, but bespoke options are of course available.
You can be creative and personalise your space by varying the depths of your countertops in different areas of the kitchen. By going super slim on wall units and super chunky on an island, you'll create a focal point of the island, or if you're choosing more than one countertop material on one run of units, you can exactly match the thicknesses for a seamless finish.
While a slab of super chunky stone looks super wow, think practically about the weight of a large slab. It will also affect how much quartz countertops cost, for example. A clever way to get the look is to create an overhang around the perimeter which offers the effect of depth without the excess pounds.
3. Countertop edging
Like that final accessory that makes an outfit, don't forget about the edges of your countertops. If minimalism is your vibe, opt for a simple, slick squared off or chamfered edge profile. 'One of the most popular modern edge profiles is the mitered edge. It is a clean look that provides substance to the thickness of your countertop,' says Summer.
But for more design flair, see the edging and upstands as an opportunity to create interest. If you're looking at an alternative countertop, wooden styles can have a rough sawn edge, or live edge, showcasing the natural beauty of the tree, while natural stone countertop edges can be left 'rough' too for a textural element, to be carved into scalloped or curved designs, both of which create an extremely enticing tactile quality. It is also possible for quartz countertops to be specified with such finishes, too
'These touches add a subtle yet eye-catching contrast to the space, giving it depth and personality,' says Alexander Adducci, senior designer at 210 Design House. 'These approaches go beyond aesthetics — they turn your kitchen into a dynamic and inviting area that effortlessly combines functionality with style.'
4. The backsplash
When specifying your countertops, think about your kitchen backsplash too. Do you want it to match? Do you want a backsplash at all? Will it go slightly up the wall as an upstand, have a larger coverage or go all the way to the ceiling or meet with wall units above?
Consider what will work visually and practically, and remember that if you're planning wall-mounted taps or a pot filler behind the stove, holes will need to be drilled through your chosen material for these fittings.
'We are seeing more and more use of full height backsplash in the same design as the countertop surface to seamlessly bring the look up the wall and create a maintenance free "splash", says Cambria's Summer Kath.
5. Slab sizes and joins
Browsing swatch brochures or had countertop samples delivered to your home? Remember these small examples of the material only show part of what it actually looks like.
This is why it is vital to seek out the opportunity to see large samples or full slabs when remodeling a kitchen before you decide on which countertop will work. This could mean a trip to a stonemason's yard, a manufacturer's warehouse or showroom, or even a look at previous projects where a material has been used so you can see the final result.
The last thing you want is to choose a countertop based on a small swatch only to find that it features much more veining or detail than you expected, or indeed not enough.

Our advice: always ask to see your countertop options in the flesh.

6. Where countertops meet
It's a detail that's often overlooked, but the decision on whether you want to see joins in your countertop is worth thinking about.
As sizes of countertops vary, it may not always be possible to seamlessly create a run, especially if your kitchen features long runs of cabinetry or a large kitchen island. In this instance, you'll end up with a discreet line which forms the junction between slabs or where a waterfall edge meets the top, for example.
Materials such as Corian and stainless steel can offer a seam-free, or almost seam-free, option, but in most cases, the join won't be too noticeable, so long as the placement of where countertops meet is carefully considered.
7. The balance of materials
'Many people have a couple of different worktops to reinforce the eclectic feel of a kitchen or to make the most of the unique benefits of each natural material,' says Helen Parker, creative director at Devol. 'We welcome mixed choices of worktops as they can help with budget.'

For a good balance of materials, take care to place suitable countertops in areas of the kitchen where they will fare best.

So, you may like to include low maintenance countertops like moisture-resistant quartz, copper or stainless steel in a wash zone and introduce less hard wearing wood or marble elsewhere, or for visual appeal, keep prep areas pared back and introduce drama though an island.
'By selecting a bold design for your island and a quieter, monochromatic design for your perimeter creates a focal point, that is like a piece of art in the center of your kitchen. Cambria offers an array of statement designs for your island, like Portrush or our new Windsor designs that feature brass and steel alloys. Allowing you to tie into your fixtures,' says Summer.
More kitchen inspiration
The Livingetc newsletter is your shortcut to the now and the next in home design. Subscribe today to receive a stunning free 200-page book of the best homes from around the world.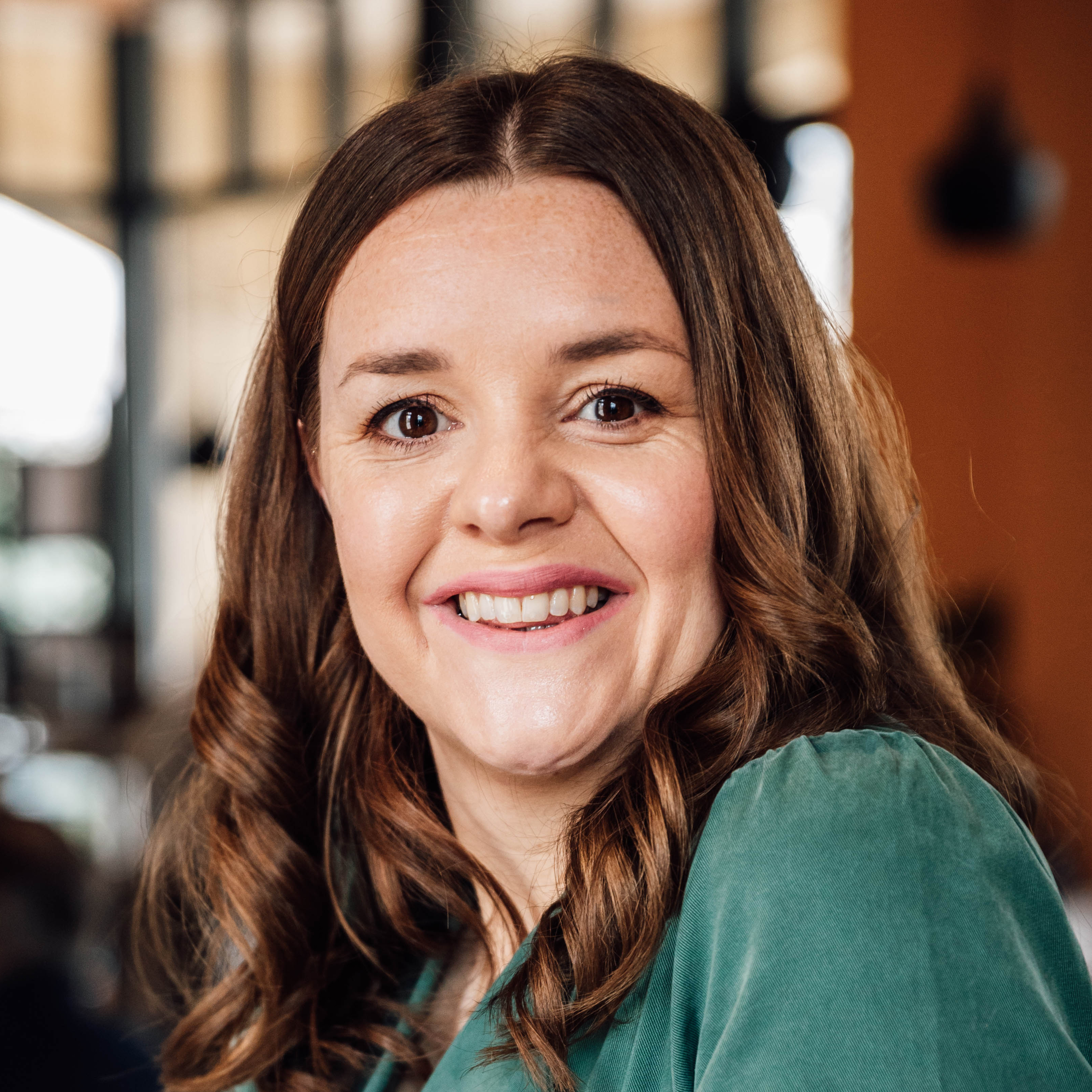 Lindsay Blair is a freelance editor, writer and content consultant with a focus on home design, interiors and lifestyle. Having spent more than a decade working in the UK publishing industry, she worked her way up to become the editor of Kitchens Bedrooms & Bathrooms magazine and now writes about all things home design for a range of national media. Follow Lindsay @lindsay__blair and check out her work at lindsayblair.co.uk.