The 6 best trees with fall color – landscapers pick the most beautiful for your yard
With their fiery shades and leafy lovelines, landscapers share the best trees with fall color that will create a stunning focal point in any outdoor space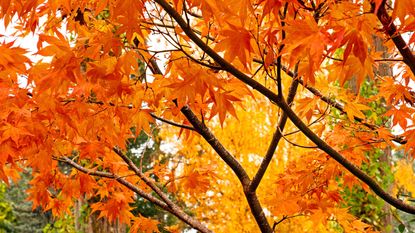 (Image credit: Spring Images/Alamy Stock Photo)
Adding one or two trees to your yard with leaves in shades of crimson, gold, russet or burgundy is a wonderful way to introduce vibrant color, ornamental detail and structure. The color palette of beautiful reds, yellows, oranges and purples synonymous with fall is always an uplifting sight and never more so than when the trees are planted in your own yard so you can admire them up close.
The good news is that even if your backyard or outdoor space is a little on the small side there are still plenty of options to choose from that will work. There are also vibrant color changing fall trees for every region whatever your hardiness zone. Just remember that the intensity of leaf color is determined by factors such as soil, variations in temperature, and how much sunlight your tree is exposed to, so be sure to check out possible scenarios before you buy.
You'll want a variety with standout factor, in which case pick one from our list of expert suggestions for the best trees with fall color, and those bold and beautiful good looks will certainly get noticed.
1. Japanese rowan
Also known as Sorbus commixta, this is widely regarded as one of the best rowans for fall color. Slow growing and with a slender, erect form, it's perfect for small gardens and other limited spaces as it will only grow around 20 feet in a 20-year period. It also thrives in both full or part sun, and is hardy in zones 5-9.
Tree expert Niall Dunne of the Arboretum Foundation in Seattle, Washington is a fan. 'In fall, the glossy, fern-like foliage of the young tree turns from green to a gorgeous mix of orange-red and deep purple. It also has colorful, berry-like fruits that persist until late in the season and provide a banquet for birds. The smooth, silvery-gray bark is decorative and becomes fissured as the tree ages.'
In addition to the highly ornamental berries and gorgeous bark, this tree will produce a fabulous display of small, white flowers in spring. It's one for city dwellers too, because of its tolerance of urban pollution.
2. Acer griseum
The most spectacular fall color is often associated with acer trees (also known as Japanese maples, and sold on Fast Growing Trees), and there are plenty of varieties to choose from, so it's hard to settle on just one. But Acer griseum (paperbark maple) is one of the best for smaller gardens, city gardens and courtyards, where its slow growing habit makes it a good choice, and it also does well in containers.
'With red maples you will get to enjoy the shade and privacy that the dense canopy of green leaves provides during the spring and summer,' says Fern Berg, founder of Tree Vitalize. 'In fall, you will be treated to a fantastic display of color as the leaves turn a vibrant red before being shed. In winter, the bare branches allow sunlight to once again filter into your yard.'
As well as amazing fall color, Acer griseum has the added bonus of attractive cinnamon-colored bark and stems after the fall leaf display has come to an end. It's hardy in zones 4-8, needs very little pruning or other maintenance, and offers interest all year round.
3. American sweetgum
The star-shaped leaves of the sweetgum tree, a North American native, offer a kaleidoscope of fall colors on a single tree and sometimes even a single branch. 'As temperatures begin to drop, the lush green leaves turn to shades of purple, orange, red, yellow, and even pink, in a prolonged display that often outlasts other trees,' says Fern Berg.
After the leaves drop, the corky bark and spiky gum balls offer visual interest throughout winter. The gum balls also provide a source of food for birds. Meanwhile the shiny green foliage in spring provides welcome shade in the warmer months. Fast Growing Trees sells Sweetgums here.
'Sweetgums grow reliably in USDA growing zones 5 to 9 and will develop stunning fall colors even in the warmer end of their growing range,' says Fern. 'These low-maintenance trees thrive in a variety of conditions and soil types, but they do have a robust root system, so beware of planting them near concrete driveways.'
Before planting, make sure you have room for your sweetgum to grow, or choose a cultivar with a more compact spread, such as 'Slender Silhouette' or 'Festival'.
4. Chinese tupelo (Nyssa sinensis)
This graceful tree with arching branches puts on a stunning leaf show in fall and is a great choice if you're looking for something a little more unusual. A more compact version of its more common relative Nyssa sylvatica (black gum tree), this small deciduous tree has long oval leaves that turn brilliant red, orange and yellow as summer fades.
It grows best in a sheltered, undisturbed site that's sunny and partially shaded in moist well-drained soil, but will flourish in almost any location in the garden if it has enough room. It's another low-maintenance tree too as it naturally forms an attractive shape and generally doesn't need pruning. Fast Growing Trees sells Tupelos here.
The variety 'Jim Russell' is generally recommended. It's a small, spreading tree that will eventually grow tall but not for many years, so it's one of the best trees with fall color for small city gardens.
5. Redbud
If you're looking for a small tree that adds a brilliant pop of color to your backyard, as well as filling your garden with fall colors for longer consider an American redbud tree. Also known as the eastern redbud tree, as well as its botanical name Cercis canadensis, it's an outstanding ornamental tree that's hardy in zones 4-9.
Fern Berg is a big fan of the Flame Thrower® variety of redbud, which Fast Growing Trees says is one their best sellers, and is sold here. 'The pretty heart-shaped leaves emerge burgundy-red in spring before fading to green as they mature, so that you have leaves of every shade inbetween on the tree all at once, giving it the appearance of a flame.
'Throughout summer, the multi-colored effect persists with some leaves maturing to vibrant green, and others retaining their burgundy color. In fall, Flame Thrower® puts on another show with the leaves fading to warm yellow colors.'
The redbud tree is deciduous, so the branches are bare throughout winter, before bursting back into life in spring with masses of pinkish-purple, pea-like flowers blooming in clusters along the tree's bare branches. As the flowers fade, you can once again enjoy a colorful fall show.
6. Gingko biloba
'Gingko biloba, also known as maidenhair, is celebrated for its stunning and uniform golden-yellow fall foliage, unique fan-shaped leaves, urban tolerance, low maintenance, and historical significance,' says tree expert Lou Meyer of Davey Tree. It ticks every box then! Although we can't get enough of fall foliage in red tints we also love these shimmering golden leaves.
The 'Autumn Gold' variety puts on a magnificent fall show featuring luminous yellow-gold leaves that seem to glow and will light up your yard. It is currently on sale at Fast Growing Trees. Another plus is that they stay on the tree for a long time too. Hardy throughout growing zones 3 to 8, there's little that bothers these gorgeous trees. No surprise as they're one of the oldest living tree species in the world.
Once established, they are drought resistant and tolerant of urban environments. They are salt-tolerant too so a great choice if you live near the ocean.
We think it's time to get out of your comfort zone and embrace the color yellow!
The Livingetc newsletter is your shortcut to the now and the next in home design. Subscribe today to receive a stunning free 200-page book of the best homes from around the world.
Lifestyle journalist Sarah Wilson has been writing about flowers, plants, and garden design and trends since 2015. Having already studied introductory garden and landscape design as well as a course in floristry she is currently adding to her list of qualifications with an RHS Level 2 course in the Principles of Plant Growth and Development. In addition to livingetc.com, she's also written for homesandgardens.com, gardeningetc.com, Modern Gardens and Country Homes & Interiors magazines.