'It suddenly makes your backyard look tropical.' The 3 best plants to grow under palm trees for a lush and layered look
Designers explain the best plants to plant under palm trees, creating a wonderfully lush and enclosed backyard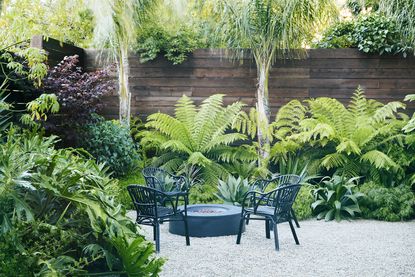 (Image credit: Daniel Nolan Design)
The Livingetc Newsletter
For style leaders and design lovers.
Thank you for signing up to LivingEtc. You will receive a verification email shortly.
There was a problem. Please refresh the page and try again.
Most plants benefit from companion planting - where each species complements the other. This can be even more important in drier, arid zones where water is more scarce. Palm trees are often grown in these warmer spots and are favored by homeowners and garden designers alike.
Not only popular for their lush, tropical looks, palms are loved for the practical benefits they can bring to a backyard, too. For this reason, it's worth knowing what plants to grow under palm trees outdoors.
'For privacy in urban gardens, I like to look to evergreens, which create dappled light and don't have periods of exposure, due to bare branches,' says landscape gardener, Daniel Nolan, founder of Daniel Nolan Design. 'I can jam six palm trees into the smallest garden. They'll create a canopy that acts like a screen but still allows a diffused sense of sun.
'Palms cause less shade than you think, so full sun plants can do well grown under them. My favorite pairings create a lot of green coverage: Japanese Yew, Dicksonia Antarctica soft tree fern. If I'm doing ground cover, then Leopard plant too. '
3 plants to grow under palm trees outdoors
'Sadly, not considering a plant's sun or shade requirements is one of the most common mistakes I see people make in the garden,' adds Noelle Johnson, author of Dry Climate Gardening.
'The first type of plants to consider are those native to your region. These grow in natural areas throughout your town or city, including nearby areas. Take a drive outside your city limits and look at what grows naturally.
'Native plants are the easiest and most low-maintenance option for wherever you live. Natives usually rely on rainfall alone in dry climate settings, making them ideal for the ultimate low-maintenance and low-water garden. However, native plants will need supplemental water when first planted to become established with a robust root system and in times of drought.
'Another benefit is that they can withstand the low humidity, high summer temperatures, and winter lows. Finally, when it comes to insect pests, native plants are rarely bothered by them as nonnatives sometimes are.'
The best type of plants to grow under palm trees outside will depend on the type of palm in your backyard and the soil where you live. However, here are three plants that often do well.
1. Soft tree fern (Dicksonia Antarctica)
Although this plant is an evergreen, it can be deciduous in cooler climates. It's happy south, east or west facing and likes a well-drained soil. Dicksonia Antarctica can grow over four yards tall, so do allow space for it to grow beneath or near a palm tree.
'Situate Dicksonia Antarctica in a site with good morning or afternoon light exposure and even moisture, avoiding direct mid-day sun,' says Judith at Fancyfronds Nursery. 'Deep shade is not preferable in areas with short growing seasons, as it is often too dark and cool for tree ferns to photosynthesize and grow effectively.
'In zones 8 and below, we recommend overwintering inside or wrapping the trunk with some type of insulation from November to March to protect the crown and trunk from frost.' They're ideal for people who want a low maintenance garden without flowers that need a lot of attention.
'Dicksonia antarctica does not seem to grow well in areas with hot humid summers. It has been more reliable in the southeastern US. Areas with good drainage, adequate light and some air movement are recommended for best results in the summer months.'
2. Leopard plant (Farfugium japonicum 'Giganteum')
This ground cover plant has glossy green leaves and pretty yellow flowers. It can grow well outdoors in zones 7-10 and can thrive year round in milder climes.
'It's important to plant your Leopard plant in rich, moist but well-drained soil and in a fully to partially shaded area,' says the plant experts at Fast-growing-trees. 'Water regularly and deeply during the first growing season. About once or twice per week or when your Leopard's surrounding soil is dry should be sufficient.'
'Check for soil dryness about two to three inches down. If the soil is dry, it's time to water. Once your plant is established, continue to water it regularly to maintain evenly moist soil.'
3. Medicinal Aloe (Aloe barbadensis)
There are many different types of aloe plant, but one of the best known is Medicinal aloe. It's favored as a plant for an indoor garden – as well as its for healing sap, which can be applied to minor cuts and burns – but is popular outdoors in warmer parts of the world too.
'Prized for the soothing qualities of its gel-like sap, aloe vera also adds beauty to the garden,' says Noelle. 'Its spiky grey-green leaves have small teeth along the margins. In winter, 3-foot spikes begin to appear, topped with columnar, yellow blooms that hummingbirds enjoy feeding on.
'As this aloe matures, it produces other clumps of leaves that increase its width. Use aloe vera underneath trees for a spiky element or against a wall where its shape can be appreciated.
'To keep aloe looking neat, dig up the aloe and divide; discard excess clumps and replant a healthy section in the original spot. Aloe grown in the desert appreciates afternoon shade or part shade.'
For style leaders and design lovers.
Jacky Parker is a London-based freelance journalist and content creator, specialising in interiors, travel and food. From buying guides and real home case studies to shopping and news pages, she produces a wide range of features for national magazines and SEO content for websites
A long-time contributor to Livingetc, as a member of the team, she regularly reports on the latest trends, speaking to experts and discovering the latest tips. Jacky has also written for other publications such as Homes and Gardens, Ideal Home, Red, Grand Designs, Sunday Times Style and AD, Country Homes and Interiors and ELLE Decoration.