5 bed sheet colors to avoid – experts say these popular colors will bring the wrong energy to a bedroom
Designers and color experts say you should be cautious when using these colors on your bed, they might just be shifting the mood in your bedroom in the wrong direction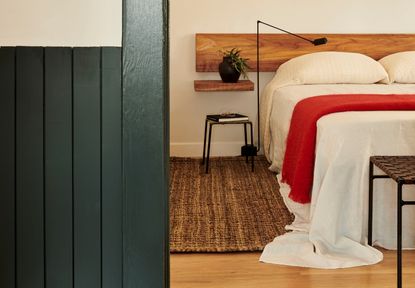 (Image credit: Patrick Bernatz Ward)
The Livingetc Newsletter
For style leaders and design lovers.
Thank you for signing up to LivingEtc. You will receive a verification email shortly.
There was a problem. Please refresh the page and try again.
When you're choosing the color of your bed sheets you're actually making a very important design decision for your bedroom. Your bed so often sits at the center of the space, it's the focal point of the room, and it's crucial that your bedding brings out the color scheme you're going for, complementing the space and creating and calming and relaxing mood.
I've recently updated my bed sheets, opting for a very subtle, dusky pink linen, and it has totally refreshed the feel of my bedroom, not to mention helps draw out other pink decorative aspects of the room, bringing it together in a calming way.
There are however, colors that should be avoided on the bed. These are the top five colors you should be avoiding for a good night's sleep - and the colors you should be picking instead for a beautiful, modern bedroom.
What colors should I avoid for bedsheets?
Color can have stimulating qualities, associations and evoke different emotions that you should be aware of before you decide which color to pick for your bedding. 'Key to creating a sanctuary is color, materiality and form of all the elements in the room,' says Jo Littlefair, co-founder and director of Goddard Littlefair. 'So much of color selection is personal so really question how you respond emotionally to a selection of colors before finally drilling down into a final palette.' Just as the color of our bedroom walls effect the quality of our sleep, so too does our bedding.
'Colour is light energy that we absorb not only through our eyes, but also through our skin,' explains Suzy Chiazzari - color psychologist and holistic designer. 'Therefore the colors of our bedsheets will have an impact on the quality of sleep we enjoy.'
1. Red
Red is color that carries strong attributes and is high energy, making it not a smart color choice for bed sheets. 'Bright warm colors stimulate blood flow feeding our muscles,' says color psychologist, Suzy Chiazzari. 'Deep red and orange encourage physical movement that would make you toss and turn at night.' It is a powerful pigment that is evocative of passion, and aggression, and as a block color in the bedroom, it can be quite intrusive.
If you like red and are committed to having this bedroom color, consider going lighter with a color like pale pink, or introduce it in subtle decorative accents with deep red pillows like this room by Melbourne-based design firm, Hindley & Co.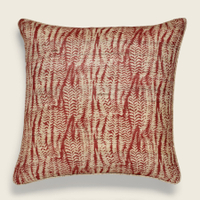 If you want to bring red to your bed, try introducing the color in smaller doses. I like this subtle pattern on this pillow cover from OKA.
2. Black
Black is another color to avoid. While its inherent darkness does remind us of nighttime, according to color psychology, black has negative connotations and emotions attached to it - like sadness and fear - emotions that we want to keep out of the bedroom as we attempt to get a good night's sleep.
'I would try and avoid dark colors for bed linen as they tend to absorb the light and look heavy and uninviting,' says London-based interior designer, Juliette Byrne. 'If the client does not want to use white bed linen and wants to go dark, then we would recommend muted colors like taupe which can give a more relaxing bedroom look and informal feel to the room rather than the very dark options available.'
Ultimately, think about how black affects you. 'Black does not reflect any light, so some people feel secure and relaxed with black bedsheets, while others may find them threatening and psychologically uncomfortable,' points out Suzy.
3. Grey
Grey so often has a cold feel, although with the right, red undertones it can be warming and sophisticated. With bedsheets, get it wrong and it can feel void of any personality. 'Different colors can evoke different emotions, and dark sheets can evoke gloominess,' says Barbra Bright of California-based interior design firm, Barbara Bright Interior Design.
If you have grey sheets and don't want to make the change, than a way to compete with grey's moodiness is by giving it a lift with a color pop. Pick a color that goes with grey for some accent throws or pillows.
Introduce a deep sage to bring a feeling of nature into the room, or cheer up the color palette with a dark blue throw and mustard yellow pillows. Don't go for any more than three colors as this can overcomplicate, and adhere to the 60-30-10 rule for guidance on ratios. Go for 60 percent grey (your bedding), 30 percent blue (a throw), and 10 percent accent mustard for your pillows and you'll have brought the best out of grey.
4. Dark brown
A rich, dark brown can be another heavy-feeling color that carries too much weight when used as a block color across your bed sheets. Brown can often feel cozy, and shines when used on a wall in a monochromatic way, but this is when cleverly paired with colored decor that makes it feel lighter and cozy, instead of intense and heavy.
If you like the brown look, try to layer your dark brown with shades from the same family. Think lighter beiges, caramels or sandy hues to bring a lighter feel to the space, like this example from Mexican interiors firm, Direccion, who have paired the dark brown scheme with lighter brown sheets.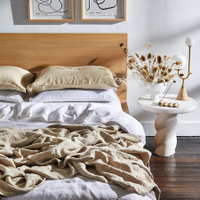 Oatmeal 100 percent French flax linen throw, Bed Threads
Go for a lighter oatmeal color instead of a dark brown to bring neutral shades into your bedding scheme. I like this pale linen throw from Bed Threads, who have a really great bedding collection in an array of lovely colors.
5. Yellow
Yellow carries quite a lot of energy, and is often used in the home to make you feel happy and energetic. While this is a positive connotation, it might mean that it's not conducive to a good night's sleep and can subtly make you feel too energized in a space that is meant to feel relax and calm. 'Yellow and gold are known to encourage mental alertness, so bedsheets in these colors are more likely to give you disturbing dreams,' says Suzy.
If you have your heart set on yellow, try and tone it down, picking a darker, moodier tone like ochre, or go for something close on the color wheel like a sandy terracotta.
For style leaders and design lovers.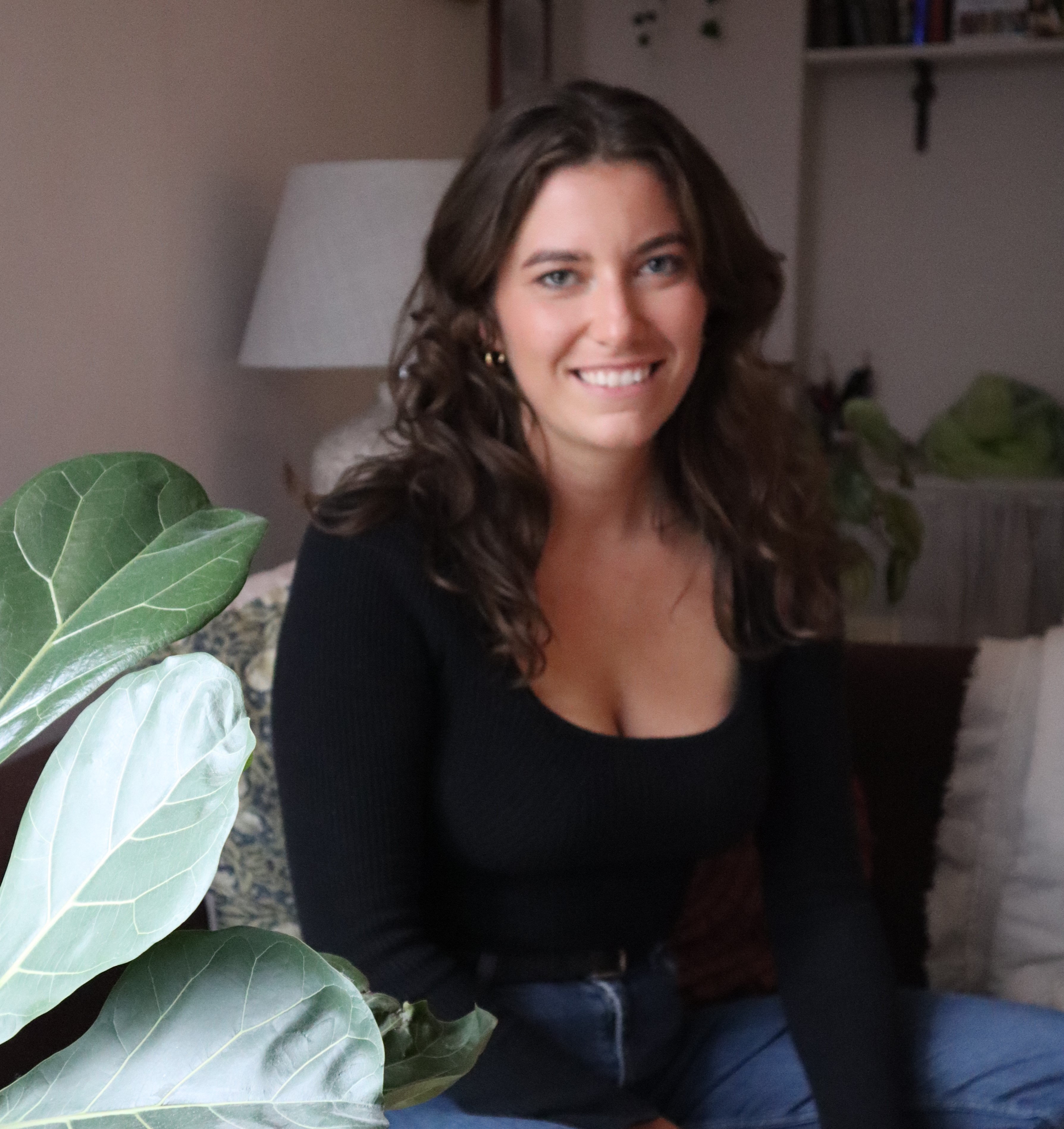 Livingetc content editor and design expert
Oonagh is a content editor at Livingetc.com. Previously, she worked on a London property title, producing long-read interiors features, style pages and conducting interviews with a range of famous faces from the UK interiors scene, from Kit Kemp to Robert Kime. In doing so, she has developed a keen interest in London's historical architecture and the city's distinct tastemakers paving the way in the world of interiors.