The Little Green Sheep's Natural Dual-Sided Pocket Sprung mattress review: the best night's sleep Mother Nature can offer
We've thoroughly tested The Little Green Sheep's Natural Pocket Sprung mattress but is it the bee's knees or a rotten apple? Read on to find out…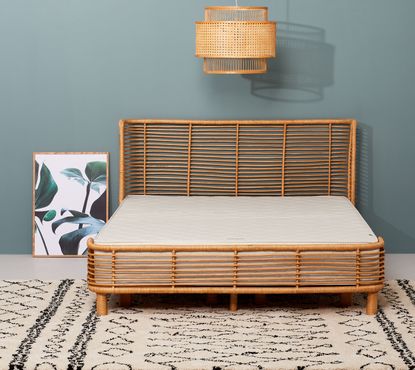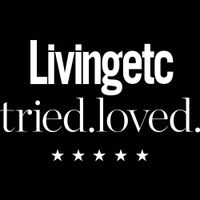 (Image credit: The Little Green Sheep)
Based on The Little Green Sheep's award-winning Natural Twist cot mattress, this upscaled adult version delivers all-natural comfort, hypo-allergenic goodness and no nasty chemicals. Oh, and the best temperature regulating performance we've ever experienced. True, it's not the chunkiest sprung mattress out, but that doesn't impact on a dreamy night's sleep.
Reasons to buy
+

Natural materials

+

Cooling

+

Dual-sided comfort

+

100-night guarantee
Reasons to avoid
-

Very heavy

-

Not very deep
If you're seeking a hypo-allergenic mattress that's naturally breathable and completely free of harmful chemicals and toxins, The Little Green Sheep's Natural Pocket Sprung mattress is well worth a look.
With more than 15 years' experience crafting cot, crib and single mattresses for the younger generations, 2021 witnessed The Little Green Sheep's first foray into mattresses for grown-ups. Like its renowned children's mattresses, this new Natural Pocket Sprung Mattress focuses on all-natural materials, such as wool, coconut coir, latex and cotton.
We tested a Super King version of the Natural Pocket Sprung mattress for two months in the summer, taking care to assess it on comfort levels, temperature control, support and, above all, how well we slept. Keep reading to discover how it performed, then feel free to check out our best mattress guide to find out how it compares in this competitive market.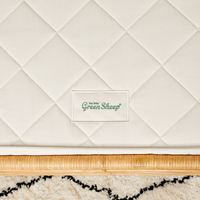 The Little Green Sheep Natural Dual-Sided Pocket Sprung mattress | £1,098.95–£2,298.95 at The Little Green Sheep
In sizes from single to super king, this medium-firm mattress is designed to suit every sleeper. Flip it over if you prefer the medium side for a softer sleep surface.
The Little Green Sheep Natural Pocket Sprung Mattress specifications:
Tension: Medium or Medium-firm (two-sided)
Type: Pocket Sprung
Depth: 22cm
Sizes: Single, Small double, Double, King, Super King
Who will The Little Green Sheep Natural Pocket Sprung Mattress suit?
All sleep positions:
This is a dual-sided mattress. On the Medium-Firm side, you'll get the extra support needed for front or back sleeping positions. The medium side comes into its own when sleeping on your side. The shoulders and hips feel very well supported and you'll wake without any niggling aches or pains.
Traditionalists:
Memory foam seems to have saturated the mattress market, but it's not for all. This is perfect for those who prefer a traditionally made sprung mattress that allows your body to move freely rather than sink into its foamy depths.
Allergy suffers:
There is nothing unsavoury or noxious about the construction of this handmade mattress, meaning it won't create or exacerbate allergies if you're that way inclined. They have perfected this feature with their best cot bed mattress so we love that grown ups get to enjoy the same clean sleep, too.
Hot sleepers:
All the natural materials in this mattress are naturally breathable and help to regulate your body temperature, keeping you cool in summer and warm (but not too warm) in winter.
The unpacking
There's no getting around it, this mattress is heavy. The two delivery men who brought it were not delighted to see the five stone steps up to our front pathway, and nor were they happy the tail-lift on their truck wasn't working. Luckily, we had a couple of our own men on-site and between the four of them, they manhandled the mattress into our house via the triple-width sliding doors into the kitchen.
The Little Green Sheep take great pains to instruct customers to measure their entrances, turning points and staircases before ordering, and we could see why! No pocket sprung mattress should be significantly bent when moving, as it disrupts the springs inside and can damage them irrevocably. Happily, our staircase doesn't have a turn and once the delivery guys had gone, the two men left standing managed to heft it into our bedroom. There was cursing.
Then it was just a matter of removing the strengthened cardboard outer and plastic protective inner bag and popping it (using every muscle in our bodies) onto the bed. Phew. Obviously, the Super King that we tested is going to be the heaviest in the range but it's definitely a two (or maybe four) man job to lift it. This also means turning the mattress, which is recommended every three weeks, is not a solo venture. If you live alone, you'll need to call in back up!
Sleeping on The Little Green Sheep Natural Pocket Sprung Mattress
The mattress arrives with a brief welcome booklet with instructions on how to care for your mattress, and, crucially, how to tell which of the two comfort sides is which! We decided to start our testing efforts on the Medium-firm side, which possibly wasn't our smartest move. But first, remembering the Little Green Sheep's advice, I put on the best mattress protector in our airing cupboard, making sure it was waterproof as per the company's recommendations.
Bear in mind that our old faithful mattress is also pocket sprung, but it's no spring chicken and suffers from tired springs and two distinct craters where our bodies lie! Moving from that to a box-fresh pocket sprung, on the firmest surface, was something of a rude awakening. By comparison it felt like we were sleeping on the floor. Not good. We didn't make it through one night before flipping the mattress over to the Medium comfort, wherein things got a lot better. It was still firmer than we'd become used to but at least we felt like we were sleeping in a bed again.
In all honestly, the first night went 100% better for my husband, who woke up full of enthusiasm for this mattress. Phrases like 'game-changing' and 'slept like a log' were being thrown around, which was impressive given he's not usually the chattiest pre-coffee. I was going to take a little more convincing, but I reminded myself that it can take a little time for your body to adjust to a new mattress, especially if the one you have moved from was at the end of its life (about two years ago!).
However, while I felt the mattress was a tad too firm for my tastes, I did notice a distinct reduction in aches and pains when getting out of bed. As a keen runner, who also spends around 8–10 hours a day hunched over a laptop, I'd become used to groaning my way into the shower each morning. After just one night on The Little Green Sheep's Natural Pocket Sprung mattress, the comparable ease with which I skipped into the shower persuaded me that it was worth keeping the faith. Sure enough, after just a couple of weeks the mattress no longer felt too firm and started to feel just right. My muscle memory had finally let our saggy old mattress go and embraced this new supportive sleep space. I couldn't have been happier.
Motion transfer
So, now to the finer points, like motion transfer, which is all about how much one partner disturbs the other during the night. Sleeping on a Super King gives you a bit of an advantage, as you are physically further away from your partner for much of the night. However, our old mattress was a Super and I would often get complaints about my twitching legs and 'comfort breaks' come morning. Fortunately for me, my husband is one of these rare people who lie dead straight, usually on his back, and doesn't move until morning. It's a bit weird if I'm honest.
Anyway, this means he was really the only one who could judge the Natural Sprung mattress on motion transfer, and, after thorough quizzing, he decided that he was still aware I was moving because of the duvet movement (and my thudding about to get to the en-suite) but not the mattress itself. In conclusion, I was still disturbing his sleep but not through any fault of the mattress.
Support
To measure the tension and support of The Little Green Sheep's Natural Pocket Sprung mattress, I dug out my trusty 56lb/4 stone weight. On the centre of the mattress it sunk exactly 5cm, and that figure stayed resolutely the same at various locations across the mattress – from head to toe, and edge-to-edge.
This basically reveals that the mattress offers the same tension/comfort levels across its full surface, so you won't get any lumpy areas or feel like you're going to slide onto the floor if you get too close to the edge. You can expect to sleep comfortably wherever you lay your head – hello Starfish Sleepers!
Temperature control
Although I don't have any clever ways to measure temperature regulation, what I can say is that I slept much cooler on this mattress than I had been prior to its arrival. As a naturally hot sleeper, who keeps the windows wide open all year and throws the duvet off repeatedly, this was where The Little Green Sheep's Natural Pocket Sprung mattress really got my attention.
Now, I have slept on mattresses with all manner of space-aged cooling claims, including nano technology designed by NASA, and also reviewed the best mattress toppers, which included options with high-tech cooling powers. And I can, hand on heart, report that The Little Green Sheep's Natural Pocket Sprung mattress beat them all hands down. Turns out you don't need science to keep you comfortably cool by night, you just need a mattress made from all-natural materials.
Depth
After the initial settling in period, we both slept incredibly well on this mattress, but if I had to pick fault it would be over its thinness. The mattress' 22cm-depth feels a little mean and our standard fitted sheets didn't stay taut without attaching sheet suspenders. Annoying but not a dealbreaker. Don't let such minor issues put you off this truly excellent mattress.
The layers
This is a traditionally constructed handmade mattress. We're talking proper-size springs (not the tiny conical springs you'll find in a Hybrid foam mattress), each in their own individual pockets (made from natural calico of course), which means they stay upright and untangled. The cover is a thick 100% cotton Herringbone quilted design that feels robust, like it will hold everything together firmly for years to come.
Quilted within the cover is a layer of organic wool, which provides a bit of softness and padding. Naturally anti-allergenic and temperature-regulating, the wool is designed to keep you warm in winter and cool in summer. We can only vouch for the latter, but it absolutely works. Wool also happens to be naturally fire-retardant, helping this mattress to meet safety standards without the use of chemical retardants.
Beneath the cover there are also two layers of 3cm-thick natural latex (one on the top and one on the bottom), made using the sap from Hevea trees and completely recyclable. Latex has similar supportive and muscle relieving qualities to memory foam but without any chemicals. Under the latex there's a thick layer of coconut coir (2cm-thick on the Medium-Firm side, and 1cm-thick on the Medium side), again naturally sourced, that wraps around the springs creating a sturdy but breathable structure. According to The Little Green Sheep, coconut coir acts like thousands of tiny springs to provide even more support.
Like most traditional pocket-sprung mattresses you can't remove the cover for washing so the company recommends using a mattress protector. In my experience, removing the cover of any mattress is not easy, and zipping it back on again after it's been washed, and usually shrunk a tad, is a two-man job involving broken fingernails and cursing. A mattress protector is my preferred option.
The tensions (comfort feels)
The unique selling point of The Little Green Sheep's Natural Pocket Sprung mattress has got to be its dual-sided comfort, which essentially doubles your chances of finding this mattress comfortable. On one side, the side without the stitched label, it is Medium-firm. Flip it over to the side with the label and you get Medium. Clever, but what's the difference?
The Medium-firm side is cushioned but with a bit of extra support that you'll need if you primarily sleep on your front or back. If the mattress is too soft when sleeping in those positions, you'll most likely wake up with neck ache. Medium support is the most popular tension as it suits side sleepers and those who switch around in the night, which is actually what most of us do. Offering a little more softness to cushion the hips and shoulders, Medium is not so soft that you don't get any support. For us, Medium was definitely the best, but it was nice to have options!
How sustainable is The Little Green Natural Pocket Sprung Mattress
It's pretty obvious that the high levels of responsibly sourced, sustainable natural materials in this mattress makes it an eco-friendly choice. The metal springs are the only element that don't directly come from Mother Nature. We also love that all of The Little Green Sheep's mattresses are made in solar-powered factories, and the production of natural mattresses involves a far lower carbon footprint than standard synthetic mattresses.
The entire mattress can be easily recycled, with most of the non-metallic materials also being compostable, so you won't have any end-of-life landfill stress on your conscience.
What do you get for your money?
If you're used to memory foam mattresses or just haven't slept on a pocket sprung mattress for a while, you might find it takes your body a little while to adjust to the more structured feel of The Little Green Sheep's Natural Pocket Sprung mattress. This is why the company offers a 100-day, or rather night, sleep trial before you have to commit. We found it took about three weeks before we really settled into this mattress, so 100 days should be more than sufficient for even the most restless and indecisive sleepers to make a decision.
The mattress also comes with a five-year guarantee, which isn't as generous as some companies, especially since seven years is the recommended replacement cycle, but it's to be sniffed at either.
Ordering and delivery
Ordering online is a dream but you will need a little patience. Each mattress is handmade and will take from one-three weeks to arrive. Delivery is free and a two-man service. Ours arrived in the height of Covid-ness, so they were only prepared to bring it into the entrance hallway. However, in normal times they should happily deliver to the room of your choice. This is very good news as they are extremely heavy mattresses!
For a reasonable £25 extra, the delivery people will remove your old mattress and have it recycled.
Is The Little Green Sheep Natural Pocket Sprung Mattress worth it?
Now this all depends on how much you value handcraftsmanship and natural materials as there's really no escaping the fact that this mattress is expensive. The Super King we slept on retails at £2,298.95 and even a lowly single natural sprung mattress from the Little Green Sheep will set you back £1,098.95. Its closest competitor is probably Button & Sprung's Galway mattress but The Little Green Sheep's offering includes Latex and two comfort options.
My husband fell head over heels with this mattress from night one, and refused to hear a bad word against it. He continued to sleep extremely well throughout the testing period. I'll admit this wasn't a 'love at first sleep' experience for me, but once my body had adjusted to a new surface The Little Green Sheep's Natural Pocket Sprung mattress' benefits began to hit home.
I loved how it supported and cushioned my pressure points, seriously reducing the morning aches and pains, but mostly I loved its cooling prowess. During the two-month testing process, in the height of (an admitted not terribly hot) summer, I managed to keep the duvet on all night, every night. What a total result.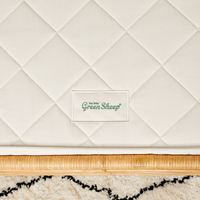 The Little Green Sheep Natural Dual-Sided Pocket Sprung mattress | £1,098.95–£2,298.95 at The Little Green Sheep
In sizes from single to super king, this medium-firm mattress is designed to suit every sleeper. Flip it over if you prefer the medium side for a softer sleep surface.
The Livingetc newsletter is your shortcut to the now and the next in home design. Subscribe today to receive a stunning free 200-page book of the best homes from around the world.
Linda is a freelance journalist who has specialised in homes and interiors for the past 19 years, beginning on a trade rag for the Daily Mail Group and now writing full-time for the likes of Homes & Gardens, Livingetc, Country Homes & Interiors, Ideal Home and Real Homes. Linda is our resident mattress reviewer. She spends a couple of weeks on every mattress she tests for us, as does her ever-patient husband. In reviewing mattresses for us for more than two years, she has become something of a very opinionated expert. She lives in Devon with her cabinetmaker husband, two daughters and many pets, and is locked in an on-going battle to drag their red brick Victorian home out of 1970s swirly-carpet hell...