Get a glimpse of Zoe Ball's cool and colourful kitchen
Zoe Ball's kitchen is as warm and vibrant as you might expect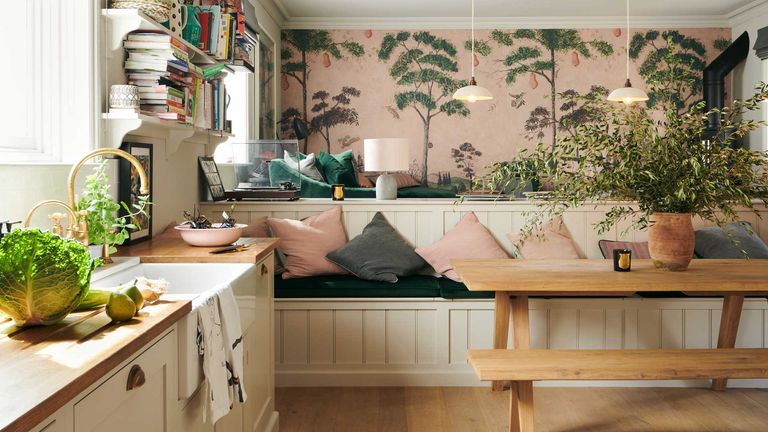 (Image credit: DeVOL)
When you think of Zoe Ball, you probably think of fun and vibrancy, and an endearing positivity that is contagious. Well funnily enough, that this is exactly what her kitchen conjures up too. 
Zoe's kitchen is full of personality and colour. It has family at its heart - and art and treasures all over the place, resulting in an inviting space, ready for fun and frivolity, even if that's just over a cup of tea and a natter.
The simple deVOL Shaker cupboards and colours, the warm wooden worktops and stacks of storage allow a busy family to socialise, cook and do the essentials.
The kitchen table, as always, is the centre of this room and Zoe had a bespoke bench seat designed and built too. It's topped with lots of squidgy cushions, so it cleverly creates a cosy little nook within a big open plan room.
It's a place for family breakfasts, intimate dinners or just a spot to lounge about, plus there's a tonne of storage underneath the lift up seats so she can keep everything looking neat and tidy.
The kitchen is up on the first floor of the property and the big Belfast sink looks out onto the village below. With open shelves on both sides, the crockery and collections are out on show, bringing personality and warmth.
The fabulous aqua blue 'Tequila' sign, and an awaiting turntable hint at good times to be had here.
The Real Shaker Kitchen by deVOL, starts from £12,000.
See these kitchen cabinet ideas