You can now stay in holiday villas that look exactly like Selling Sunset homes – here are our favourites
Gorgeous villas are not just for millionnaire LA buyers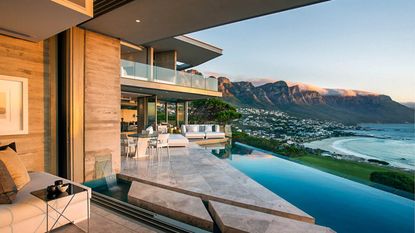 (Image credit: Oliver's Travels )
Fans of the LA-based Selling Sunset, rejoice: you don't have to be a top LA property buyer in order to enjoy Selling Sunset-style villa life. It is now possible to rent holiday villas that look almost exactly like the stunning homes featured in the programme, without needing to travel as far, or to spend millions.
The UK-based holiday company Oliver's Travels has plenty of Sunset doppelgangers in their Killer Villas collection. These modern homes offer unrivalled luxury, and can even be rented as part of the company's 'Sunset Dreaming' package, which includes a stunning car, a professional chef for hire, and a carefully curated wardrobe to make you feel a million bucks. If we had to pick where we'd be doing our sunset dreaming, we'd choose these villas.
1. Villa Calderon, Marbella
Remember that $40,000,000 property from seasons 1 to 3 of Selling Sunset? The one with 300-degree skyline views, glass sliding doors around the whole exterior and a 175ft infinity pool? Well, you can stay somewhere very similar, and it's on Spain's Costa del Sol, in beautiful Marbella.
Villa Calderon offers incredible panoramic views of La Concha mountain and of the seam and features an infinity pool, a gym, a cinema, and a sky bar. We can'y imagine a better backdrop to a cocktail at sunset.
2. Villa Mostaza, Ibiza
A lookalike for Orlando Bloom's former villa featured in Selling Sunset, Villa Mostaza has a very similar minimalist vibe. The sleek, white interior opens up onto breathtaking views of the Mediterranean and is actually bigger than the Beverly Hills home it resembles. The ultimate bolthole for a family or a large group of friends.
3. Villa Corona, Ibiza
If you like something a bit more traditional, then the classy Villa Corona, also located in Ibiza, should be on your radar. From traditional terracotta tiling to rustic beams and and a rich, earthy colour scheme, it's heaven for lovers of the hacienda style. We'll be completely honest and say that we actually prefer this charming home to the $3,500,000 Rising glen Road villa features on Sunset.
4. Villa Linka, Croatia
Just north of Dubrovnik, the Villa Linka II has a similar architectural style to the ultra-modern cubic villa that sold for an impressive $6,975,000 on Sunset. But while that home was all about advanced automation technology and a six-car park, this stunning holiday home is all about relaxation in the on-site spa and taking in the 180-degree views of the sea.
5. Cape Luxe, South Africa
This may be a bit further away for some, but we couldn't not include the breathtaking Cape Luxe, which features a picture-perfect view of South Africa's Cape Town. Very similar in look to a Mount Olympus property in Holywood Hills featured on Selling Sunset, this villa has it all: a gym, bar, infinity pool and wine cellar. It's also fully staffed, so you won't need to do anything but relax. Wish we were there.
Anna is a professional writer with many years' experience. She has special interests in architecture, photography, and high-end interior design. Her work has appeared in Homes & Gardens, Gardeningetc, and many other publications.