Designers praise Demi Lovato's kitchen decor trick - 'an inexpensive idea for dead space'
Demi Lovato's slither of kitchen wallpaper is a clever trick for adding interest to dead space, and according to designers, one that can be emulated on a budget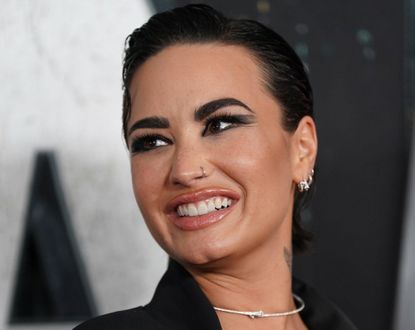 (Image credit: Alamy)
The Livingetc Newsletter
For style leaders and design lovers.
Thank you for signing up to LivingEtc. You will receive a verification email shortly.
There was a problem. Please refresh the page and try again.
Demi Lovato has taken to Instagram to share a carousel of her summer and it isn't her poolside views on our minds, but the clever decorative touch she's added to her kitchen.
Though a small feature in the actress and singer's home, Demi has cleverly covered the slither of wall space above the tiled backsplash and around her cabinets with some patterned yellow wallpaper. It's a very clever approach to modern kitchen decor, utilizing areas many of us might have left plain to bring a bit of life and flair to this functional space, and designers agree that it's a trick we can all learn from.
The Camp Rock star and Heart Attack singer shared a picture with her 157 million followers where she can be seen smiling while signing album imagery in front of a navy fitted kitchen with cool marble countertops and the pièce de résistance - yellow and black floral wallpaper.
The clue is in the name with Gucci Décor's 'Lilies' wallpaper. The print features oversized lily flowers outlined in black on a vibrant mustard background embellished with tangerine-colored stamens.
How the wallpaper peeks out from behind the dark navy cabinets isn't just a visual trick - it is a clever way to fill dead wall space in your kitchen, a trick receiving high praise from Shauna Glenn of Shauna Glenn design in Fort Worth, Texas. 'Using the wallpaper all the way to the ceiling is an inexpensive alternative to installing tile up the wall,' Glenn says. 'Plus it adds another element of color and design to a neutral kitchen.'
Demi's trick adds personality and saves on expense
Adding wallpaper into the kitchen in the way Demi does also infuses a sense of your personality into a space which can be difficult to otherwise accessorize for functionality reasons, without making the kitchen feel like a replication of a design you have seen on Instagram.
Glenn tells us this is a neat way to avoid failling into the pitfalls of kitchen trends. 'Because kitchen renovations are so expensive, it's smart to not be too trendy,' she says. 'The kitchen cabinets here are a deep navy color which is still a neutral, but the wallpaper really makes the kitchen come alive.'
Jenny Kozena of the eponymous interiors brand in Los Angeles is a fan of Demi's wallpaper in particular. 'Using pop wallpaper not only breathes new life into the room but also introduces an element of drama, making the space more lively and intriguing,' Kozena says. 'This particular wallpaper is vibrant and brings a playful element to the space that makes the room fun.' It, of course, also has the added benefit of being scratch-proof and a print which will conceal marks well, meaning it is durable as well as pretty.
Creating visual harmony is important when bringing in a bright print into a space you spend a lot of time in. Shivani Vyas of Studio Vyas LLC in Macon, Georgia says Demi's wallpaper 'is predominantly yellow but features almost an exact match of the hue she used on her cabinets, harmonizing the pair visually.'
To recreate this sense of cohesion, Kozena recommends Colefax and Fowler for its selection of patterned wallpapers that are a timeless addition to any kitchen. She says: 'I love subtle botanical wallpapers for ground floor kitchens particularly if they have backyard views, with sage green or very light hues of the wallpaper color for cabinets.'
The hacks for recreating Demi's look
Vyas has some handy tricks for recreating Demi's clever interiors hack. The designer says: 'When you consider picking wallpaper to fill a dead space, determine the pattern match before ordering and always take detailed measurements of your space. Completing both of these steps in your planning phase will tell you how much wallpaper you need to order. Unless you have the skillset or experience, it's best to consult and hire a professional wallpaper installer for a long-lasting result.'
Vyas can also advise from experience on how to pick the right wallpaper for your space, both in terms of dimensions and esthetic. She tells us: 'One of the most crucial parts about ordering wallpaper is ensuring you order the correct amount (and some extra) with the same dye lot number. This number will indicate that your rolls were printed during the same batch and will color match. If you purchase a certain amount of wallpaper rolls in one order and then return later for a second order (if you end up needing more), the chances of getting the same dye lot may be challenging. It's best to consult with your wallpaper brand or manufacturer for more information on their dye lot process.'
'Before finalizing any wallpaper, always order samples to see it in person!,' the designer continues. 'A wallpaper's color and style may look very different online versus in real life, so it's worth taking the extra step to see it in person before committing to a full order (as some brands may not always offer a lenient return policy).'
Three wallpapers perfect for a kitchen wall
Peel and stick wallpapers are easier to use to update a small area in a kitchen - and more affordable than traditional types, too.
Blue Satellite Seas Peel and Stick wallpaper
Price: $23.73 sq/ft
Comes with 1 roll - 20.5 inches x 18 feet.
For style leaders and design lovers.
Katie is a freelance lifestyle writer who has recently finished an MA in Magazine Journalism at City, University of London. Before writing for Livingetc, Katie has gained bylines with The Caterer and The Telegraph and has interned at several lifestyle magazines including Grazia and Red. When not scrolling through Pinterest for interior design inspiration, Katie can be found writing about women's issues, trying out new beauty trends for her blog or seeing a West End show.