Ask Athena: Athena Calderone is here to answer your interiors styling and sourcing questions
Athena Calderone is lending her expertise to Livingetc - submit your queries now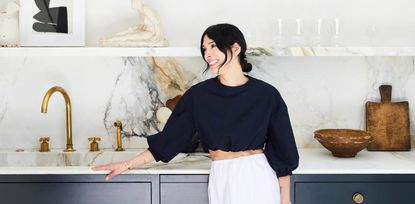 (Image credit: Nicole Franzen)
Interiors expert Athena Calderone is ready to answer your questions about sourcing, styling, placement, paint colours and whatever other queries you might have.
At Livingetc, we're such a fan of her seemingly effortless approach to modern interior design that we've featured her homes on the cover not once, but twice.
While interior design clearly comes naturally to Athena, she admitted on our Home Truths podcast that she spend hours scouring the internet for the perfect pieces, and in doing so has racked up an impressive knowledge of what is out there and how to use it.
From Athena's clever playing around with scale to her use of texture and colour to bring her interiors scheme alive, she brings a poise, elegance and surprisingly homeliness to every room she designs. The brains behind the blog Eyeswoon, Athena has created a whole new aesthetic, seamlessly blending old and new, modern and traditional, neutral shades with vivid pops.
So whether your question is about where to find a particular product, how to choose paint or material, what sort of furniture to go for or whether to use curtains, send your queries to pip.mccormac@futurenet.com with subject line Ask Athena, and we will forward them on to Athena, to be answered on this site in February. Now is your chance to access brilliant expert advice.
Sign up to Athena's newsletter here.
Please note that no private correspondence can be entered into, and not every question can or will be answered
Shining a spotlight on the now and the next in home design and decor, Livingetc is the UK's best selling high end and contemporary home design magazine. As a brand, Livingetc showcases the world's very best homes, breaks and makes the trends, and has access to leading international designers for insight and ideas. It was first published in 1998, and is currently edited by Pip Rich.