The 5 most beautiful flowers to plant now - here's what the experts recommend
There's a smorgasbord of beautiful flowers out there that are plantable right now. We asked the experts for their top picks to ease you into making up your mind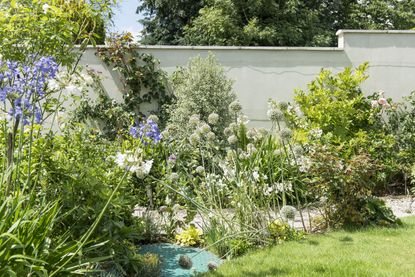 (Image credit: Future)
The Livingetc Newsletter
For style leaders and design lovers.
Thank you for signing up to LivingEtc. You will receive a verification email shortly.
There was a problem. Please refresh the page and try again.
When it comes to choosing the most beautiful flowers for your outdoor space where do you start? The time feels right to be making those choices now about which modern garden border ideas to follow, deciding what you want to see blooming in your garden in a couple of months. Decisions, decisions!
If you want to pretty things up and add some instant colour, head to the garden centre this weekend. You'll be able to pick up plants that will thrive in the garden now with minimum input from you. And as soon as the temperature starts to heat up there'll be no stopping them.
Before you leave home though, here are some lovely inspirational planting suggestions from the experts to help get you in the mood for summer.
1. Fleabane: it's a keeper
There's a reason this hardworking little plant has so many fans: it flowers for nine months of the year, from April right round to November. What's more it spreads itself about while doing so, self-seeding to fill nooks and crannies and softening the look of your garden landscaping with romantic cascades.
It works well in containers too, says Alice Vincent, author of Rootbound: 'I'll be filling a new window box with fleabane this month. It's such a fantastic perennial option for containers, and even though I've got it in several shady spots in my garden, I can totally accommodate more. It offers delicate white daisies for most of the year and is a perfect pretty option for small spaces.'
The daisy-like white flowers gradually shift to pink, sometimes even featuring a tinge of purple. Easy to please, plant it in well-drained soil in full sun (part sun is okay too) and watch it romp away. Buy small plants now or sow a few seeds in a pot and put it on your kitchen windowsill or other warm place. The new seedlings will soon be ready to plant out.
2. French marigolds: for sunset colours
These multi-tasking vibrant blooms come in a range of rich colours including sunset shades of crimson, gold and blood orange. Garden Organic head gardener Emma O'Neill is a fan: 'Marigolds are my favourite flowers to plant in April. They provide an abundance of beautifully coloured flowers throughout summer, attract beneficial pollinators to the garden and their seeds are easy to collect for future planting.'
Sow seeds now, and cover the pot with fleece to encourage germination. Before planting out check the weather forecast for late frosts, which can still occur in April, and make sure your plants are hardened off.
They're also one of the best modern vegetable garden ideas, great for planting in between your vegetables as they're known for repelling aphids due to their strong scent. Snip off faded flower heads regularly, and your marigolds will keep blooming throughout the summer.
3. Nasturtium: look good and taste good too
The pretty petals of nasturtium look fab tumbling out of pots, or dotted around the veg patch. But there are other benefits too. Great Dixter gardener and cook Aaron Bertelsen opts for edible flowers such as nasturtium: 'I like 'Variegatus' for its trailing habit, bright green leaves and vibrant red and orange flowers. Pick the flowers regularly to keep them blooming and stop them running to seed quite so quickly. Once the seeds start to form, you can harvest and dry them. Just like the flowers and leaves, they make an excellent peppery addition to salads.'
Direct sow from mid-to late spring. You can start nasturtiums off in a pot on the windowsill if you wish, but they do so well outside that there is really no need. They do best grown in full sun, but beyond that these annual plants are gloriously unfussy and will thrive in poor soil and be grateful for whatever water you give them, so are perfect for growing in containers.
Just dot a few seeds in among your pots as the weather warms up, poking them in close to the edge so they will trail over the side. These are great if you're wondering how to turn a small garden into a flower haven.
4. Agapanthus: the glamourous one
Let's count the ways we love agapanthus. First, they're such show-offs (if ever there was an Insta friendly flower). They come in such a wonderful range of colours, from deep and dramatic inky blues and purples, to paler shades and pure white ones if you prefer pastels. Plus they add a touch of style that's hard to beat.
'I love them as they're a little exotic, relatively easy to grow and like being potted in tall narrow terracotta planters that will constrict the roots and allow good drainage,' says expert Julia Leakey of Crocus, who provide plants for leading garden designers like Luciano Giubbilei, Tom Stuart-Smith and Jinny Blom. 'From time to time I move them around to change the look and feel of my small town garden.'
You can buy plants in garden centres now. They burst into bloom from July to September, featuring eye-catching pompoms on straight stems. Their exotic good looks suggest they might be high maintenance but in fact they're a breeze as long as you follow a few basics. They need full sun and fertile well-drained soil. Don't forget to feed them well to get lots of flower stems.
5. Dahlias: just can't get enough
How much do we love dahlias? No summer flower round-up is complete without a mention of these joyful gaudy blooms, which have reinvented their image recently to become everyone's new favourite. They work a retro look like no other, coming in a kaleidoscopic range of colours and multitude of flower shapes. Their versatility is second to none.
The experts agree: 'We love the compact variety of dahlia 'Tropical Breeze' in particular,' says Thompson & Morgan's horticultural expert Sue Sanderson. 'It's perfect for filling pots and edging borders with dazzling bicolour blooms. The exotic, dark pink double flowers slowly fade to yellow, so no two blooms are ever the same.'
Dahlias are super low maintenance, and will flower from late June to early December in a sheltered spot. Pot up plants this month for moving out to the garden at the end of May. Gradually acclimatise them to outdoor conditions before planting out. Choose a position in full sun on any rich, well-drained soil. Snip off any faded blooms regularly and you'll get extra flowers.
And don't forget to fill a vase with them for that indoor display moment.
For style leaders and design lovers.
Lifestyle journalist Sarah Wilson has been writing about gardens since 2015. She's written for Gardeningetc.com, Livingetc, Homes & Gardens, Easy Gardens and Modern Gardens magazines. Her first job on glossy magazines was at Elle, during which time a visit to the legendary La Colombe d'Or in St-Paul-de-Vence led to an interest in all things gardening. Later as lifestyle editor at Country Homes & Interiors magazine the real pull was the run of captivating country gardens that were featured. Having studied introductory garden and landscape design as well as a course in floristry she is currently putting the skills learned to good use in her own garden where the dream is establishing a cutting garden.