The 10 best ways to add value to your home - top improvements for your property
Have you already made any of these home improvements?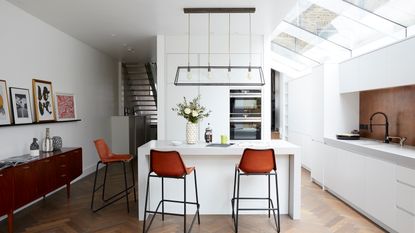 (Image credit: Future)
Discovering how to add value to your home is always important, but arguably never more so than in the current climate of uncertainty. With many people shifting focus and moving homes and locations accordingly, it's a key moment to evaluate the worth of your home - and discover the best ways to add value.
There are 10 key areas in your home that you can improve to add value to your space, whether you're looking to sell up now or futureproof your property.
Read on to discover which improvements can make you the most money.
1. Adding an extension
Tied at first place - both adding an extension and creating a loft conversion are the improvements which are most likely to positively impact the value of your hime.
Whether a chic side return, a new loft area or basement extension, anything which adds to the usable footprint of your property is key and can increase the worth of your home by nearly 20%.
2. Installing a new kitchen
We all know that kitchens are the heart of the home - and the appeal of a new, stylish kitchen can grab the hearts of prospective buyers like little else.
Once viewers can imagine themselves cooking and entertaining in a shiny new kitchen, it seals the deal. So it's perhaps no surprise that this can also drive the value of your home up by 9.38%. The only issue is that you might fall too in love with the new kitchen to even want to sell.
3. Creating an open plan space
Open plan living is one of the best ways to add value to a home because it offers so much to potential buyers.
As well as emphasizing the size of a home, open plan configurations allow a buyer to imagine what they'd like to do with space much more easily than with lots of separate living spaces, where they are constrained by walls and doors.
4. Restoring original features
Period quirks in a home add not only to the charm of a property - but to its worth.
Restoring original features, such as cornicing, ceiling roses and working fireplaces can improve the worth of your home by nearly 7.5%. A significant amount with limited work on your behalf.
5. Installing a new bathroom
Adding or redoing a bathroom in a property is the 6th improvement most likely to add to value to a home.
While any new bathroom makes an impact - having an actual bath installed will make the most difference as self care remains a property for viewers.
7. Adding a home office space
Most likely due to the ongoing lockdowns, buyers are now keeping their eyes out for homes to buy which have dedicated working spaces.
Whether a separate home office, nook in a living room or alcove in a kitchen, having an area set up for working from home is becoming an especially popular element that buyers look for, which is why it can add just over 6% to your home's value.
7. Installing new windows
It's not all standalone baths and swanky home office spaces - practicalities still very much affect the value of a home, too.
Simple changes like replacing older doors and windows will be of benefit when trying to sell your property. All-round double-glazed is, of course, on the list of many buyers, while the front door is the first thing to be seen by someone looking to purchase a property so it's important to make it a good one.
8. Acquiring planning permission
Having approved planning permission is a useful addition to any home, as it will future-proof your choices further down the line.
No surprise then that buyers are looking for options for their future, too. A property with planning permission can therefore add nearly 4% to the value of the home that you're selling.
9. Having smart home wiring
As more and more of our lives can be controlled with technology, it stands to reason that a home set up with smart home wiring is more appealing to buyers.
From security systems and video doorbells to integrated audio and lighting wiring, keeping the house moving with the technology times can be very helpful if you're looking to increase the value of your space.
10. Adding real wood flooring
Flooring is an important consideration in a home, and can affect the value of your property.
In fact, Jessica Fox, Senior Marketing Manager at Flooring Superstore notes that, 'whichever home improvements you are looking to invest in, it's likely that your current flooring will be disrupted, so try to take advantage of this by updating your flooring at the same time.'
Real wood is a lovely feature in a home, so if you're doing up your space to sell then consider using it where appropriate.
With thanks to Flooring Superstore for this data.
Thea Babington-Stitt is a content editor at Ideal Home, specialising in interior design, decor updates, trends and decoding the zeitgeist. She was previously features editor on Livingetc and Homes and Gardens, where she tackled the inspirational room galleries, offering the best expert advice for anyone looking to redecorate their home. She has also held a staff role at Country Homes and Interiors magazine.