5 living rooms with indoor trees that prove why they're the most elevating trend of 2024
Forget a new sofa, an indoor tree just went to the top of our to buy list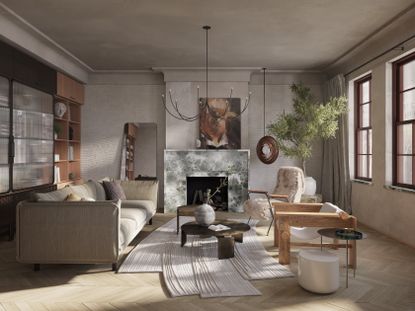 (Image credit: Arsight)
The Livingetc Newsletter
For style leaders and design lovers.
Thank you for signing up to LivingEtc. You will receive a verification email shortly.
There was a problem. Please refresh the page and try again.
Indoor trees are a huge interior design trend right now, they are like the new accent chair or statement lighting, and they are quickly becoming a must-have piece of furniture in any room of any style. But we particularly love the look of a tree in softer rooms of the home like living rooms and bedrooms, there's something unexpected about a full-sized tree in a room that's filled with soft furnishing and finishes, the contrast between the natural shapes and texture adds so much depth and interest to the room.
Designers are really embracing this trend too. We see so many gorgeous examples of how trees create a focal point in a living room, filling a corner or indoor garden with wonderful shapes and height. 'Embracing indoor trees as living works of art can effortlessly infuse your living room with a sense of serenity, a touch of the wild, and a visual allure that transcends the ordinary,' explains designer Anca Enica. 'Opt for green companions like the graceful Ficus, the enduring Rubber Plant, the unyielding Snake Plant, or the delicate charm of a diminutive Palm. These living sculptures, carefully chosen for their compatibility with lighting and humidity, become more than mere plants - they are integral pieces of your living room's artistic tapestry.'
We are aware the indoor trees can be an investment, especially if you want something sizeable that's going to make an impact, so choosing the right tree for your space is key. We asked designers what they think are the best indoor trees for living rooms and how they style them up to make them a real feature of the room.
1. Create a lofty feel with towering greenery
With indoor trees, we always say go as big as your space and budget can handle. A larger, lusher tree is going to make a far bigger impact than something smaller, that could just get lost amongst the furniture. In fact, see it a bit like a piece of living room furniture, pick the space you want to house your plant and choose the perfect size for that space. It's an investment that will make just as much of a difference to your living room as a couch.
This space designed by Natalie Myers uses large indoor trees to add a hit of color to a very natural, neutral minimalist living room. Greenery is perfect for this, it's like adding an accent color but feels far more organic.
'The double-height living space was begging to be filled with taller sculptural indoor trees. And the indoor trees thrive in this light-filled airy room. A mutually beneficial arrangement for plants and the homeowner,' explains Natalie.
'Fiddle leaf fig trees have been popular for years and years now with good reason. Their large leaves and sculptural reaching branches add a graphic impact to any corner you place them. They are reasonably priced as smaller plants and grow well into larger indoor trees in little time. People report that they are finicky but I have had great success with my own fiddle leaf plants hence they are my go-to for low maintenance indoor trees,' she adds.
'I like black rubber tree plants too. They don't get as tall as fiddle leaf fig trees but they do add drama to a space and fairly low maintenance. The easiest plant to bring into an indoor space is a snake plant. Those things are basically indestructible and don need a lot of light.'
2. Add some soft textures with an olive tree
Ah, the olive tree. The coolest of all indoor trees. The first time we saw a tree being used a huge feature indoors it was an olive. They have been popular decor in commercial spaces, like chic restaurants and bars (you know the ones going for that laid-back, rustic Ibiza vibe?) for years now, so why wouldn't they work in a living room? They are some of the best trees to grow in pots too and since they are used to a warmer clime they will usually thrive went brought indoors.
'I think incorporating trees inside is a beautiful way to add dimension and a touch of nature to a space. I love an olive tree for its sparse leaves and beautiful color,' says designer Marie Flanigan, who created this beautiful neutral living room. 'Trees can be a great way to fill an empty corner or complete a vignette, while still allowing the eye to travel through the room.'
The black olive tree is the on-trend olive to go for right now. It's a designer (and celebrity) approved indoor tree, that's slightly more delicate, with less greenery and smaller leaves than the olive tree that probably comes to mind. You still get that lovely Mediterranean look, but it's slightly more minimalist.
3. Inject a neutral scheme with a touch of color
If you are a bit of a colorphobe, bringing in an indoor tree to your living room can add that hint of color in a more natural, and subtle way than using decor or soft furnishings. They can also bring in a different texture, a texture you wouldn't find in your furniture or decor, adding another layer to a room, which we know is important if you are sticking with a more neutral scheme – these spaces have to be all about the texture.
In this minimaluxe living room designed by Arsight, the tree works with all the very natural shapes and finishes going on, as well as adding that subtle hint of color. 'Incorporating a tree within the main space arises from our vision of fusing natural elements into urban homes. The living room, decked in subtle and earthly colors, became an ideal setting for an indoor tree,' explains Artem Kropovinsky, founder and principal designer of the studio. 'Placed atop raw stone chunks, the tree not only brightens the room but also introduces a vertical aesthetic. This, in turn, highlights the room's vertical dimensions and segments the space within the broader open design. Essentially, the tree bridges the room to the outdoors, offering an ever-changing organic touch depending on the seasons.'
'My preferences for indoor trees are primarily shaped by the specific story and look we're chasing in any given project. In an ambiance like this, heavily borrowing from raw nature, the selection was obvious. The Ficus Lyrata, or the Fiddle Leaf Fig, is cherished for its impressive leaves and indoor adaptability. The Dracaena, especially the 'Janet Craig' type, is also loved for its towering growth and rich green layers, offering depth to any interior. The Olive tree is revered for its elegant silver-green leaves and its representation of serenity. These trees not only charm visually but also mirror the essence of our creations. They blend in, demand average attention, and replicate an authentic natural vibe within city limits.' he adds.
4. Add a cactus for a super trendy living room update
We are counting a cactus as an indoor tree because they can grow to be the size of trees – the cactus euphorbia, for example, is the perfect indoor 'tree'. Cacti are ideal if you want to bring some greenery into your living room, but want to keep things structured and sculptural, more contemporary feeling. This sun-filled living room designed by GRT Architects was calling out for an indoor garden of some form but the very laid-back, minimalist vibe was far better suited to the statement, unique shape of a cactus over say the ever-popular olive or a fiddle leaf. And that contrast with the orange tiles and the vivid green is gorgeous, and it might not be so obvious with a softer, more... leafy tree.
'Sometimes what is outside is more important than what is inside,' explains Tal Schori founding partner of GRT Architects who designed this home. 'With this space, in particular, we wanted to highlight the natural views on either end of this space, as well as the view of the woods and Hudson River located just outside the large windows in this room. The plants added were kept simple – succulents that benefit from sun streaming through the windows for most of the day.'
5. Use an indoor tree to design a mood boosting space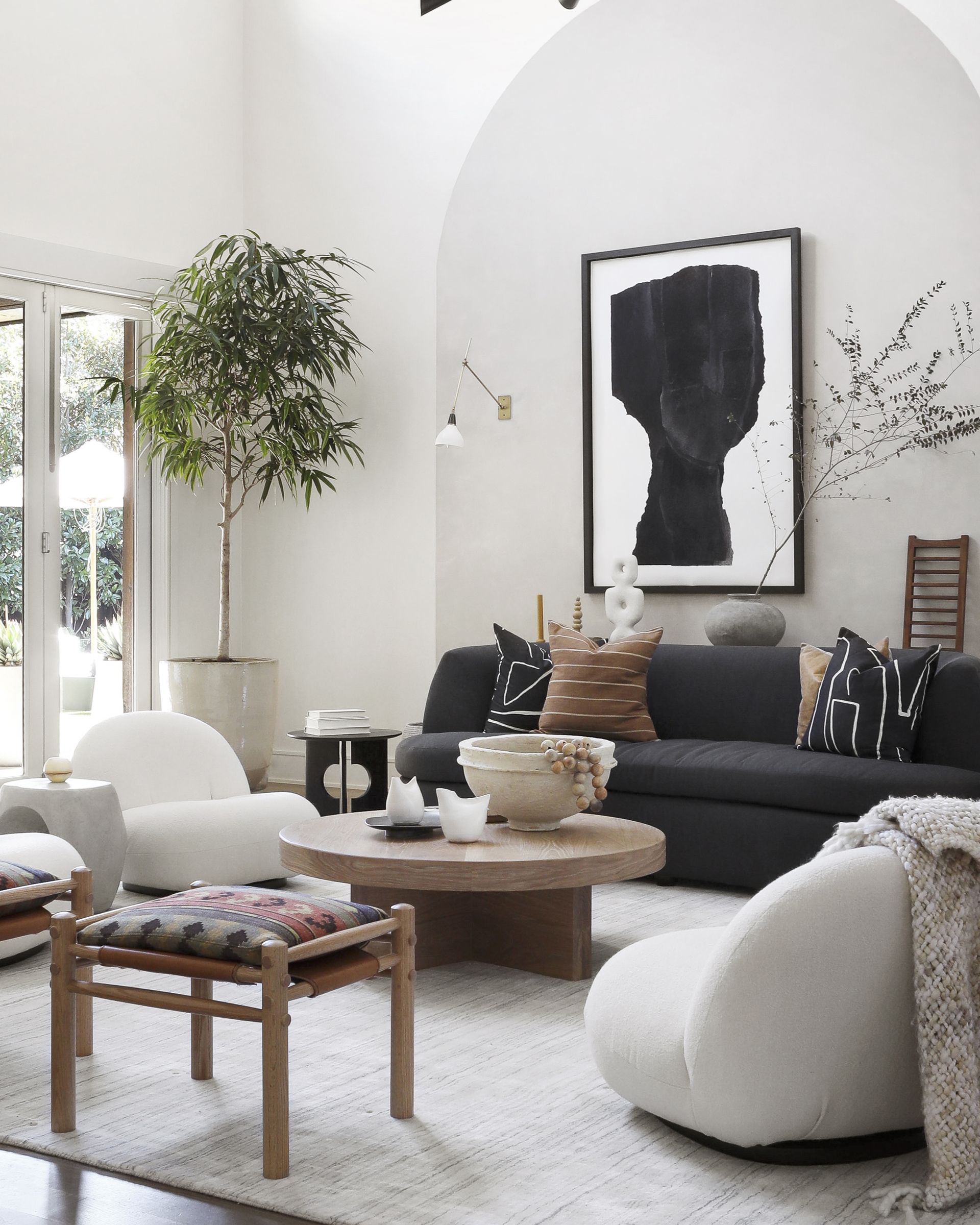 We've been noticing a big shift in interior design trends recently towards creating homes that are more joyful, more characterful, more mood-boosting – happy homes essentially. Color schemes of course come into this a lot, but houseplants and indoor trees have also been proven to lift your mood and have a posited impact on mental health.
As designer Joshua Smith says, 'Biophilic Design, incorporating natural elements in the home is one of my favorite decor strategies, not only because I feel mother nature does it best when it comes to beauty, but because it can greatly impact our mental state. By surrounding yourself with nature, your living space will lift your spirits and brighten your day. Incorporating natural elements such as plants can improve air quality and create a sense of connection to nature, which can help to reduce anxiety.'
For style leaders and design lovers.
Hebe is the Digital Editor of Livingetc; she has a background in lifestyle and interior journalism and a passion for renovating small spaces. You'll usually find her attempting DIY, whether it's spray painting her whole kitchen, don't try that at home, or ever changing the wallpaper in her hallway. Livingetc has been such a huge inspiration and has influenced Hebe's style since she moved into her first rental and finally had a small amount of control over the decor and now loves being able to help others make decisions when decorating their own homes. Last year she moved from renting to owning her first teeny tiny Edwardian flat in London with her whippet Willow (who yes she chose to match her interiors...) and is already on the lookout for her next project.