5 things designers whose entryways are ready for fall have - easy tweaks to see you through the season
These designers help you to design an entryway that can withstand the fall weather, keeping your home looking fresh all season long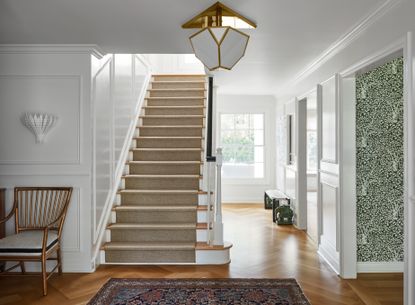 (Image credit: Dustin Halleck, design by Alexandra Kaehler)
The Livingetc Newsletter
For style leaders and design lovers.
Thank you for signing up to LivingEtc. You will receive a verification email shortly.
There was a problem. Please refresh the page and try again.
As the first space your guests will see, the stakes are high for entryway design. Texas-based designer Jean Liu says to "think of having a well designed entry as an opportunity for your guests and visitors to learn who you are and what home means to you."
As we head towards fall changing out the pieces in your entryway may not be top of your list of priorities. But when the creative design juices are flowing, it is important to step back and remember practicality, especially as we approach fall and suddenly your beautiful entryway with a natural color scheme is covered in leaves, mud and rainwater from stepping in for solace from fall weather. Luckily we have designers on hand to help you blend beautiful aesthetics and practicality as the seasons change.
1. A RUG IN FALL COLORS
The first practical issue you will face when designing a fall-proof entryway is walking in with muddy or wet shoes, the perfect way to ruin a cream floor. To combat this issue, interior designer Alexandra Kaehler says "a mat where someone can wipe off their shoes upon entry is nice to have".
To get the worst of the mess off your shoes, opt for a coir mat outside the front door and to ensure any excess dirt isn't walked into your home, choose a large rug that can run up your entryway in fall colors. This way the colors will conceal any stains or mess from outdoors. Your guests will see an esthetically pleasing decorative mat in seasonal colors, but you will know that your clever design hack has created a neat look to your entryway.
2. TILED FLOOR
If a dark colored rug doesn't match your vibe you may want to forgo it altogether and opt for the ultimate practical fall flooring - tiles. Patterned tiles add visual interest to the space with the added bonus in the cooler months of being easy to clean and difficult to mark.
The only downside to tile flooring is the added slip factor. This risk can be reduced by introducing, as Kaehler recommends, "beautiful copper boot trays [like this one from Amazon] that you can use for dirty shoes." This way you have somewhere to leave your shoes to dry so you don't slip on your tile floors and they act as tidy shoe storage. Though Kaehler recommends copper, you can opt for whichever metal best suits the color scheme of your entryway.
3. UMBRELLA STORAGE
Kaehler says "putting your outdoor accessories (hats, gloves, dog leashes, etc.) in baskets, inside of a closet is much cleaner and still very easily accessible." The same goes for your umbrellas which can easily clutter your fall entryway.
If you haven't got a closet or built-in entryway storage to hide umbrellas in, Emma Kemper of Emma Beryl Interiors says: "It might also be helpful to bring in a basket or even a large flower pot as a designated spot for people to leave their wet umbrellas when stopping in. It's another perfect way to bring in color and freshen up decor." Keeping your umbrellas stored away keeps the entryway looking neat which, as Kemper points out, is very important: "As we go into fall and the weather is getting colder, we won't be mingling outside as often. That means the neighbors that stop in or friends and family coming over will be traipsing through our entryways more. So keeping the space stylish keeps your home ready for guests!".
You can also pop a cork mat under your umbrella holder to catch drips and reduce any chances of slipping or soaking your new fall-colored rug!
4. A RUG FOR WARMTH
If you have opted for just a coir mat by your front door you may find that though the chances of walking dirt through your home has been reduced, your entryway is looking bare and cold. Fret not, this is easily fixed with a plush rug.
Dallas-based Angeline Guido Hall of Angeline Guido Designs says "a great way to add warmth and texture to the entry is to select a beautiful rug but be mindful of durability, as entries can be high-traffic areas."
As long as it is washable in terms of size and fabric, there's no reason why you shouldn't add a touch of comfort to this space in fall, especially if you live in a particularly cold climate. Our guide to the best washable rugs will help you here.
5. A MUDROOM
If you have an entryway mudroom, fall is the time to capitalise on this extra space. Keep muddy boots or wet coats in this space and use your entryway as the esthetic introduction of your home to present to your guests.
Designer Becky Shea says: "Front entryways are typically not the primary compared to, say, a mudroom, so you can have more fun with rugs, artwork and decor that you wouldn't necessarily use where your muddy boots come off." Though your entryway is a practical space, it doesn't have to be boring. In fact, it can be the first inviting step into your haven from a dreary fall evening.
Though fall can make designing an entryway tricky with extra considerations for coming in from rainy weather, keeping the designer's tips at the forefront of your design plan will ensure that it not only impresses esthetically, but that it can withstand the colder months without your guests noticing the subtle changes.
For style leaders and design lovers.
Katie is a freelance lifestyle writer who has recently finished an MA in Magazine Journalism at City, University of London. Before writing for Livingetc, Katie has gained bylines with The Caterer and The Telegraph and has interned at several lifestyle magazines including Grazia and Red. When not scrolling through Pinterest for interior design inspiration, Katie can be found writing about women's issues, trying out new beauty trends for her blog or seeing a West End show.