'My neighbor's built an unsightly wall, how can I hide it?' 5 ideas that will turn an eyesore into your backyard's best feature
Clever design tips for turning the unsightly into a statement feature in your backyard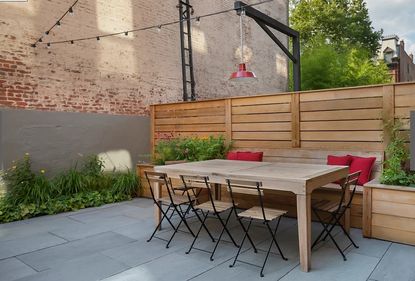 (Image credit: Kat Aul Ceroni. Staghorn)
The Livingetc Newsletter
For style leaders and design lovers.
Thank you for signing up to LivingEtc. You will receive a verification email shortly.
There was a problem. Please refresh the page and try again.
My neighbors have recently decided they want to build an addition to their living space. They are totally in their rights to do so, but it has meant a great, hulking eight-foot concrete wall has appeared where our garden fence once was, virtually overnight.
Unfortunately for me, the wall has become a dominant element in what is already a small outdoor space, blocking where the setting sun once shone onto our patio and summer dining area. Instead, the sunset view is obstructed by the great monolithic structure. It's taking quite a lot of creative vision to see past what it currently looks like - a big grey slab of brick - and envision what it could look like, but incessant Googling and Pinterest scrolling has given me comfort that there are many design options to explore. With permission from my neighbors, instead of fretting, I'm seeing it as a design opportunity and a space to get creative.
It's a recurring problem in cities, and I'm not alone with my problem wall, Kat Aul Cervoni reassures me. 'It's certainly a huge problem in New York, but there is inspiration out there!' I thought I'd put pen to paper to help those having a similar problem in their backyard. Read on for my five tips for covering up an unsightly wall.
Oonagh is an interiors writer and editor, and expert at keeping up with trends from the world of interior design. For this story, she's spoken to the backyard designers and landscape architects to find some practical tips for disguising an unsightly wall in your backyard.
1. Cover the wall with plants and greenery
First things first, I'll be getting myself down to the local garden center to invest in some foliage and greenery to hide the offending wall in a tasteful way. Instead of seeing the wall in full, the shrubbery will draw the eye to the nature in front of it, and also work to break up the space with pops of greenery.
'A row of evergreens in planters could be another way to hide an unattractive view and add a bit of greenery to the space,' advises New York-based landscape gardener, Amber Freda. A planter that sits along the base of the wall will help break up the wall, and a few smaller olive, cherry trees or other trees for small gardens will look attractive.
Wall climbing plants are a great option if you don't want to plant trees, and come in a real variety. Think bourgainvillea for fabulous autumnal colors, boston ivy, or grape vine (although you need to keep on top of your grape vine and it can really grow at an alarming rate towards the end of the summer months).
In this Melbourne backyard, designed by Circle Studio, bamboo has been used to disguise the wall behind - a perfect choice because it is evergreen and fast-growing. Even if you're not particularly green-fingered, bamboo will clamber up the wall or fence and conceal it more or less totally from sight, leaving you with a verdant living wall in its place. Just take precautions so it doesn't get out of control.
For those even less inclined to gardening, there are quick-to-install living walls. 'There are artificial plant rolls or panels that look like English ivy or boxwoods, most commonly, and would also be relatively easy as a DIY project to install,' says Amber.
2. Try adding wall decor
Break up the height of the imposing wall by accessorizing with outdoor wall decor, just as you would an interior wall. Aside from vines and trellises, small hanging pots can also be mounted to a wall to help give it more color, pizazz, and break up the space, distracting from the vastness of the wall. 'I love indoor/outdoor friendly wall-hanging planters from West Elm, but metal hooks and traditional hanging pots are also a great option,' says Kat Aul Cervoni, landscape designer and founder of Staghorn NYC.
Mirrors in the backyard are another option for decor that you can lean against your wall or hang up. This will help reflect the light, bouncing light across the garden, and create the illusion of more space.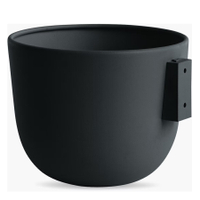 Story planter with wall mount, Design Within Reach
This is a cute addition to your wall and easy to mount. It's been designed for attachment to drywall surfaces, giving you the flexibility to position floral arrangements on walls. What's more, it's on sale with 60 percent off right now!
3. Break up the monolith with a dedicated seating area
Break up the wall by using it as a cozy corner for a dedicated seating area like this renovation project - The Barrancas House - by architecture and interior design firm, Ezequiel Farca. In this way, the backyard layout has been designed with the outdoor wall functioning as an interior wall does, creating an 'outdoor room'.

The landscape was designed with plants that are adapted to the local climate, with vertical gardens on the walls. The backyard wall works to create an indoor/outdoor feel, like you're inside but surrounded by nature, and this is backed up by the hanging lanterns.
The wall doubles up with a seating space so diners can lean against it. It's also softened by the soft furnishings on the wall bench. I particularly love the trailing plant that elegantly drapes along the top of the wall, softening the harshness of where the wall finishes and cascading down in an aesthetic jungle way.
4. Create a textured wall
If, like me, you are dealing with a great concrete mass, and as long as you have permission, you can coat or paint the wall in a different texture which will help you disguise the concrete or brickwork.
'Never underestimate the power of a fresh coat of paint,' says Kat, who designed this scheme and painted up the brick wall to add a bit of distinction. 'Brick, concrete, and stucco walls can be completely reinvigorated with paint. Most of the time, I opt for neutral paint colors in the gray family as this harmonizes well with my favorite stone and wood types as well as the greens of the plantings.'
If you can't paint, depending on the condition of the wall, it may also be possible to add a thin-stone veneer which can add some elegance to a space.
We're going for a plaster then painted with Dead Salmon from Farrow & Ball in their limewash range to give that Mediterranean courtyard feel. With a couple of olive trees against the terracotta backdrop, the unsightly concrete wall will transform into an summery escapism.
One thing to look out for is how light can play tricks with shade intensity. Colors always look lighter and brighter on an exterior because there is more natural light outside than in. Always test a small area first and choose a shade darker.
5. Attach aesthetic paneling or fencing
Timber or steel paneling can make a nice addition to an outdoor wall, covering up any unsightly blemishes with smart panels and adding interest and personality.
There has been a move towards darker exterior tones, including off-blacks, deep greys and blue-black shades that help the space feel more modern. Wooden timber panels add a rustic charm and warmth. This example is from Brooklyn-based architecture and landscape design firm, Julie Farris of XS Space, and hides the view straight into neighbors' gardens.
'I love incorporating natural materials into a design and the wood can bring a softness and warmth to a space as well as visual interest,' says Kat. 'Horizontal boards bring a modern touch while vertical skinny slats can feel modern or lend a midcentury vibe to any space. Cedar is my go-to material for cladding concrete walls as it's rot/insect resistant and lightweight.'
Leaving space between the boards allows for an interesting bit of dimension with the shadows created. Backlighting wooden slats can also be incorporated to make the wall a standout feature after sunset.
Aside from paneling, Amber also recommends a privacy fence in its place. 'Fencing is often an option, although how high you can go with the fencing can depend on local ordinances,' she says.
'In NYC, for example, the max height allowed for a fence is usually 6', although there are some exceptions based on zoning laws. The types of possible fencing include custom-built, pre-fab panels, or fencing that comes on a roll like bamboo or willow fencing. Roll fencing is reasonably easy to install yourself, but it does require some sort of backing to attach to, such as an existing chain-link fence or a masonry wall.'
For style leaders and design lovers.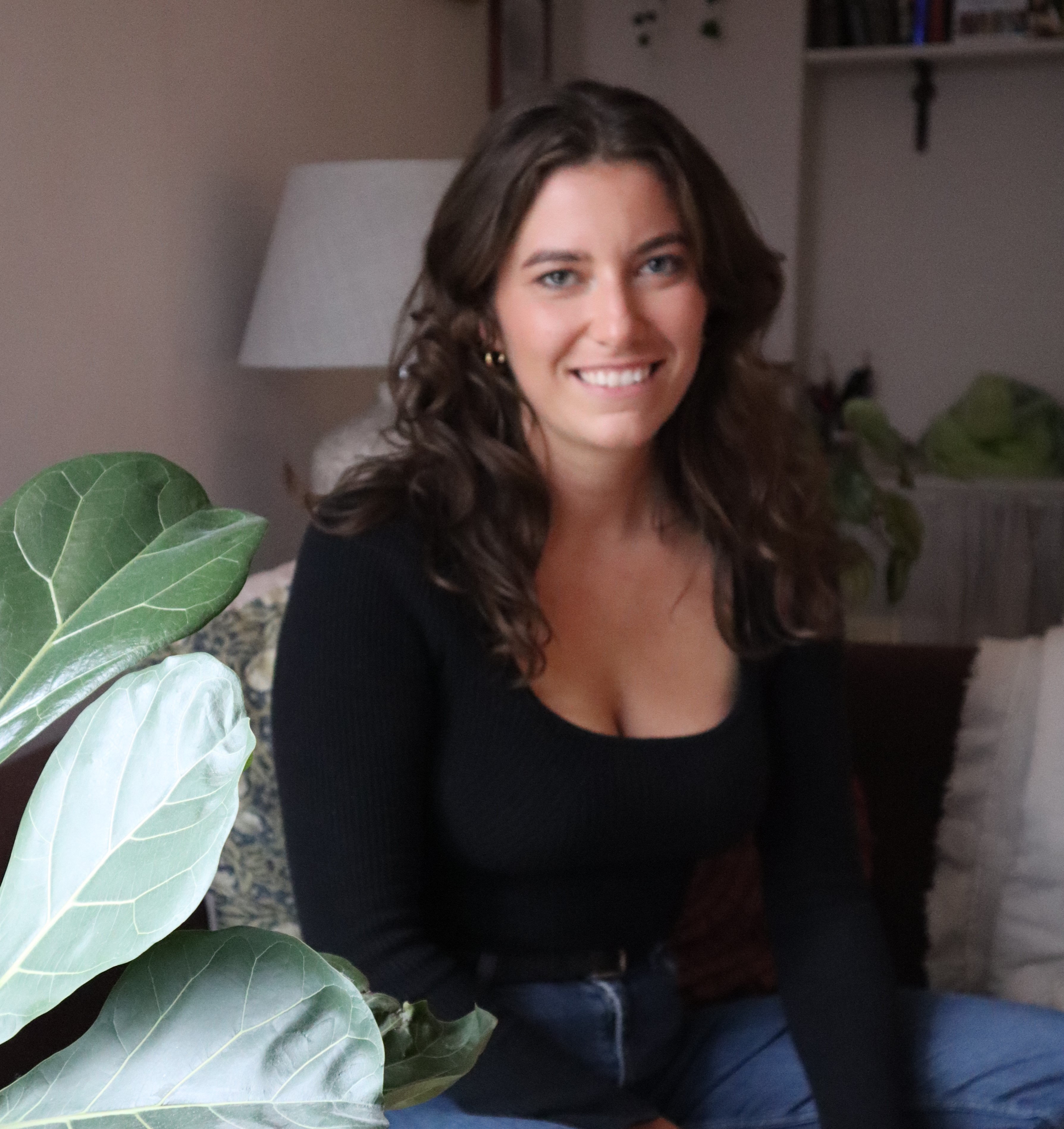 Livingetc content editor and design expert
Oonagh is a content editor at Livingetc.com. Previously, she worked on a London property title, producing long-read interiors features, style pages and conducting interviews with a range of famous faces from the UK interiors scene, from Kit Kemp to Robert Kime. In doing so, she has developed a keen interest in London's historical architecture and the city's distinct tastemakers paving the way in the world of interiors.