7 simple furniture tweaks designers use to make homes look more expensive
Get that quiet luxury vibe with these simple switches you can make to any room, as designers explain the tricks to elevating your space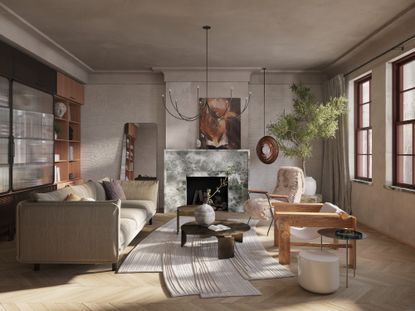 (Image credit: Arsight)
The Livingetc Newsletter
For style leaders and design lovers.
Thank you for signing up to LivingEtc. You will receive a verification email shortly.
There was a problem. Please refresh the page and try again.
Making a home look more expensive is surely the aim every time you bring in a new piece of furniture, a new print, a new rug, etc. – expensive is just a synonym for beautiful, chic, elevated, and no matter what your style you want your rooms to feel all of the above, right?
And it needn't mean actually spending a small fortune to overhaul your rooms, it's more about investing in and choosing pieces that are going to be space-changing and have an impact. Not being too led by interior design trends or making purchases you haven't really considered, expensive-looking rooms are ones that are filled with pieces that have character and reflect the person behind the space too.
But what are these pieces? What furniture and decor can you bring into a space that will instantly make the room look more expensive and elegant? We asked designers for their tips on what to look out for.
1. Add depth with soft furnishings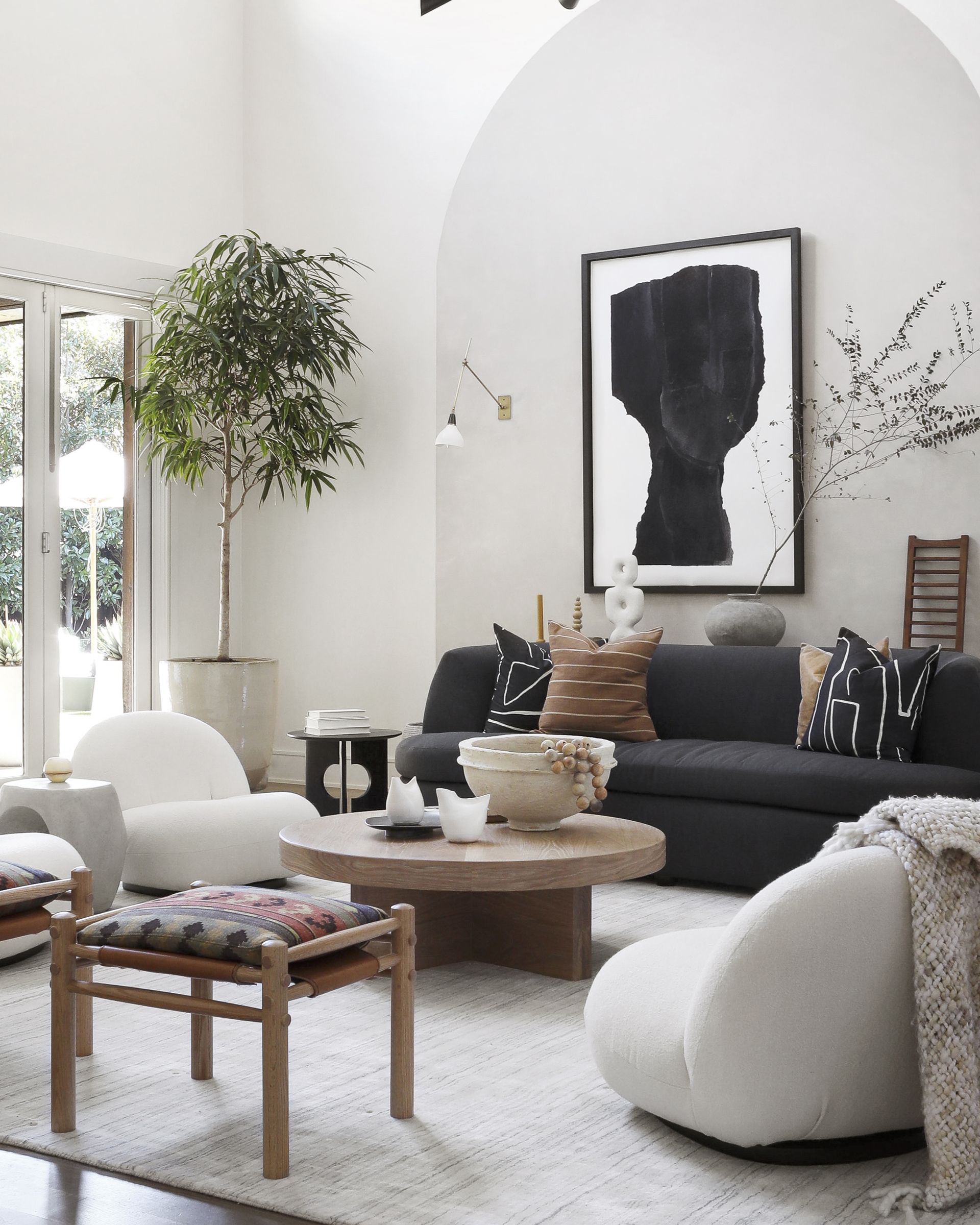 As we have mentioned, expensive-looking rooms have depth, they have character. And even if you are all about minimalist style, giving a room personality with your accessories and smaller decor is still key to an elevated, subtly expensive-looking space.
'One of the best ways to elevate the home is to pay attention to the accessories and styling to really pull a space together,' explains founder of Urbanology Designs Ginger Curtis. 'Not only does this element feel foundational to a completed look, but it is essential for a warm and luxurious space. I will often hear clients say something like "My home doesn't feel finished, it falls flat in the grand scheme." Oftentimes, a lot of focus is put into selecting the main pieces in the room, with little thought to the finishing touches that bring a look together.'
'Rugs are an absolute must, plus some cozy throw blankets, patterned or textural pillows for the sofa, baskets for extra throw blankets and pillows – one can never have enough, although my husband would disagree! Accessories like sculptural objects, books, and beautiful vessels to adorn shelves and coffee tables are crucial. Lastly, don't forget greenery, indoor trees are very on trend right now and I personally love to put mine in a large stone pot or a hand-woven basket,' adds Ginger.
2. Invest in timeless quality furniture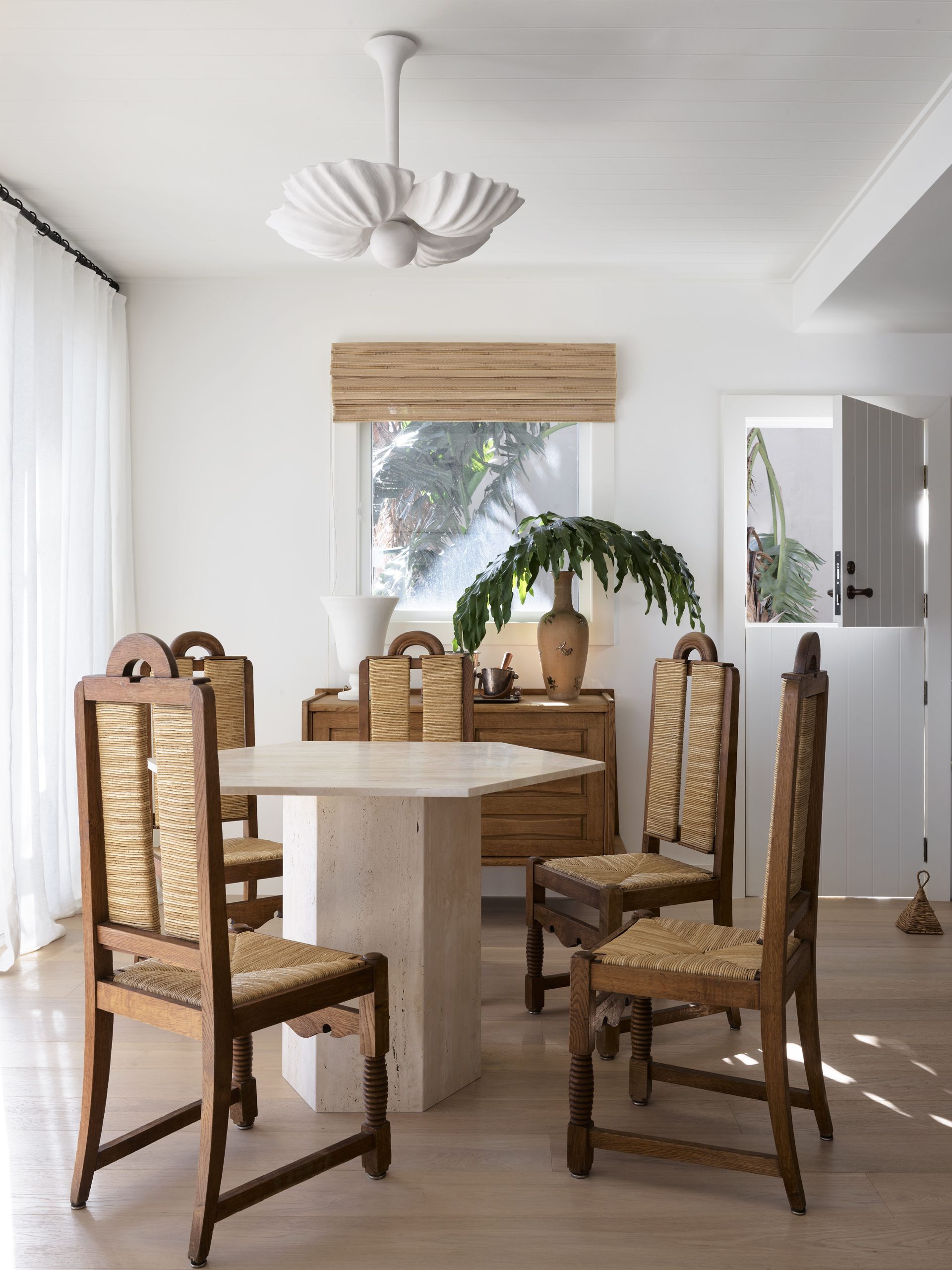 When it comes to making your home look more expensive, furniture of course plays a key role. Furniture is the bulk of your home, it's these pieces that dictate the style and the feel, bringing in new beautiful pieces of furniture is always going to elevate the space.
We would always advise not to be too trend-led when it comes to furniture, choose pieces you love, pieces you are drawn to. The quality over-quantity approach applies here. Don't fill your rooms with on-trend furniture that you're not going to notice in a few years. Instead spend time making considered choices, picking our pieces that have longevity, both in style and quality.
'Invest in a few statement furniture pieces that reflect your personal style and the overall aesthetic you're aiming for. A well-crafted accent chair, an intricately designed coffee table, or an upholstered headboard can elevate the entire room's look and feel,' recommends designer Kati Curtis.
3. Source one off finds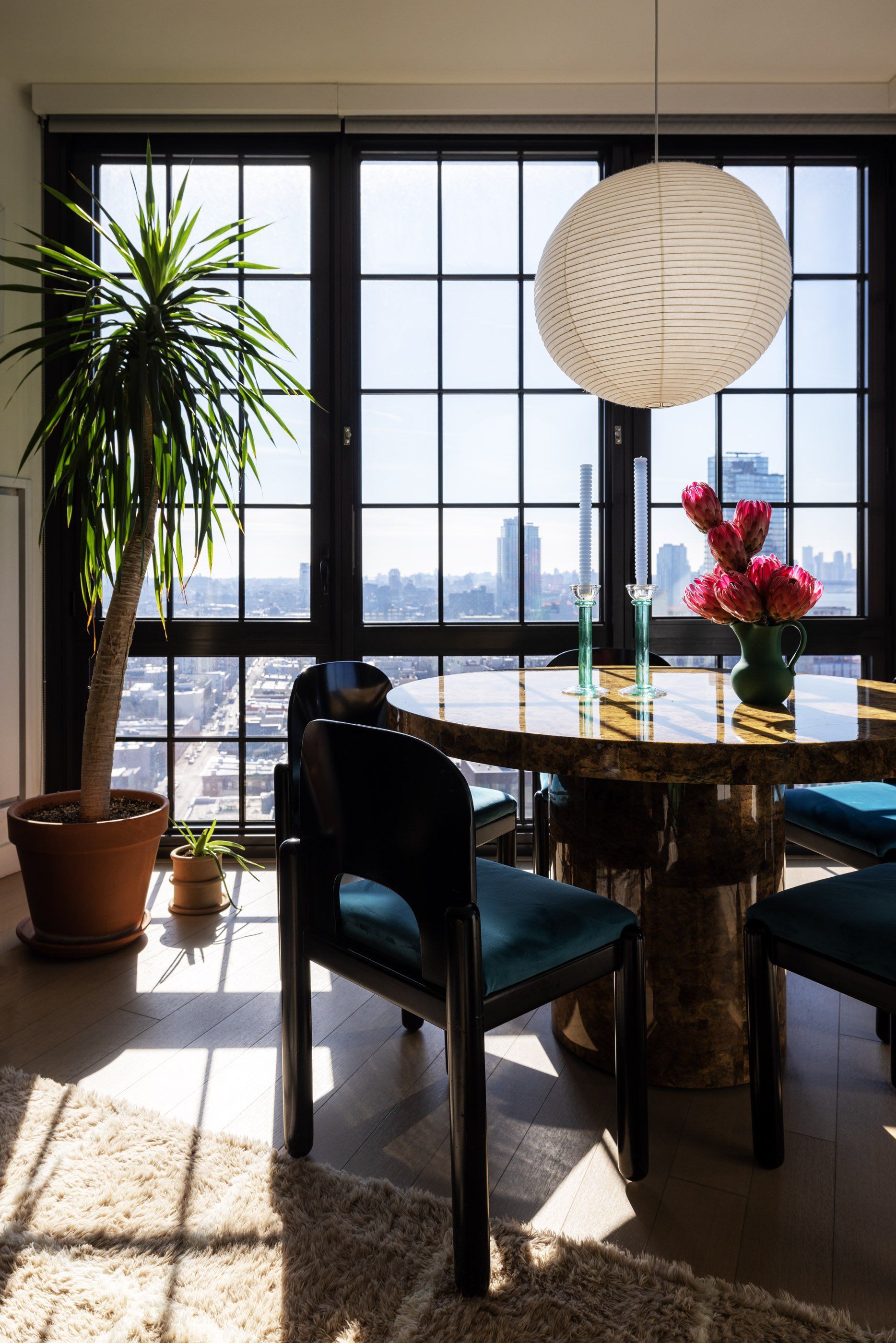 Buying vintage and decorating with antiques will add far more interest to your rooms. Find a piece you love that will make a statement and be the focal point of your room, and then let that piece dictate what's going on elsewhere. Don't crowd your rooms, instead let these pieces shine – remember quality over quantity. Plus having negative space always makes a room look more expensive.
'It's as much about thinking about the whole composition and arranging furniture and accessories with an eye for scale, material, and proportion. I don't think you need a lot of furniture or accessories. Still, the ones you choose should have graceful or dramatic lines, feature handmade items with personal meaning, and incorporate something vintage or antique,' explains Keren Ritcher, co-founder of White Arrow.
'I love collecting and finding unusual items at flea markets, auctions, and on my travels. I find ways to bring in color, transparency, reflectivity, and the handmade in all our interiors.'
4. Have a cohesive feel throughout your rooms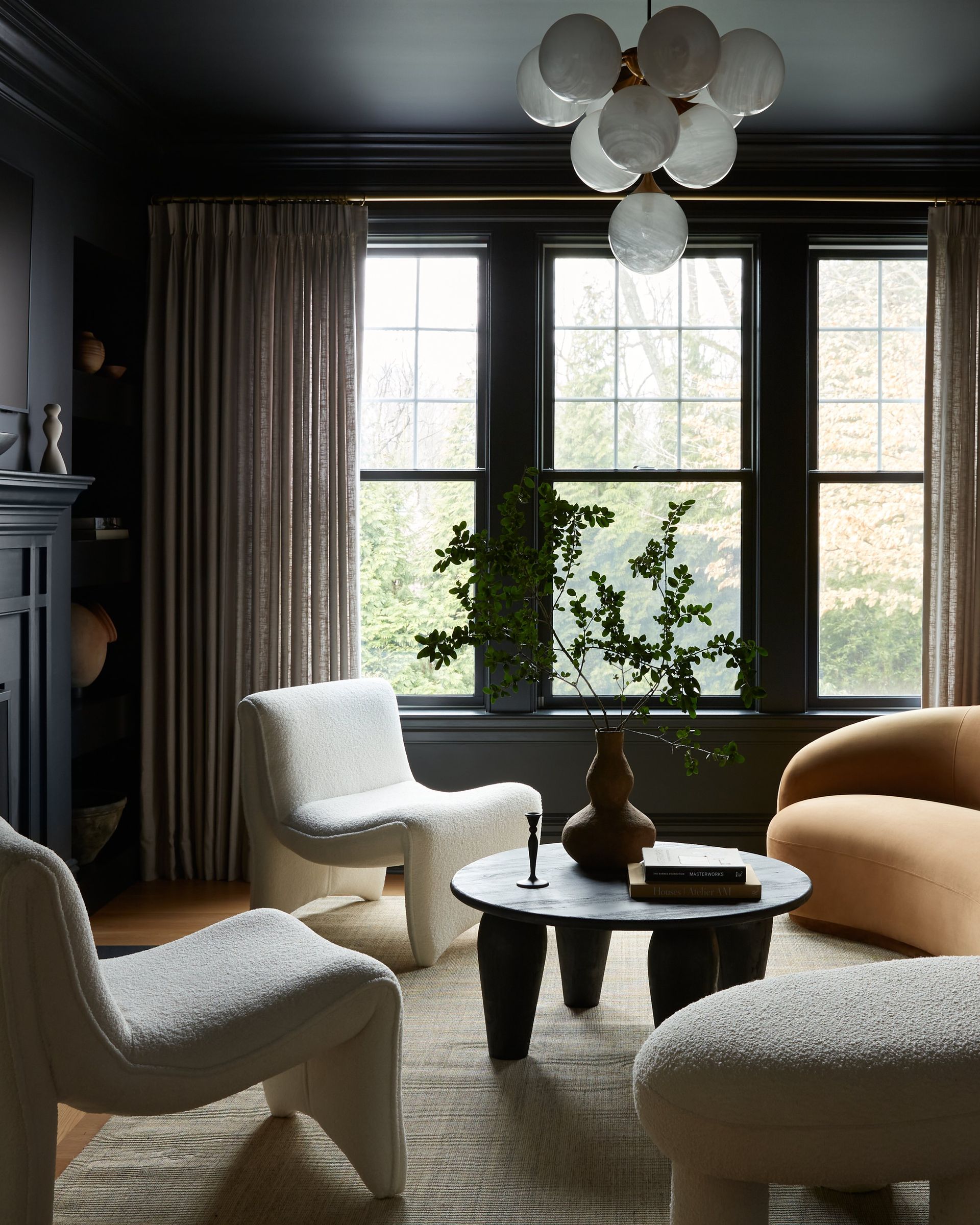 This is a really simple way to make a home feel more expensive – cohesiveness. Now, we aren't saying every room needs to be exactly the same style or have exactly the same color scheme, but subtle links between spaces makes a home feel really considered.
'There are certain things I feel are important investments in order to add value to your home and make it feel more expensive. The first is having consistent wood flooring throughout the house – when a home has different color woods and different kinds of wood it is clear that there were additions made and things done that were not aligned with the original design. It looks bad and is my biggest no no when working on a home,' explains Brittany Wurzak Hakimfar, lead designer at Far Studio.
'I also think that it's important to have the general paint color throughout the home in a nice white that feels light and bright. then you can accent certain specialty rooms with colors or wallcovering but the general color throughout should be consistent.'
5. Soften and layer lighting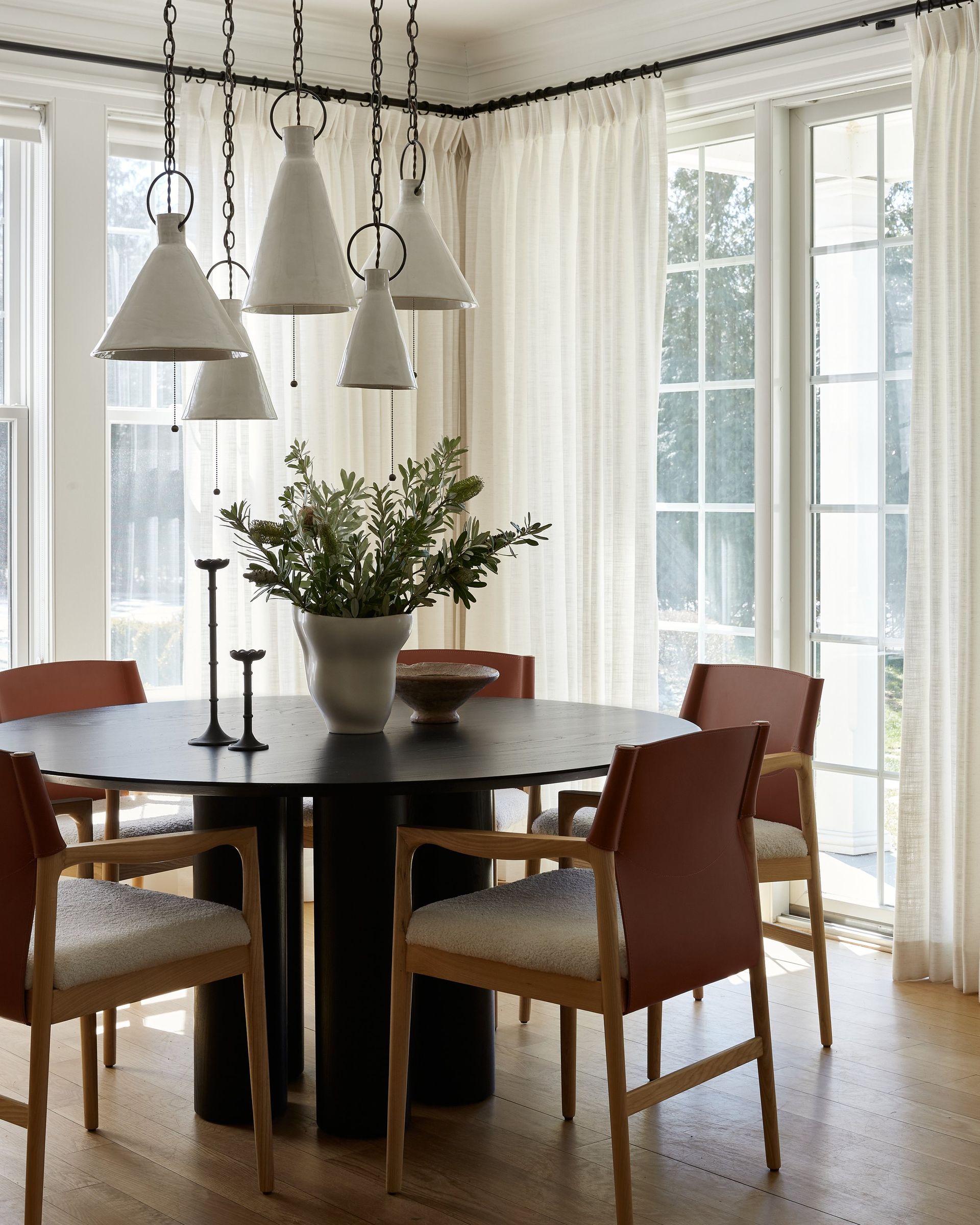 Good lighting design is a really simple way to elevate a room and make it look more expensive. Ensure you have plenty of different sources to create a layered glow around the room – avoid any harsh overheads that create clear pools of light and position your lighting at different levels. Table and floor lamps are ideal for adding in plenty of softer, accent lighting, and see overhead lighting as more like decor than a light source – this is where you can make your statement with a chandelier, or something sculptural.
'Let's not underestimate the power of task lighting and accent lighting to really add some ambiance to a room. Floors lamps, an art light to illuminate something beautiful, or a table lamp to create that warm glow that you not only see but feel when that smile crosses your face,' says Ginger Curtis.
6. Pay attention to your drapes to maximize light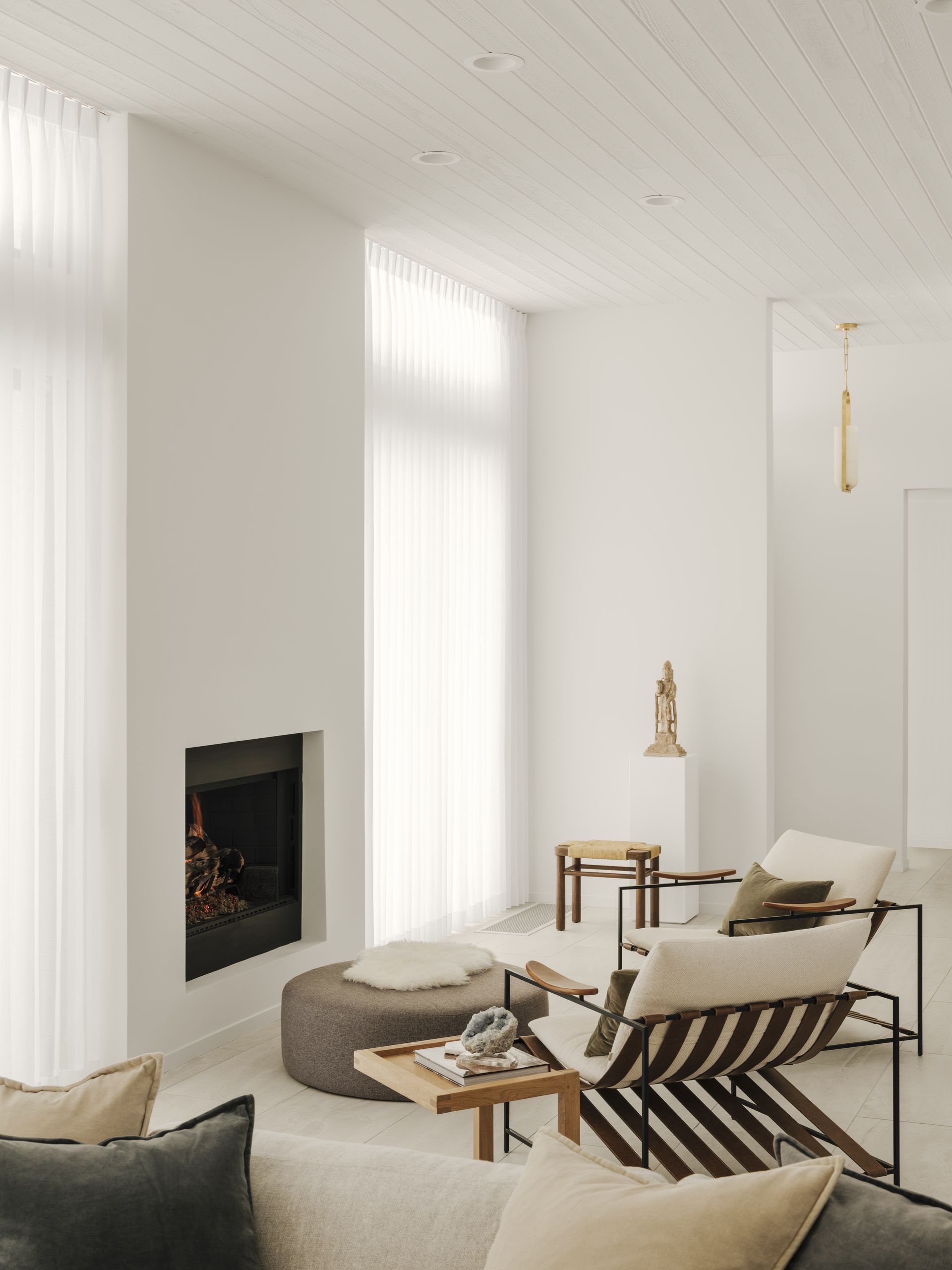 'One thing that always makes a home look more expensive and really takes it to the next level is drapery,' explains Brittany Wurzak Hakimfar. 'A lot of times clients do not understand the importance of drapery until it is installed and it is usually a higher-priced item. But trust me when I say it is always worth it and always adds that layer which really makes a room feel expensive and finished.'
Kati Curtis agrees. 'Replace generic curtains with custom, fitted window treatments,' she says. 'Floor-to-ceiling drapes with a luxurious-looking fabric not only enhance the sense of height in the room but also add a touch of sophistication and decorator feel. The fabrics don't have to cost a fortune as there are so many options on the market now that look great and are still affordable.'
And when hanging your curtains ensure you really maximize the amount of natural light by making sure when your curtains aren't in use you can really get them out of the way of the windows. Always take drapes to the floor too, this will look far more expensive than having them awkwardly cut off where the window ends.
7. Do something unexpected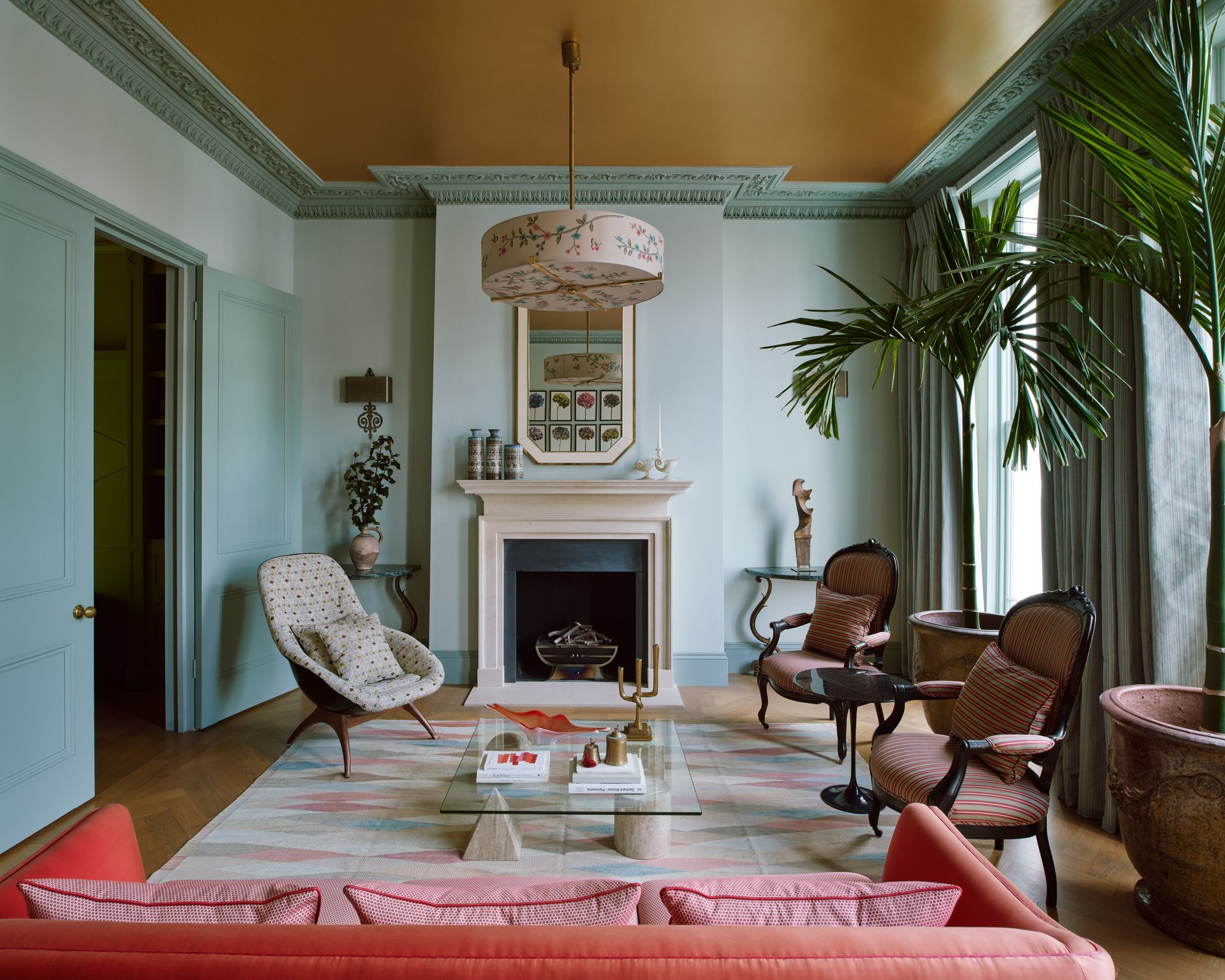 Expensive-looking rooms don't play it safe. Whether it's statement lighting, quirky furnishing, or in this case with this living room designed by Maddux Creative a painted ceiling. Ceilings are such a great opportunity to get creative, they are the new statement wall. While going with a bold color or funky wallpaper across a whole room could overwhelm the space, sticking with just the ceiling adds something unexpected without the risks of totally dominating.
'Several design decisions and carefully curated pieces contribute to the elevated allure of the property. Notably, the painted gold ceiling in the sitting room stands out. This artistic choice not only adds an opulent touch but also draws the eye upward, creating an illusion of height and grandeur. It's a testament to how a unique design element can transform a space and create an unforgettable impression,' explains Scott Maddux, co-founder of the studio.
'Juxtaposing textures and materials also plays a pivotal role in the property's allure. The use of rich fabrics, sumptuous rugs, and finely crafted furniture pieces adds layers of visual interest, making the space feel multi-dimensional and luxurious,' he adds.
For style leaders and design lovers.
Hebe is the Digital Editor of Livingetc; she has a background in lifestyle and interior journalism and a passion for renovating small spaces. You'll usually find her attempting DIY, whether it's spray painting her whole kitchen, don't try that at home, or ever changing the wallpaper in her hallway. Livingetc has been such a huge inspiration and has influenced Hebe's style since she moved into her first rental and finally had a small amount of control over the decor and now loves being able to help others make decisions when decorating their own homes. Last year she moved from renting to owning her first teeny tiny Edwardian flat in London with her whippet Willow (who yes she chose to match her interiors...) and is already on the lookout for her next project.