8 tricks for lighting your front door that architects use to make homes look amazing at nighttime
Light up your front door and welcome guests to your home with one of these tips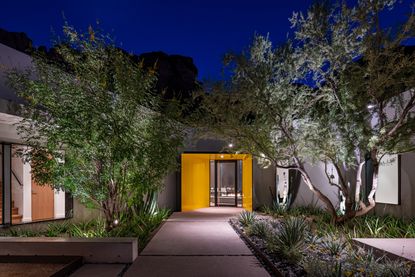 (Image credit: 180 Degrees Inc)
The Livingetc Newsletter
For style leaders and design lovers.
Thank you for signing up to LivingEtc. You will receive a verification email shortly.
There was a problem. Please refresh the page and try again.
When it comes to front door lighting ideas, there are multiple ways to do it, from downlights that create some atmosphere and highlight your home's architecture, to hanging pendants that mirror the style of your entryway.
'Remember that lighting is the key to unlocking its full potential and can transform your entrance into a warm welcome and beckons guests inside,' adds Amos Goldreich. 'The right lighting design can enhance the curb appeal of your home, making the front entrance a statement of style hinting at what lies within.'
Here are our top eight recommendations for optimizing your front door lighting to enhance both the aesthetics and practicality.
1. Uplight your front door
Draw attention to your front porch and front door area by lighting it in a more dramatic and welcoming way with cleverly placed uplights. Lights on the ground beaming upwards help illuminate planters, shrubs and the wall - creating a feeling of atmosphere and ambiance and lighting the space without shining the light too harshly into visitors' eyes.
'For our front entry lighting we will often try to incorporate an uplight that reflects light off an eave over the entry to provide a soft reflected light,' explains Antony Martin, architect and designer of MRTN Architects.
'That way a hot spot of lighting is not creating and instead a more even non-directional light source.'
2. Light architectural features
Always highlight your home's architecture and front door so even at nighttime you can admire the home's exterior.
'Architectural features illuminated strategically with lighting not only enhance the aesthetics but also add depth and character to your front door, leaving a lasting impression on visitors,' says Amos Goldreich of Amos Goldreich Architecture
'Architectural lighting transforms a simple front entrance into a warm and inviting gateway,' says Amos.
Symmetry surrounding your front door helps highlight it as a focus point. Just as you might bring symmetry in interior design to your bed with mirroring bedside tables and wall lights, consider lights on either side of the door to create a neat look that really emphasizes a period build.
3. Opt for a statement pendant
Lighting your front door and porch area can be approached in a similar way to your entryway. Similar in size, shape and function, lighting the space with a similar approach can bring a friendly welcome into your home as visitors approach the front door. A statement outdoor pendant lights or outdoor ceiling flush mount in front of the door can bring a convivial feel to the space.
'If you have a reasonably sized porch, incorporating a pendant lantern can be an excellent choice,' says Matthew Benjamin Wood of MW Architects.
'This type of fixture helps the front door area stand out as a distinct space, effectively serving as a threshold between the interior and exterior of the house.
Pendants work best in porch areas that our enclosed, such as with pillars. 'This not only enhances the architectural appeal but also provides some protection from the elements.'
'Be mindful of potential wind-related issues with exposed pendants and ensure proper lateral support to prevent swinging or damage. The White House (Washington DC) is a well known exaggerated example!'
4. Illuminate the pathway
If you have steps or a pathway leading up to your front door, illuminating the pathway is an excellent way to lead your visitors up to the front of your home and beautifully frame your front door. Lighting the way with recessed step lights, lanterns or spotlights is a small touch that will instantly make your home feel more approachable and friendly.
Look to nature for inspiration for your front yard landscaping - if your pathway is lined with small trees, add a series of uplights on each side, tucked in at the base of the trunk, shining up onto your trees to create real drama. Recessed lighting that sits flush on the ground is another great way to encourage an obvious pathway and they are quite a good space-saving tool.
For something modern, Nordic design studio, Jacob Jensen Design has worked with Danish company, Nordlux to create outdoor lighting perfect for lighting your pathway, with ribbed surfaces on a cylindrical shaped object available in black, aluminium and a brown metal finish.
5. Add a few spotlights
A simple way to highlight certain focal points of your front porch is with simple spotlights on the wall that point down. This type of directional lighting helps illuminate specific areas.
'Thoughtfully positioned spotlights can create a play of light and shadows, accentuating architectural details and adding a touch of drama to your home's entrance,' says Amos.

'To ensure sufficient lighting when approaching the front door, I recommend discreetly located spotlights that create a well-defined pool of light on the floor,' says Matthew. 'This approach helps prevent trips or accidents and provides ample illumination to find keys or other items.
'Moreover, a pool of light on the floor acts as an intuitive indication of the door's location without directly revealing the light source or fixture.'
6. Add lanterns on the steps
I love the rustic look of lanterns dotted up the steps to your front door. Mix and match your design with a selection of lanterns and candles, leading the eye upwards and creating a homely feel. Go for LED or solar lighting, or light a real candle in a lantern for an enclosed natural flame.
'Floor-level lanterns positioned near the entrance add a touch of enchantment, casting soft, diffused light that guides guests with a subtle elegance,' says Amos.
7. Use lighting to mirror the design of the home
Whatever lighting you go for, pick something that feels appropriate and in line with the aesthetic and history of the home. If you are lighting a period property's front door, go for something that aligns with this. If you have a more modern space, bring a modern feel to the space with your selection of lighting like in this case by Crina Arghirescu Architecture.
'While not my personal preference in most cases, carriage lamps can be appropriate in certain historical settings,' says Matthew. 'These fixtures serve the purpose of marking the entrance effectively and can add a touch of vintage charm. If considering carriage lamps, it's essential to ensure they harmonize with the overall architectural style and ambiance of the property.'
Make sure your lighting fixture matches the hardware of the door too, or even the front door color, not just the period. 'It can be nice to have a singular wall mounted light that is a mini hero to compliment the door, ensuring the light speaks to the design of the door,' says Thomas Martin of Sydney-based Rama Architects. 'For example a copper tubular handle and a copper wall light with similar proportions.'
8. Keep the lighting soft
'Soft and warm lighting is best that creates a glow of the entire entry, not just the door,' says Thomas Martin of Sydney-based Rama Architects. But think about the Kelvins measurement for outdoor lighting when it comes to cool light vs warm light. With indoor lighting, you might want to go for something warm, and similarly, 2000k-3000k produces a nice ambient and warm glow for outdoor living rooms, but for your front door area, you might go for something slightly cooler 3100k-4500k creates a cool light that is bright and helps create a focus.
Anything higher than this range imitates daylight or moonlight and keeps the space looking crisp and clear. This is usually the range for security lighting so go for something around the 4000k benchmark for a happy medium.
For style leaders and design lovers.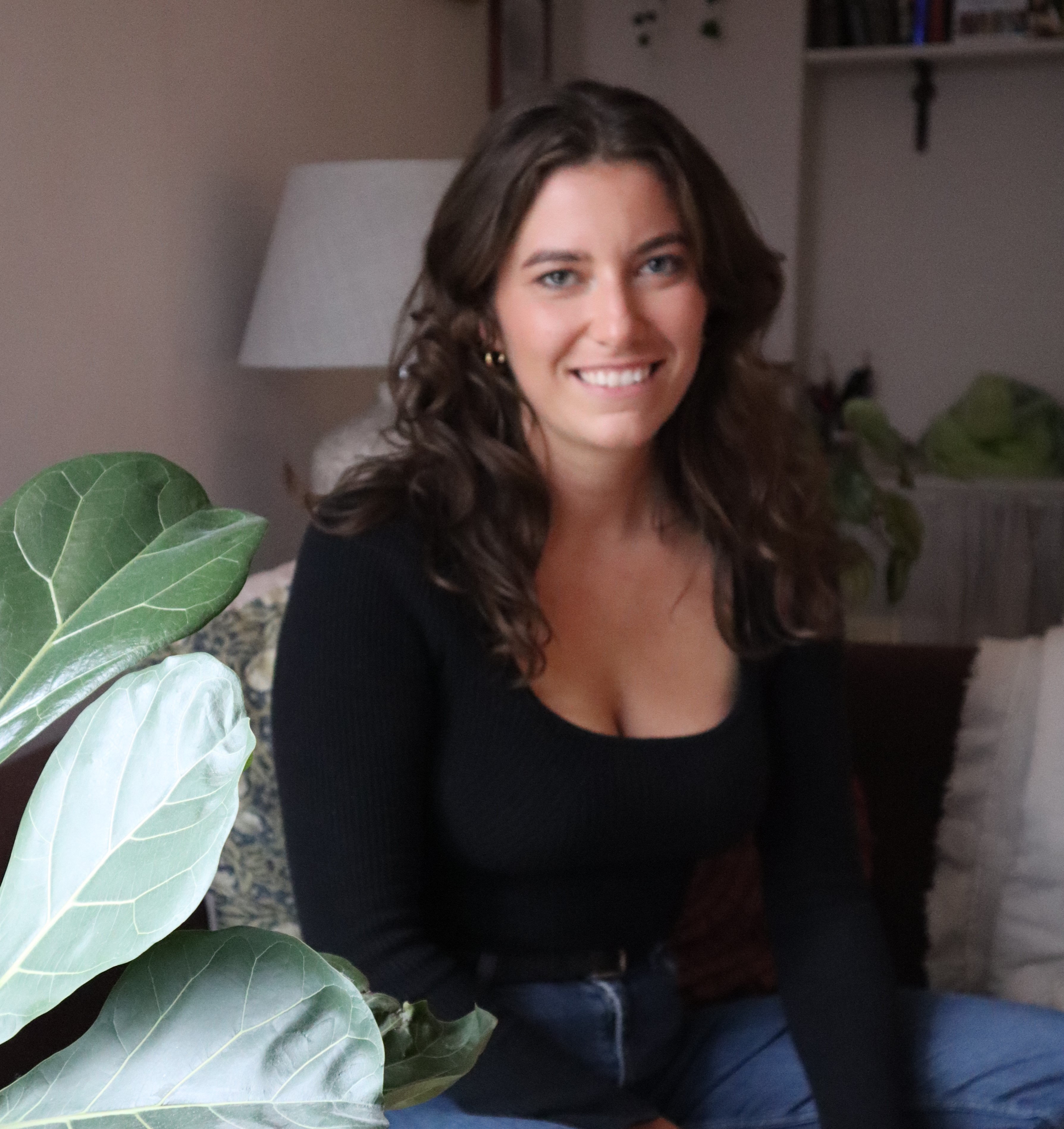 Livingetc content editor and design expert
Oonagh is a content editor at Livingetc.com. Previously, she worked on a London property title, producing long-read interiors features, style pages and conducting interviews with a range of famous faces from the UK interiors scene, from Kit Kemp to Robert Kime. In doing so, she has developed a keen interest in London's historical architecture and the city's distinct tastemakers paving the way in the world of interiors.