10 things interior designers always do to make a living room scheme feel more relaxed
With cozy nooks, soothing color palettes, and more, you can make your living room the ultimate relaxing spot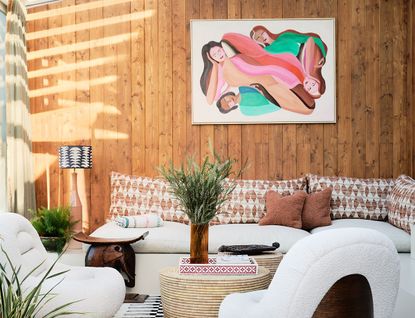 (Image credit: Space content Studio. Studio credit Atelier ND Interior)
The Livingetc Newsletter
For style leaders and design lovers.
Thank you for signing up to LivingEtc. You will receive a verification email shortly.
There was a problem. Please refresh the page and try again.
A well-designed and curated space not only affects the vibe of the house but also the mood of the homeowner. Deep tones, soft, tactile fabrics, curving furniture pieces that feel like a hug, special reading corners, and more can instantly put a person at peace, and give rise to a stress-free environment. And this is the mood the world's top designers are all trying to create in homes right now.
If you too want a living room that's tranquil yet timelessly stylish, then these examples are the ones to look up to.
1. Use a natural material tone
Natural materials go a long way in inducing an earthy, calming, and serene mood in a home. Plus, these materials never go out of trend and are a great investment due to their eco-friendly qualities. Consider natural wood, stone, or rattan for your living room furniture, and fill your home with a classic character that only gets better with time.
'For the project, local construction solutions and finishes such as limestone and chukum were used, but the main element is wood,' says Jesus G Acosta Martinez, founder of Jaque Studio. 'As we look to the future, we believe that timber will become the dominant building material in the 21st century. It is a renewable resource, lightweight, with a lower carbon footprint, and physical properties that make it ideal for withstanding the climate conditions of the region. The use of wood also contributes to creating a warm and comfortable environment, with proven benefits for the health of those who inhabit these types of spaces.'
2. Bring in low furniture
An accessible tabletop that allows you to place your cups, magazines, and snacks, while also adding a stylish touch to the room is a must for a relaxing living room. You can also embrace the coffee table trend for chunky, natural materials to bring an extra level of texture - think heavily veined marble, resin, quartz, and more.
'The living room is carefully curated with furniture and captivating artwork from G&D aesthetic,' say Olivier and Clio, founders of Garcé & Dimofski. 'Ian Felton's glazed Lava Stone chair and the low coffee table command attention; their sleek and contemporary design adding a touch of modern elegance to the space. Nestled beside them is Axel Einar Hjorth's Lovö rocking chair, a harmonious blend of comfort and style from the Swedish Grace movement. Above the fireplace, a masterpiece by Tadashi Kawamata takes center stage, its intricate details and thought-provoking composition mesmerizing all who gaze upon it. Together, these carefully chosen elements create an atmosphere that celebrates the beauty and creativity of artistic expression.'
Material: Faux Marble
Price: $172
Add a touch of elegance to your living room with this low and round coffee table. The piece offers an extra storage room and makes your home tidy and clean.
3. Go in for low level seating
Low seating is a living room trend that makes small spaces more welcoming, comfy, and relaxed. This trend that originated from the East has a lot to offer: aesthetics, space-boosting benefits, and even health.
Floor or low chairs and sofas make the room feel taller, and the living room look more voluminous. And, sitting on the floor crossed-legged helps improve digestion, and the slightly bent posture towards the front aids the abdominal muscles to digest faster. Plus, just the visual of sitting down in a more lounging position instantly induces a causal, calming vibe.
'This room is within an 1800-old Dutch farmhouse,' says Nicole Dohmen, owner of Atelier ND Interior. 'We made a low, built-in sofa with a corner seat. The wooden pine beams were constructed to give the room a cozy feeling. The two chairs from Soho Home make the space a bit more dressed up. We designed the room for different purposes and comforts. The color palette is soft with terracotta and green tones, and earthy accessories.'
4. Design conversation spaces
If you're wondering how to design a modern living room that's also cozy, a big trick lies in creating different conversation zones. This will make spending time here easy, convenient, and a breeze. A main seating area, along with another plush corner will ensure that during large socials, you or your guests can break up into smaller groups and have intimate chats.
In larger families, this allows the kids and parents to spend time in the same room, doing different activities. Plus it majorly boosts the functionality of this room.
'The clients purchased this beautiful lakefront home for their family of four, with intent to do some extensive update on it,' says Allison Lind, design director at Allison Lind Interiors. 'Previously the wood floors were the same tone/size as the ceiling, and some adjacent floor tiles in the entry were a peachy beige tone – making the entire space feel overwhelmingly peachy-orange and outdated. We brought in the rich warmth of the wood and the cozy vibe, enabling the formal living room to feel welcoming and comfortable vs too precious. We also created two seating zones; one in the middle and one in the corner with specially-chosen sofas. We modernized the space with updated furnishings that felt classic but fresh and contemporary.'
5. Create a window seat
Tailor your space for specific interests and bring in break-away zones with a bay window for living rooms. A seating spot by the window will add a whimsical quality to the interiors, and encourage 'me time'.
'The owners asked for a cozier living room, so we designed a fireplace and a cozy nook by the window,' says Nicole. 'The corner nook is lovely for reading when you do not want to watch TV, but still want to join, in the family conversations. We colored the room with powder-colored sisal wallpaper and layered in cozy ecru fabrics with brown undertones. The petrol velvet B&B Italia chair adds some spice to the room.'
Material: Fleece
Price: $581
Add comfort to your window seat with this pillow made from cashmere fleece that's so soft and cozy, you'll never want to leave your cozy nook.
6. Choose curving pieces
The thing about the curved sofa trend is that it adds a cocooning feel to a living room, but it isn't just a decorative addition. A curved piece also offers ultimate comfort. A semi-circular sofa inherently encourages lounging; a piece you want to curl up and sleep in. These add softness to the home's decor as well without sacrificing style. Today there are several smart and highly design-savvy pieces out there, upholstered in plush fabrics to choose from.
'This space is residence 3404 in One Wall Street in Downtown Manhattan,' says Guillaume Coutheillas, founder of frenchCALIFORNIA. 'The developer was very keen on serene, all-white spaces. We used that as our inspiration to design a space using an all-white, cream, and beige color palette with subtle pops of color that create a very serene environment without looking washed out. We layered curving pieces from different eras, including contemporary pieces from Atra – the Mexico City-based contemporary furniture studio – and vintage items, including a 1960s Mario Bellini light, a Bellini Chiara floor lamp, and a vintage Steinway piano.'
7. Allow plenty of natural light inside
Tall, floor-to-ceiling windows not only help create an indoor-outdoor vibe but also ensure that the interior is always bathed in natural, warm light. A naturally-illuminated room has an inherently calming look to it. Materials, colors, and textures truly shine in this light, and it energizes the vibe of the room.
If you have the advantage of large windows, consider living room curtains in sheer or cotton fabrics so that even when drawn, they allow filtered light to fill the room.
'This space, located on the 40th floor of Fifteen Fifty in San Francisco, offers unparalleled views of the city,' says Guillaume. 'We filled the three-bedroom, three-bath penthouse with rare pieces of collectible design, including original mid-century modern furniture from the 1940s, 1950s, and 1960s from Brazil, Italy, and France. We wanted to strike the balance between eclecticism and serenity, pairing colorful design pieces with muted wall colors, breezy window treatments, and soft lighting.'
8. Integrate a reading nook for quiet times
Luxury in today's day and age isn't only about expensive furniture, artwork, and materials. It is about affording a home that serves all your intellectual needs. Reading rooms in homes are such spaces, built or designed to encourage people to switch off and spend introspective moments.
These allow people to display their most important, collector's items of classics and mint-condition books. If you aren't a big party organizer, consider converting your living room into a space that also hosts reading time.
'In this space, we integrated an internal reading room, and added a shared study room as well, creating a space with mixed functions,' say Liu Tao and Cai Chunyan, founders of tao+C.
9. Add a fireplace for intimate socials
Who doesn't love to spend hours by the fire with a good friend, a book, or even soothing music? A fireplace is (literally!) that element that warms up a room and makes people gravitate towards it.
Whether are lucky enough to have an integrated and beautiful wood-burning fireplace in your home or simply want to set up a faux fireplace, there are plenty of ways to jazz up your mantel area and add a serene vibe to your interiors.
Incidentally, if you have a large, open-plan living room and want to ensure the entire place receives the benefit of this warm element, consider a double-sided fireplace. It will allow you to cozy up and also offer balanced heating to all those seated around it.
10. Use moody tones for a cocooning vibe
Imagine entering a dark pink living room or a charcoal grey space. Don't you feel like the color envelops you, and lulls you into spending more time in it, taking in its elements and eye-catching tones? Dark colors give a room depth and a feeling of coziness. These also help highlight architectural elements well, bringing focus to the room's bones.
'This was a large double reception with a sitting room on one side and a dining room on the other,' says Tiffany Duggan, director of Studio Duggan. 'We wanted to unify the space whilst opting for a color that felt cocooning and romantic in the evenings whilst not feeling too moody for daytime usage. This lovely saturated pink – Rouge II from Paint & Paper Library, is a favorite and is wonderfully adaptable. It works well with the rich original parquet while the pale sheepskin and mohair rug keep the scheme fresh and relaxing. The blue velvet sofa adds a touch of drama and black accents ground the scheme, and work to balance the sweetness of the pink walls.'
For style leaders and design lovers.
Aditi Sharma Maheshwari is an architecture and design journalist with over 10 years of experience. She's worked at some of the leading media houses in India such as Elle Decor, Houzz and Architectural Digest (Condé Nast). Till recently, she was a freelance writer for publications such as Architectural Digest US, House Beautiful, Stir World, Beautiful Homes India among others. In her spare time, she volunteers at animal shelters and other rescue organizations.