How can I make my bedroom feel like a luxury hotel? 5 simple design tips for five-star interiors
For a bedroom that feels like a five-star hotel, start with these essential tips from some of our favorite interior designers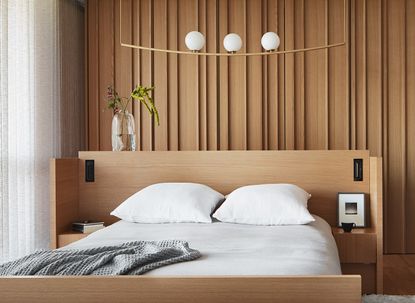 (Image credit: Kendall McCaugherty. Design: Searl Lamaster Howe Architects)
We all deserve a little five-star service every now and then, but when it comes to the design of your bedroom, there are small edits you can make that can give that hotel feel every time you turn in for bed.
Your bedroom is a place for retreat and relaxation, and creating a boutique hotel feel in your modern bedroom might be more within your grasp than you think it is.
'Just like a luxury hotel room, the bedroom is a thoughtfully designed residence is your sanctuary, marking the transition from stimulation to relaxation, from social to personal space,' says Giorgio Ivessa of New York interior design studio, Champalimaud Design. Read on for our top tips that will elevate this space into a cozy haven.
1. Go for all-white linen
Perfect white linen is a hotel staple and a must if you are looking to recreate the five-star luxury experience at home. Use bright white sheets, tucked neatly into the corners and try and iron out those creases to really emphasize the comfort of your mattress.
'When your goal is to make your bed look like it could be in a hotel, my biggest tips are to keep it white and crisp, make sure the duvet is plumped and the sheets are ironed and white,' says Jeffrey Wilkes, founding principal of DESIGNWILKES. 'Taking the extra time to do this when making your bed will make you feel like you are in a hotel all the time.'
'Space that makes you feel good plays a special role in the hotel guest experience,' says designer Katarzyna Westrych-Pavy from 370studio. 'What particularly impacts our mood and perception of comfort? It's the sum of small details, such as illumination, scent and - especially in a hotel room - the quality of bed linen. By choosing white color, best material composition and high-end duvet one can create a hotel feel at home.'
When it comes to how to style a bed, white is a great go-to color scheme for your bed linen, but a dash of bolder color can add extra interest. 'To add a dash of color and texture, you can pick out one or two down-filled accent pillows. Some hotels even like to add a runner to incorporate some local flavor. Additionally, a quilt or throw always adds a nice touch.'
In this example by Bryan O'Sullivan Studio, the coloring is subtle but brings a warmth to the all-white linen.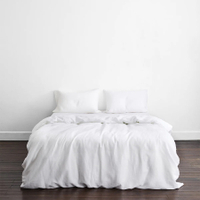 White flax linen bedding set, Bed Threads
Looking for high-quality, soft bed linen? This from Bed Threads is just the ticket, making your bed look fresh and irresistible (and is super cheap for an all-white set!)
2. Bring a sensory layer to the space
Layer your bedroom and explore different senses to give your bedroom a tranquil vibe.
'Smell is one of the most emotive of the senses and when it comes to home scents, they can be great stimulants, offer a sense of comfort or instantly elevate a room, making it feel extra special,' says Amanda Morgan, managing director at popular candle brand, Diptyque. 'A white opulent flower like Gardenia, burnt alongside a creamy, soft, woody scent like Santal can create a very romantic and evocative bedroom ambiance.'
Three candles dotted around the room might help to give the space a flattering glow while adding wafts of aromas designed to calm you. Try and think carefully about how you layer this scent scape in your cozy bedroom, and don't go for any candles or incense that competes too much - think instead how the smells complement each other.
Lavender is always a great option for a calming bedroom, with medicinal properties that soothe our minds and encourage us to relax. You also really need to think about the size of the room and avoid going overboard for a small bedroom. It's about introducing just the right amount of scent for the size of your room – the effect should be enveloping but not overpowering. For small rooms, one or two candles might work on a bedside table. Larger rooms can afford a couple more dotted around the space.
Think seasonally too. For an autumn scentscape, you might want warming scents of tobacco, sandalwood or cinnamon, while in spring, you might want to mix a vanilla with something more floral and fresh
Pillow spray might also be a good investment, a spritz that releases a subtle aroma onto your bedding as you fall asleep each night. It feels like that extra bit of bedtime pampering too.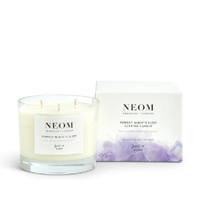 Perfect Night's Sleep three wick scented candle, Neom Organics
I can personally vouch for this beautiful candle from NEOM. It gives off a calming aroma that creates an atmosphere in your room like a big hug, and the three wicks mean it seriously lasts with a 50-hour burn time. Light this candle before bedtime and enjoy as you get ready for bed.
3. Design with texture at the forefront
Another pillar of great hotel design is designing the room with layered textures. 'Textures in your bedroom is all that you need,' agrees interior designer, Kelly Hoppen. 'Layering of textures is everything that I do, so look at your pillows, have three pillows on a bed, mix up the layers. The bed cover, the blinds, the walls, everything is a texture, look at how many textures you have in a room and mix it up and you will get the wow-factor.'
Introduce texture and embrace it in your bedroom. Think soft furnishings on the floor in the form of beautiful high-pile rugs, and style your bed like a hotel with pillows and a throw.
This bedroom from Slic Design goes one step further, introducing a timber slatted headboard for extra texture, with the hard contrasting against the soft of the bed. Upping the layered textures will only create a more cozy, rich scheme.
4. Create a seating area
I love a bedroom seating area. It seems like an unessential luxury, but that's exactly why it's a hotel staple. It doesn't need to take up much space either. In hotels, you might find a dedicated seating area with a small side table, but you can create this feel with less furniture and space.
All you need is a corner, an armchair, perhaps a rug underfoot, and a small side table and you've created a dedicated reading nook. Accentuate the corner with a collection of art on the walls and style your coffee table surface with candles, a small potted plant, and a selection of coffee table books to encourage you to take a seat and pick up a read.
5. Layer and manage your lighting
All good hotels have exceptional bedroom lighting. There will be overhead lighting in the bedroom, as well as task and accent lighting dotted around the room.

Design studio Run for The Hills transformed a concrete basement within a beautiful terraced house into a luxurious guest boudoir with a boutique hotel feel and lighting was a key part of their design. 'We designed the boudoir with layers of new lighting to create a low-lit, cosy atmosphere in the evening, to perfectly contrast with the fresh and bright daytime look,' says Anna Burles of Run For The Hills. 'Light also bounces off antique mirror inserts in the wall panelling playing against the dark paint colour. Against the moody palette, antique brass picture lights and glass rod wall lights add extra sparkle and metallic contrast.'
Another tip in hotel room design is that hotels keep the symmetry in the lighting scheme. It's pleasing to the eye to have light on each side of the bedside table. Finally, think about how the natural lighting enters into your bedroom. A bedroom with black-out curtains is the added luxury element we all look for in our hotel rooms, and it's something that can be achieved at home with ease. Blackout curtains are a pillar of hotel design because they fully block out sunlight and noise - so when you're on holiday and want to sleep in (which you can do, because you're on holiday), you can fully shut off from the outside world.
The Livingetc newsletter is your shortcut to the now and the next in home design. Subscribe today to receive a stunning free 200-page book of the best homes from around the world.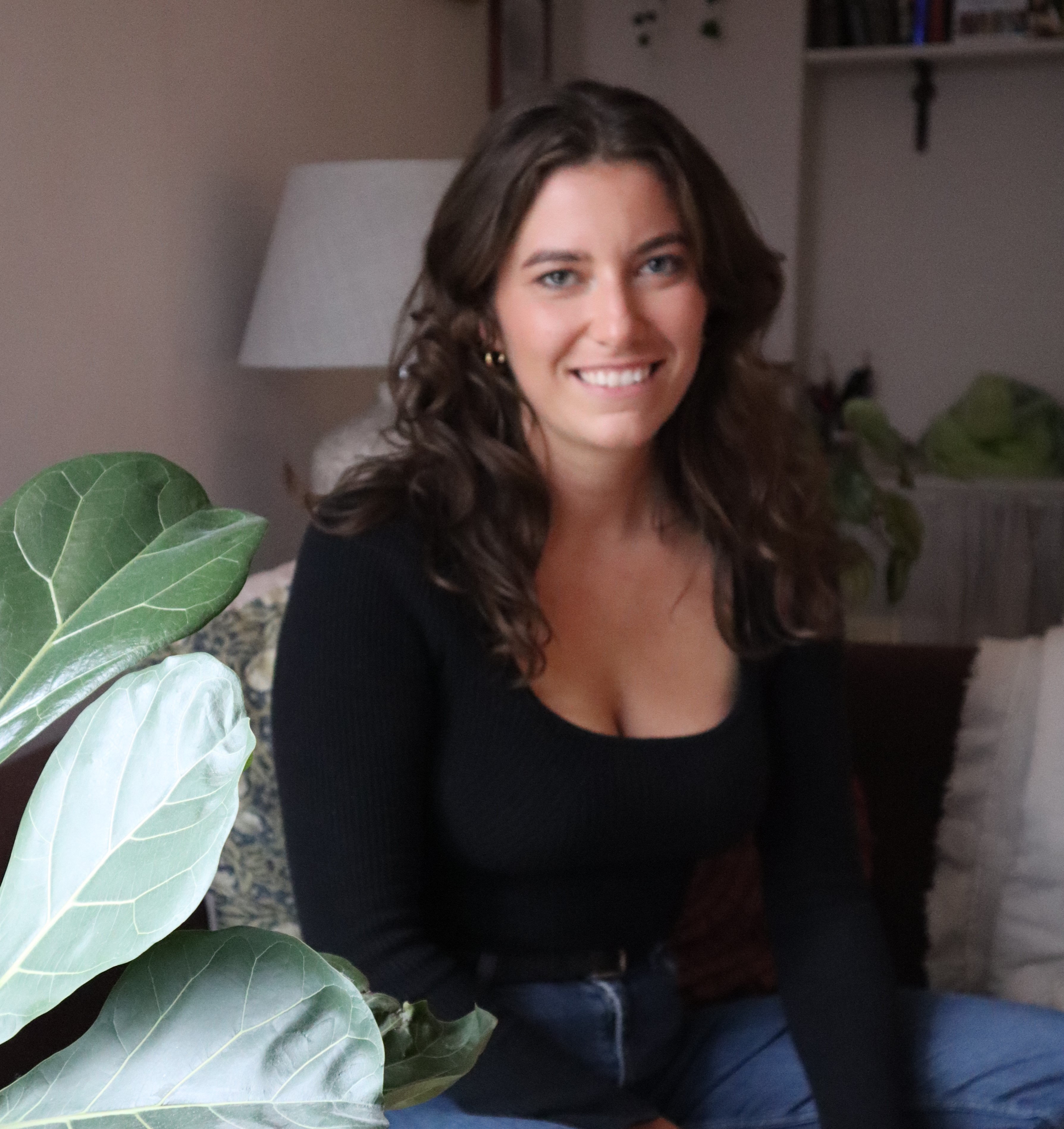 Livingetc content editor and design expert
Oonagh is a content editor at Livingetc.com and an expert at spotting the interior trends that are making waves in the design world. Writing a mix of everything and everything from home tours to news, long-form features to design idea pieces on the website, as well as frequently featured in the monthly print magazine, she's the go-to for design advice in the home. Previously, she worked on a London property title, producing long-read interiors features, style pages and conducting interviews with a range of famous faces from the UK interiors scene, from Kit Kemp to Robert Kime. In doing so, she has developed a keen interest in London's historical architecture and the city's distinct tastemakers paving the way in the world of interiors.