Sponsored
Refresh your home for 2021
Get the year off to a good start with decor updates that can turn your abode into a happy and healthy place to be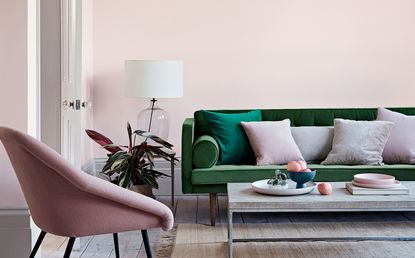 (Image credit: Crown Paints)
Now, more than ever, we're looking at our homes to create the sanctuary we crave from everyday stresses, with our décor key to providing a happy environment. If, like us, you're spending an increased amount of time indoors and your four walls are beginning to feel as though they need a refresh, why not turn to paint as an easy and instant update?
Of course, choosing a colour is the fun part, but it's not only the look of our homes that warrants the focus – using products that we know to be good, not only for our walls, but also for us, is something many of us are striving for.
With that in mind, let us introduce you to the Breatheasy® range from Crown Paints, available in both matt, mid-sheen and silk formulas. Low VOC and 99% solvent free, this paint has a scientifically proven formula that makes it asthma and allergy friendly. Essentially, it's an easy way to upgrade to a healthier home.
You don't have to compromise on colour either, as the range is grouped into eight easy-to-navigate colour families, ensuring that finding your perfect shade is a piece of cake. Each 'family' has a wide range of paint colours, so whether you're looking for a deep, dark jewel shade to envelop and cocoon you, or a natural neutral to create a sense of calm, you'll be spoilt for choice.
Drawn to edgy mustard? Welcome in the warmth with Mustard Jar, a hue that's brighter than brown but less intense than yellow.
Torn by teal? Sitting between a blue and green, this shade works beautifully when teamed with clashing colours.
Whatever you choose, remember that it's not just your home that deserves to feel good on the inside – you do too, and this certified* range ensures that you can relax and breathe easy in a happy, healthier home.
Live and Breathe Colour
The Breatheasy® range is available to buy from Crownpaints.co.uk, Homebase, Crown Decorating Centres and leading independents.
See the whole range here
*The CERTIFIED asthma & allergy friendly® Mark is a Registered Certification Mark of ALLERGY STANDARDS LTD