House Tours Open Door with interior designer Angela Simpson
VIDEO: In our House Tours Open Door series the designer walks us round this bold and colour-filled home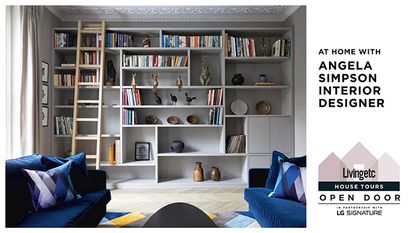 (Image credit: Anna Stathaki)
Welcome to the latest episode of House Tours Open Door. We've been busy filming gorgeous homes, filled with cool and clever ideas from their creative owners.
We plan to beam you into eight jaw-dropping homes, to hear from the owners and to get under the skin of exactly what makes a place special. Inspiration from the comfort of your living room? Sounds like a double win.
THE CLEVER DECOR OF Angela Simpson
Interior designer Angela Simpson is one half of Simpson Voyle, who together are the brains behind this beautiful London home. It was featured as part of a Christmas story in Livingetc - its fireplace held an iconic garland - and now is the chance to see it without all its festive adornment.
As an interiors photographer, Paul is always soaking up ideas for his own home when taking pictures of other peoples'.
Although the house has period features and a strong historical background, Angela wanted it to feel inviting, warm, welcoming and wasn't afraid to use modern colours.
"It was a blend of vintage and new pieces that really brought the house to life," Angela says.
Throughout the home, stripes are a key feature, bringing with them a sense of bold, graphic playfulness. From the carpet on the stairs to the rugs in the living room, Angela used them to bring the home to life.
Find out more about the LG SIGNATURE range of premium appliances at LG SIGNATURE.com
Find more inspiration and watch more House Tours
Shining a spotlight on the now and the next in home design and decor, Livingetc is the UK's best selling high end and contemporary home design magazine. As a brand, Livingetc showcases the world's very best homes, breaks and makes the trends, and has access to leading international designers for insight and ideas. It was first published in 1998, and is currently edited by Pip Rich.