Shopping Edit: 28 best marble coffee tables for modern homes
Discover the very best marble coffee tables out there, including round, oval, square, rectangular and sculptural designs – across every style and budget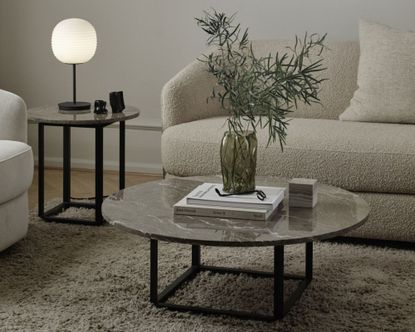 (Image credit: New Works)
We've handpicked the very best marble coffee tables out there, from art deco designs and mid century modern classics to minimalist forms, sculptural silhouettes and even high street favourites. There's a marble coffee table to suit every kind of home (and every kind of budget).
Your coffee table is a piece of furniture that's pivotal to a living room scheme – and one that deserves careful consideration. Not to mention, marble coffee tables tend to work in both traditional and modern interiors, all while adding some elegance to a living room. A marble coffee table is also an investment piece, and a timeless piece of furniture that won't date. But, there's a reason it's a go-to favourite for interior designers: with its ability to take on a highly polished finish, marble is a luxurious, decorative material, but it's also reassuringly solid. Marble furniture pieces add elegance and sophistication, they are hard wearing, long lasting, and will last for generations and generations. They keep their value, they have an elegant, timeless quality to them – plus, each slab offers its own unique pattern of veining, making every piece one-of-a-kind.
How to know what size, shape and weight works best for your modern living room? Should you opt for oval, round, square or rectangular? And, how do you choose the right colour marble for your space? Peruse our favourite 28 buys below, to act as the focal point in your living room – and to place your drinks, books and TV remotes atop.
Head to our best coffee tables guide for more gorgeous suggestions including metal, wood and glass picks.
Marble coffee tables – a definitive list of timeless designs
1. Pols Potten Oval Coffee Table
2. Scandi White Marble Coffee Table With Black legs
3. GamFratesi for Gubi TS Marble Coffee Table
4. Arches Coffee Table
5. Knoll Tulip Oval Coffee Table
6. The Workshop Coffee Table
7. Normann Copenhagen Solid table
8. Marble Coffee Table by SERAX
9. Pelham Coffee Table
10. Proiezioni Oval coffee table for Salvatori
11. Vitra Plate Coffee Table
12. Pols Potten Disc Marble Look Coffee Table
13. Niobe Coffee Table Carrara Marble
14. Tower coffee table
15. The Vitra Eames Coffee Table
16. Low Plinth by NORM Architects for Menu
"The 'Low Plinth' by Nest celebrates marble at its simplest form, with no additional trims or detailing" – architectural interior designer Emily White from Plaice design.
17. The Corner Rectangular Coffee Table by Wewood
18. Cezanne Circular Coffee Table Marble
19. Fritz Hansen Planner Coffee Table
20. E15 CT09 Enoki Table
21. Anais Coffee Table
22. Fan Table by Tom Dixon
23. New Works Florence Coffee Table
24. Knoll's Jumbo coffee table
25. PK61 Coffee Table
26. Cezanne Square Coffee Table
27. Fly SC4 Coffee Table
28. Rebar Rectangular Coffee Table for HAY
---
What to consider before investing in a marble coffee table?
Maintenance
Marble coffee tables need careful maintenance due to the porous nature of the marble. If cared for properly, a piece of marble furniture will outlast all other furniture in your home. Just remember: marble will always be cold to the touch, and as Holly Waterfield from The Brooklyn Home Company advised us, be sure to check out the edging of your new marble coffee table before investing. If it's sharp be wary that it can be a danger hazard – opt for something rounded or encased in a wooden frame to prevent this.
Many marble tables come with a polyester resin coating to protect the surface from stains – this can be either matte or glossy. Marble tables without a resin coating will appear more natural but require care with oiling and maintenance. With natural surfaces any spills need to be cleaned up quickly.
"When it comes to buying a marble coffee table, always be mindful of durability, particularly with white marbles as they do absorb spills and can require quite a lot of maintenance." – Helen Westlake, Creative Director at Millier.
Size
Height-wise, your coffee table should sit at around the same height as the seat cushions on your sofa, give or take two inches. Any more and you risk the space looking and feeling just a little off. In terms of length, the ideal coffee table will be at least half the length of your sofa (but no more than roughly ⅔ the length). For corner sofas and L-shaped sofas, you'll want the coffee table to be around ⅔ the length of the longest part. This will ensure that no matter where you sit, you'll always be able to reach the table top.
Weight
Another important factor to consider when choosing a coffee table is its "weightiness." In other words, it should complement the other furniture in the room to make the space feel proportional and balanced.
Marble has the association of being heavy and solid, but these days many modern marble tables elevate a thin marble tabletop on skinny hairpin legs to create a sense of openness and space. Sometimes this is exactly what a room needs – especially in small spaces, or in spaces where furniture already feels clunky.
"If your sofa has tall, skinny legs, consider a table that's solid all the way to the ground (this is called a plinth table) or has shorter, chunkier legs. If all the furniture in a room looks too "leggy," then the room won't feel grounded. A chunkier marble coffee table could be just what a room like this needs to feel anchored." – Emily White, architectural and interior designer at Plaice Design Co. Ltd.
Colour/veining
There is often a misconception that marble is resigned to neutral, grey tones but with the richly patterned stone this isn't the case anymore. When it comes to colour, it's not just white marble and black marble to choose from. You can find brown, grey, green and even pink marbles out there, each one with different veining and pattern. So how do you find the best style for your space?
"Choosing the right colour is about looking at the other furniture in the room and deciding if you want a neutral tone or a contrast. A contrast can be a big statement and with marble every piece is unique." – Campbell Thompson, Head of Furniture and Lighting for The Conran Shop.
Shape
Opt for an oval coffee table to soften the feel of a room that has lots of straight lines. This shape coffee table will also appear to use less space and it will look less clunky. Not to mention it will be a safer option for wandering toddlers and clumsy pets (or humans).
If you have the benefit of lots of space between your seating, a square coffee table makes a real statement or consider using two or four identical square coffee tables and arrange them symmetrically. If your living area has a long sofa against one wall, a square coffee table will add depth to the sitting space and break up the long lines of the furniture.
Rectangular coffee tables are by far the most popular choice, and are best placed centrally in front of a sofa, echoing the proportions of the bigger piece of furniture. If your living space is long and narrow, this shape will also allow the maximum of table space for the limited width of the room.
For larger spaces, a cluster of marble tables can give a weightier, more impactful look – while also being practical as it can be taken apart to form side tables which can be moved around. They are also possibly one of the ultimate space-saving options with their unique stacking capabilities, nesting table can be a great option for homes with minimal space. Slide them out when more table space is needed, then stack them together when you're done.
Where can I find a cheap marble coffee table?
A marble coffee table needn't cost an arm and a leg. While there are a handful of more affordable options listed above, you can find a range of inexpensive marble coffee tables below. Click the 'VIEW' buttons to head to shop them online.
Lotte is the Digital Editor for Livingetc, and has been with the website since its launch. She has a background in online journalism and writing for SEO, with previous editor roles at Good Living, Good Housekeeping, Country & Townhouse, and BBC Good Food among others, as well as her own successful interiors blog. When she's not busy writing or tracking analytics, she's doing up houses, two of which have features in interior design magazines. She's just finished doing up her house in Wimbledon, and is eyeing up Bath for her next project.