The best storage for packing away Christmas baubles and decorations
Keep Christmas baubles, decorations and fairy lights packed away in an organised, easy to find way for next year – you can thank us later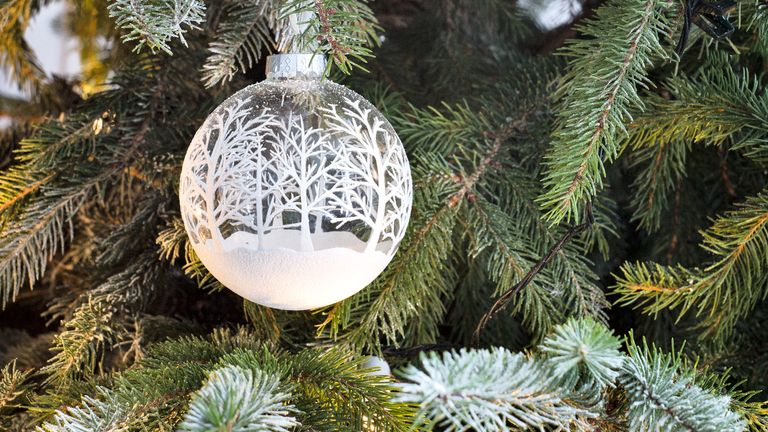 (Image credit: Paul Raeside)
Put de-cluttering and sorting through your Christmas decorations at the top of your New Years resolutions list this year, and start the year feeling super organised. You'll thank us next year, when you unpack untangled fairy lights, and unbox perfectly stored and organised glass baubles, garlands and tree toppers – there's even storage options below for packing away artificial Christmas trees and Christmas wrapping paper.
Below is some great Christmas decoration storage to help you keep your precious and fragile Christmas baubles and decorations neatly and safely packed away, year after year, so you can rest assured that your treasured pieces can come out again in perfect condition time after time.
Christmas de-cluttering and organising tips
Before you start packing away your Christmas decorations, do yourself a favour for next year and put aside the ones you haven't used, or that are your least favourite. Unless they have sentimental value, drop them off at your local charity shop, donate them to a school, or find the best place to recycle at recyclenow.com.
Ditch any tatty, broken and unfixable decorations as you're unlikely to use them.
Next, when it comes to packing away your favourite Christmas decorations, we recommend writing a list of the ornaments you've packed away in that box, and taping the list to the lid of the box to make it easier to see what's inside each storage box.
You could also opt for clear storage boxes, so you can see what's inside more easily.
Organise your decorations by type, for example by colour, or function (bauble vs garland vs tabletop and mantelpiece ornaments).
In terms of packing away fairy lights, keep them tangle-free by wrapping them around a cylinder shape – for example a kitchen roll tube or empty Pringles can. You could also wind fairy lights around pieces of stiff cardboard cut into rectangles, which will help keep them tangle-free for next year.
1. Stackable bauble boxes
This set of two bauble storage boxes houses 64 separate compartments in each box, giving plenty of room to neatly pack away all your Christmas baubles. If you have small baubles, you could wrap them in used, leftover wrapping paper to stop them from rattling around.
As the bags are damp-proof with a wipe-clean surface, they're great for basements, cellars, lofts, or even the garage or shed.
Pair of storage boxes, £24.99, amazon.co.uk
2. Wrapping paper storage
This premium wrapping paper storage bag comes with interior pockets, perfect for packing away Christmas themed gift wrap, ribbons and bows.
It's sturdily constructed of tear and moisture-proof heavy duty fabric which protects your gift wrap from lights from dust, insects, and moisture. It's tear, puncture, water, fade, and mildew resistant.
Adjustable straps hold your rolls of ribbon in place, ensuring they don't slip.
Wrapping paper storage, £19.99, amazon.co.uk
3. Clear cube for Christmas ornaments
The LIVIVO Christmas Bauble and Decoration Storage Cube safely stores up to 64 Christmas tree baubles, ornaments, tinsel, and other Christmas decorations each in their own compartments with padded cardboard to keep them protected.
Clear sides make it easy to see which decorations are inside at a glance.
Christmas Bauble and Decoration Storage Cube, £14.95, amazon.co.uk
4. Rectangular Storage
This rectangular storage box was made for awkward, undeep spaces or shelves with a height limitation. It's perfect for slipping under the bed, on top of cupboards, top shelf in built-in wardrobes, down the side of eaves storage or for storing in a garage or shed.
It also fits 64 compartments for Christmas ornaments, with cardboard dividers that help keep decoration ornaments safe from scratches and shattering. It features a strong, tear-proof fabric exterior.
Rectangular storage, £12.99, amazon.co.uk
5. Extra large Christmas storage on wheels
Behold the mother of all Christmas bauble storage: the Christmas Ornament Storage Rolling Chest.
It houses 120 compartments in different shelves that neatly pull out, and the whole thing comes on wheels to make it easier to manoeuvre around.
The chest is the perfect size to store away in the loft and will keep your decorations free from dust and safe from damage. It has handles too, for lifting up and carrying.
Large Christmas Ornament Storage Rolling Chest, £249.99, whitestores.co.uk
6. Clear storage box for larger ornaments
This 35 litre storage box comes with 2 trays for packing away larger decorations, and clear sides which makes it easier to see what's stored inside. They storage boxes are stackable, with clip-on lids. Secure the lid tightly with the blue clips for a shatter-free Christmas.
Really Useful 35 Litre Bauble Box, £34, Argos.co.uk
7. Artificial tree storage
The 6-7.5ft Artificial Christmas Tree Storage Bag is the ideal place to store your artificial Christmas tree between seasons.
We all know the struggle of trying to get your tree back into the box it arrived in and the inevitable damage that this can cause to the box or the tree itself. So instead of ending your Christmas season with a battle, store your tree safely away with ease for next year.
The bag is designed for trees 6-7.5ft tall but smaller trees will also fit in neatly. The bag will help protect the tree from dust and damage and keep the tree looking fresh for use year after year.
6ft-7.5ft Artificial Tree Christmas Storage Bag, £19.99, whitestores.co.uk
Lotte is the Digital Editor for Livingetc, and has been with the website since its launch. She has a background in online journalism and writing for SEO, with previous editor roles at Good Living, Good Housekeeping, Country & Townhouse, and BBC Good Food among others, as well as her own successful interiors blog. When she's not busy writing or tracking analytics, she's doing up houses, two of which have features in interior design magazines. She's just finished doing up her house in Wimbledon, and is eyeing up Bath for her next project.